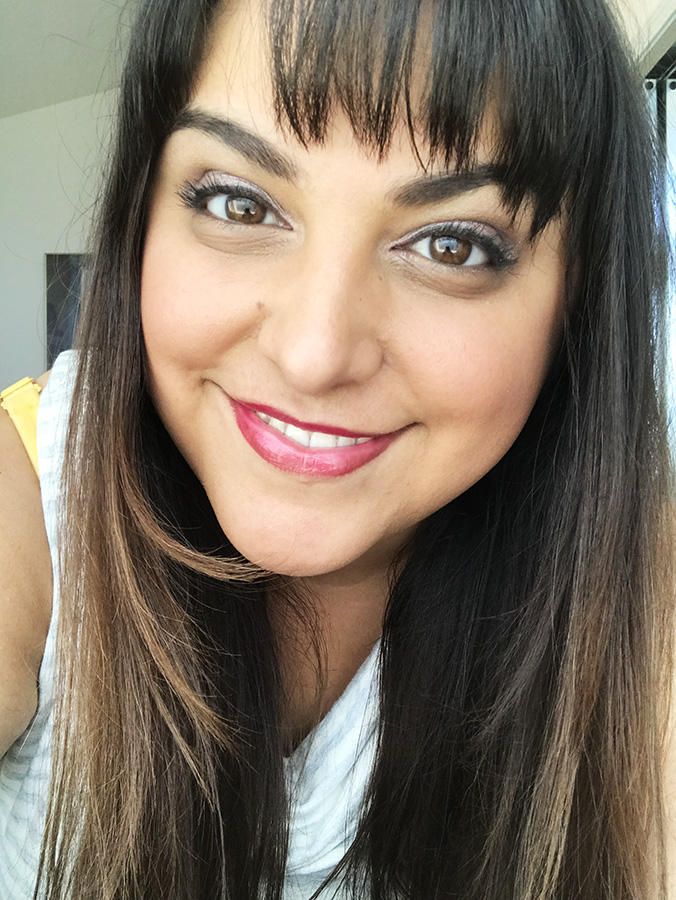 I've always loved beauty products. When I was a tweenager, I would go into a Victoria's Secret, or a Bath and Body Works, and come out smelling like a very cheap, very young hooker. Rude, but true. I mean, what thirteen-year-old girl can resist rubbing something called "Amber Romance" into her skin and topping it off with a Strawberries and Champagne body spray? Not this one. My father spent years making it very well known that I smelled like an unbearable chemical hooker bomb. Every morning after my daily lotioning and spritzing routine, he would remark in a disgusted voice, "Oh, GOD, Have you been creaming again?" As a teenager, I thought he was being a real oversensitive Daddy Doofus, but as an adult, and as someone who's struggled with chronic illness and chemical sensitivity (and, honestly, as someone who has inherited that same very sensitive Italian Dad Nose), I can tell you that stuff was simply no good. Have you ever tried to walk into one of those lotion-y, cream-y stores as a sensible Italian-nosed adult? Not to be dramatic, but it's essentially like walking into chemical cupcake hell. Okay, that was dramatic — but, like, totally correct.
As a young adult I took my love for beauty products to the next level. After college, I enrolled in a Makeup and Special FX school in Burbank, California. For months, I would drive into the valley every day and sit in a hot room with a bunch of other ladies who were also into lipstick and getting the perfect eyebrows. We learned the ins and outs of how to make someone look flawless and glow-y — we also learned how to apply prosthetics to make someone look like their face was falling off. Yeah, I would say my skills are pretty dynamic and wide-ranging. Need some make-up for your wedding? I'm your girl. Need me to make you look like you got shot in the face and have been laying face down in a pool of water for roughly two weeks? Yes, I am also your girl. My kit was filled with anything and everything that would get the job done. I was stocked up with professional, very expensive brands. I never thought about what was in them, I was purely obsessed with function. I mean, it's not like I was eating these things, right? It's not like I was sitting around and biting into a juicy lipstick like it were a hot dog on the Fourth of July. I used them like they were supposed to be used. So, that's safe, right?
Wrong.
VERY WRONG.
GIRL, I MIGHT AS WELL HAVE BEEN SNACKING ON THAT LIPSTICK LIKE A GOSH-DARN HOT DOG.
Gross, but true.
Did you know that at least 60% of what you put on your skin gets absorbed into your bloodstream? Yeah, neither did I.
Did you know that this process only takes TWENTY SIX SECONDS?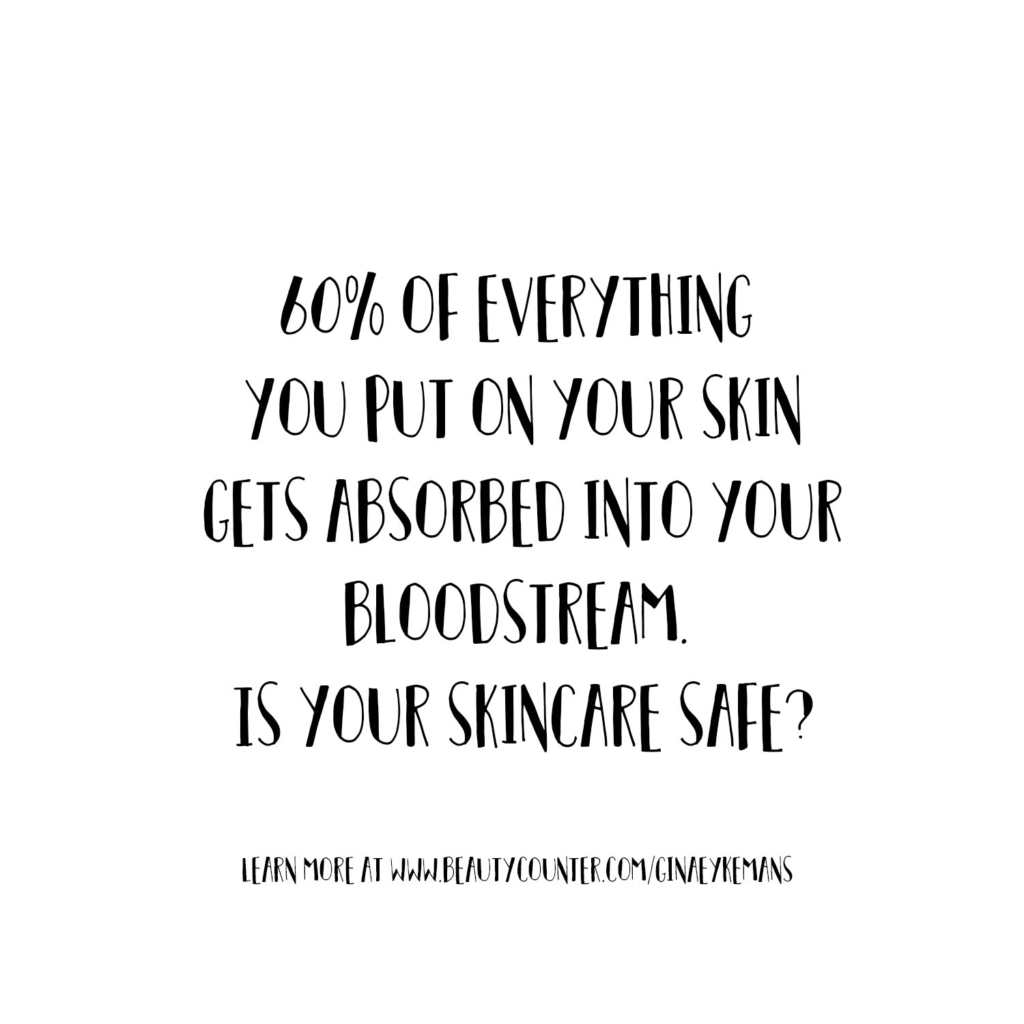 Yeah, our bodies are efficient. Also, what the heck is in your beauty products? I'm not a genius, but I know I wouldn't want to actually pour a bottle of Strawberries & Champagne lotion into my blood. I would not want to become blood brothers with a MAC lipstick. Lord knows all that pigment looks fly on your lips, but what the heck is in there? I'm not blood confident. Don't worry, I have answers. We can become more blood confident together. I'm going to also stop using the term blood confident right about here. How does NON-TOXIC sound? Better. Less vampire-y.
In my late twenties, I found myself dealing with chronic illness. Between dealing with Lyme Disease and a bunch of other infections, I found myself overloaded with toxins. Detoxing became a part of my everyday life. This is how my liver would be able to clean house essentially, and process all of the infections as I killed them off. As it turns out, I'm genetically not a great detox-er. This is more common than you'd think, but a real bummer when it comes to dealing with a high toxic load in your system. Needless to say, I had to get very real and very strict about what I put inside of my body. I switched up my diet and ate very cleanly. I used better cleaning products in my house, or made my own out of essential oils. I also had to think about what I was putting on the largest organ of my body, MY SKIN! I knew in order to heal, I had to eliminate as many toxic chemicals out of my life as possible. This included my beloved beauty products–which, by this time, were useless as they made my skin feel like it was on fire. I basically spent several years not wearing makeup, or suffering through the pain for the odd special occasion.
NO MORE, you guys.
Skincare isn't supposed to hurt.
Makeup isn't supposed to add to your toxic load.
You shouldn't have to worry about "getting gluten-ed" when you wanna rock some lipgloss!
You shouldn't have to honestly worry if your sunscreen or skincare is contributing to your cancer risk.
Hormone disruptors should NOT be in your beauty products, or in your baby's diaper cream, right?
Nope.
Let's do better.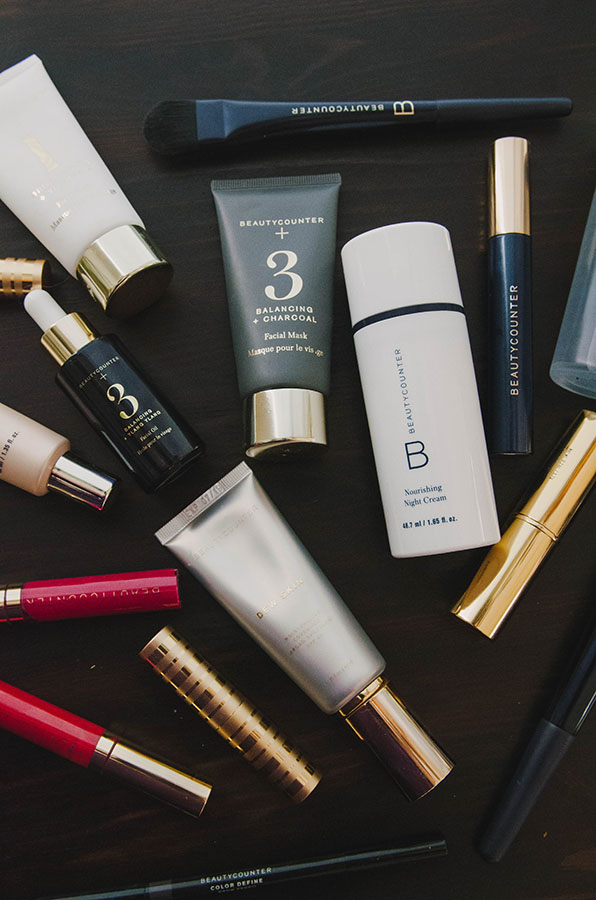 They've taken the antiquated, unregulated beauty industry and turned it on its head. Their mission is to make skincare safe. We shouldn't have to sacrifice our health just to feel pretty or have clean skin. Our congress hasn't passed any regulatory laws for the cosmetics industry in the good ol' USA since 1938. Like, really, guys? You can do better. Luckily, we don't have to wait for them to. Beautycounter has made this their mission. After reading their mission, and being a customer for a while, I can attest to their high standards, transparency, and their rigorous testing process. Each product is batch tested three times for contaminants, and screened for heavy metals. EVERY SINGLE BATCH. EVERY SINGLE TIME. There's no icky stuff in there. I don't have to worry that my hormones will become disregulated by endocrine disruptors, or that I'm going to get breast cancer from parabens.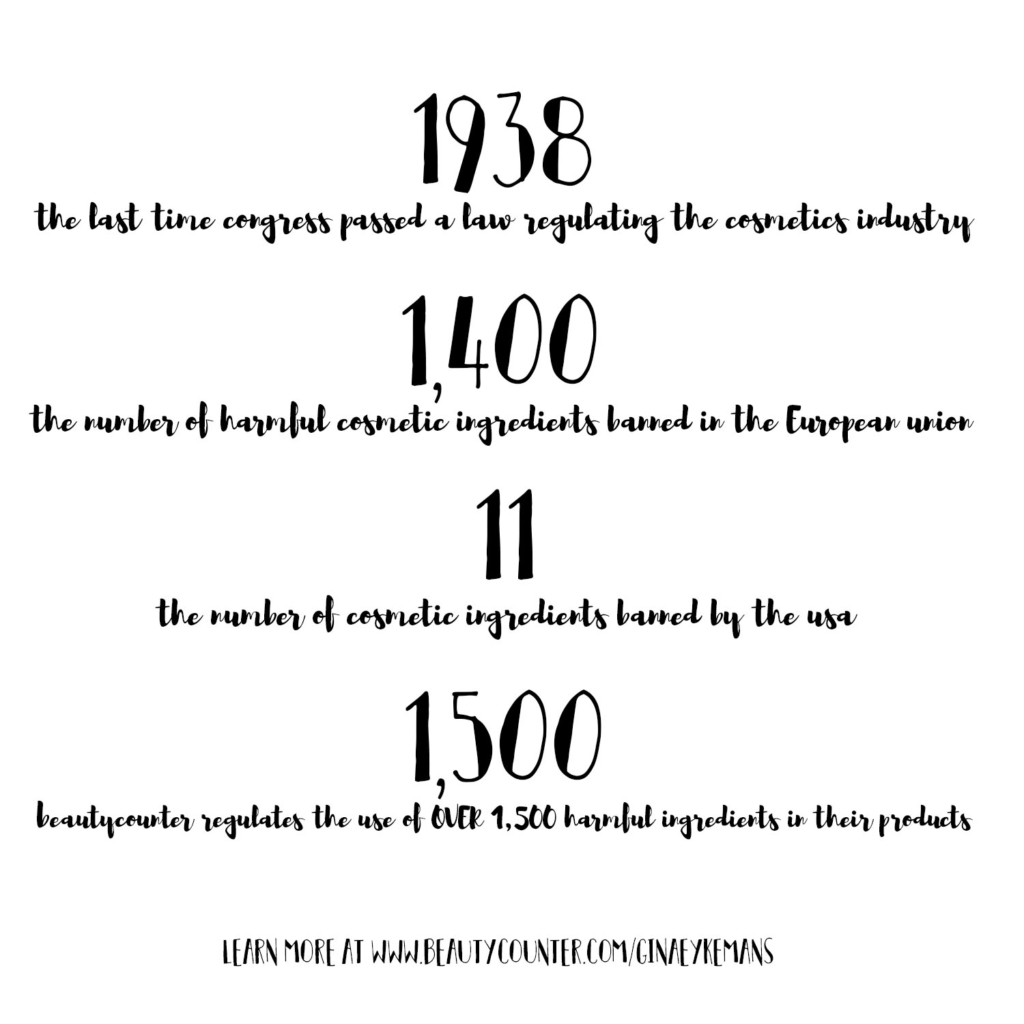 Wait, wait, wait. I firstly want to openly acknowledge that I FEAR CHANGE. Like, you know that zen friend you have that is awesome at meditation and seamlessly flies by the seat of her pants? Yeah, I'm not her. I am a creature of habit. I am also fiercely and stubbornly skeptical. If you tell me to do something, I most likely won't. Not because it wasn't a great idea, but because YOU told me to do it. Yeah, I'm a piece of work. I get it. But, I'm telling you this because I understand your hesitation. I understand if you're like, "Girl, please! How bad can my face lotion really be?" because, I AM you. I think at least four of my friends sent me samples of Beautycounter products before I even tried them. I kind of just rolled my eyes at this whole thing. And, you're talking to a girl whose skin was so sensitive that my beauty routine consisted of rosehip oil and an eyelash curler. Did I tell you I'm stubborn? Yeah, that.
The thing is, when I actually tried the products, not only did they perform up to my makeup artist standards, but they didn't make my face burn, itch, or feel like hot garbage. This is a win. No one wants to feel like a flaming-hot, garbage face. In fact, my skin felt smooth. The foundation glided on beautifully. The cleansing balm was super moisturizing. I got some hormonal breakouts around my jawline and busted out a sample of the charcoal mask — lo and behold, the stuff pretty much knocked it out in two days. I'm not lying. I'm a makeup artist. You can trust me. I'm a professional. After a few months of using the cleansing balm and charcoal bar seriously, I've noticed a major change in my skin.And, because I am a skeptical weirdo, and you might be too, here is a picture of my face I snapped with my phone after a shower. There's nothing on there except toner and this facial oil. I'm not mad at this picture. I don't have any angry patches, nothing burns, and my acne has decreased majorly, if not gone away completely. I'll take it.
Do you want a safer beauty routine? Here's what to do…
I know it can feel very overwhelming to replace everything in your arsenal at once, not to mention it can be pricey. I get it. Remember? I FEAR CHANGE. If you are not a change fearer, then take your badass self, charge on ahead and replace it all in one shot! You are basically Beyonce, and I admire the eff out of you. If you are not Beyonce, that's fine too. I would recommend going to this website and search the products in your beauty routine. Each of them will come up with a score. The higher the score, the more toxic the product. These are the one's you'll want to replace first. Then, head on over to Beautycounter and find what you need!
Wanna see something cool? These things will NEVER be in your products. It's called the NEVER LIST.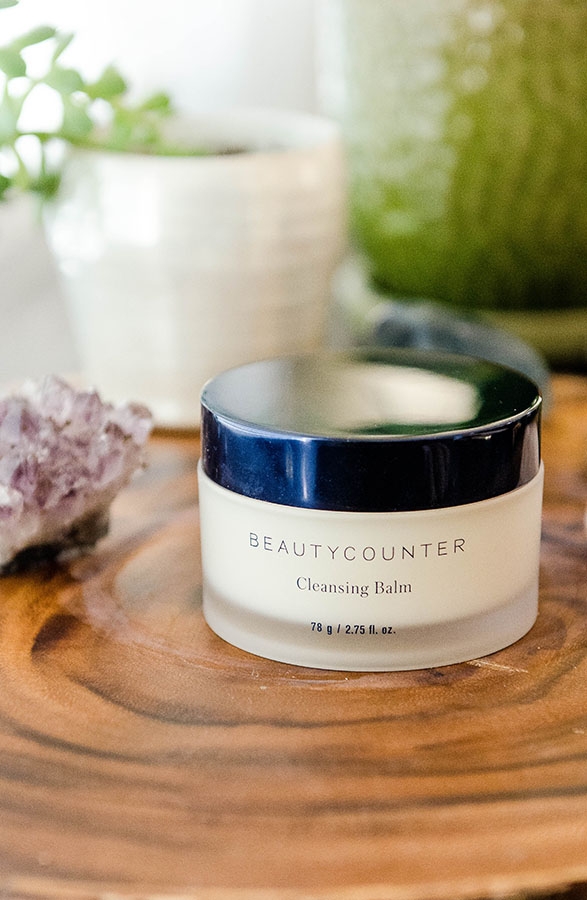 Need some help? Here are some of my faves:
Flawless in Five Kit–If you're wanting to start fresh with your cosmetics, this is the best bang for your buck. It includes foundation, a concealer pen, an eyebrow pencil, your choice of lengthening or volumizing mascara, a blush duo, and a lip gloss! It's the perfect way to begin to build your safer beauty collection.
Cleansing Balm –My skin is on the drier side, and this stuff is mother truckin' ridiculous. It cleans your face, make-up and all, without stripping moisture. I actually sometimes use it as a night balm as well. I know it seems pricey, but this stuff goes A LONG way. Lots of moisturizing bang for your buck. This might be my FAVE product of theirs if I had to choose.
Charcoal Cleansing Bar –Yes, this bar might look like a lump of coal, but it's much more like Santa thinks you're his favorite and brings you a soap that zaps both face and body zits in a hurry. Yeah, I said it…body zits. Don't pretend like you've never gotten a pimple on your butt. You haven't? This is awkward.
Charcoal Mask— This mask is a secret weapon. Since my skin is on the dryer side, I only use it every other week or so, but when I do, I can tell a big difference in my pore size. I also use it as a spot treatment for pesky zits. The charcoal is detoxifying and pulls impurities out of your pores.
No. 3 Balancing Facial Oil— I'm obsessed with face oils as moisturizer. This one has a balancing effect for your skin, and smells like flowers in a very pleasing totally not gross way.
Lengthening Mascara –Because, I have serious eye lash extension envy, but I don't have the patience to sit there for five million hours to get them. Also, this stuff is BOMB, and makes my lashes so long! This was my first Beautycounter love. If this was a script, me putting on this mascara would be the scene where we started an adorable courtship. Our meet cute.
Ultimate Nudes Palette— This eyeshadow palette is dreamy. It's currently limited edition, but I'm hoping it sticks around beyond the holidays. Firstly, this thing is huge–it's basically the size of my face, and houses EIGHTEEN different neutral shades that look good on everyone. The pigmentation in these colors are crazy and totally rival my old MAC shadows. It's a beautiful mix of both shimmer and matte shadows.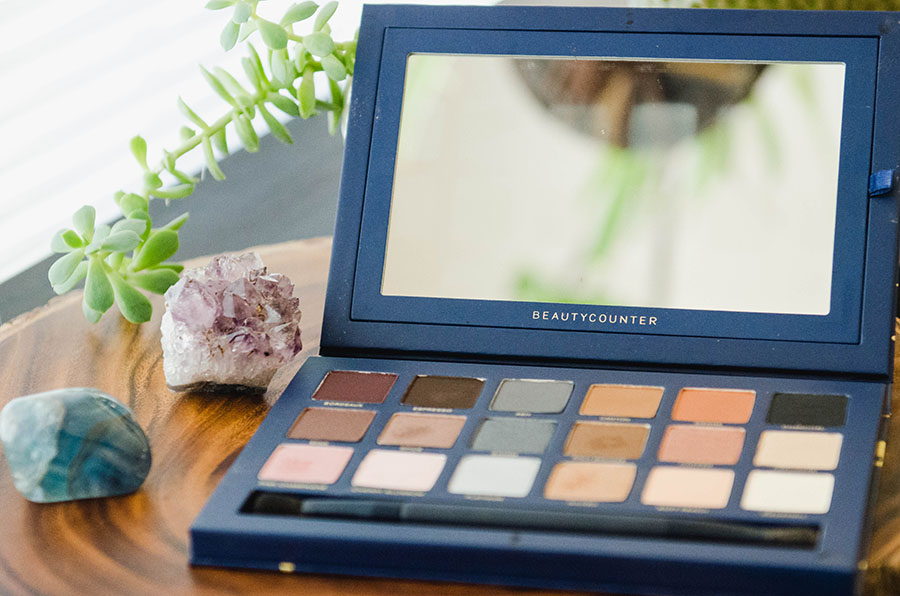 Wait, there's a way you can save some money doing this. I'll tell you how. I'm not a monster…
Sign up to be a Band of Beauty Member! When you sign up, you can automatically start earning 15% of what you spend on product back to spend on your next order! Plus, there's free shipping over any order of $100. Um, and there's some super sexy welcome gift. It's only $29 per year to sign up. It's kinda like an Amazon Prime membership, but with makeup and that fun 15% back on each order! Who doesn't want to save a little skrilla? I mean, I kind of bet even Beyonce would be like, "Girl, I am not above a coupon". In my fantasy, Beyonce is like a really rich down to earth goddess human who isn't afraid to pull out a very long CVS receipt for a discount. This might not be true. But, that is me. I like to save. Maybe, I am my own Beyonce. Too far? Agreed.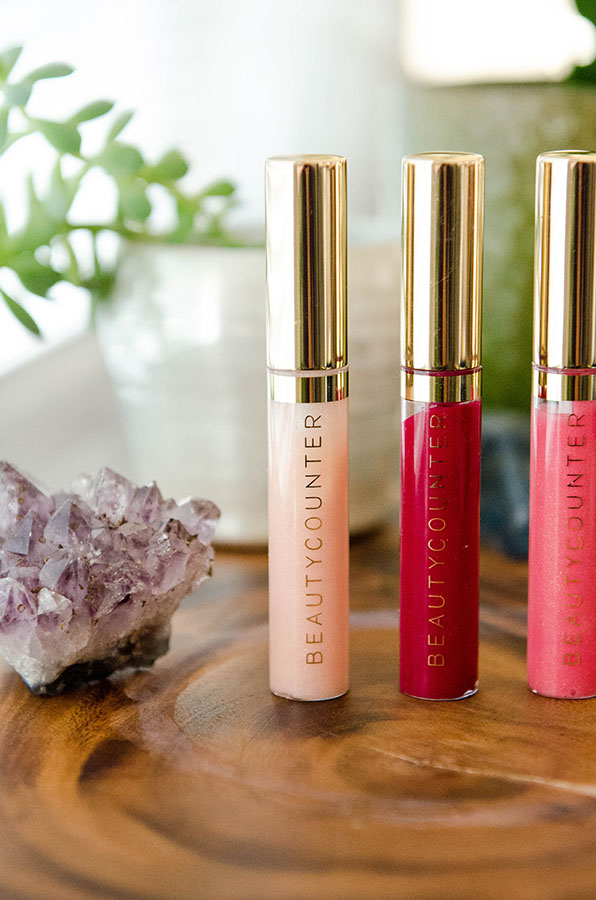 Wait, Gina…Don't you use any products that aren't Beautycounter?
Yes, I do. While I largely use Beautycounter products, I also have some other clean favorites that I keep in my rotation. Plus, I am always striving to learn more about safe skincare and will openly discuss other brands that I find and love with you. I am just starting this process, really, but I plan on being totally transparent as always!
Join my Better Beauty mailing list and interactive Facebook group!
We will chat about skincare, safer beauty products, and I'll share with you any specials I might run. Also, there will be the occasional video tutorial and other fun stuff! I'll never spam you, because that's totally rude.
This is a space to be interactive with each other. You can ask questions, and build a community around safer skincare from the inside out. I will hop on there to do live videos and tutorials. Basically, it's gonna be a whole lot of fun! No purchase necessary, just community and info and hanging out.
Moved by the mission?
Take some time, try it out. But, if you're moved by the mission to spread the word of safer beauty and skincare, consider becoming a consultant! Consultant's can sell products, build a team, build a paycheck, and all while getting 25% off of products. Does this seem like something that would light your fire? I'd always love fellow passionate non-toxic warriors to be on my team! Check out what being a consultant entails here. Have questions about this? Shoot me an e-mail.
With Fierce Love + Skin That Is NOT on Fire,
Gina xoxox
PAID ENDORSEMENT DISCLOSURE: In order for me to support my blogging activities, I may receive monetary compensation or other types of remuneration for my endorsement, recommendation, testimonial and/or link to any products or services from this blog.