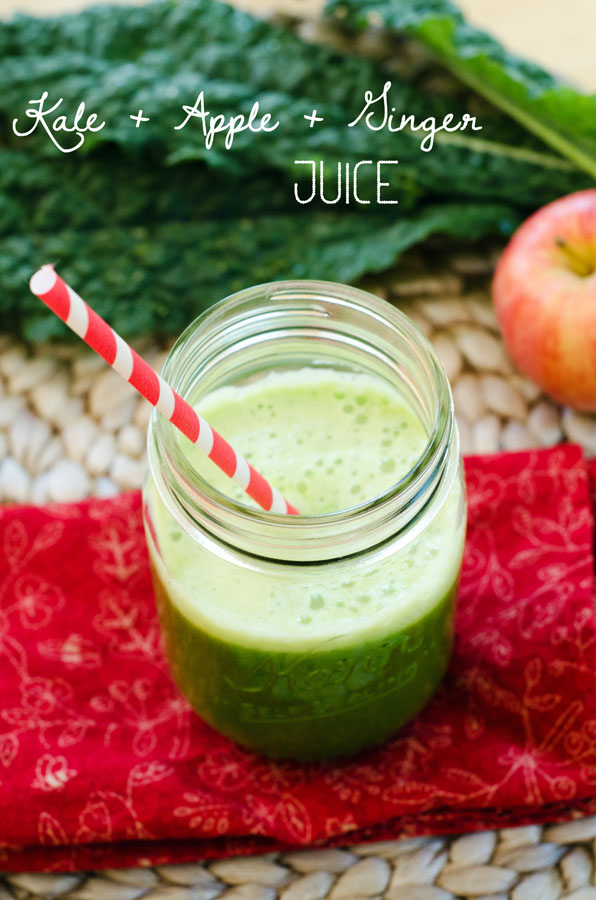 You know it's spring when…
You wake drowsily at 9:00am because you were forced to take a powerful antihistamine the night before. You took this antihistamine because of all of the mosquito bites that you have managed to acquire. They itch. You have a particularly gnarly one on your stomach, which proves curious since you don't remember wearing anything resembling a crop-top. You've been spending a lot of time outside. Even at night. This is where all of those rosy mosquito bites came from.  It's been sunshine on sunshine on sunshine. You've been sporting a tank top and frolicking in the outdoors despite your allergies. Your eyes are swelling slightly? You can't breathe? We should probably go inside…BUT IT'S JUST SO GOSH DARN SUNNY! Your body craves this wicked vitamin D festival, so you ignore your allergies, eat some local honey, inhale some prescription nose spray and get real about eye-drops. You start scoping out and trying to guesstimate how much of your backyard your next door neighbors can see through their kitchen window. Obviously this is because you would like to read a good book while wearing your birthday suit. You surmise the neighbors can see way too much. You also surmise that they've already seen way too much. Why did you not check this out before you decided to go out into the yard in your underpants (MULTIPLE times)? Not sure. Oh well. You find yourself out at farmer's markets. You find yourself paying $7.50 for a green juice. You know this is expensive, but you can't help it. It looks so good. You suck down $7.50 worth of fruits and veggies in a flash. You try to be mad about the price, but you can't because it tastes too good, although once it is gone you find yourself tinged with a bit of regret. You have an awesome juicer. You could have made three green juices at that price. Sheesh. Also, you should put sunscreen on your husband's neck, it's about to burn. This is our real life.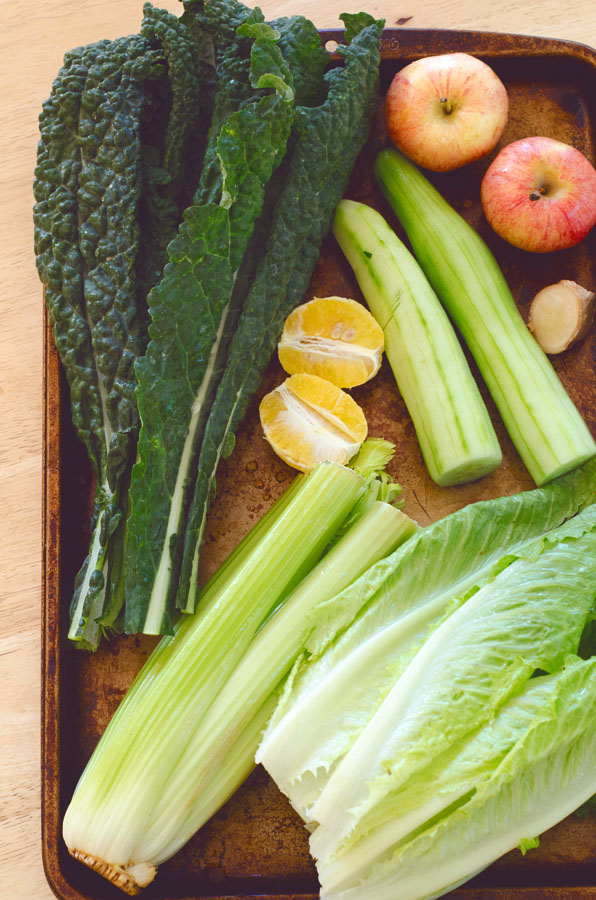 Spring is MADE for green juice. I will admit to you in the last weeks of winter my juicer took a nap. Something about rain and having to wear a sweater inside made it hard for me to want to spend a chunk of time making a cold glass of veggies. I made lots of soup. I baked too many cookies.  But, Friends! I am so jazzed on juice and smoothies right now (oh, and cocktails too). The sun is back, the flowers are blooming (just ask that tickle in your nose!) and it's time to flood our bodies with things that are good and green. It might also be time to plant a tree in front of the neighbors kitchen window. Just sayin'.
I try to get creative with my juicing, especially when it's a recipe I share with all of you lovelies  I realized in all of the juice recipes I have shared with you , I have never shared my go to green drink. This juice is something I could drink every single day. It's simple, delicious and packed with tons of nutrition! Plus, I tend to have all of these ingredients on hand in my fridge. That is always a plus, right? Affirmative.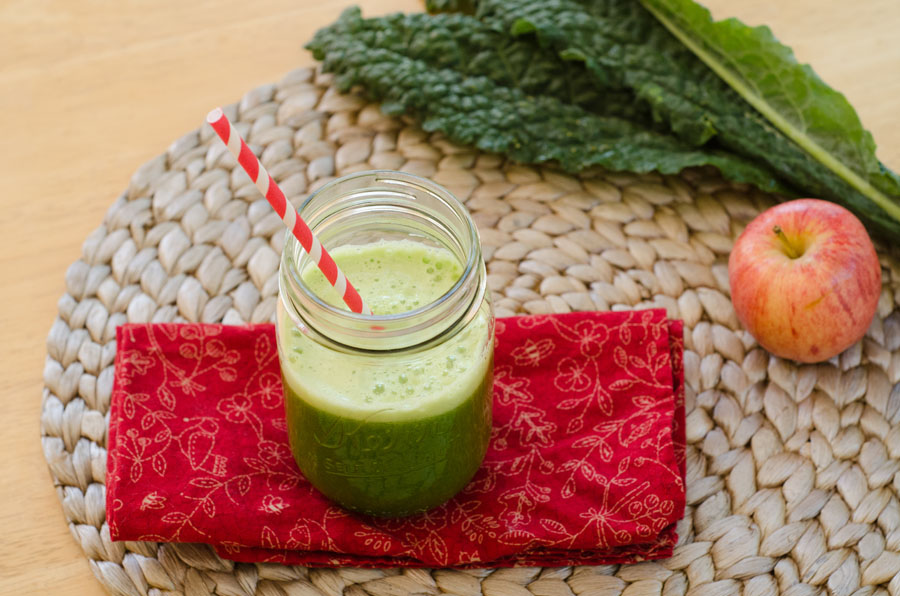 I hope you are enjoying all the loveliness of spring with 100% less mosquito bites! Dust of your juicers… ready…set…GO!  xoxo
Kale, Apple & Ginger Juice
4 cups of juice
adjust servings
Ingredients
1

English cucumber, peeled

1

Meyer lemon, peeled

1

bunch of celery

2

Gala apples, chopped

1

inch of ginger root

8

Lacinato kale leaves

1-2

Romaine hearts
Instructions
Wash and prep all of your fruits and veggies.
Run them through the juicer.
Enjoy immediately or bottle it up for later. Store in an airtight container such as a mason jar for up to 48 hours. Try to fill your mason jars as close to the top as possible so that there is the least amount of air between your juice and the tight fitting lid.
Enjoy!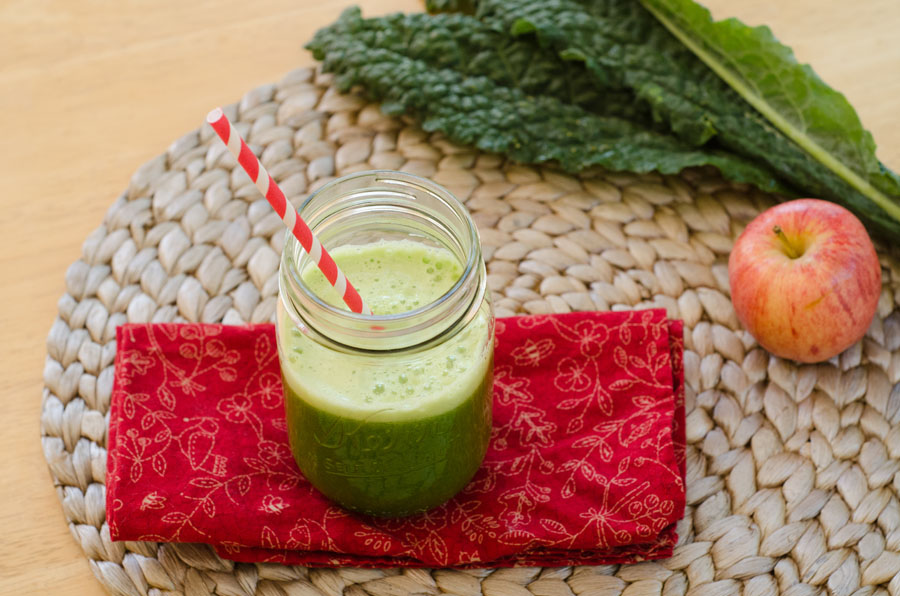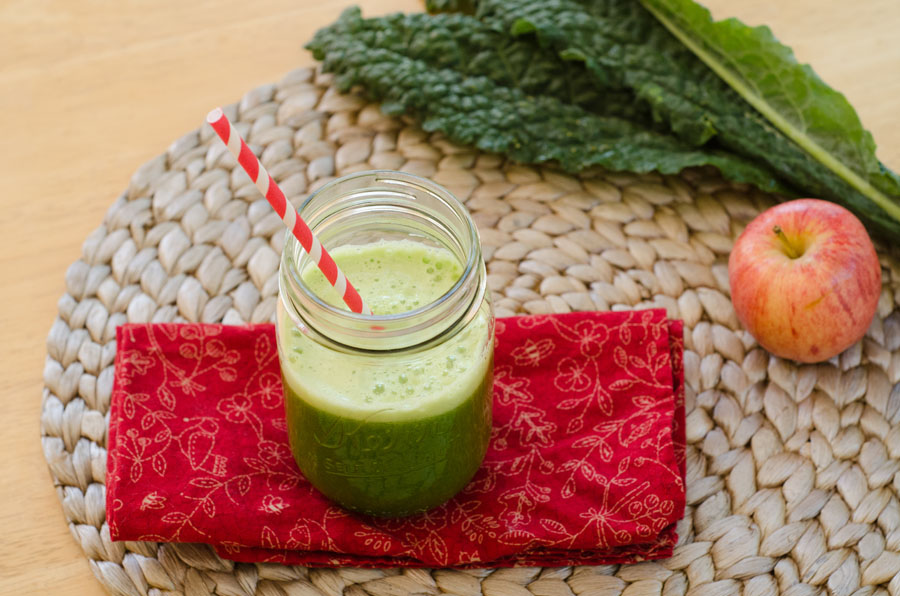 PAID ENDORSEMENT DISCLOSURE: In order for me to support my blogging activities, I may receive monetary compensation or other types of remuneration for my endorsement, recommendation, testimonial and/or link to any products or services from this blog.