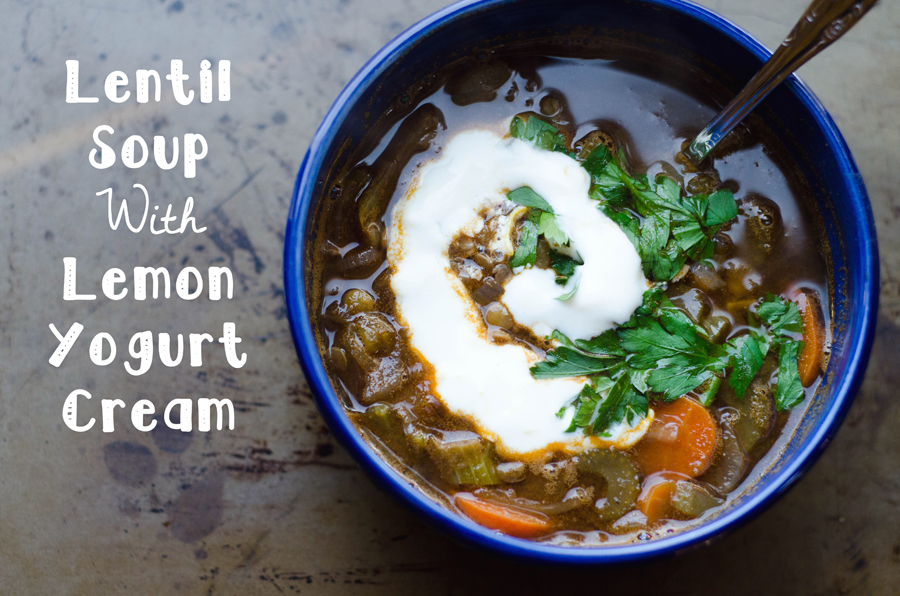 As long as I can remember I have been a fan of lentil soup.
When I was younger I would heat up a can of Progresso, cook pasta shells in it, and then proceed to dump at least a quarter-bottle of grated Parmesan into the mix. This is not an exaggeration. You know how the bottle has two settings? One of them is the sensible trio of holes that will simply dust your food with a socially acceptable amount of cheese, the other is one gaping hole that is intended for quick and sudden evacuation for large amounts of cheese. I used the gaping hole side. This dish is what my Italian father dubbed "Pasta Fazool." It was simple and tasty and I am sure that our Great Italian Grandmother is rolling over in her grave somewhere at the thought of us using canned soup and buckets of pre-grated Parm.
For a long time this satisfied me. Opening up cans, dumping the contents, saturating the finished product with buckets of gritty cheese. This got me through most of college… along with a suspicious amount of turkey sandwiches and vodka. Then, one year I got bit by the soup bug. I am sure this was during the first year that I started teaching. I was constantly sick. I started making soup from scratch and it was a revelation. I experimented with everything from chicken noodle, beef stew, chicken and rice, spicy sausage soup with spinach and of course lentil.
Later that year I would return to my parents home for a visit, reach into their cupboard grab a can of lentil soup and proceed to start my Pasta Fazool-ing. I did everything that I used to do. Dumped the can, cooked the pasta, emptied their cheese canister onto my single serving. When I took a bite I almost cried. It was disgusting. I think I exclaimed "OMG, THIS IS SO DISGUSTING, I CAN'T EVEN EAT THIS" and then made gagging noises. It was probably dramatic. I had become an unintentional soup snob. Homemade soup has so much flavor and soul to it. Canned soup now tasted flat, mushy, watery and lacking in freshness.
So, if you are stuck in a canned lentil soup rut, I get you. I dare you to make your own. It is a game changer. Also, if you make your own and still want to put a near gallon of Parmesan cheese in it, I won't judge you or look at you funny. Go ahead.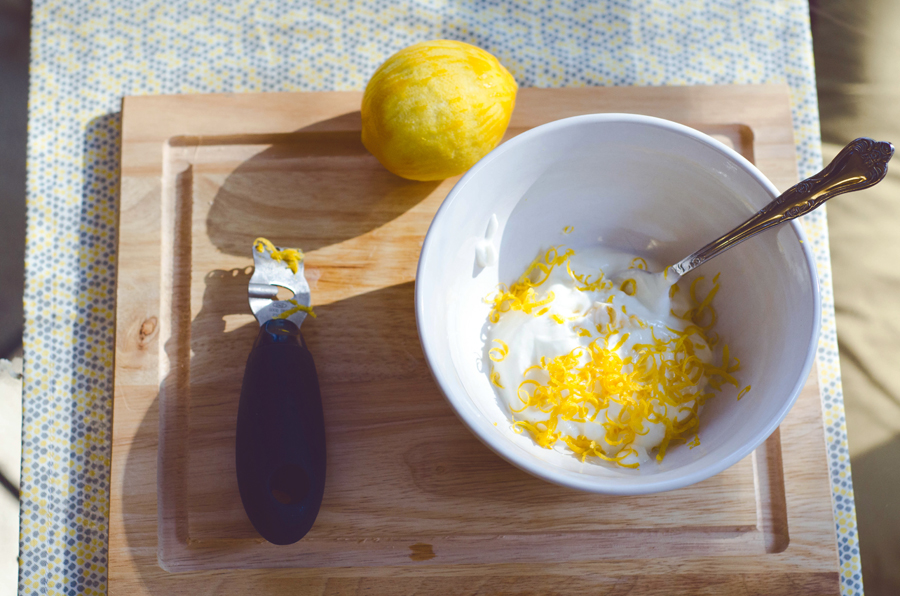 A couple of weeks ago I became a victim of flu season. Despite juicing nearly every piece of citrus in my house and eating an inhuman amount of kale I still managed to gain a sore throat, aching body and a generally bad attitude. There were reality TV marathons and a lot of day napping. It was bleak.
I finally decided to make myself some soup. I remembered seeing this recipe on The Kitchn website and wanting to try it out. In true form, I did not have everything the recipe called for. Being that I was dizzy and hadn't properly groomed my hair for two days, I was not about to make a run to the store. I had enough to make a delicious soup.  Perhaps the most delicious thing about this recipe is the addition of the Lemon Cream. It's bright and sour and really stands up to the earthiness of the soup. Delicious. Totally 100% more fancy than canned soup, no matter how much Parmesan you dump in there.
I am trying out this ZipList recipe plug in which allows you to print out recipes easily. Let me know how it works for you!  xo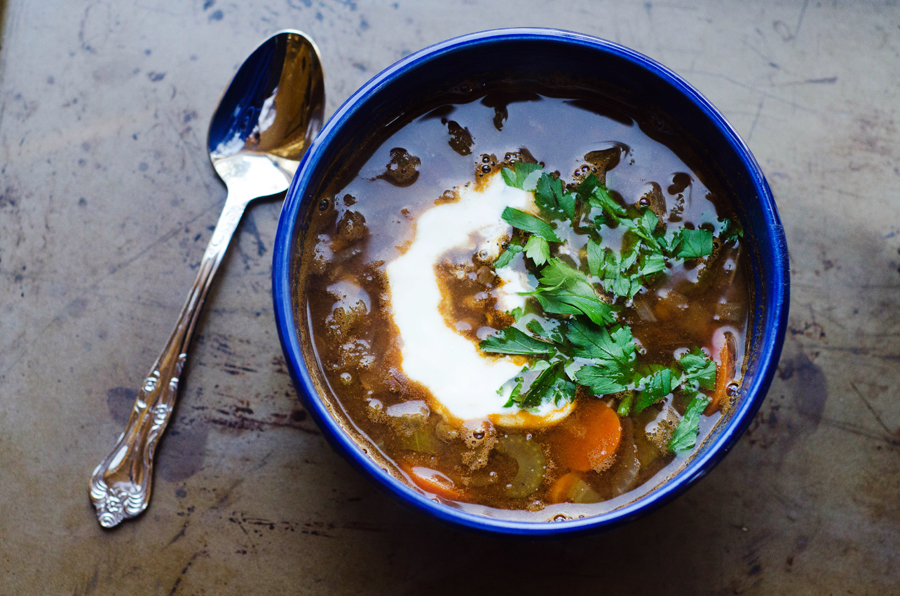 Lentil Soup With Lemon Yogurt Cream
Ingredients
Olive oil to coat the pot

1

medium sized yellow onion, diced

3

carrots, chopped

3

celery stalks, chopped

3

cloves garlic, minced

2

tablespoons tomato paste

2

teaspoon cumin

2

teaspoon salt

1/2

teaspoon cinnamon

2

cup brown lentils

8

cups beef broth (veggie broth to make vegan)

3/4

cup red wine

2

bay leaves

1

cup Greek yogurt (omit if vegan)

zest and juice from 1 lemon

Minced parsley to serve
Instructions
Coat the bottom of your soup pot with olive oil and heat up over medium heat.
Add in your onions and garlic and saute until the onions are translucent.
Add in your celery and carrots and cook an additional two minutes stirring occasionally.
Add in your tomato paste, cumin, cinnamon and salt. Stir and allow to cook down for another two minutes. Your mixture will be very fragrant and the red color of the tomato paste will color your veggies.
Add in your lentils and stir to coat with all of the veggies and spices. Add in your broth, wine and bay leaves and bring the entire pot to a boil.
Once your pot is boiling, reduce your heat and bring it to a simmer. Allow your soup to simmer this way for at least 35 minutes. Your soup is done when your lentils are soft and tender. They should not be hard at all.
While your soup is simmering, start your lemon cream. In a bowl combine your cup of yogurt and the zest and juice from your lemon. Whisk together until it all combined and set aside.
When your soup is done serve in a bowl with the lemon cream to top and garnish with parsley.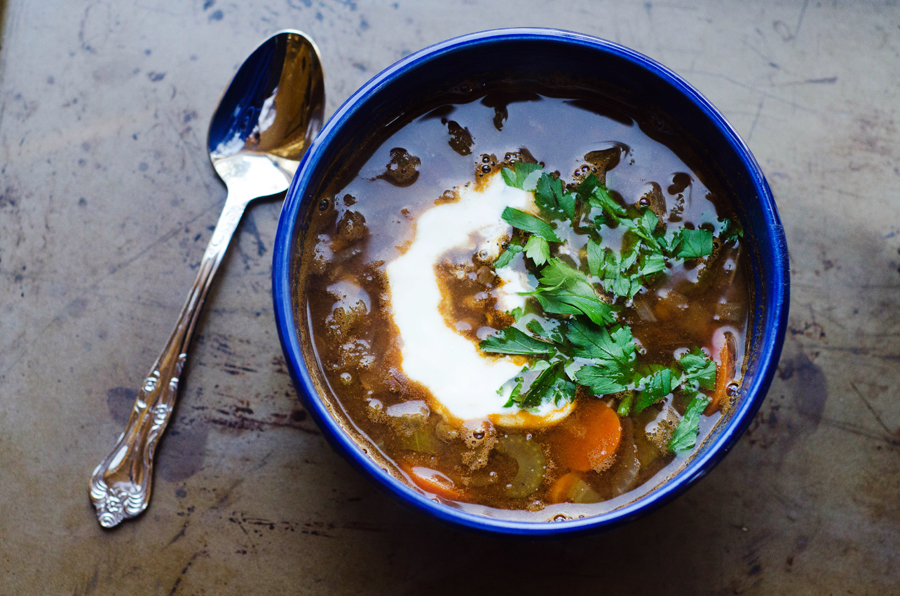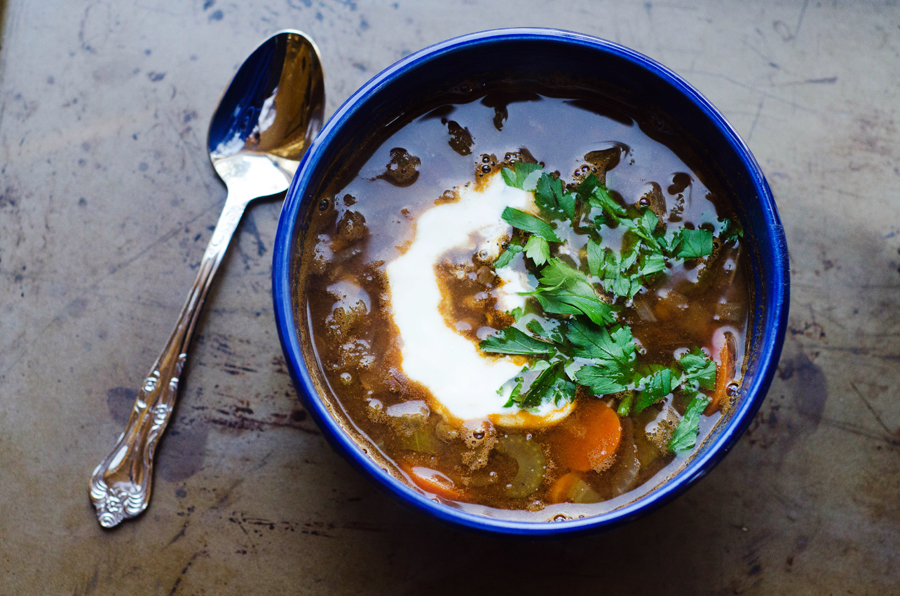 PAID ENDORSEMENT DISCLOSURE: In order for me to support my blogging activities, I may receive monetary compensation or other types of remuneration for my endorsement, recommendation, testimonial and/or link to any products or services from this blog.