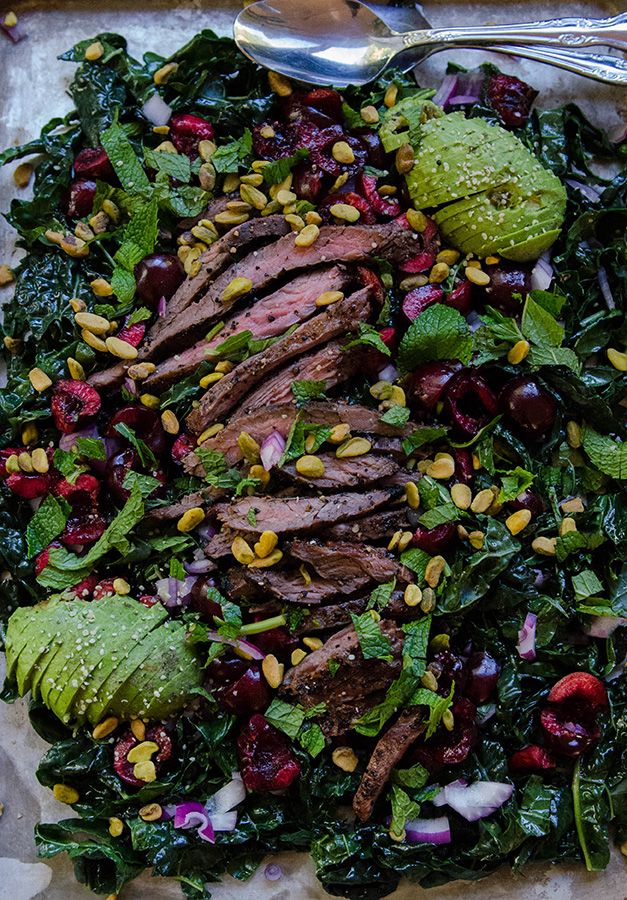 Happy Monday, folks! My husband, Peter, is in the house today writing some words about salad. I really love this human, and I hope you do too. But, not too much. He's mine. Alright, I'll chill out. Here's some words on vegetables… 
I come from a family of salad skeptics. Sure, we'd have lettuce or vegetables as a side with dinner. Maybe it'd even include salad dressing with questionable expiration dates from my parent's fridge. But the concept of a salad as a main course was a foreign one. The closest we got was a kale-mashed potato-sausage mash-up that I hated as a kid, however, older me is kicking younger me for missing out on that treasure. That diddy was of course made and served by my mom. My dad falls into the camp of "suspicious of anything green". To this day, when it comes to vegetables, getting my father to eat his broccoli is a bib and a highchair away from my mother trying to airplane it into his mouth. So, salad as dinner? No.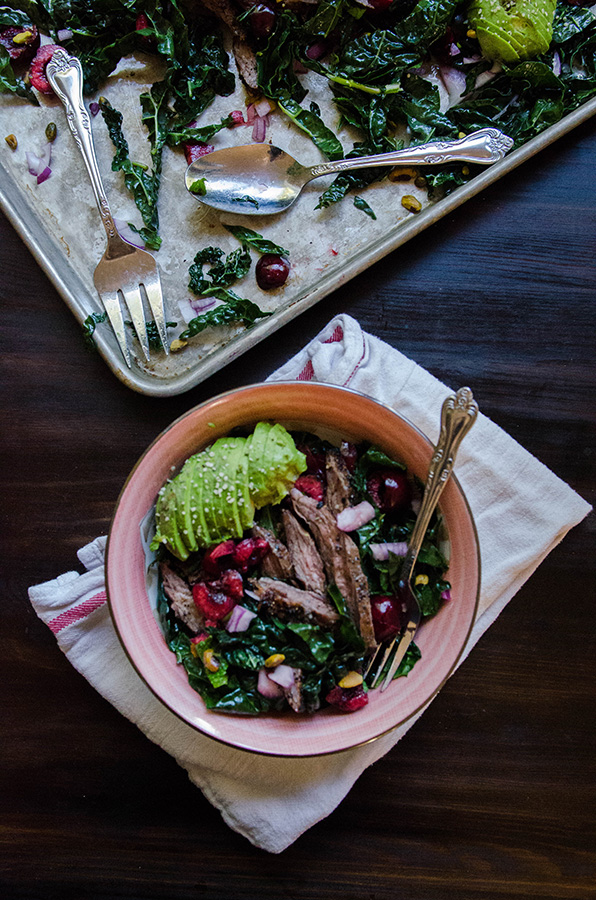 But as I grew older and wiser, and married a talented cook who works wonders with vegetables, I realized that salad didn't have to be an add-on, but rather, it could serve as the perfect delivery vehicle for all the flavors and textures I love. When you can combine crunchy, sweet, savory, and juicy in a single bite — something's going very, very right.
Maybe it's because I'm a man who enjoys convenience, but the marriage of all the ingredients into a single-bowl is perfect for me.
When Gina dropped this salad in my lap, she was shocked. Not because I had a horrid reaction, or a look of disgust (I do come from a long line of grumpy salad eaters, remember) — but rather because before she was even able to sit down, I had shoveled half the bowl into my mouth without chewing, dropping pieces of cherry on my shirt and letting steak juice dribble down my chin. I smiled, which allowed for more of the meal to exit my mouth — but that didn't slow me down from devouring it. Have I mentioned that my table manners can become questionable when hungry?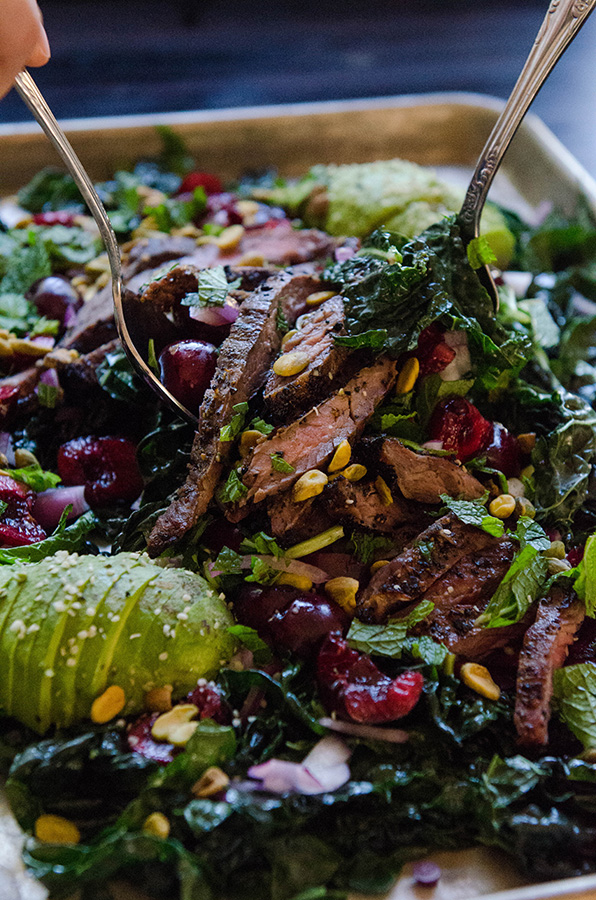 There's a trick to making a dinner salad, though. You can't just drop ingredients in a bowl and walk away with a smirk knowing you've "crushed" dinner (believe me, I've tried). The look on Gina's face when she sees me gathering ingredients to make a salad is priceless, that's why I leave it up to the professionals. Blame it on my lack of creative salad eating as a kid. As it turns out, tortilla chips crumbled over iceberg lettuce with a raspberry vinaigrette isn't a thing. And, if you try to put an egg on top, that doesn't make it dinner. Did I mention my wife shuddering? Now maybe you get it.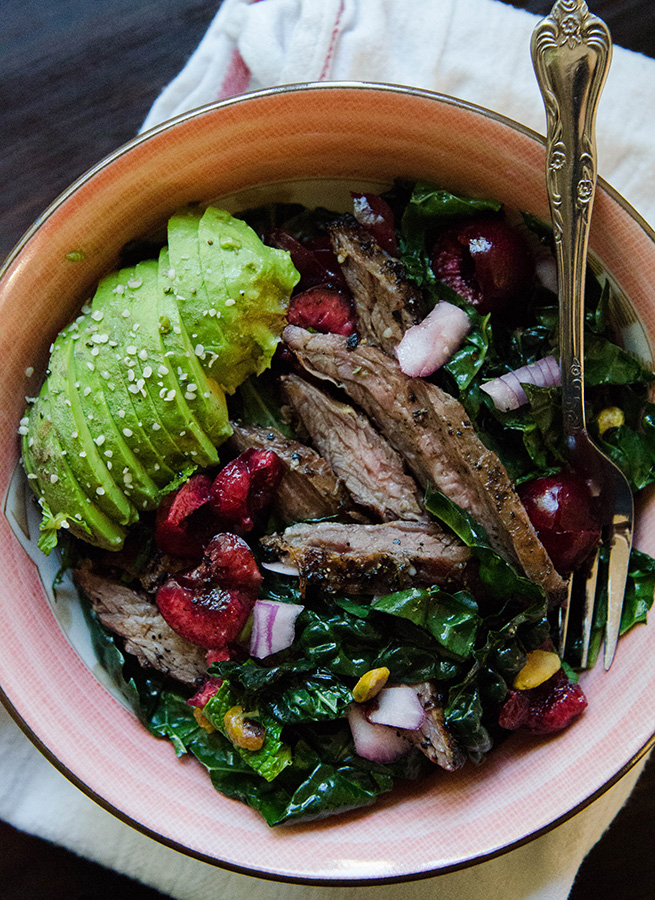 So in the case of this salad, there's a rhyme and reason to putting this ensemble together. The juicy, medium-rare steak pairs incredibly with the cherries. Then the crunch and added flavor of the pistachios adds an extra note to the experience. And, when combined with the tartness of the dressing, this is truly a meal you can serve anyone — friend, family, veggie-skeptic — and they're sure to enjoy it, nay, love it. Except for maybe my father. 
Massaged Kale Salad With Cherries, Pistachios & Grilled Flank Steak
Ingredients
Steak
Salad
2

bunches of dino kale, de-stemmed and chopped into ribbons

1/2

medium red onion, peeled and chopped

2

cups cherries, pitted and cut in half (this tool is useful for pitting cherries)

2

avocados, seed and skin removed and sliced thinly.

5

sprigs of mint, chopped

1/2

cup pistachios

Tbs of hemp seeds
Dressing
Juice of two large lemons

1/3

cup of olive oil
Instructions
Rub your steak with olive oil, and season it liberally with steak seasoning. Set it aside and allow for it to come to room temperature. Get your grill ready.
Whisk together the lemon juice and olive oil for your salad dressing and set aside.
Add kale to a large salad bowl. Pour the dressing over the kale and using clean hands, massage the dressing into the kale leaves. This will soften the leaves and allow them to absorb some of the dressing.
Assemble the salad by adding the onion, pitted cherries, avocado, mint, pistachios and help seeds.
Add the steak to a hot grill and cook for 3 minutes a side, making sure not to overcook. Use your best judgement depending on how thinly cut your meat is. You don't want to overcook it. The goal is to get a nice medium rare. A meat thermometer might be helpful here. Once done, remove the steak from the heat and allow it to rest for a couple of minutes.
After the steak has rested, slice it up and arrange it on top of the salad. Serve and enjoy!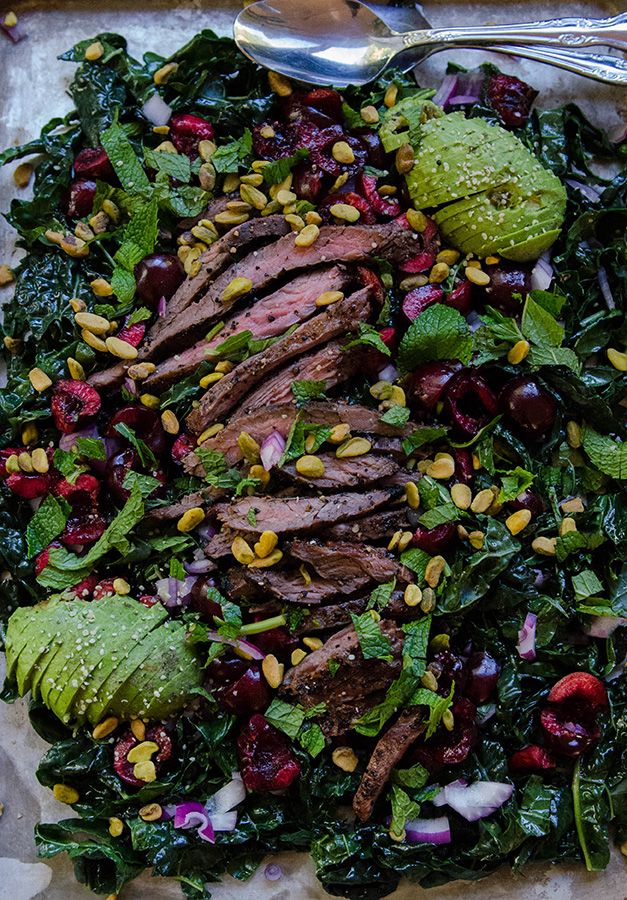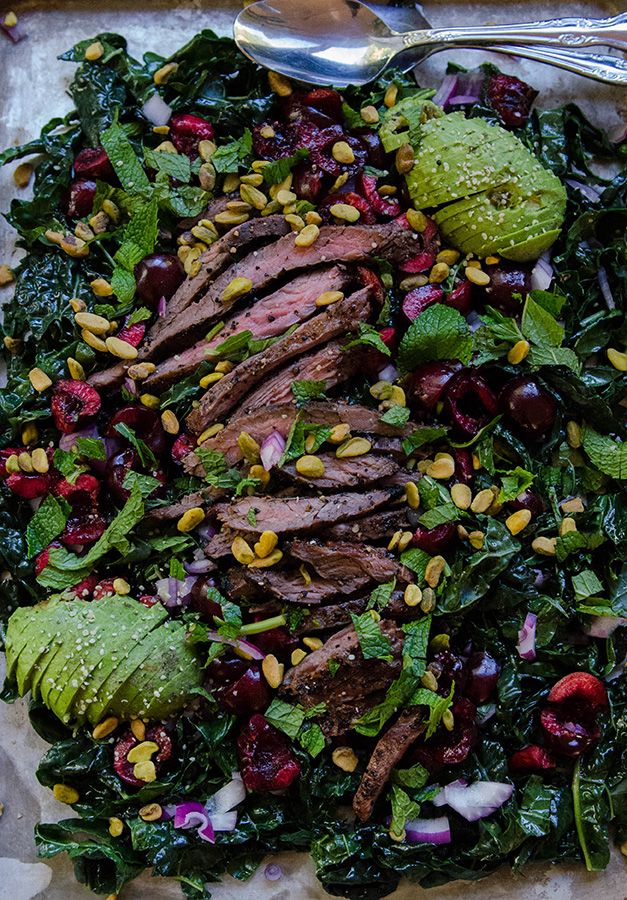 PAID ENDORSEMENT DISCLOSURE: In order for me to support my blogging activities, I may receive monetary compensation or other types of remuneration for my endorsement, recommendation, testimonial and/or link to any products or services from this blog.