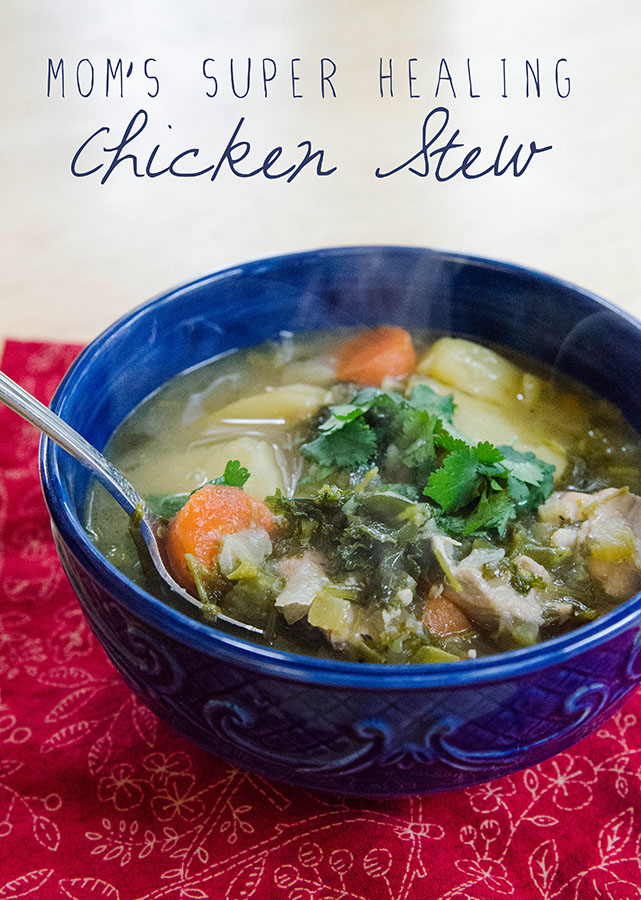 Fact: There are times in life when you need your Mama-Bear, no matter how old you are.
Fact: Yes, I sometimes refer to my Mom as Mama-Bear. No one should look surprised. Does she call me Baby-Bear in return? Maybe. Am I nearly thirty years old? Affirmative. Just go with it.
Fact: Mama-Bears are really good at making ordinary food taste like liquid gold.
For example, while I was under the weather this past weekend my Mom whipped me up a chicken stew that tasted like fifty billion liquid hugs. I'm not kidding. It tasted like growing up, and all the times I had the sniffles. It smelled like my grandmother's kitchen on a wintry day. Through the scent of it bubbling on the stove came the memories, through the memories came the feelings of familiarity and warmth, and through that warmth came a deep feeling of love. Who ever thinks love is not a legit ingredient in cooking is wrong. Or, maybe they've just never tasted a Mama-Bear's chicken stew. That's okay. I'll show you how it's done.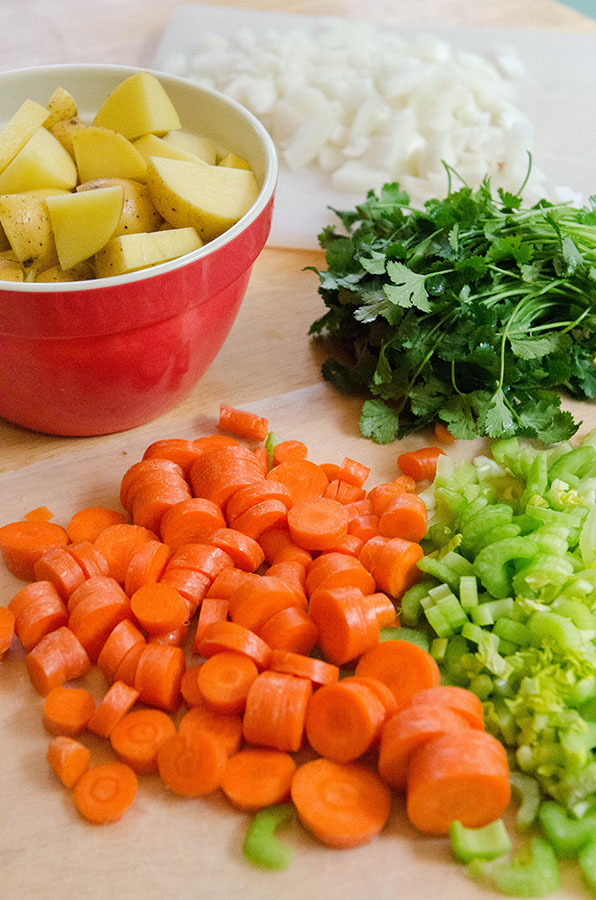 Even though she made a giant pot of stew, it was my prerogative to eat this stuff for breakfast, lunch and dinner. Finally, the soup ran out and my Mama-Bear returned home. But, when my husband returned from his latest business trip he brought home the unorthodox souvenir of one sore throat complete with intense head congestion. Since he was returning from Canada, I was desperately hoping for a pet moose, so you can imagine how I felt a bit jilted by him simply returning home bearing pet germs. Not the same. 😉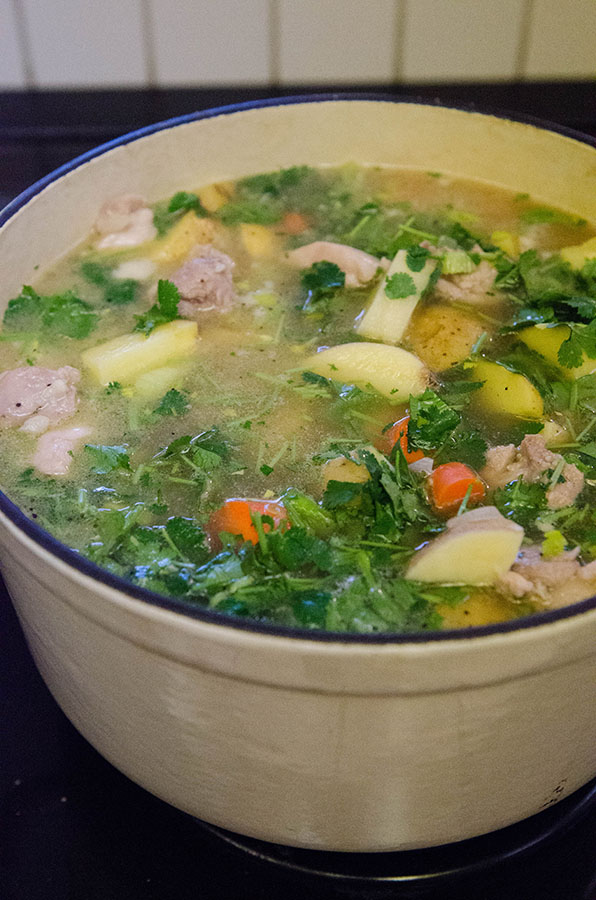 After my thirty seconds of "Wait…so, you're saying there is no moose in that carry-on bag?" disappointment, I decided to try and make a little bit of magic and jumped at the chance to make another giant pot of Mom's soup. Sure, she wasn't here so maybe it was only going to taste like forty billion liquid hugs instead of the usual fifty billion, but that's just a risk that I was willing to take.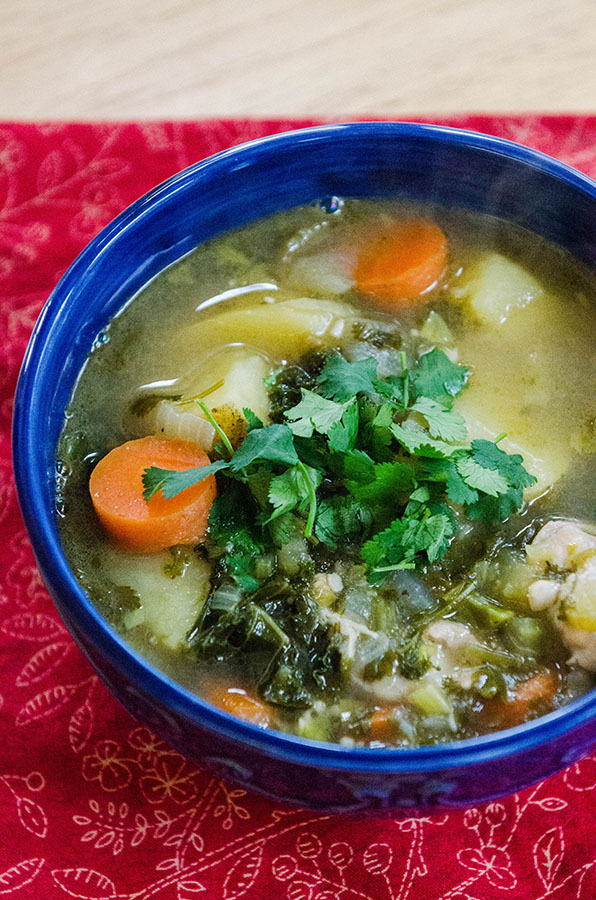 There is nothing technically fancy about the stew, really. No crazy surprise ingredients. But, sometimes it's the simplest things that are the most healing. The potatoes help to thicken the broth and make it stew-like. The cilantro gives the whole pot a burst of flavor. It's comfort food at it's finest. No frills. Just the kind of soup that a Mama-Bear would make for her Baby-Bear.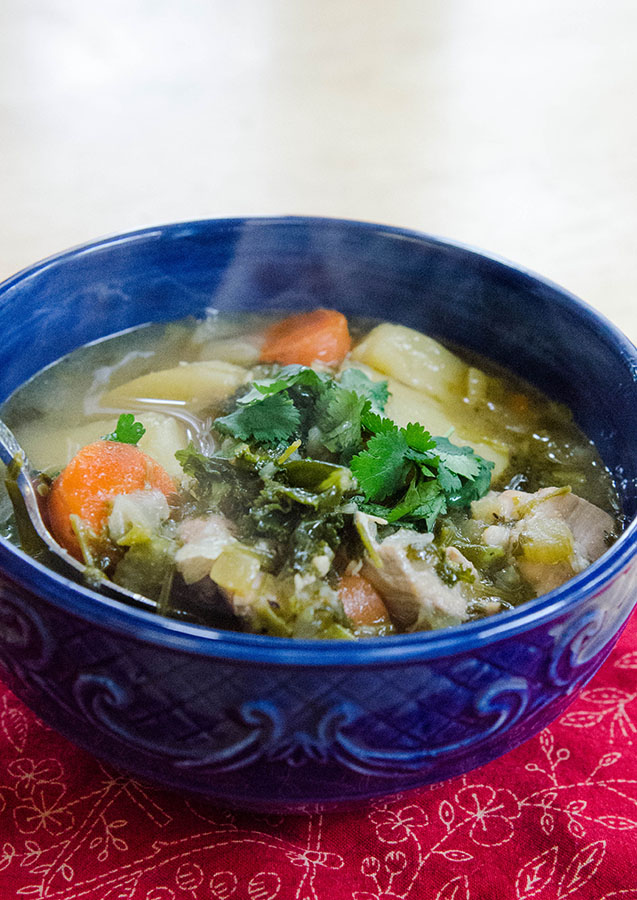 I ladled my husband a large bowl of soup and watched him devour it. He made himself a second bowl and devoured that one too. And, even though he looked at me kind of funny when I asked him if it tasted anything like fifty billion liquid hugs, he still smiled at me and said "Yes".
Mom's Super Healing Chicken Stew
Ingredients
1

tbs olive oil

2

lbs boneless skinless chicken thighs

2

tbs of garlic, minced

1

medium sized onion, chopped

6

medium carrots, chopped

1

bunch of celery, chopped

1

bunch of cilantro, chopped finely

5-6

medium sized yukon gold potatoes, cut into sizeable chunks

Salt, pepper and granulated garlic -- to taste

2 32oz

cartons of chicken broth

1

bunch of kale, de-ribbed and chopped
Instructions
Heat up your olive oil in a heavy bottomed soup pot.
Cut your chicken into bite sized pieces removing any large chunks of fat from the thighs. Add your chicken into your soup pot with your chopped up onion and minced garlic. Allow for the chicken to cook and brown while the onions become translucent and start to cook through. Season this mixture liberally with salt, pepper and granulated garlic.
Once you chicken has cooked through add in your carrots, celery and potatoes. Salt your potatoes well once they are in the pot. Stir everything together and let it cook for a couple more minutes.
Add in your broth and your chopped cilantro. Put on the lid of your pot and allow the whole thing to come to a boil. Once it reaches a bowl reduce the heat to a simmer and allow your stew to cook down for at least 35-45 minutes,
Check your soup at that point for seasoning. Adjust if it needs a little bit more salt or pepper.
Add in your chipped up kale and allow it to wilt and simmer with the soup for an additional five or so minutes.
Once the kale has wilted, the soup is ready to serve! Enjoy!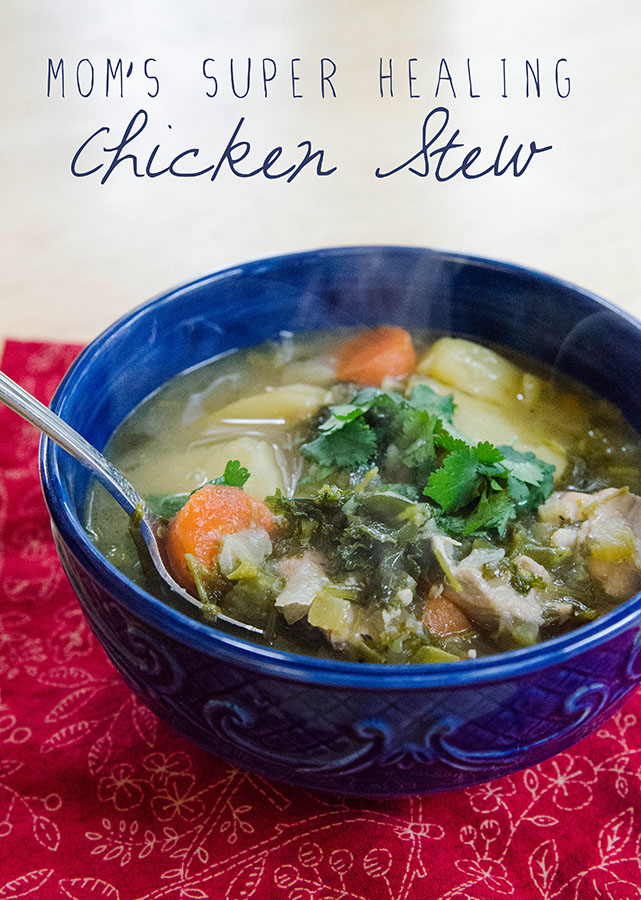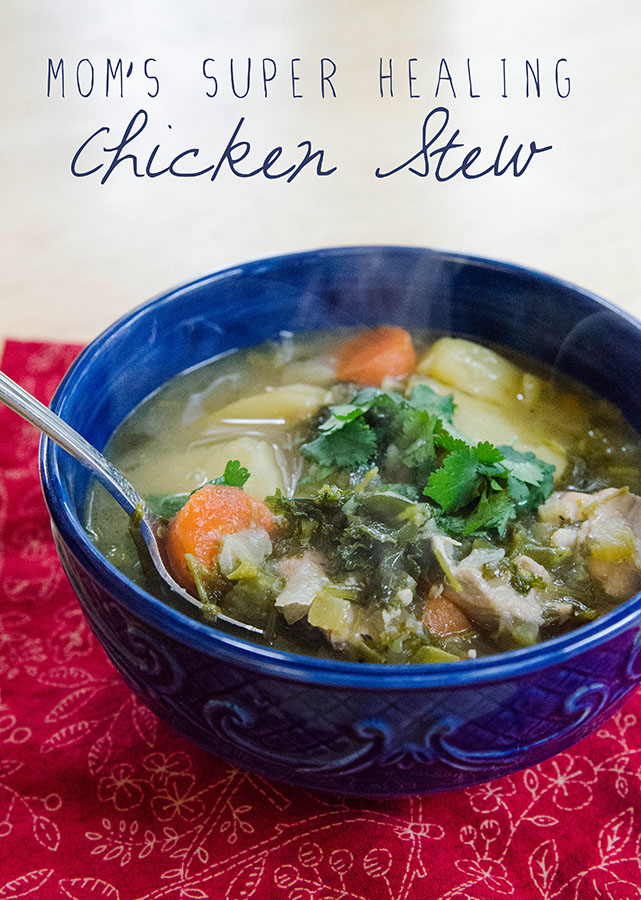 PAID ENDORSEMENT DISCLOSURE: In order for me to support my blogging activities, I may receive monetary compensation or other types of remuneration for my endorsement, recommendation, testimonial and/or link to any products or services from this blog.