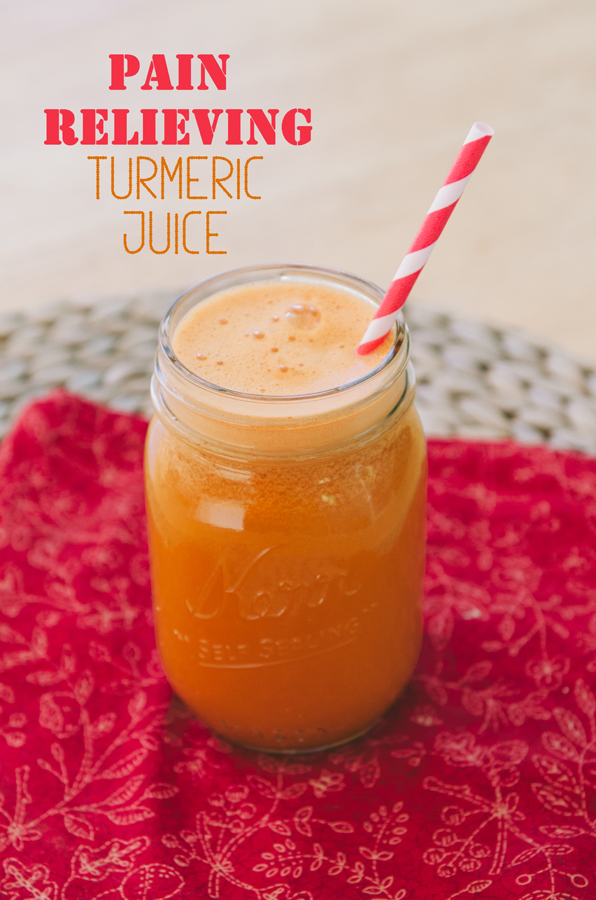 So, I did a really super grown-up thing a week ago. Wait for it… I bought a mattress.
That's right. I put on my adult pants, saddled up to the furniture store (let's call it Schmacy's) with my husband, complained about the backache being caused by my present concave sleeping slab, and was ordered to test out lots of mattress models. Firm. Soft. Pillow Top. Temperpedic. Tempertop. PillowTempertop. Firmapedic. I might have made some of those things up, but there were a lot of mattresses.  Finally we found the one. The clue was that I literally fell asleep in the store. It's weird to wake up in a department store, people. Real weird.
I suspect you know this is going down the wrong path, right? How is this going to tie into juicing for pain relief? Bare with me…
We order the mattress and I count down the days to delivery. Finally, it arrives! My sweet firm mattress with a luxurious pillow top!! Oh boy! I climb in. It feels like I am laying on a plank of distressed wood. What?! This is not the same mattress! Dangit, Schmacy's! Since they have already hauled away my previous concave sleeping slab, I suck it up and sleep on this new torture device. I wonder if it's just a matter of breaking it in. Nope. The next day I found myself at the doctors office in a full on back, neck and shoulder spasm. Can we just talk about the awkward look on my doctors face when I told her I got beat up by a mattress? Awkward. 
At this point, I am a grumpy, sleepless, eye-twitching monster girl in a great deal of pain. I probably had similar posture to the infamous Quasimodo. Just show me to my bell tower. I was willing to do anything at this point for a little pain relief. Sure, I had taken some pain killers, but they weren't really touching my pain situation. I called on some pain relieving reinforcements and my juicer.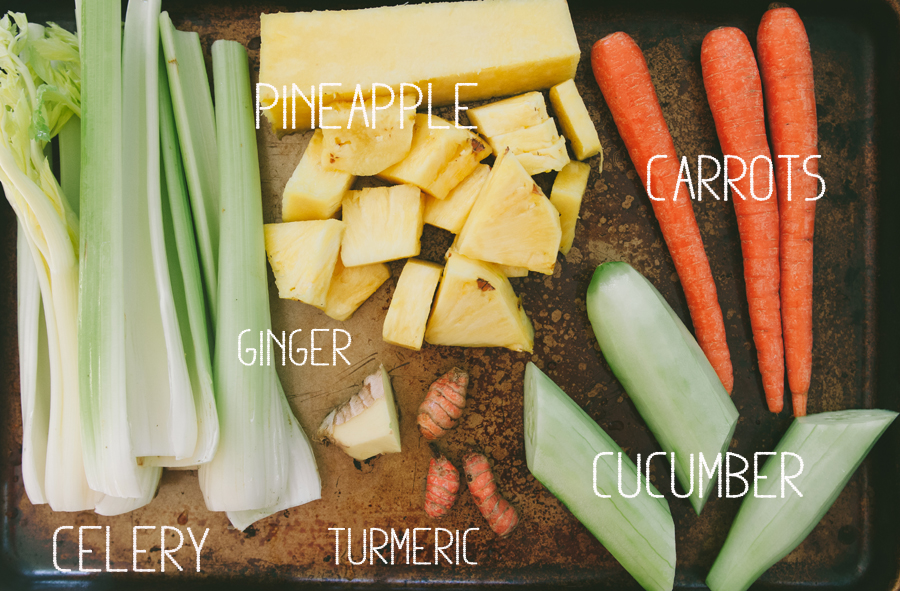 Let me introduce you to this all-star pain relieving cast of fruit and veggies! First up, we got celery. This powerhouse veggie helps relieve joint pain and even lowers your blood pressure. Sweet! Speaking of sweet, I put pineapple in this juice! Not only is it super delicious, but the bromelain found in pineapple helps to tackle inflammation and reduce pain! Cucumber has a cooling effect on the body and helps to relieve inflammation. Carrots have anti-inflammatory properties along with just being pretty and making your juice super orange.Ginger is a powerful anti-inflammatory aid. And, finally… TURMERIC! This root is a super-potent, natural pain killer, and is loaded with all sorts of anti-inflammatory properties. Not only is it good for treating pain, but it has been said to be a powerful cancer fighter as well as helping to stave off a myriad of other illnesses.  It's a good guy.
Believe it or not, this little cocktail packs a powerful punch.It has helped me get through headaches, an ankle injury, and now my angry Quasimodo back. Try it out. What's the worst thing that could happen? It's like drinking a nice cool pain relieving salad that tastes like fruit juice. Possibly the worst food description ever next to "Hot Ham Water", but…ya know.  Note: this juice tastes nothing like Hot Ham Water. Just so we're clear. Okay? Cool. That got confusing. 😉
Pain Relieving Turmeric Juice
Ingredients
1

bunch of organic celery

1

English cucumber, peeled if not organic

1

inch piece of ginger root

1.5

inches of turmeric root (or three smaller root sections)

3

organic carrots

2

cups of freshly chopped pineapple
Instructions
Wash, prep and chop all of your ingredients.
Process through your juicer.
Drink immediately or store in an airtight container such as a mason jar for no more than 48 hours before drinking.
Enjoy!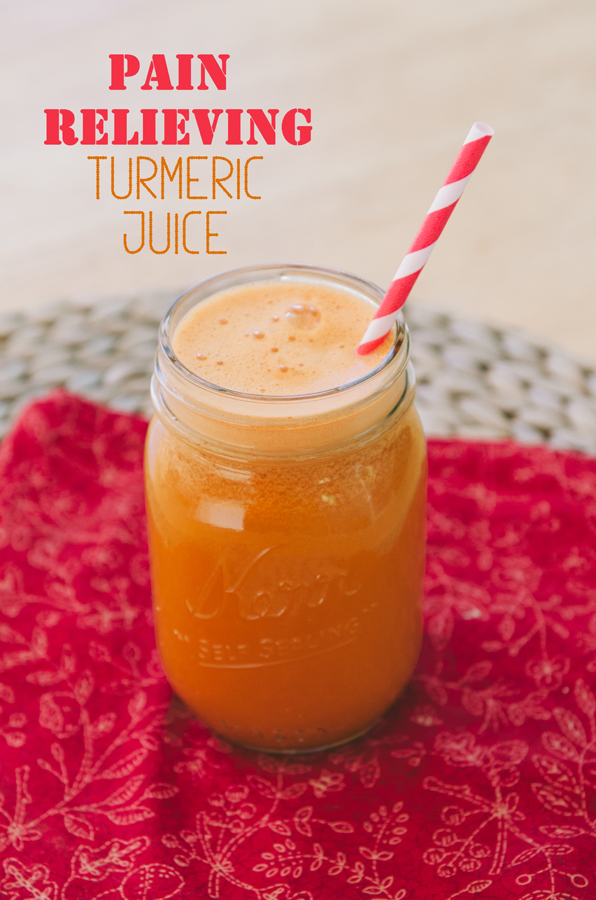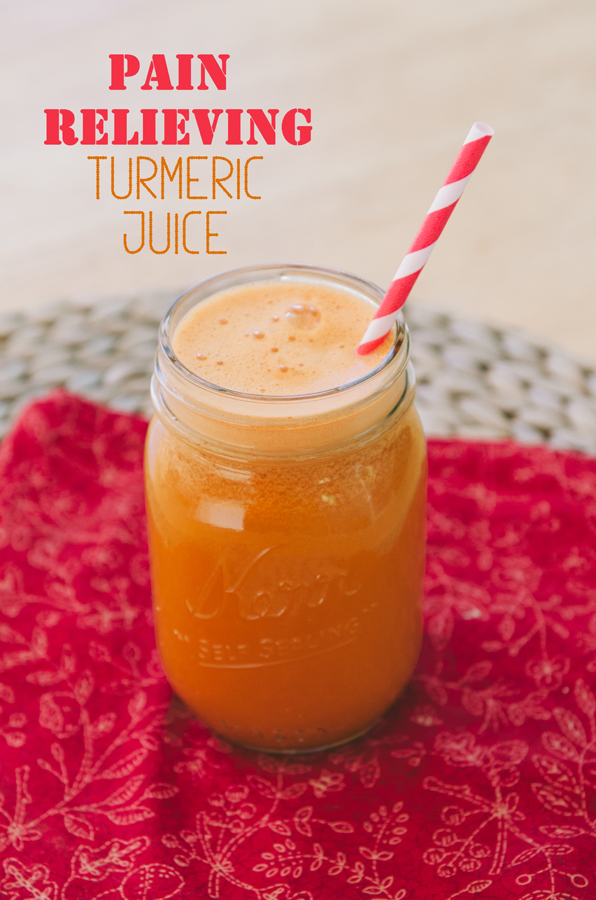 Disclaimer: I am not a doctor or medical professional, I am simply writing about my own experiences and things that have personally helped me in my own health journey. This post in no way should substitute seeking medical advice from a professional.
This post is linked to Party Wave Wednesday at HolisticSquid.com
PAID ENDORSEMENT DISCLOSURE: In order for me to support my blogging activities, I may receive monetary compensation or other types of remuneration for my endorsement, recommendation, testimonial and/or link to any products or services from this blog.