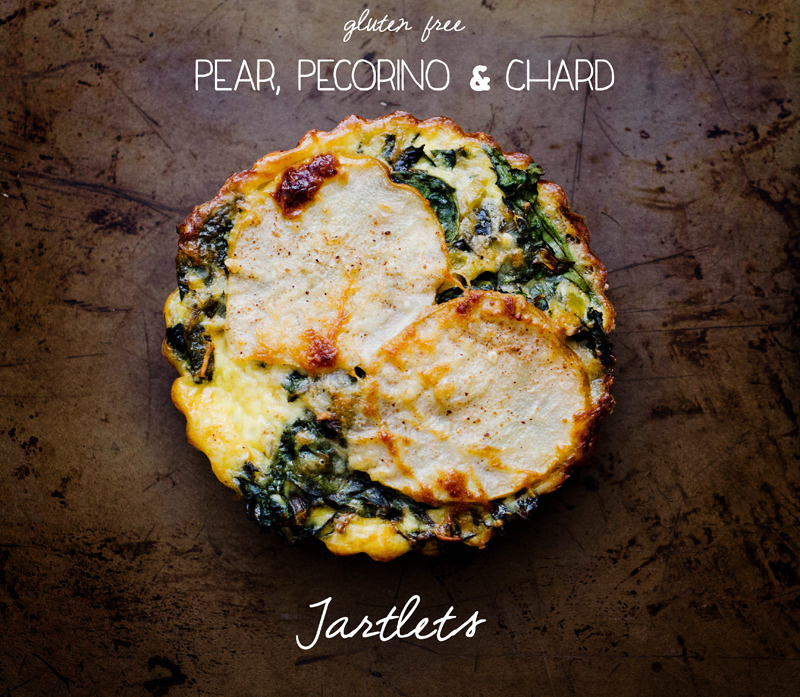 One of my favorite birthday gifts this year was Aran Goyaga's cookbook Small Plates and Sweet Treats. Aran is the beautiful mastermind of the food blog  Cannelle et Vanille. It's so gorgeous I can't even handle it. Every single one of her photographs makes me want to jump into them, taste the food, and experience the lovely warm and bright atmosphere that she creates. She makes gluten-free food look decadent and chic. Can you tell I love her? Yes. I do. Gush, gush, gush.  She is major.
One of the recipes in the book that caught my eye immediately was her Swiss Chard, Pear & Gruyere Tart. However, true to form, I did not have a lot of what the recipe called for. My fancy gluten-free flour supply was rather low, but I did have almond meal.  I scoured the pantry and my fridge looking for other things that could make it work! You can't stop a girl on a mission to make a tart. It's just not possible.
I started off with my trusty almond meal crust. Since it's made with almonds, it has a buttery and rich taste even though the recipe contains no butter. I, against my better judgement decided to make four tartlets when I should have made five.  You should make five. It gets messy when you make four. You'll see.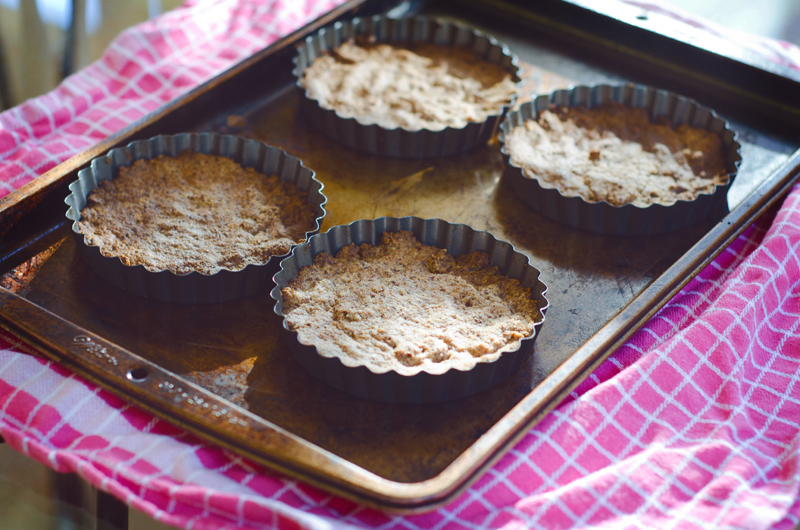 You saute your veggies with white wine and olive oil. You whisk together eggs and cheese and coconut milk. You slice up your pears and shred more cheese. It's a sexy process.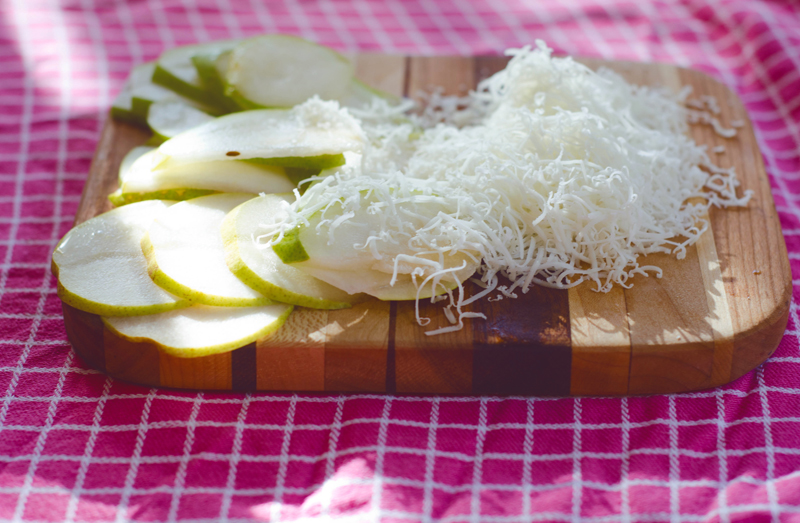 Once your tart shells have cooled you assemble them layering your chard mixture first and then your pears.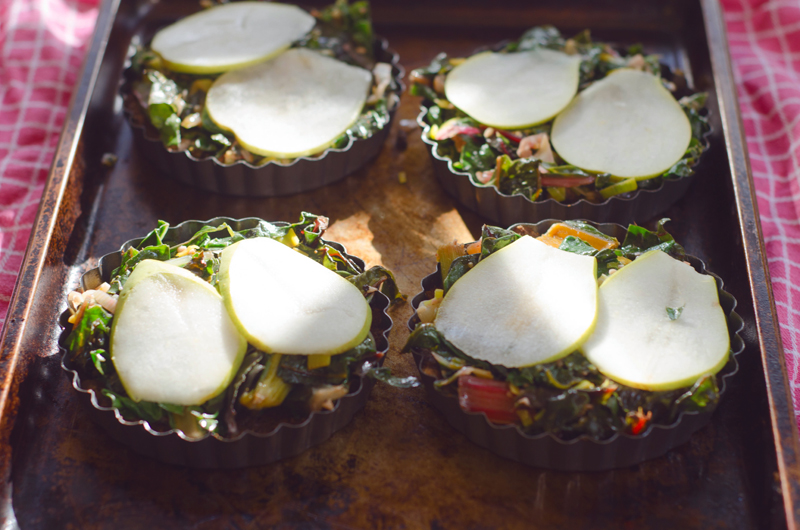 Then comes the custard mixture! Pour it evenly into each tartlet and sprinkle with more cheese.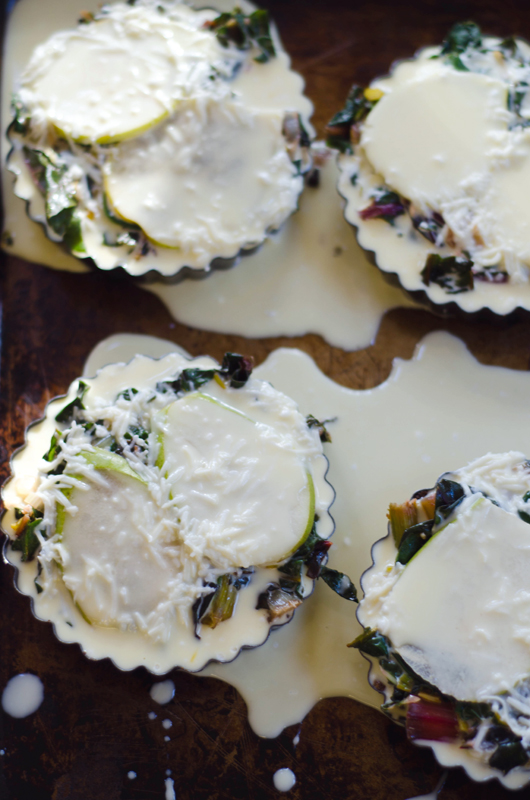 Whoops. Yup, you should have made five tarts. Smooth move, Gina. Nobody is perfect, eh?
I cleaned them up nicely, transferred them to a new baking sheet and let the oven do its magic.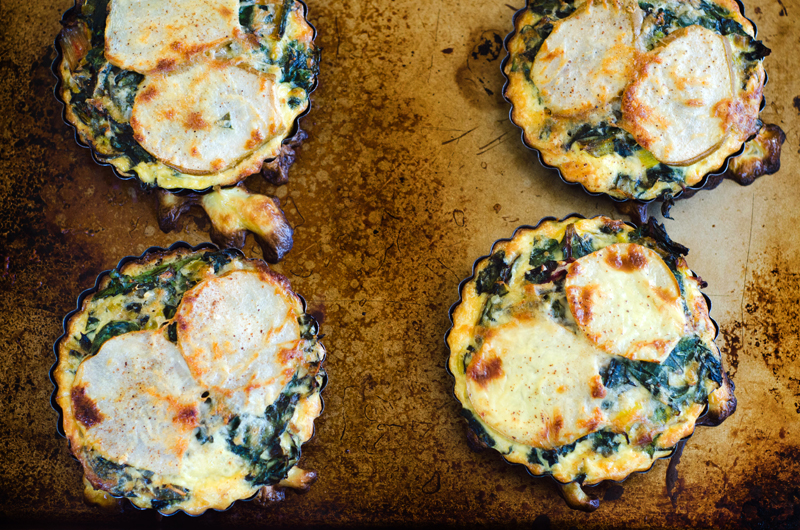 And what magic it was! Voila! You just got certifiably fancier. This is one heck of a brunch if I do say so myself. Your friends will be impressed. I think that it's a general rule that when you marry pears with cheese and bake them into something, people think you are pretty impressive. Perhaps this is just me being slightly impressed with myself. Either way… high five. If you aren't the tartlet type, you could simply make it into one nine inch tart. No bigs.
Let's get tarty.
Tart Crust Ingedients:
1 1/2 cups almond meal
1/4 tsp baking soda
1/2 tsp salt
1/4 cup grapeseed oil
2 tablespoons maple syurp
Tart Filling Ingredients:
2 tablespoons olive oil
1 leek, sliced
2 cloves of garlic, minced
4 cups rainbow chard, chopped
2 tbs white wine
salt, pepper, and nutmeg (to taste)
2 eggs
1 tablespoon cornstarch (or sweet rice flour)
1/2 cup evaporated milk
1/2 cup lite coconut milk
1 1/2 cups finely grated Pecorino Romano cheese
1 medium pear, thinly sliced with a mandoline
Preheat your oven to 350 degrees.
Grease five tartlet pans.
Combine your almond meal, baking soda, salt and stir it up.
Whisk together your maple syrup and your grapeseed oil and then add it into your almond meal mixture.
Mix together until all of the ingredients are wet and thoroughly combined.
Using clean hands, divide up the mixture evenly between five tartlet pans. Press the dough into the pans until the whole bottom surface is covered.
Place on a baking sheet and bake for 7-10 minutes or until they're golden brown.
Allow them to cool completely before filling.
Turn the heat on your oven up to 375 degrees.
While your tart crusts are cooling, start on the tart filling.
In a large saute pan, heat up your olive oil. Add in your leek and your garlic and cook until they are both tender.
Add in your white wine, and rainbow chard. Stir. Add in a dash of salt, pepper, and some nutmeg. Cook down until all of the chard has wilted and most of your liquid has evaporated. Set the mixture aside.
In a medium sized bowl, whisk together your eggs, coconut milk, evaporated milk, cornstarch and a little over half of the cheese that you have grated. Add some salt and pepper to your egg mixture and whisk again.
Fill up your cooled tartlet crusts with the chard mixture, add slices of pear to the top. Lightly press your filling down with a spoon and then pour the custard over the top of each tartlet.
Top the tartlets with the remaining portion of cheese so that a nice crust will form while baking. Sprinkle a little more nutmeg on top and pop them in the oven.
Bake at 375 degrees for 25 minutes, or until the tarts become a lovely golden brown.
Allow them to cool slightly before serving.
Dig in! Marvel at your total fanciness. Happy Weekend Brunching! xo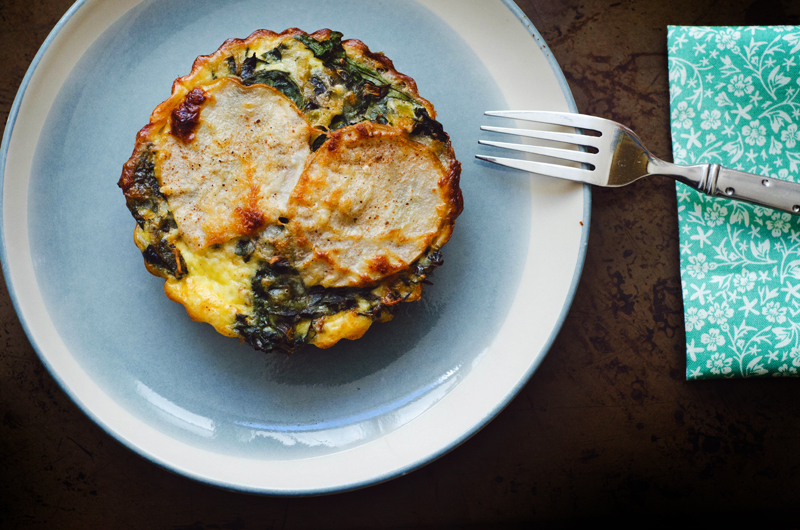 (Recipe adapted from Small Plates and Sweet Treats)
PAID ENDORSEMENT DISCLOSURE: In order for me to support my blogging activities, I may receive monetary compensation or other types of remuneration for my endorsement, recommendation, testimonial and/or link to any products or services from this blog.