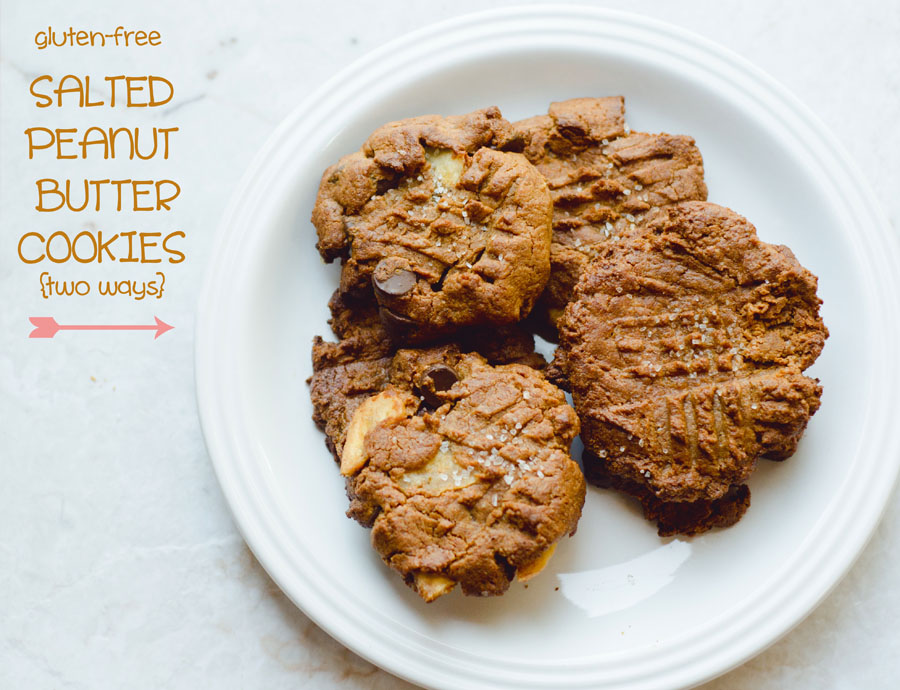 Here are a few things that make me happy:
Peanut butter. Chocolate with peanut butter (so much so, that this was our wedding cake flavor combo). Peanut butter and bananas. Peanut butter cups. Giving my dog peanut butter and watching her try to lick the stickiness off of her palate for a full five minutes. It's the simple things.
These cookies are TOTALLY simple. We're talking five-ingredients-simple. Sure, they are a little sticky and you might get the batter all over your sleeves and maybe in your hair…but that's just something that happens. You might not even realize that you still have peanut butter cookie batter all over your forearms before you go to answer e-mails and your arms stick firmly to the top of your desk. Peanut butter is sticky. That is a true story. I probably should have  titled my blog "Wait… Do I have food on my face?" to which the answer is almost always a firm YES. I write to you as if you have my same problems. I shouldn't do this. You probably have way less food on your face and in your hair on a daily basis. I admire you.
Moving on…
The peanut butter cookie is not something that requires flour. The peanut butter and the egg do a fine job of binding everything together. I used coconut sugar in this recipe to try and keep it a little lower on the glycemic index (granted, there is a whole CUP of it in here). Despite the cup of sugar, these cookies are not alarmingly sweet. Remember the peanut butter pretzel days? I used to love those. You bite into a pretzel and there is sweet peanut butter right there on the inside. That is what these cookies remind me of. The sea salt that we sprinkle on the top makes them a nice balance of sweet and salty.

I was feeling kind of adventurous so I decided that I was going to make half a batch of plain and salty cookies, and half a batch with chocolate chips and crushed up banana chips tossed into the batter. When adding some mix-ins to your cookie batter make sure that you do not add in too much. You want to make sure that there is still enough of the peanut butter mixture to bind everything together. If there are too many chocolate chips or too many banana chips in the mix, your cookies will fall apart. Scoop 'em, and squish 'em down with a fork. Isn't that the best part? Sprinkle some course sea salt over the top. Yum.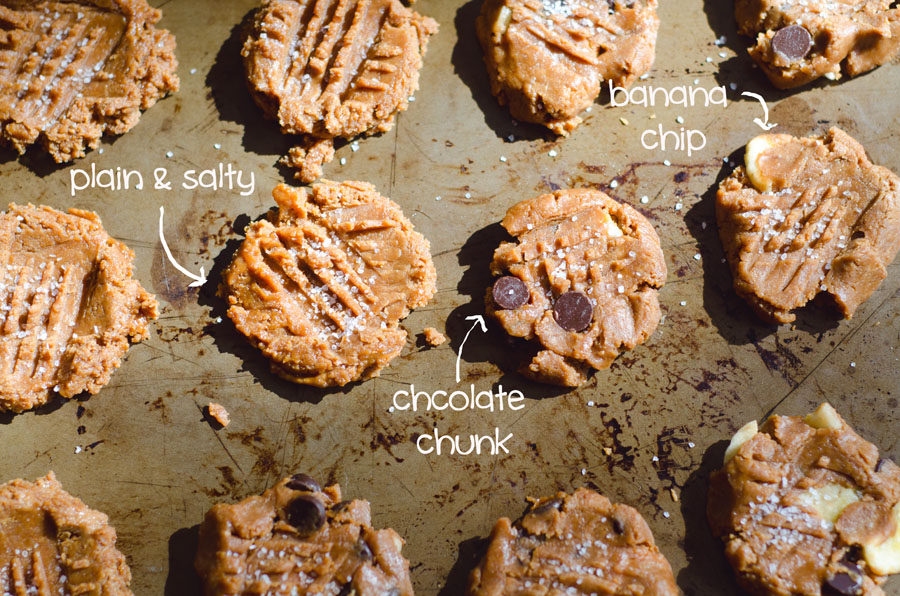 Imagine all of the combinations that you could make? You could crunch up some gluten free pretzels and add them to the mix. Marshmallows or marshmallow fluff would be decadent. Don't even get me started with Nutella. You know how I feel about Nutella. Let your imagination run wild. I will tell you that the traditional cookies without any mix-ins are possibly my favorite. I will warn you though, since they are not super sweet they are easy to eat. You could mindlessly snack on these REAL easy. Don't ask how I know this. Just trust me.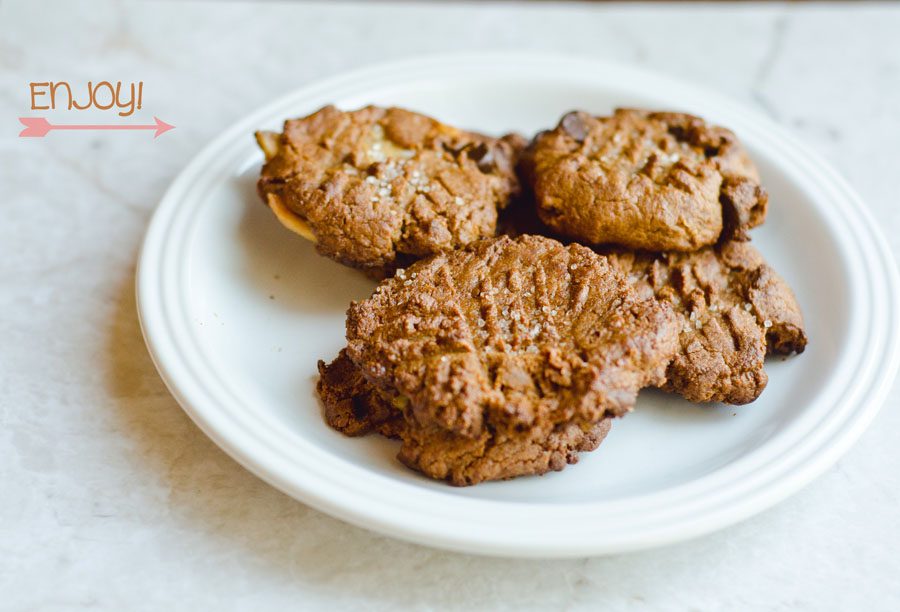 Go forth and cookie.
Salted Peanut Butter Cookies
Ingredients
1

cup all natural creamy peanut butter

1

cup coconut sugar (to make them sweeter you can use 1 cup of granulated sugar or 1/2 cup coconut sugar and 1/2 cup granulated sugar.)

1

egg, beaten

1

tsp vanilla extract

Course sea salt, to top

Mix-ins of your choosing. I used semi sweet chocolate chips and banana chips.
Instructions
Preheat your oven to 350 degrees.
Grease a baking sheet and set it aside.
In a medium sized mixing bowl, add your peanut butter and your sugar and mix until they are completely combined.
Beat your egg and your vanilla together and add them to the peanut butter mixture. Stir together until they are completely combined.
If you want to add anything additional to your batter, like chocolate chips, you can fold them in now. Remember not to add too many or your batter will not stick together. I would start with a 1/4 cup at a time and gauge if there is still enough dough to add more. Be cautious.
Scoop batter, by the tablespoon-full, onto your greased baking sheet.
Using a fork, smash the cookie down gently, leaving the imprint of your fork on the top of each cookie.
Sprinkle the tops of your cookies with course sea salt.
Put the cookies into the oven for 10 minutes, or until the edges are golden brown. Make sure to check your cookies half way through and flip your pan around so that all the cookies bake evenly. When your cookies are done, the edges will be golden, but they will not appear to be completely set up. They will harden quite a bit as they cool. Don't worry.
Allow your cookies to cool for fifteen minutes or so before trying to remove them from your baking sheet with a spatula.
Enjoy!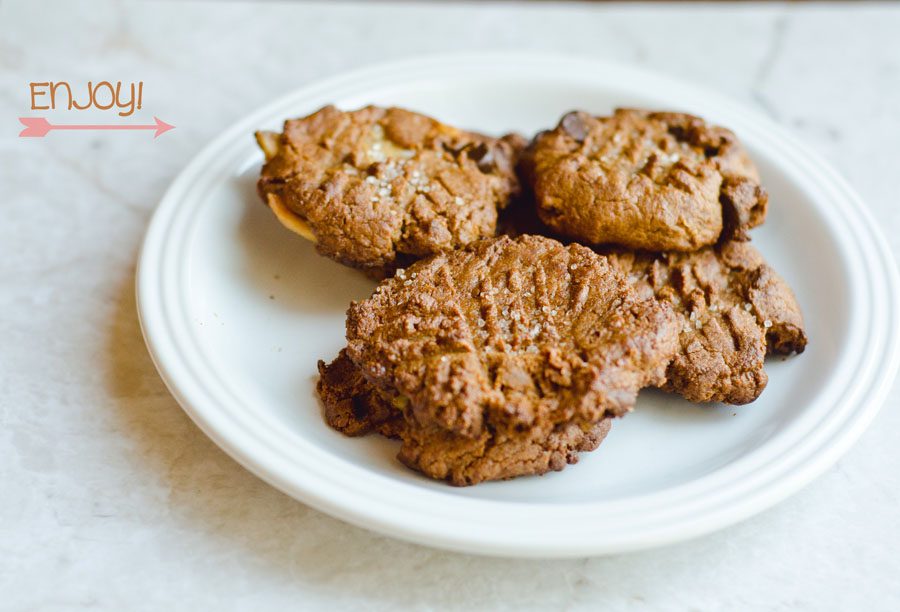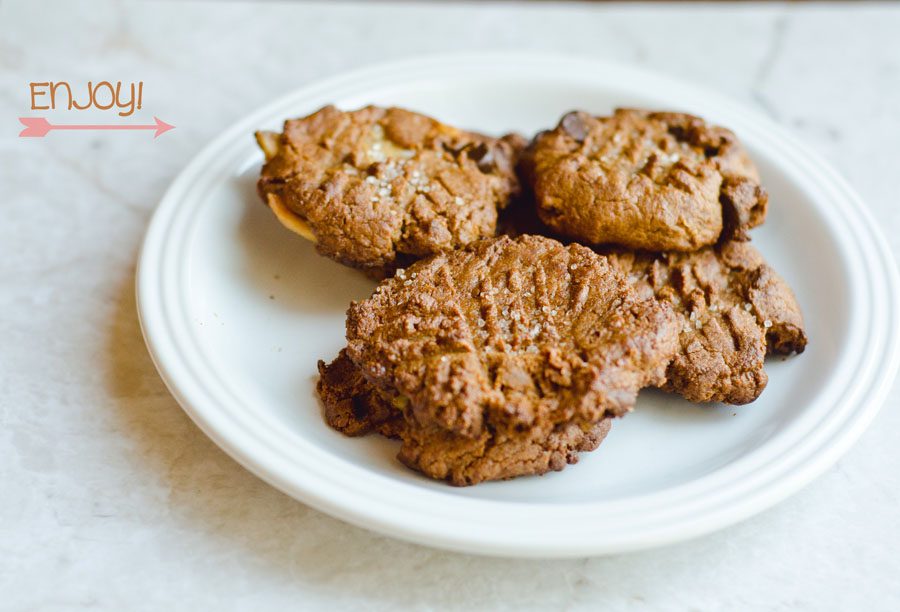 (Adapted from And Then We Saved)
PAID ENDORSEMENT DISCLOSURE: In order for me to support my blogging activities, I may receive monetary compensation or other types of remuneration for my endorsement, recommendation, testimonial and/or link to any products or services from this blog.