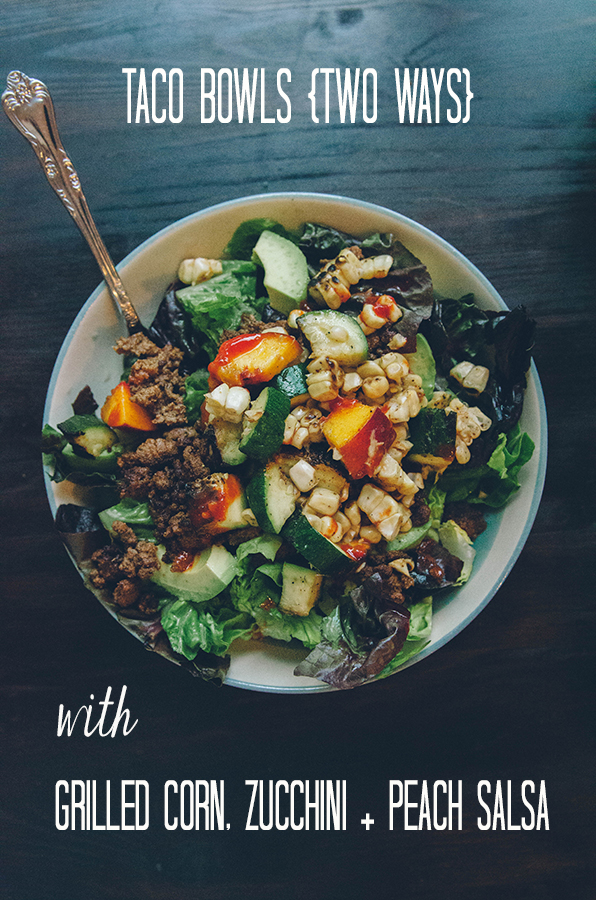 Let's take a minute to talk-o 'bout the taco bowl. Puns, heh.
The concept of a taco bowl is taking everything you would shove inside a tortilla and just throwing it into a big serving trough (or bowl) and then eating from this trough with a trowel (or fork). If we're honest, I make this stuff once a week. It tastes good and it comes together quickly. It's also another excuse to put guacamole on something, so right there, I'm into it. The lack of tortilla encourages room for more veggies and greens. This is the perfect way to trick one's husband into eating a large salad. Maybe I should serve all  salad with a side of hot sauce. It works.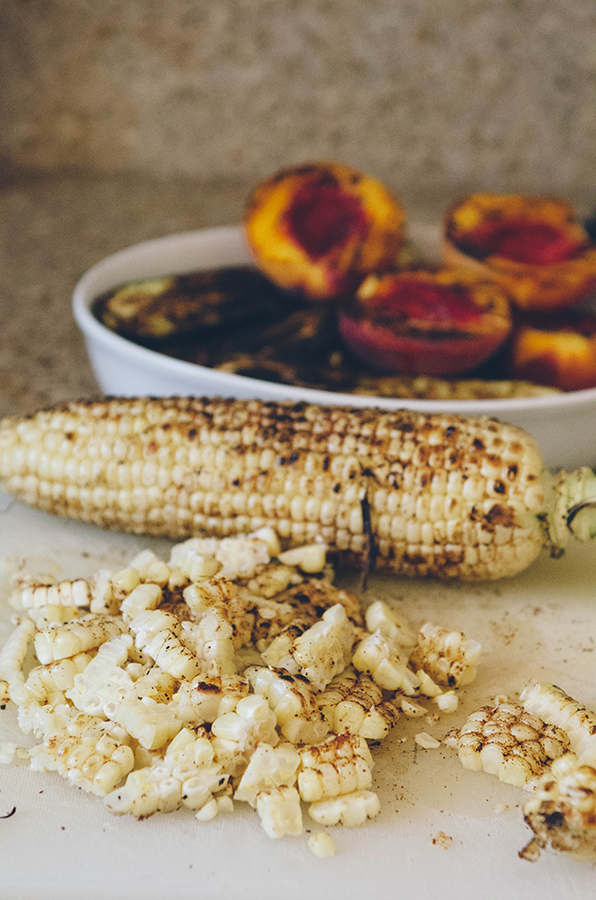 So, since it's Summer (BTW, it still totally IS SUMMER. Can we chill out on all of the Halloween cupcake posts on Pinterest?! Awesome), I decided to take a weeknight staple and turn it into something special and summery. For me, this meant grilling corn, zucchini and peaches in ninety degree weather. It was hot. There was maybe a sweat-stache involved… but what are you gonna do? We soldier on.
On the other end of the sweat-stache lives a glorious summery salsa fit to adorn the most summery of taco bowls! It was tasty enough for my husband to come home, ignore my sweat-stache and heat-on-heat-induced-curly bangs, shove a hefty portion in his face, look me in the eyes and tell me "You're pretty". I don't know what it is about getting guys drunk off of food, but I'm pretty sure there is a thing called "food goggles". If I feed the man something, he tells me I'm pretty. Win.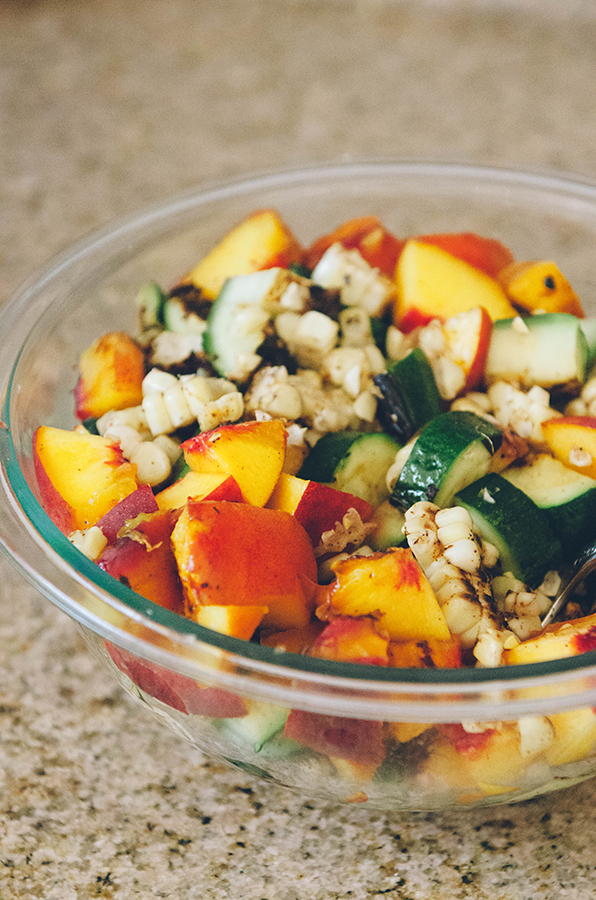 I dished these bowls up TWO WAYS, because I'm fancy and accommodating. We've got a beefy bowl, loaded up with delightful taco meat and accompanied with this salsa, as well as its veggie (hey, maybe even vegan?) counterpart that uses the salsa as the main filling. I ate both of them. Both are very good. It's the perfect thing to make to please both your meat-eating and vegetarian amigos palates. Maybe they'll even tell you you're pretty. Probably. Even if you have hot sauce on your face and a chunk of lime pith on your cheek. I'm serious. FOOD GOGGLES.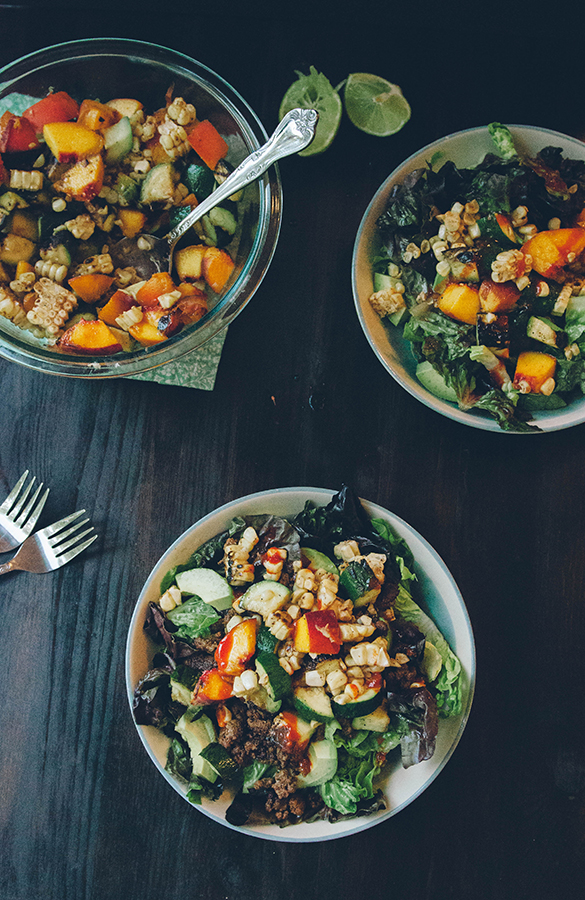 Serve it up over your choice of greens. Add hot sauce. Yes to lime juice. Go nuts with avocado. You can even add cheese if that's your move. If you can taco-bout it, you can do it. That's my motto (it's not… I just needed to end this post on a taco pun). Phew!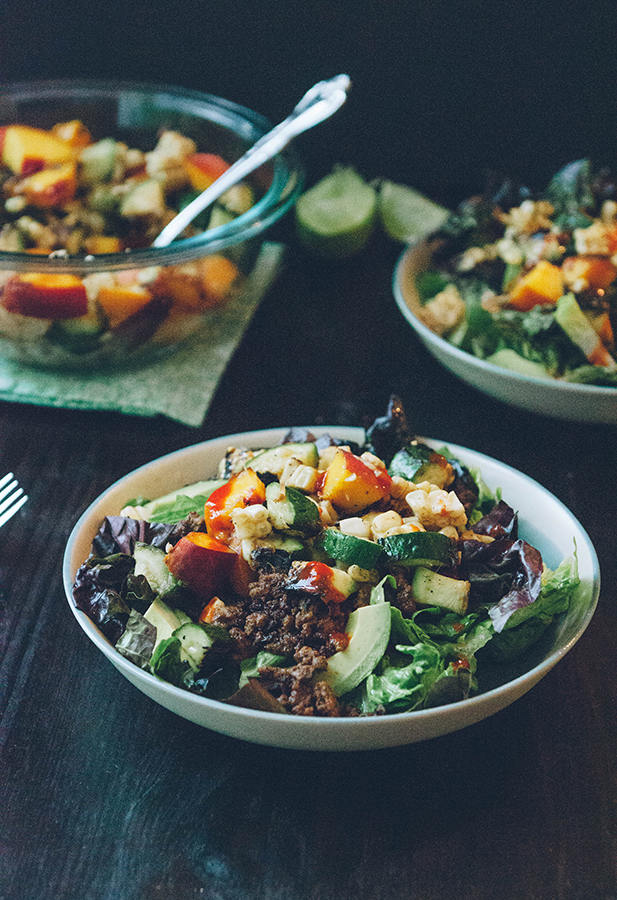 Taco Bowls Two Ways With Grilled Corn, Zucchini & Peach Salsa
Ingredients
Salsa
Taco Meat
Bowls
Instructions
Prep and light your grill.
While your grill is getting nice and hot, prepare your veggies. Shuck your corn and butter it on all sides. Sprinkle liberally with chili powder and salt. Cut your zucchini in half lengthwise. Cut your peaches in half and remove the pits.
Use a little oil on your grill grate so that your veggies will not stick. Place the corn and the zucchini onto the grill and grill until cooked through. I like my zucchini to still be a little bit firm. Once the zucchini and the corn is done, put your peaches on the grill cut side down. These will cook fairly quickly. Check them after a couple of minutes. They should be sightly soft and have grill marks. Remove all the fruit and veg from the grill and set aside.
Once your fruit and veggies have cooled enough to handle, cut the corn off of the cob and add it to a mixing bowl. Cut your zucchini and your peaches into bite sized pieces and add them into the bowl with the corn. Finely dice 1/4 a red onion and add it to your bowl. Squeeze the juice of one lime over this mixture and toss well. Set aside.
If you are planning on eating this meal with taco meat, now is the time to make it. Add a pound of ground beef to a hot pan and begin to brown the meat. As the meat starts to brown, add your spices as well as salt and pepper to taste. Continue to cook the meat until it is cooked all the way through. Set aside.
Chop up your lettuce and avocado. Layer a generous amount of greens and avocado to each taco bowl. Top with taco meat (or omit for vegetarian), and a generous portion of salsa. Top with hot sauce and garnish with a lime wedge or two. Feel free to add different toppings! This would be great with more veggies, cheese, or even stuffed into a tortilla.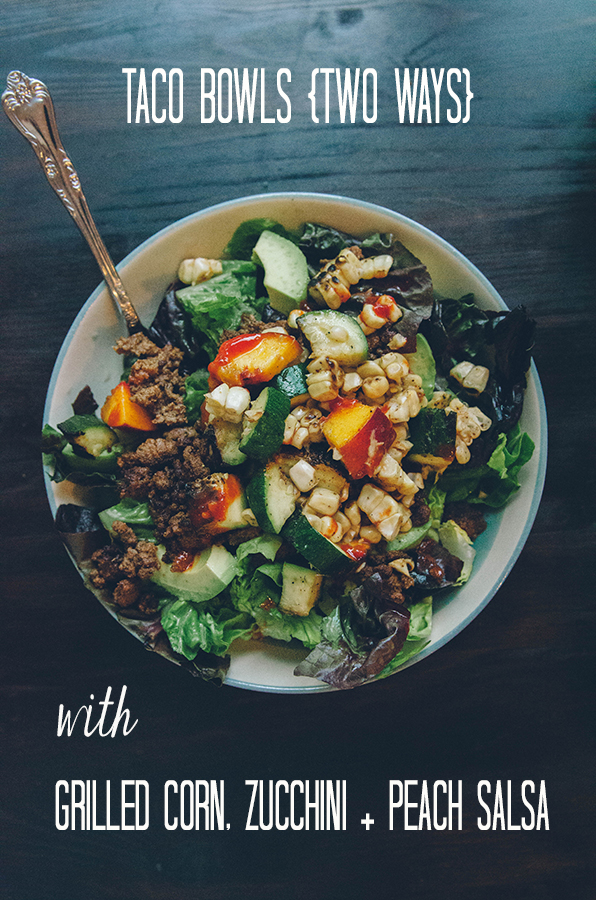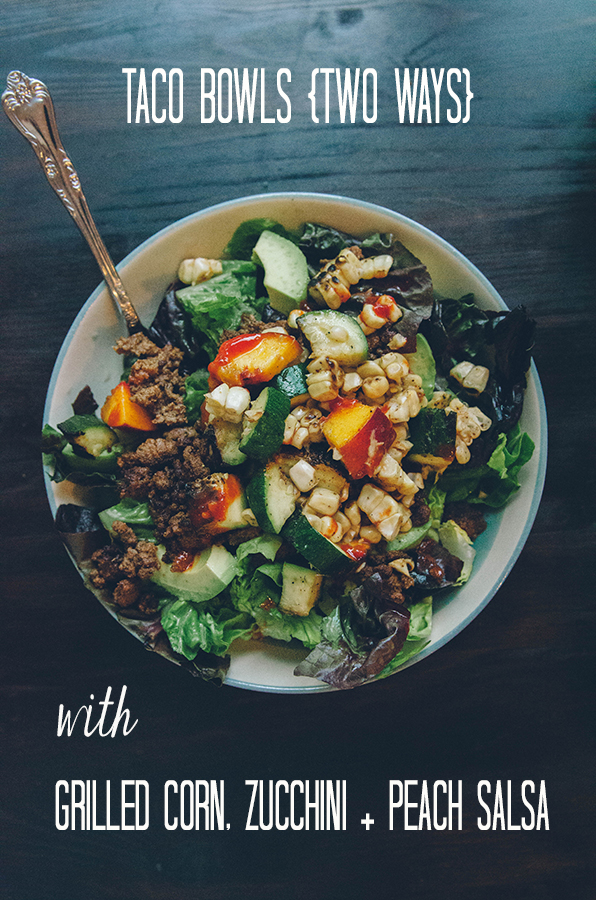 PAID ENDORSEMENT DISCLOSURE: In order for me to support my blogging activities, I may receive monetary compensation or other types of remuneration for my endorsement, recommendation, testimonial and/or link to any products or services from this blog.