Today we're lucky ducks! My friend Em from The Pig & Quill is in the house, bringing her usual humor and cooking us up some fancy looking veggie steaks! I mean…look at those things. Did you know that cauliflower could do that? Amazing. Thanks for hanging out, Em! xox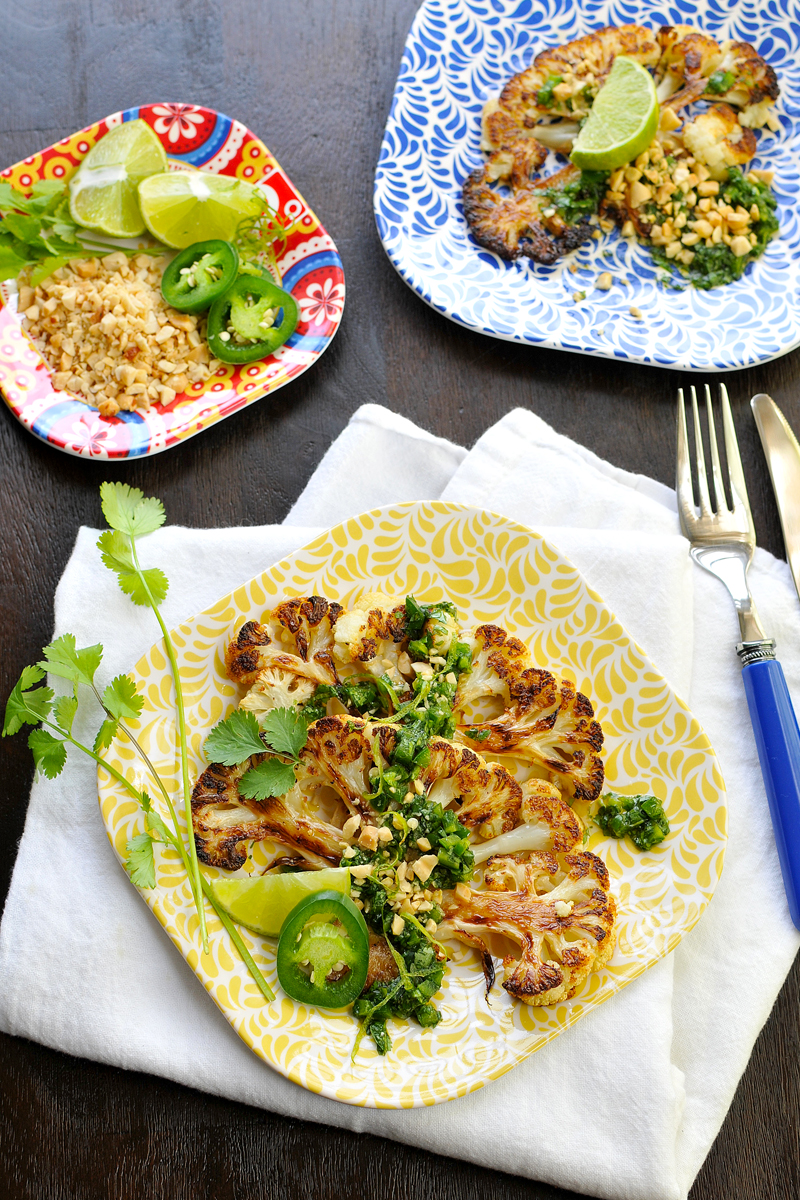 Heyyyyo, Em here from The Pig & Quill. *wave* I know Gina usually addresses you fine folk with charmingly arctic pet names, but I don't want to bite her style too hard, so we'll just go with the always-classic Helllooooo Friends! Bonus points to anyone who read that in the voice of Wakko. Like, the Animaniac who packs away the snacks. Like, Helllooooo Nurse! Am I dating myself with that reference? Why, no, actually, I'm married, but I do believe one truly has to know oneself before settling down with someone else.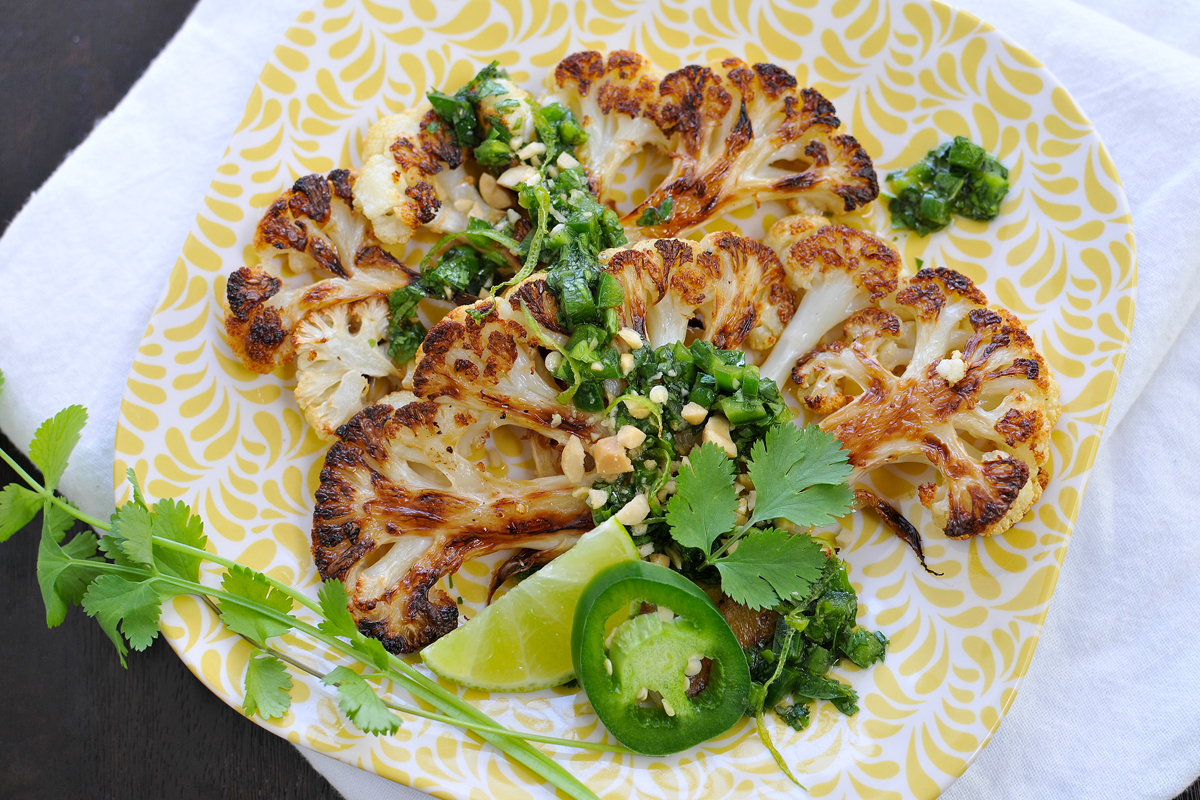 WHAT.
Gina is so trusting, isn't she? She just gave me full reign to write ALL THESE WORDS all over her pretty blog and I'm totally taking advantage.
Let's get on with these Thai-Style Roasted Cauli Steaks!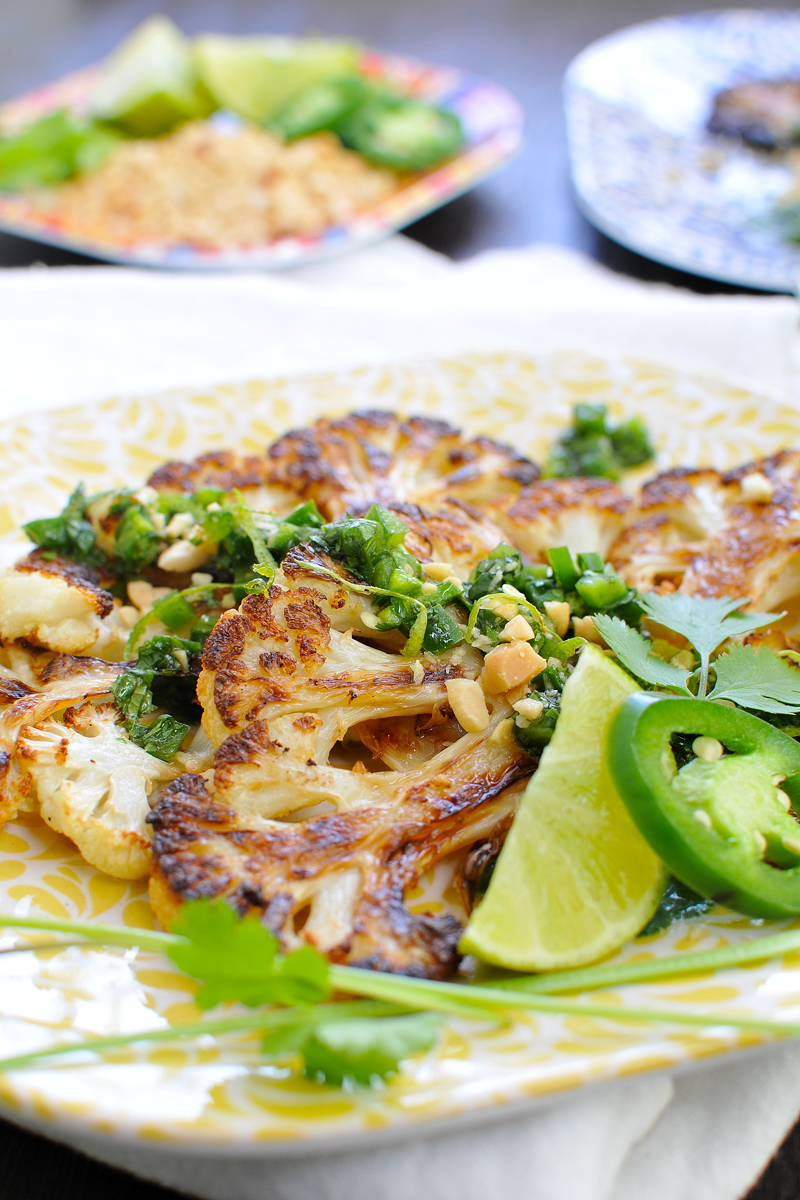 Every now and then, I like to look at Pinterest to see what he has to say about how I should be living my life. (Yep, Pinterest is a dude and here's why: the more I Pin, the more my better half gets to escape to the arms of his concubines mountain bikes. Total dude agenda. Also, Pinterest was actually invented by dudes. So there's that. Should we say dudes again? Let's duuuuuuude.) So Pinterest told me that cauliflower is wicked awesome and I'm basically living under a crumb because I've not yet made it into buffalo wings or potatoes or tasty fuggin' pizza crust. For serious, I really do love that last one. I mean, it's pizza crust made of cruciferous veggies! Gina! But sometimes, I groove on cauliflower sans masquerade. And even though the name of these cauli steaks, in itself, implies that I'm trying to pass cauliflower off as meat, it's really more about letting it shine as the main event: crisply-edged, golden brown, sweet, nutty and superb in its simplicity.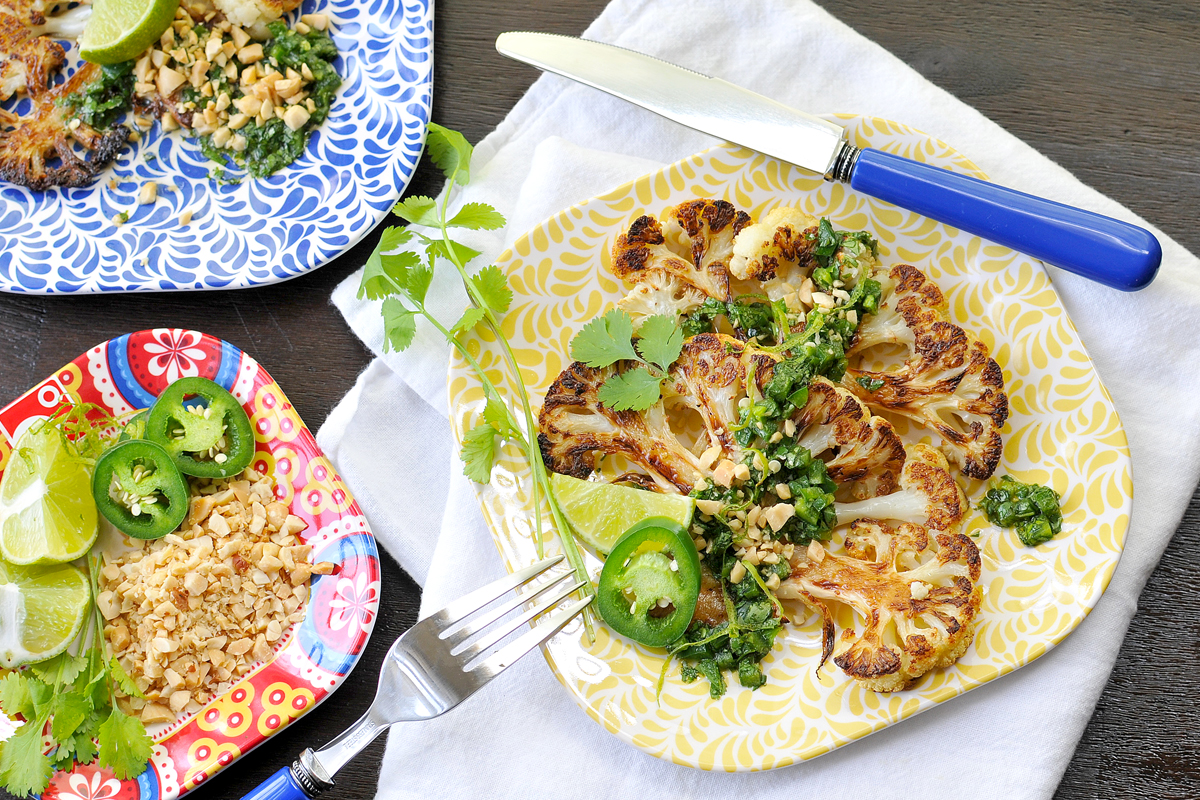 And the Thai treatment it gets here is thoroughly satisfying. (I dare you to find the happy ending joke that's inevitably in there.) It's a cinch to pull together and the flavor just. won't. quit. It's sweet, salty, spicy, tart and, oh — boom — there are peanuts. Yay!
This recipe is also gluten-free (duh) and, with the smallest of twists, totally vegan. Pinterest would be so proud.
I hope you'll give these guys a shot — and big ol' thanks for hanging out with me at the lovely Gina's pad today. I know you all agree she's a pretty fab lady. <3
Thai Style Roasted Cauliflower Steaks
2 servings
adjust servings
Note: Let's be honest here: I can only get about 3 - 4 cooperative slabs out of each head over cauliflower -- the rest of the pieces fall apart into florets. It's no big deal, you can roast the florets alongside the steaks and serve them with all the accoutrements and they will taste mighty fine (maybe a tad lacking in presentation - ah well) -- or just reserve them for another use.
Ingredients
About 1/3 - 1/2 large head cauliflower (see note)

1/4

cup cilantro, chopped

2

T olive oil, plus extra for drizzling

juice and zest of 1 lime

1

tsp fish sauce (vegan alteration: wheat-free tamari)

2

tsp sugar

1

jalapeño, finely chopped (seeded for milder tastes)

1/4

cup dry-roasted, unsalted peanuts crushed or finely chopped

extra cilantro, lime and jalapeño, for serving
Instructions
Preheat oven to 425F. Carefully trim the outer leaves off your cauliflower leaving the stem intact. Slice the cauliflower into about 3/4" slabs all the way through the stem. Reserve any loose florets (probably half a head, or so) for another use -- or just roast them alongside the steaks. They won't look as cool, but whatever.
Liberally drizzle cauli with olive oil and roast on a baking sheet in a single layer for 30 minutes, until deep golden brown with crisp spots in places. Let cool slightly.
Meanwhile, stir together cilantro, 2 T olive oil, lime juice, fish sauce or tamari, sugar and jalapeño in a small bowl.
Top cauli steaks with cilantro mixture, crushed peanuts and lime zest and extra cilantro, lime juice and jalapeños to taste. Enjoy!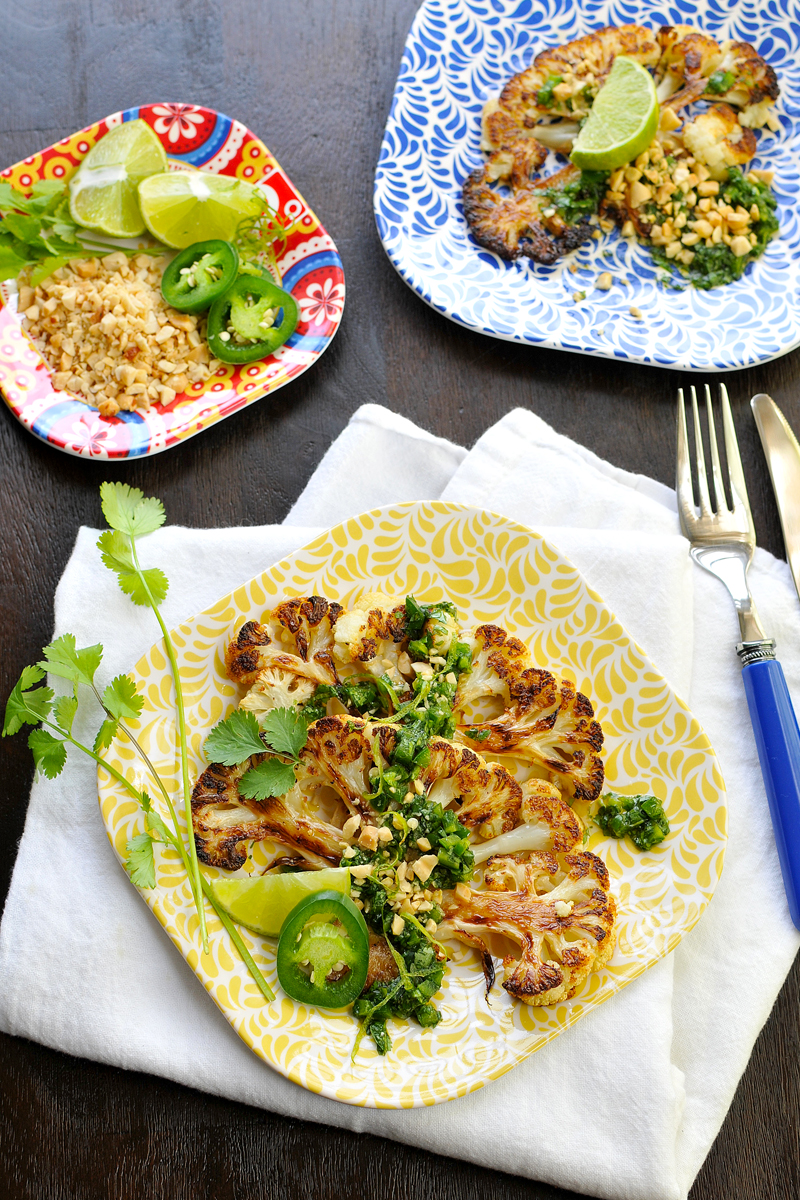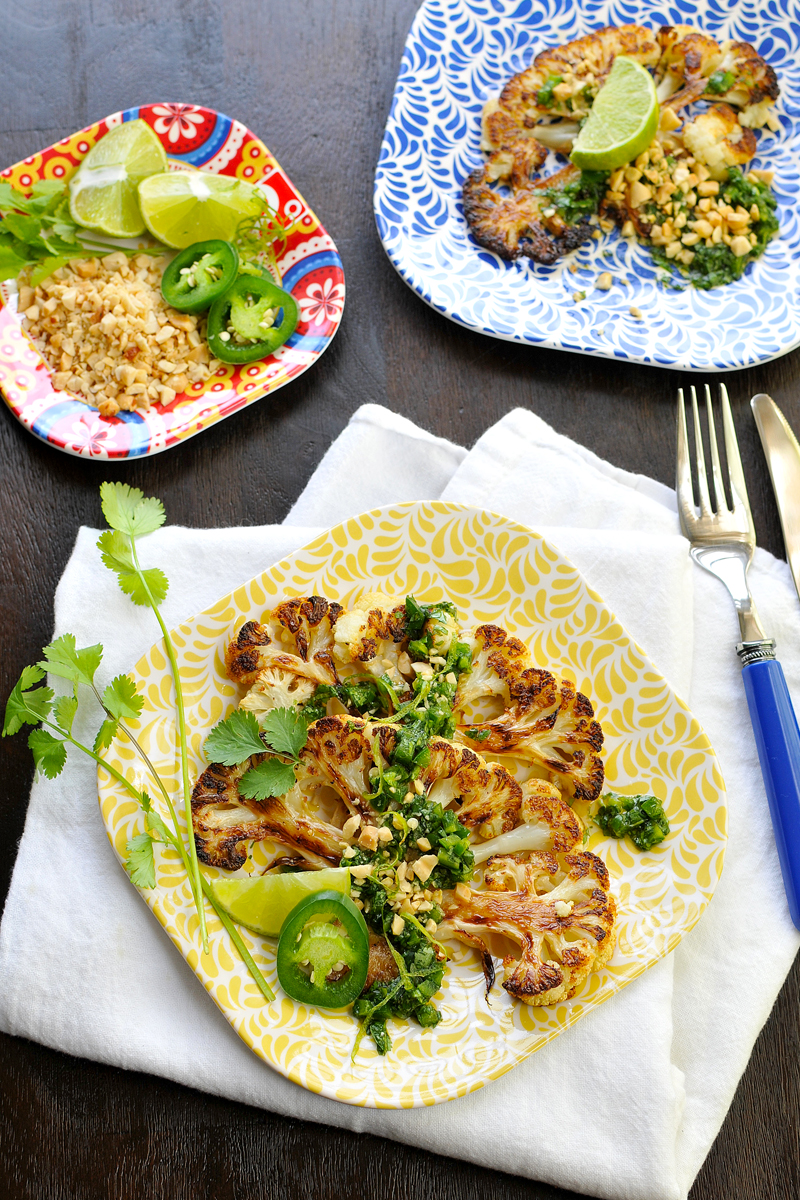 This post is part of an ongoing partnership with Q Squared NYC, maker of the lovely serveware showcased in the images above. If you like what you see, be sure to shop Q Squared NYC with the discount code THEPIGANDQUILL to receive 20% off your entire purchase and Free Shipping on all orders over $50 through March 31st. Woohoo!
PAID ENDORSEMENT DISCLOSURE: In order for me to support my blogging activities, I may receive monetary compensation or other types of remuneration for my endorsement, recommendation, testimonial and/or link to any products or services from this blog.