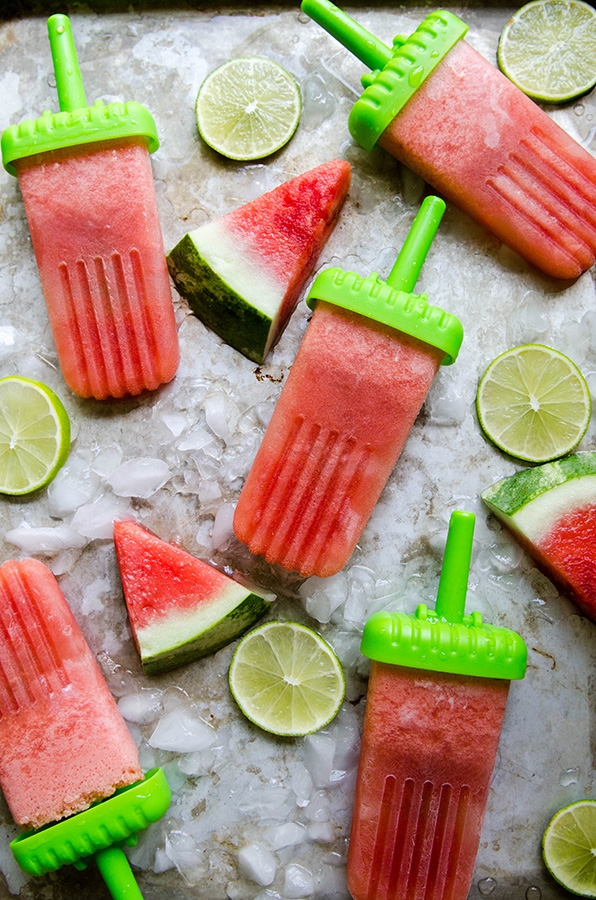 Well, it's that time of year again. The sun is high in the sky and the internet is churning out popsicles with the pointed enthusiasm of a confetti cannon. That's a thing, right? A cannon that shoots out massive quantities of confetti? If it's not, we're just going to pretend that it is. There's even a emoji for that. You know that party hat with the confetti coming out of it? That's emoji for confetti cannon. And, since there's no popsicle emoji (don't even get me started), we could simply articulate this whole situation with like seven confetti hats, a blazing hot sun, and a Spanish dancer. Oh, and like five watermelons and three fruity cocktail drinks to represent the tequila in these. I'm glad that we've agreed on our emoji game. It makes me feel more secure.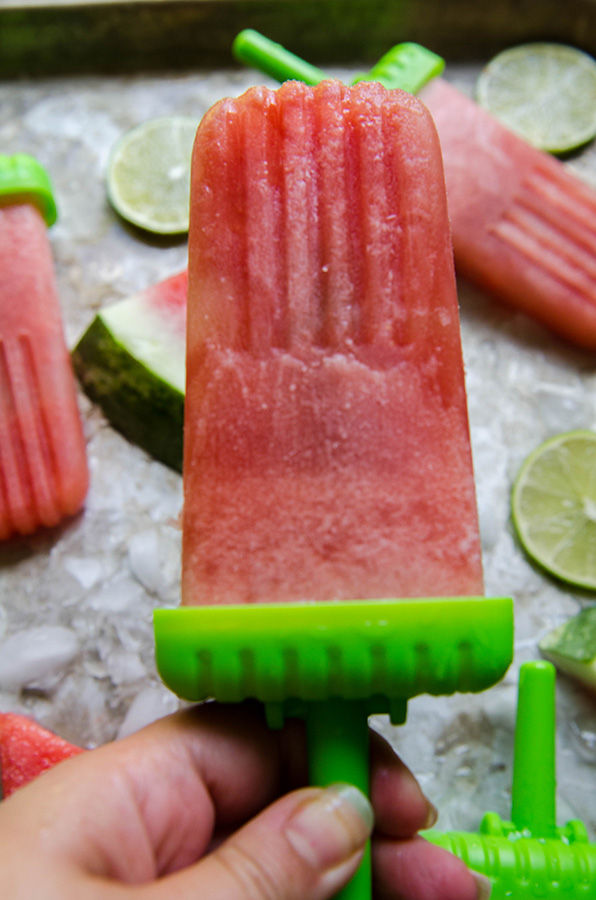 If you wanna thank a human for unleashing the confetti cannon of icy treats and pointing it straight at your mouth-hole, you can thank Billy over at Wit and Vinegar. He's the dude behind what the internet dubs as #PopsicleWeek. It's basically a bunch of bloggers getting together and making sure you have something cold and delicious to suck on. There's gotta be a better way to say that-mehhh. A treat to lick? No, still too much. A cold juicy treat to trickle down your chin? Ugh. Worst one yet. Okay, basically it's just all the popsicles. All of them. You can check out the complete list here. It will continue to grow throughout the week as more and more bloggers post their recipes. You should see some of these things. Beth put Tahini in popsicles. Stephanie was just like, Uhhh… so, there are brownies in here. Emily decided to cram a whole PB&J into an popsicle mold. I'm telling you. Things are happening.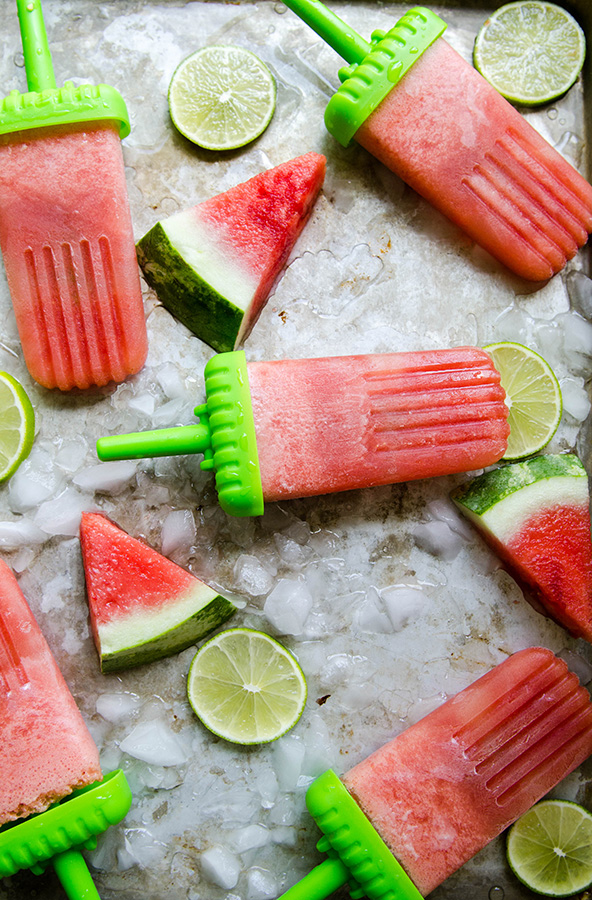 Even though I didn't make you these bonkers Double Fudge Birthday Cake Pops (sayyy, wahhh?!?!), I did extend you the extreme courtesy of putting a hefty amount of booze in them. That's right. These popsicles are drunk. And, soon, you might be too. You're welcome. These here drunksicles are made with fresh watermelon, fresh lime juice, some honey to sweeten the deal and a proper slug of tequila. It's kind of like drinking one of my Watermelon Margaritas. Except, you'll be eating it off a stick. No glassware allowed around the pool, right? I've never heard that rule extended to popsicle sticks–just sayin'. Imagine the amount of popsicle sticks you'd need in order to start that kind of uprising. Lots. Like, building a Huck Finn type of raft kind of lots. Or, enough to absorb eight feet of water. Uhhhh.  I wouldn't test it. But, I would go out and buy a watermelon pronto.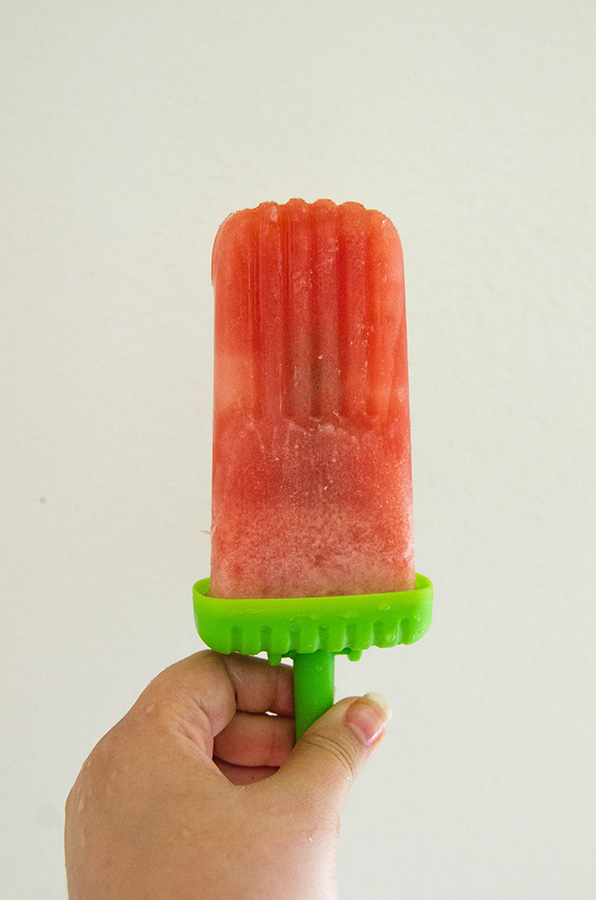 I really hope you like 'em! Happy Summer to your face. <confetti emoji x 20>
Watermelon & Lime Tequila Popsicles
Approximately 8 popsicles
adjust servings
Ingredients
4

cups cubed watermelon

1/2

cup coconut water (you can use regular water if you're not a coconut water fan)

Juice of 2 medium limes

1/4

cup raw honey

1/3

cup silver tequila

1/2

tsp sea salt
Instructions
Blend together all of your ingredients in a high speed blender until it is a consistent liquid.
Pour into popsicle molds, and freeze overnight.
Enjoy!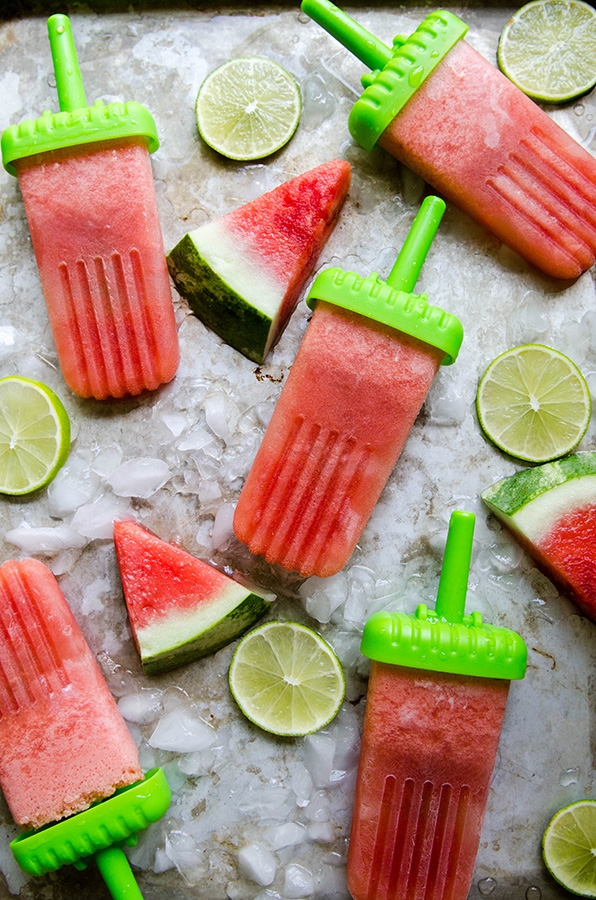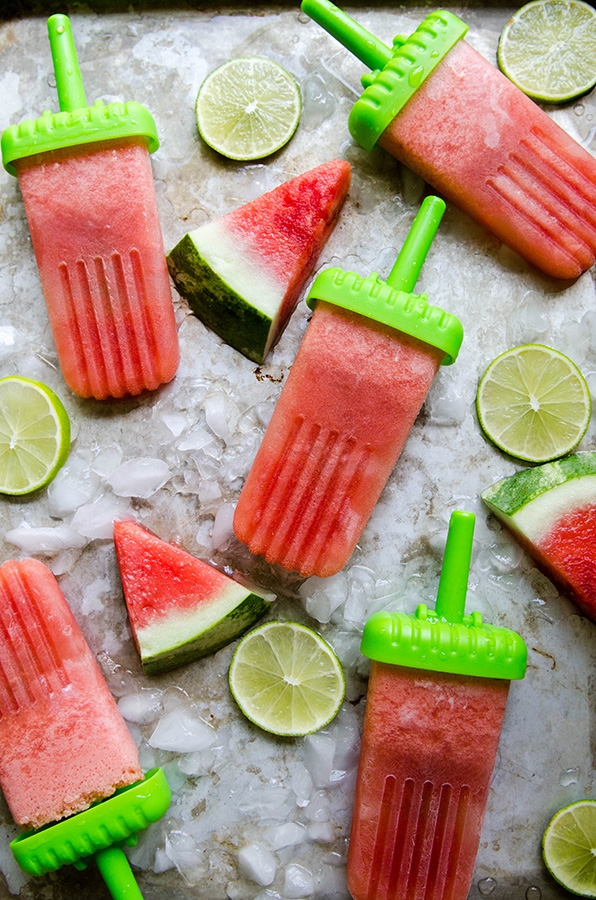 PAID ENDORSEMENT DISCLOSURE: In order for me to support my blogging activities, I may receive monetary compensation or other types of remuneration for my endorsement, recommendation, testimonial and/or link to any products or services from this blog.