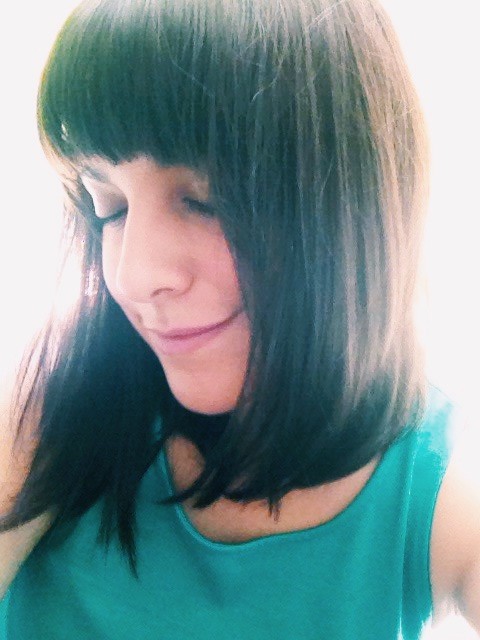 There are some things I've been meaning to tell you…
Maybe you've noticed I haven't been around as much lately. I want to let you in and tell you why.
I've been writing this post in my head for months. There are several drafts that have never left the confines of my brain. Do I really want to put this into the world — or rather, my world? Will these words sully my happy little blogging space where we talk about dancing bears and high five each other over the melted chocolate in our bra? This silly space where I tell you about trying to cook bacon pantsless? Everything is breezy, sunny, honest and goofy over here. I like it. It feels happy. That's my intention. I have a feeling you come here to laugh. I love that you do. Honestly, truly.
But sometimes I'm not laughing. Sometimes I'm scared. Sometimes my gut is swirly and dizzy with anxiety. Sometimes life hands you a bucket of lemons and you get exhausted in the process of trying to make lemonade — it's too many lemons for one person to juice. You want some of these lemons? I could use someone to share them with. I guess this post is me giving you a handful of lemons — sharing some sour honesty and being vulnerable enough with you (my wonderful readers) to let you in on what's been going on lately. Whew. This feels vulnerable. I feel naked without my usual puns and sarcasm. Naked, with a whole bunch of lemons. I'm only kinda sorry for the visual.
About six months ago, I got a gut-sinking phone call. I had been waiting for the doctor to call all day, but when the phone rang my heart raced. It was a swollen tidal wave of heartbeats — the kind you can hear loudly in your ears, forcing your teeth to chatter with each pounding beat. I was scared. I answered anyway. I could tell immediately from the apologetic tone in my doctor's voice that the news wasn't good. But, forcing myself to listen, she said these words:
"Gina, you've tested positive for Lyme Disease."
My pounding heart sunk a little deeper and settled into a hollow space deep in my belly. I cried. I cried hard for five minutes. Then, miraculously I felt a sense of profound relief.
Now there was an answer. Something that made sense of a myriad of weird and frightening symptoms: debilitating anxiety attacks, light sensitivity, joint pain, pelvic pain, hormone imbalance, hypothyroidism, breath hunger, exhaustion, unexplained weight gain, nerve pain, heart palpitations, and a slew of gastrointestinal issues (just to name a few). Here's a complete list of potential symptoms–It's overwhelming.
These are all things I've experienced in some capacity since I was seventeen years old. I've been seeking answers to health questions as long as I've been an adult. Most of the time being met with, "it's all in your head. How about some antidepressants?" This response didn't work for me. My intuition knew it was something more. So I kept searching, even though it was totally easy to feel crazy.
I asked my doctor, on this same phone call, a few necessary questions. "Wait…so, I'm not crazy?" I asked.  She assured me I wasn't. I also asked her earnestly, "so I'm not going to die, right?" She assured me I wasn't going to die, but reminded me it was serious.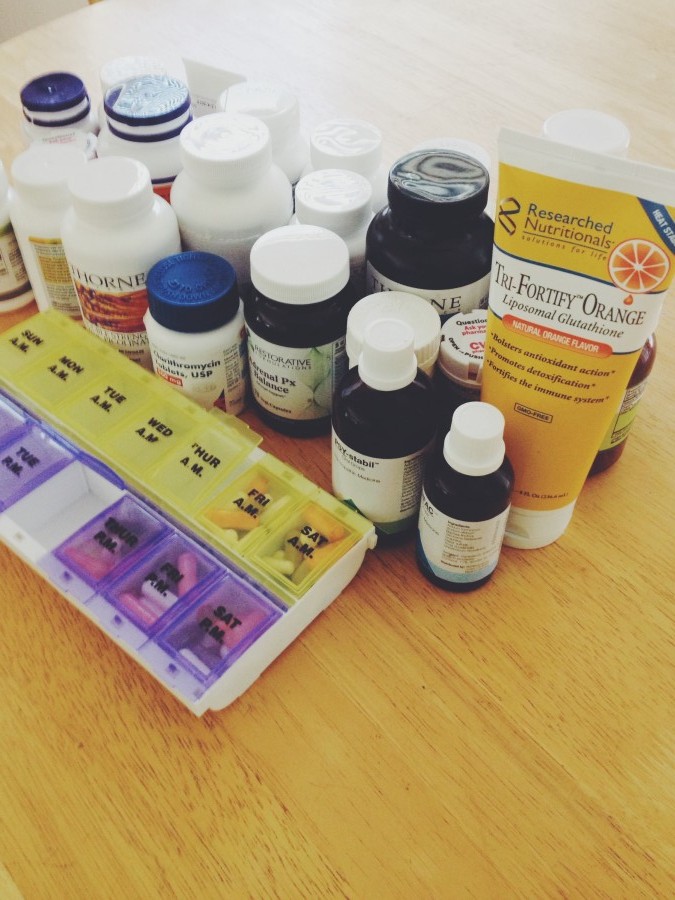 She didn't have to remind me. I had lived this. This is probably the most infuriating part of the story. My mom has Chronic Lyme Disease (which they have now determined can be passed from mother to baby if you are untreated at the time of pregnancy). After escalating health scares and her own set of crazy symptoms, she was finally diagnosed with Lyme Disease in her forties. By this point in time, some of her organs were starting to shut down. The disease had made its clever way into all the systems of her body. It has been suggested to her that she's been sick with this disease for over thirty years.
Her treatment was a slew of intravenous antibiotics pumped methodically into her body through a port in her arm — an expressway to a catheter near her heart. It was scary and grueling. I watched my mom, a person who, despite health issues, was a vivacious woman bursting with energy take a turn and begin to wilt into a person who was aching, breathless and tired. That's the thing about Lyme — it doesn't like it when you piss it off. Lyme is caused by a  spirochete bacteria known as Borrelia burgdorferi, usually passed to it's host through a tick bite. This bacteria can cleverly make its way into any organ in your body and wreak havoc on all of your systems. It's commonly referred to as "The Great Imitator" for its ability to present itself as a slew of other diseases. Just ask my mom how many times she's heard the words MS, or Lupus. Lots. It's also one of those diseases that tends to get worse before it gets better. As you kill the Lyme you experience a die off of bacteria which creates a buildup of biotoxins in your system. These dead bugs might build up in your system faster than you can eliminate them. This causes something called a Herx reaction. These reactions tend to bring on all of your worst symptoms and can vary in severity. Like I said, it's no joke. On the plus side, even though my mom's case was extreme she did get better and is able to manage her disease. It was a process but she's back to living life. She's got a sparkle back in her eye and some pep back in her step.
I ended that phone call with my mind reeling. This is where the fear set in — the moment I realized I had to fight. I was going to war with some pretty intense bugs. I was pissed off. I looked in the mirror and thought to myself will I become a sick person that I don't recognize anymore? It was as if my entire life shifted in a matter of seconds. This was supposed to be the year to go to Europe. This was supposed to be the year to start a family. Now this year was something different. I cried. I made lists of questions. I read books. I cried and laughed simultaneously (which is a particularly crazy emotion) as if to say, "wow, this feels bad — comically so". It's been a tug of war between feelings of relief and feelings of grief. My brain fluttering back and forth: I'm so glad they FOUND this. Why couldn't they have found this sooner? My mom had it — why didn't anyone think to test for this until now? Am I tough enough for this? What if I'm not tough enough…Jeez, I just want to feel better. Is there really NO cure for this? I'm scared. I don't want to feel scared. I'm too young for this crap. What is this going to look like for me?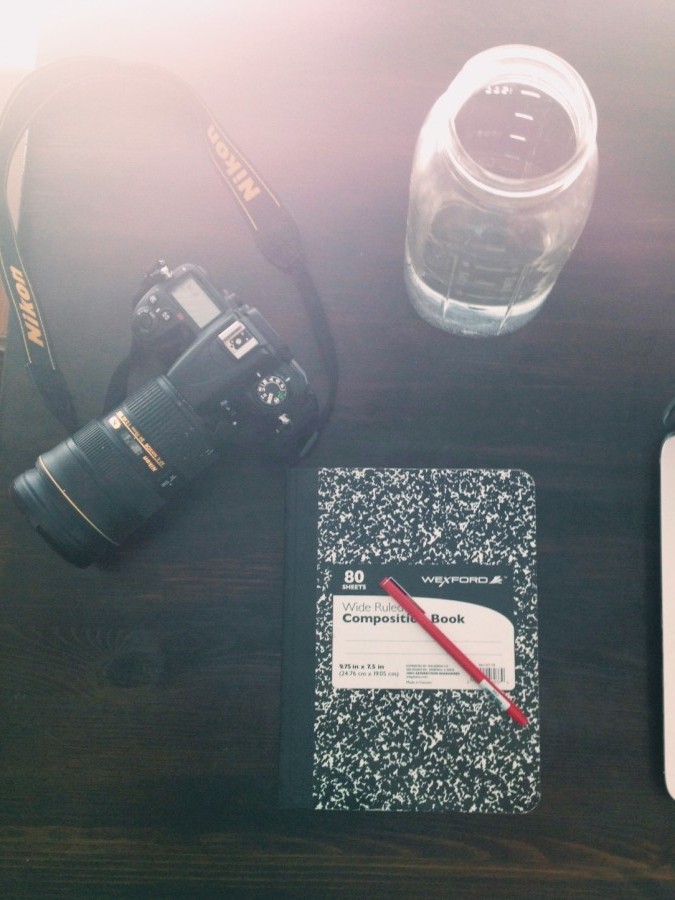 So for the last six months that's what I've been doing behind the scenes. Yes, I've been baking some banana bread and smiling and cracking jokes (can't stop), but I've also started this really intense war against the weird bugs that have been living in my body for most of, if not my entire life. I've been juggling this creative space between fevers and detox baths and wicked spikes of anxiety. I've been letting myself rest (maybe for the first time in my life) without guilt or judgement. I've been trying to do everything I can to heal so that I can do all of the things I want to do. Believe me, there is a lot I am hungry to do. My spirit is full of things I want to accomplish, and this illness has been a very strict, very palpable lesson in slowing down. It's frustrating to not have the energy to do the things you want to do. Some days are good and some days are scary. But I will tell you the good days have never tasted so sweet in my entire life. The first good day I had after a week long Herx, I cried — but out of joy. There was energy in my bones and no aches in my joints. I took myself on a walk in the spring air and when I came back I was bursting with gratitude for that day. It was a glimpse of what lies beyond this diagnosis and this crazy fight. It was hope. Sweet, sunshiney hope — the kind of hope that puts on tap shoes to go to the grocery store and wears bedazzled hot pants because she can. I like that kind of hope.
Don't worry, my blog isn't going to become sad or lacking in puns. This will not turn into a depressing sick blog. But sometimes life is serious and I think it's okay to share those moments in here too. It's only human. Thanks so much for reading my story and for helping me juice all of these lemons that life has handed me into a spicy lemonade. I appreciate you. I think it's taken me so long to write this post because in a way, writing it felt as if it was admitting to myself that I'm sick (and I really don't want to be). I have a fear inside of me that I will become this disease — that it will take over. But, that is just a fear, right? I am not Lyme. I am Gina — just a girl who loves to laugh, makes pretty great cookies, kisses her dog on the lips, loves fiercely, doodles wildly outside the lines, gives a firm handshake, and sometimes (even if she doesn't like to admit it) is a little bit scared.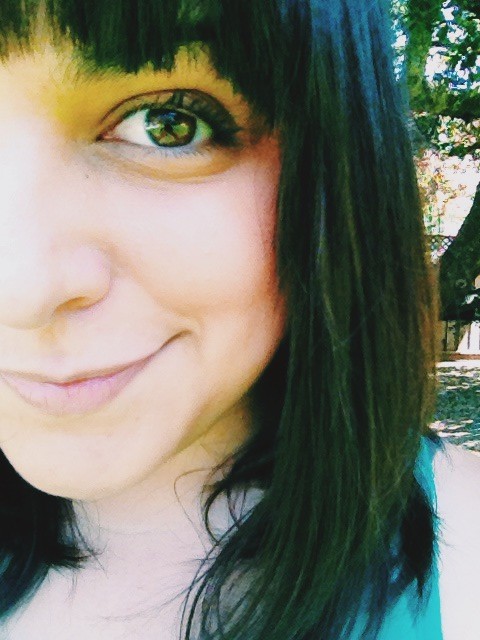 PAID ENDORSEMENT DISCLOSURE: In order for me to support my blogging activities, I may receive monetary compensation or other types of remuneration for my endorsement, recommendation, testimonial and/or link to any products or services from this blog.