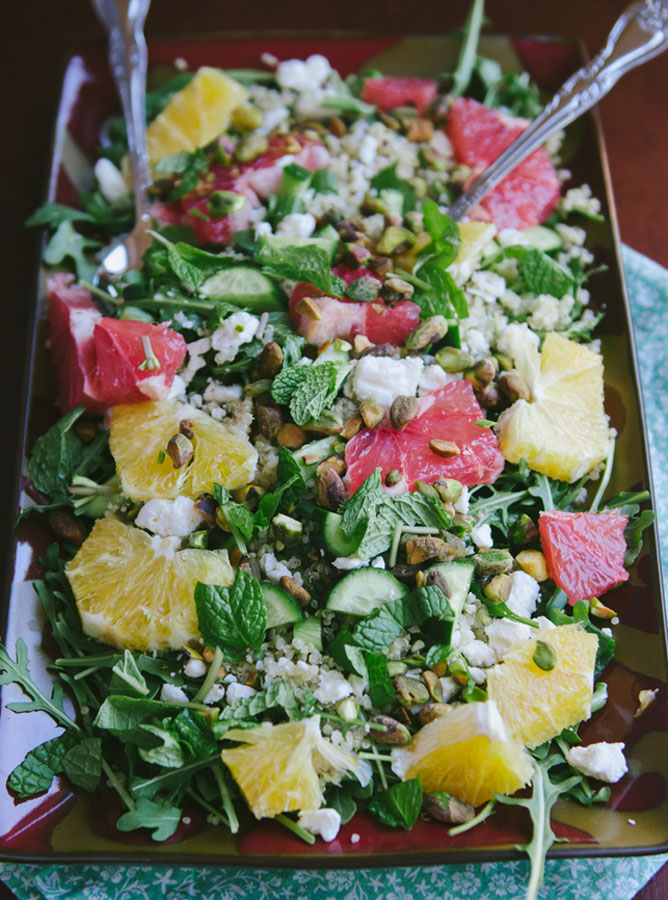 Do you ever surprise yourself?
For instance, today I woke up and decided to take a shower and blow dry my bangs, and all before 10 am. You might think, "Wow, Gina…what exactly are you doing with your life?" I get it. Most people blow dry their bangs and put on slacks and go to an office with their coffee and their awesomely clean hair. My office is my kitchen. I wake up and bake cookies and write words. It's casual Friday all week. Baking cookies is easiest to do when you're wearing sweatpants and sporting a suspiciously high pony tail. Don't be jealous. It's a slippery slope.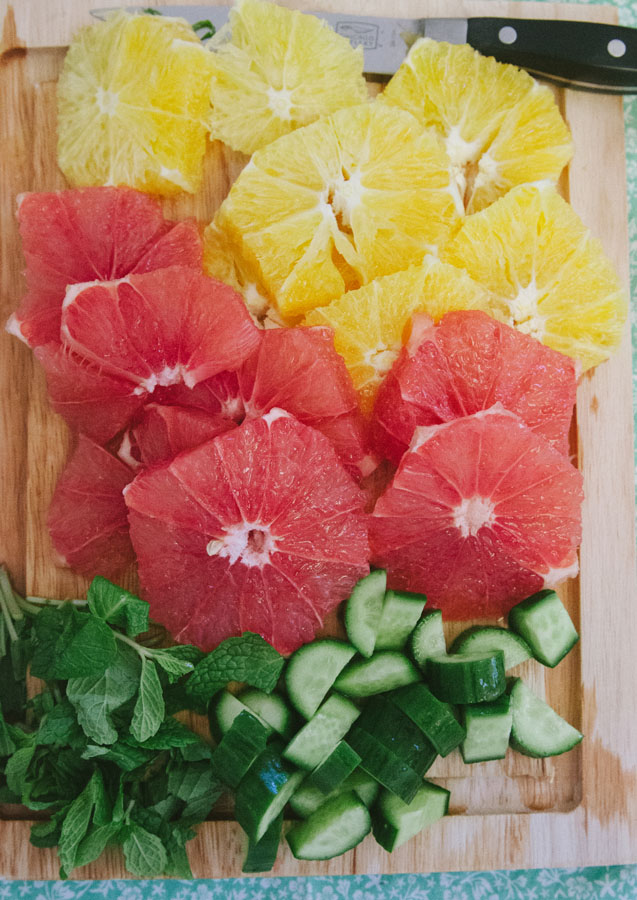 Sometimes you can also surprise yourself with the simplest of creations. Take a salad for instance. I LOVE salad, but I am totally guilty of getting into a salad rut. I've been known to forgo salads and just throw a couple handfuls of dry spinach underneath my entree and call it good. Glamorous it is not. However, this past weekend I came into a lot of grapefruit (as one does).  It's kind of like coming into a lot of gold… except you can't buy gold by the bag at Trader Joes. Weird. Does gold also not grow on trees? Gosh, life is confusing.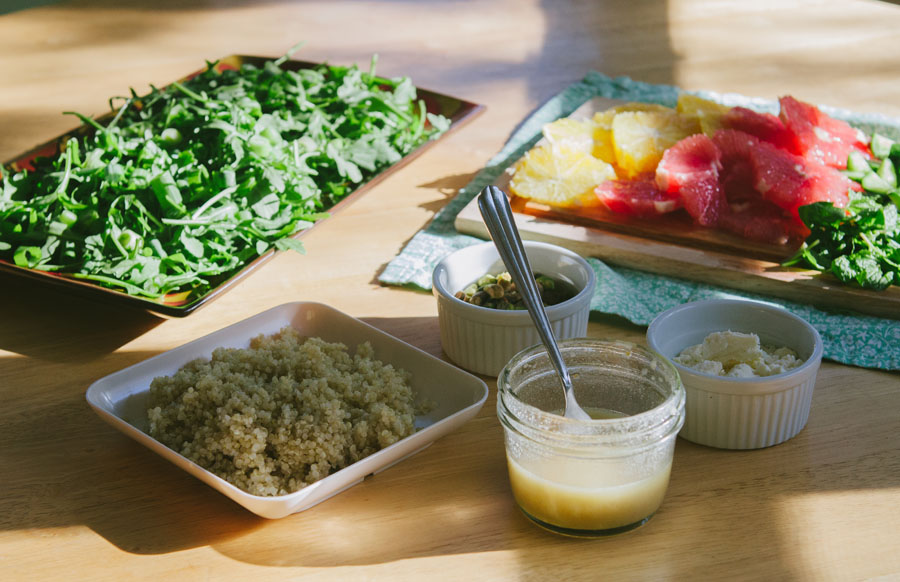 Citrus is going crazy right now in California. It's grapefruits and oranges and lemons for days. It's beautiful dash of bright color amidst wintry greens! I'm into it. I paired bright citrus flavors with peppery arugula. A cup full of cold, leftover quinoa went into the mix to make it  hearty and full of texture. Cucumbers and pistachios give this salad some crunch and feta and mint amp up the flavor party. We're totally getting out of that salad rut. This is the salad equivalent of blow drying your bangs. We're pretty much nailing it.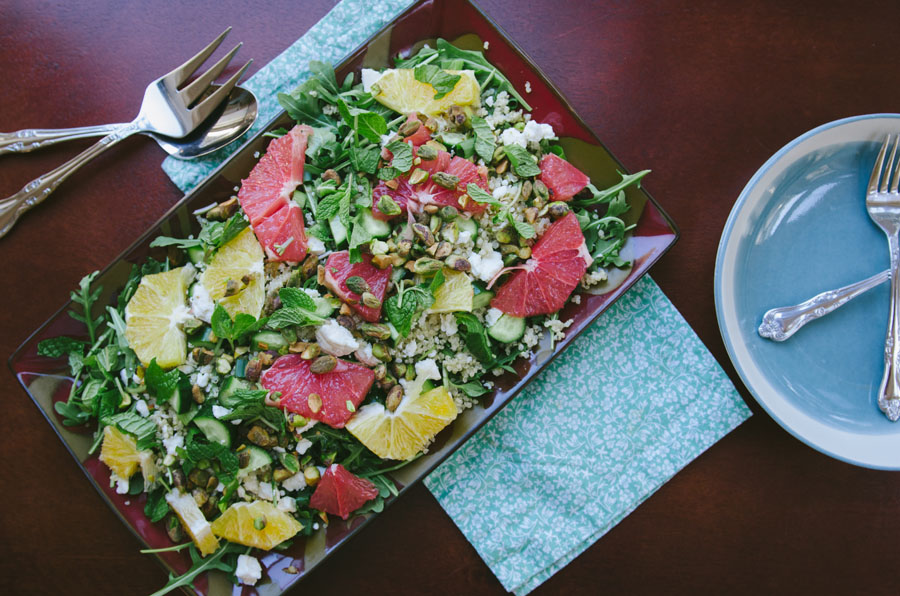 You're lookin' good today salad. Did you do something to your hair? I mean… really.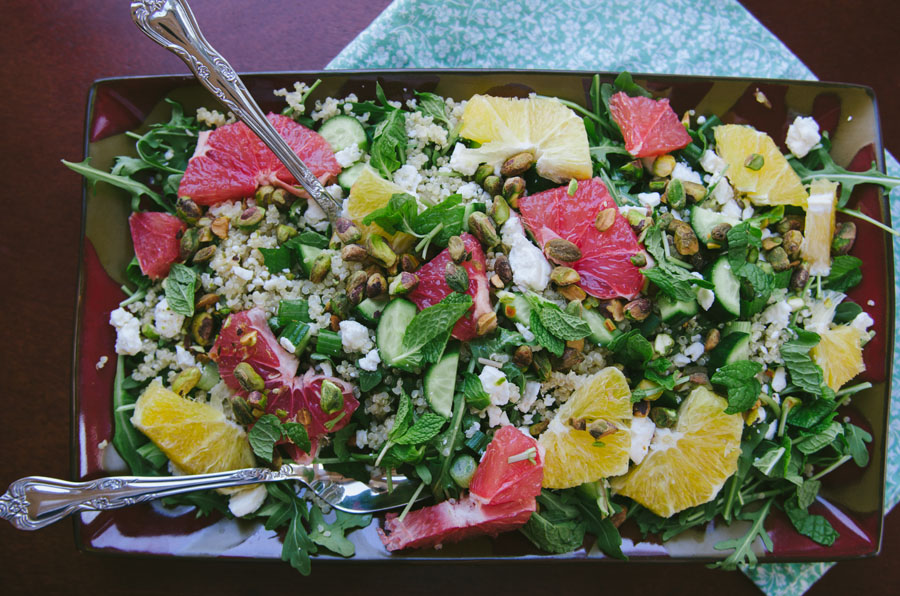 I dished out two huge bowls of this and my husband and I devoured it for lunch. I think he even audibly groaned a couple of times between bites, going on about how delicious it was. Yay! This is high praise in my household, especially from that sugar-monster I married. Two thumbs up. Well, four thumbs up including me. And, I'm sure Emma and Gunther would give it a paws up… so that's four thumbs and eight paws up for this salad. Totally a legit rating scale.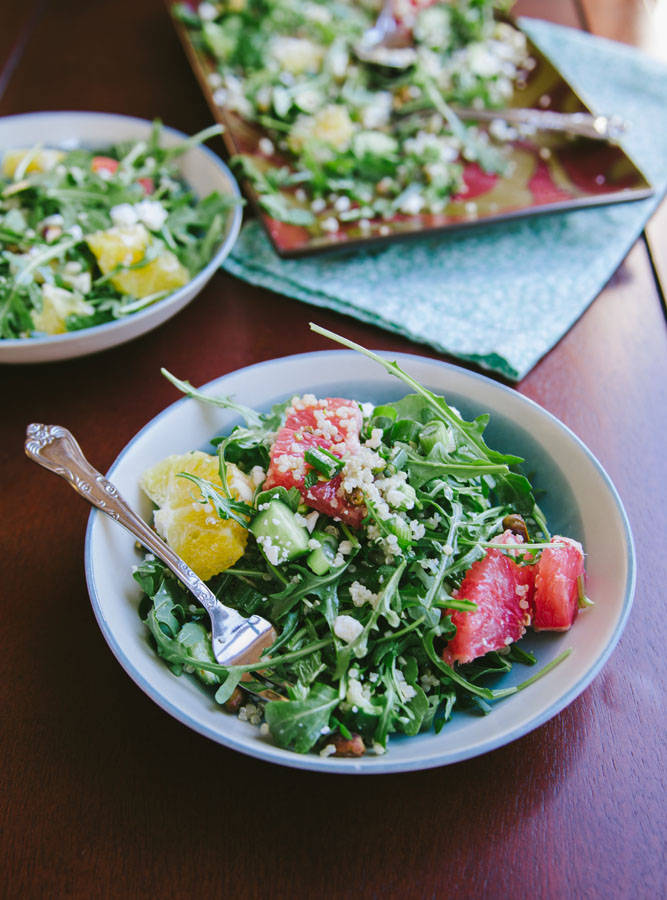 The salad rut of 2014 has officially ended. Huzzah. 🙂
Arugula & Citrus Salad With Quinoa, Pistachios & Feta
Ingredients
Salad
1

bag of organic arugula

1

navel orange, segmented

1

pink grapefruit, segmented

1

persian cucumber, sliced

4

scallions, diced

3

sprigs of mint, chopped

1/3

cup crumbled feta

1/3

cup hulled pistachios, coarsely chopped

1

cup of cooked organic quinoa
Dressing
Juice of 1 Meyer lemon

3

tbs olive oil

3

tbs apple cider vinegar

1

tsp dijon mustard
Instructions
Wash, slice and prepare all of your salad ingredients.
Add you arugula to the bottom of your salad bowl and then layer the quinoa, cucumbers, scallions, citrus fruits, cheese, nuts and mint on top.
Add all of the ingredients for your salad dressing to a mason jar and shake vigorously until all of your ingredients come together.
Pour your dressing over your salad and toss well to combine.
Serve and enjoy!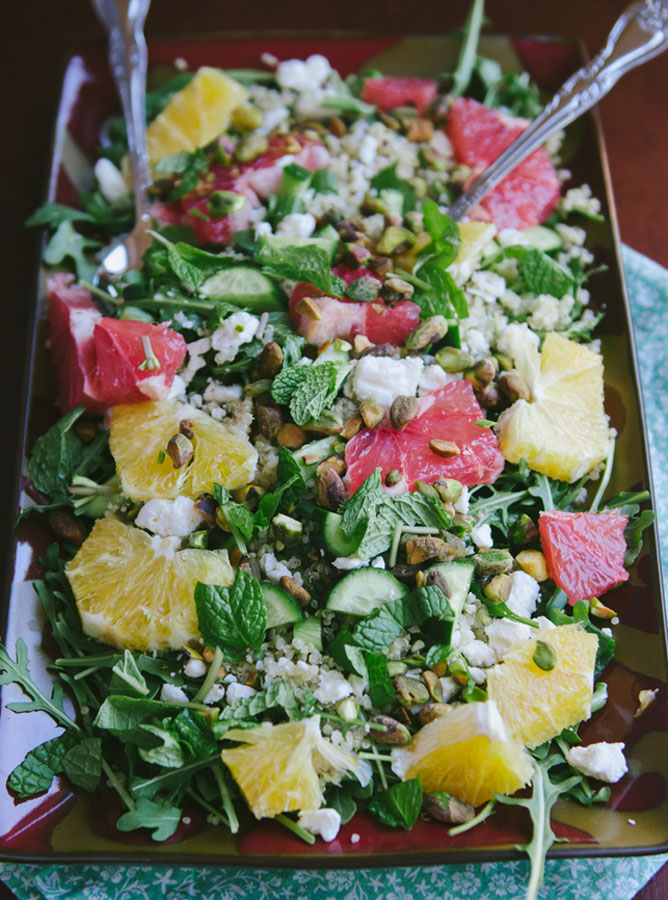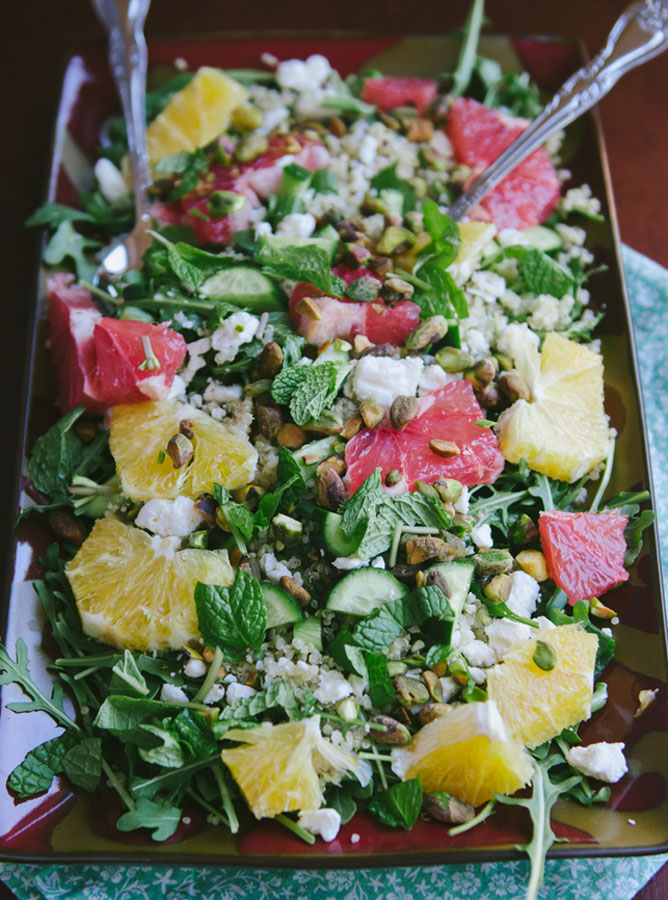 PAID ENDORSEMENT DISCLOSURE: In order for me to support my blogging activities, I may receive monetary compensation or other types of remuneration for my endorsement, recommendation, testimonial and/or link to any products or services from this blog.