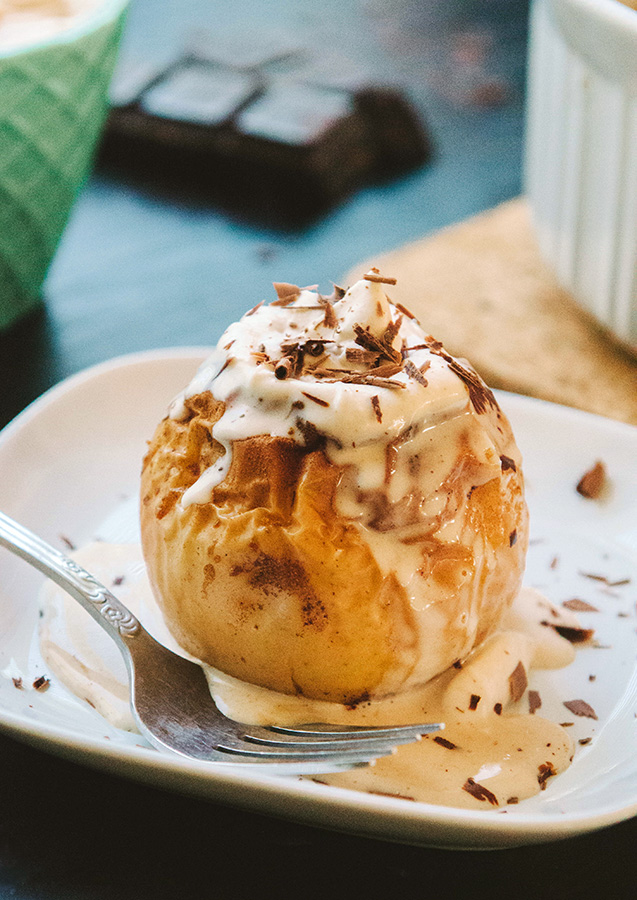 You guys! IT'S FALL!! Sure, I'm still wearing a tank top, but there is actual rain water predicted to fall from these Bay Area skies this weekend. Did you hear that?! RAIN! Temps are going to drop, I am going to stop perpetually sweating in all my nooks and crannies, and it will be seasonally appropriate to break out my well loved galoshes.
I just read back those sentences and I want to formally apologize for talking to you guys about how much I sweat in EVERY BLOG POST EVER. You're probably concerned for my lymphatic system, or my electrolyte balance. I assure you, I'm staying hydrated. I'm also staying pie-drated. This is where you get really excited about fall and start baking and eating a pie a week. I'm not kidding–THIS pie has been on repeat in our house. Pie-drate yourself. Someone please make that a t-shirt and bring it to my doorstep–we're the house with the robot statue out front next to our slightly scorched Japanese maples. You won't miss it. Unless, you're the mailman. He always misses it. He also always gives us our neighbors mail (Who are the Dingas?!?!). He's also terrified of our golden retriever. I bet you he has a reason–maybe some day I'll ask him to tell me the origin story of his mistrust for dogs while firmly trying to express that THE DINGA FAMILY DOESN'T LIVE AT THIS ADDRESS. Nah, don't worry…I won't go postal on him. Get it? Mailman humor is hard.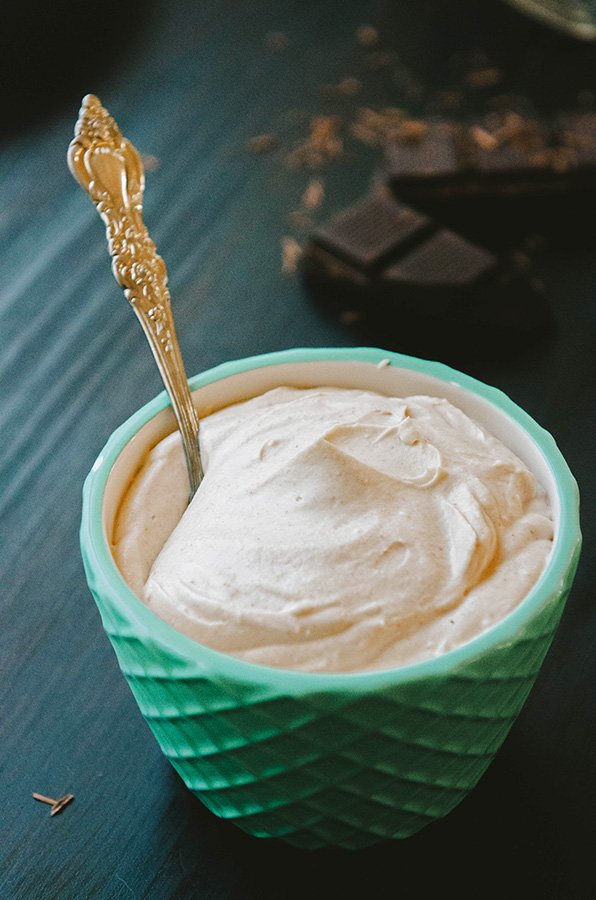 So, here we are at paragraph three, and I haven't even addressed the fact that this blog post isn't about pie or mailmen or the glistening layer of sweat that adorns my literal hot bod. Today, we are baking up the unsung hero of autumn–APPLES! I know that everyone is ape-$hit for pumpkin (I'm not entirely guiltless here), but apples deserve a lot more love. So, I've made one of my favorite all time snacks into a bangin' dessert! Did I whip peanut butter into your coconut cream? YUP! Did we just become best friends?! YUP!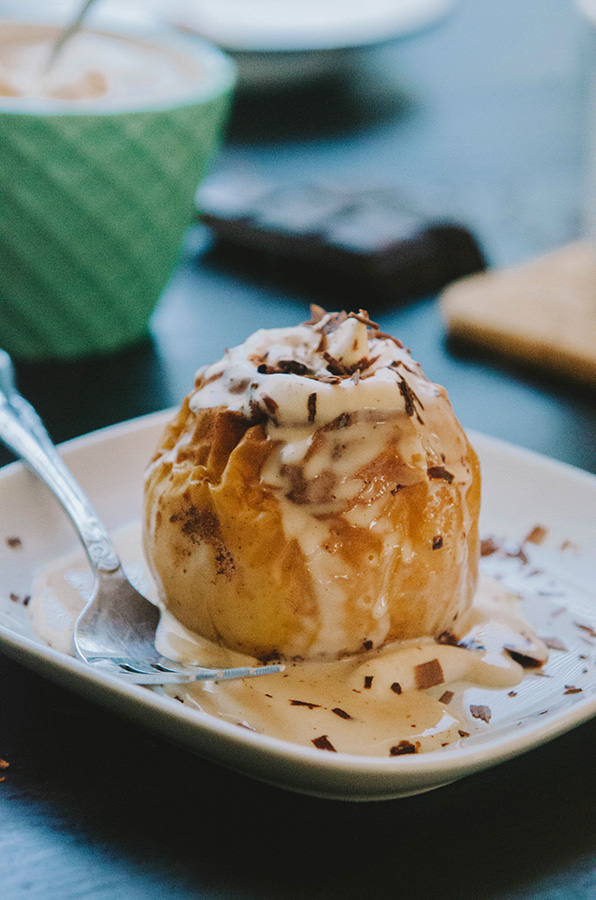 Apples dunked in peanut butter is my tried and true "oh, crap–I forgot to eat lunch and now my blood sugar is crashing and I'm turning into a sad angry monster" snack. I sprinkle a little cinnamon over my peanut butter and dunk my apple slices into the smooth and salty peanuty paste with all the grace of a troll. By the time I've finished my apples, and used my finger to shamelessly clean the plate of peanut butter (don't pretend like you don't know what I'm talking about), I feel more myself. It's simple, it's basic, it's delicious. Allergic to peanuts or living that squeaky clean paleo lifestyle? Just swap out the peanut butter for your favorite nut butter! Allergic to nuts entirely? Omit the peanut butter. It's all good, Bae. Don't panic.
This baked version turns a basic after school snack into a full on fall flavor fest. The apple turns into something more like pie, and the whipped peanut butter topping is decadent in all the right ways! If you're feeling a little naughty, shave some dark chocolate over the top (psst, you're totally feeling naughty)! Hello, lover. Heart eyes emoji. The end.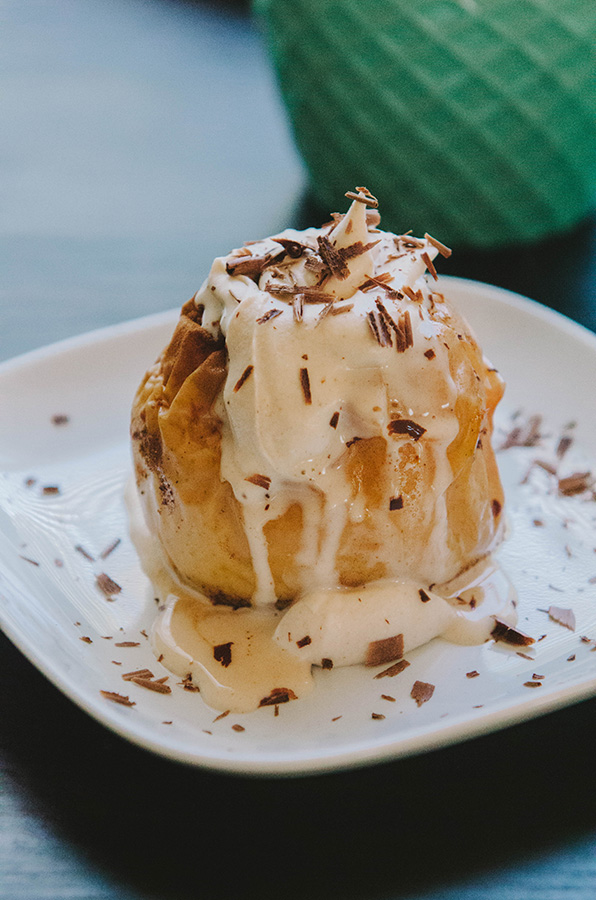 Cinnamon Baked Apples with Whipped Peanut Butter Cream
Ingredients
Baked Apples
4

large apples, cored

4

teaspoons ghee, butter or coconut oil

Cinnamon, to taste

1

Tbsp. coconut sugar

1/2

cup filtered water

Dark chocolate shavings, or chocolate chips, to top. (Optional)
Peanut Butter Cream
1 14oz

can of coconut cream

1/4

cup creamy salted natural peanut butter (can sub in nut butter of your choice if you're avoiding peanuts)

2

Tbsp. maple syrup
Instructions
Preheat the oven to 375 degrees.
Add your cored apples to a small baking dish, such as a brownie pan. Scoop 1 heaping teaspoon of ghee (butter, or coconut oil can be used here) into each of the apple's centers, where the core has been removed. Sprinkle the apples liberally with cinnamon, and sprinkle the coconut sugar evenly over all four apples. Add the filtered water into the bottom of the pan.
Bake the apples for 45 minutes to an hour, or until the apples are soft and cooked through.
While the apples bake, whip up the peanut butter cream. Add the coconut cream, peanut butter and maple syrup to a mixing bowl. Use and electric hand mixer to whip the mixture until it resembles the consistency of whipped cream.
Allow your apples to cool slightly before serving, then serve them with a generous dollop of peanut butter whipped cream and some chocolate shavings or chocolate chips to top. Note--if you serve the apples hot, the whipped topping will melt. It still tastes absolutely incredible. Enjoy!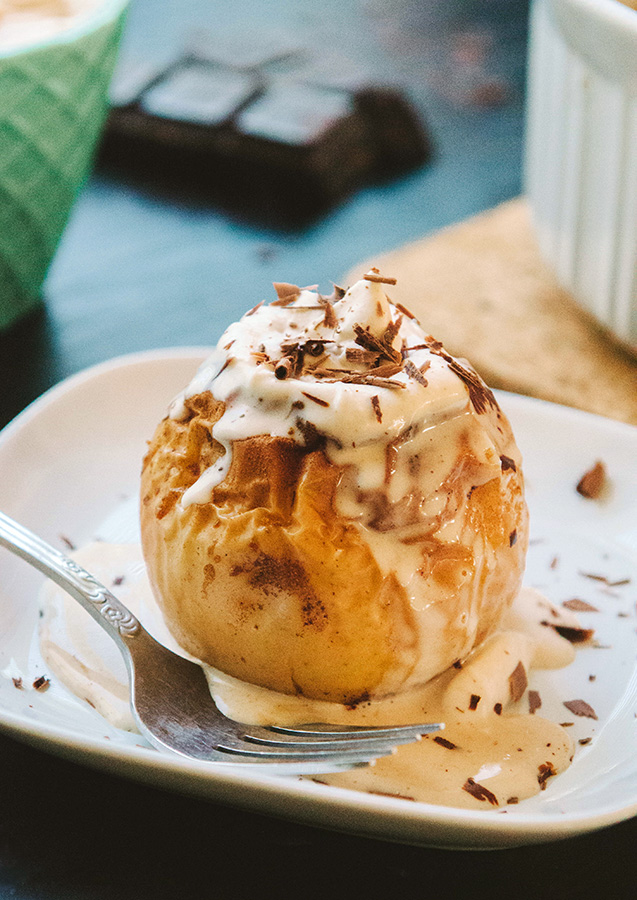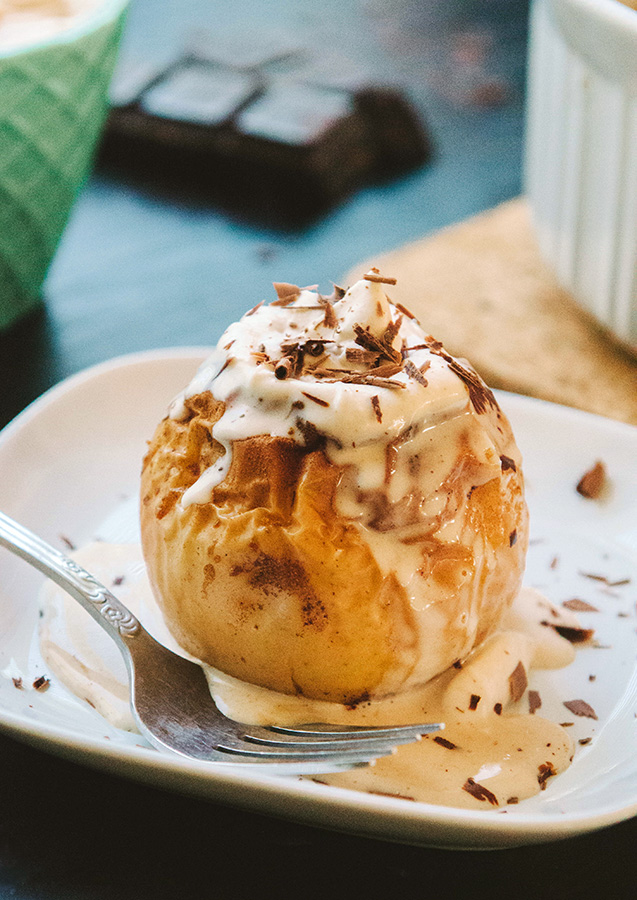 PAID ENDORSEMENT DISCLOSURE: In order for me to support my blogging activities, I may receive monetary compensation or other types of remuneration for my endorsement, recommendation, testimonial and/or link to any products or services from this blog.