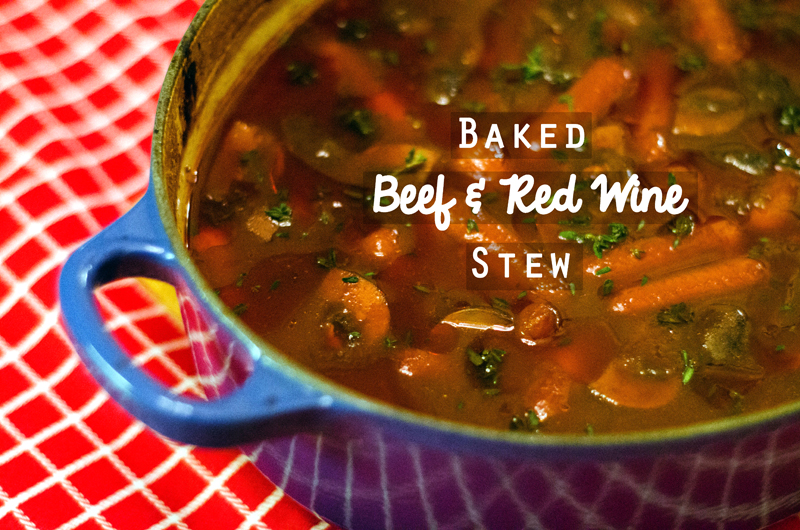 So, I've been having a love affair. No, love affair sounds cheap and fleeting.  Hmm…
Ok, I have been having a full on committed relationship.
With Beef.
Most of my friends know this about me.  When asked my favorite breakfast I will almost always say "Steak and Eggs…hold the eggs."  I'm the girl that doesn't even have to reheat leftover steak. I will go National Geographic on a T-bone at 8am.
Steak and I don't  see each other that often anymore. I've been having this thing on the side with kale and some late nights with re-fried black beans and their hussy friends, the corn tortillas.  Oh, and Green Juice. That has been getting hot and heavy.
But when steak and I get together, magic happens.
We are beef stew people in my family. You make it when someone needs a little comfort. A liquid hug. I know that I have posted a recipe for my Grammie's Beef Stew before.  It's delish. This however, is a whole other animal…
I had never baked a stew before. Why did I not figure this out sooner? The meat becomes fall-apart tender. I added in a whole bottle of wine, making it all very good and drunk. It's rich and full in flavor. Did I mention there are mushrooms in it too? Oh, yes. All served over a bed of creamy garlic mashed potatoes? Bam. Home-run.  You can run the bases now and high-five everyone in your path.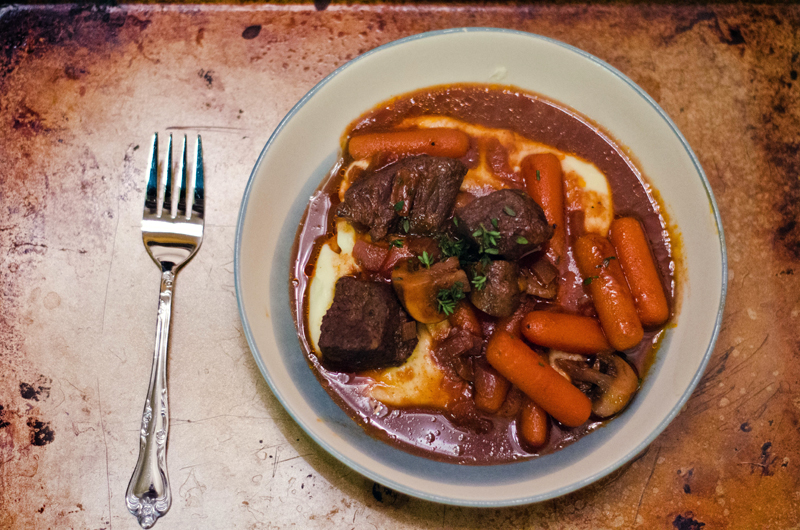 Stew Ingredients:
2 lbs stew beef
2 cups beef broth
olive oil, to coat the pan
salt
pepper
granulated garlic
1 bottle of red wine
1/2 large onion
3 cloves of garlic, minced
2 bay leaves
4 sprigs of thyme, separated from stem
1 package of crimini mushrooms, quartered
2 cups baby carrots
thyme to garnish
Mashed Potato Ingredients:
6 medium yukon gold potatoes, peeled and quartered
3/4 cup heavy cream
1 tbs minced garlic
salt to taste
Preheat your oven to 350 degrees
In a dutch oven or other oven-safe pot, heat up enough olive oil to lightly coat the bottom of your pot.
Once your oil is heated, add your chopped onions and garlic. Saute until the onion becomes translucent.
Add in your stew beef. Spice it up with salt, pepper and granulated garlic. Brown it on all sides.
Add in the whole bottle of red wine, your beef broth, your bay leaves and your thyme.
Bring to a simmer.
Once it has reached a simmer, put the lid on your pot and transfer it to the oven.
Bake for 90 minutes.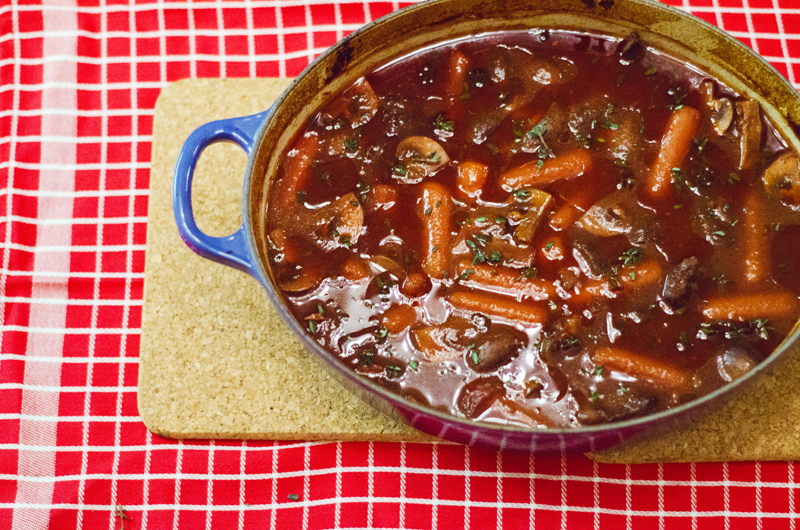 After 90 minutes, remove the pot from the oven and add in your mushrooms and your carrots.
Return to the oven and bake for an additional 30 minutes.
While your stew is finishing, peel and quarter your potatoes.
Fill a medium-sized pot with hot water and a decent amount of salt. This will help give flavor to your potatoes as they cook. Bring your water to a boil.
Add in your potatoes and let them cook for 15 minutes, or until tender.
Drain your potatoes and transfer them back to your pot.
Add in your garlic and your heavy cream.
Using an immersion blender, blend until creamy and smooth. If you do not have an immersion blender you could use a hand-mixer or simply mash them by hand.
When your stew is ready, remove it from the oven and allow to cool for five to ten minutes.
Serve over a bed of mashed potatoes, and garnish with thyme.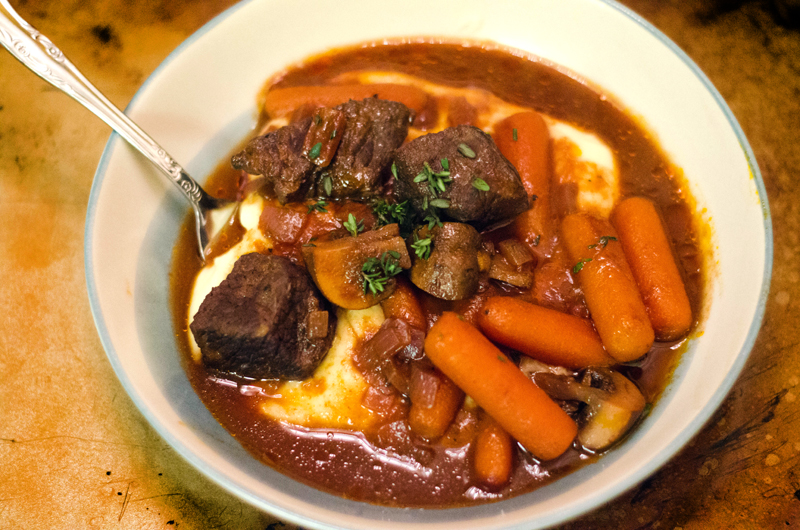 Maybe eat the leftovers for breakfast the next morning.  Not maybe…definitely.
Happy Friday, Friends! What do you say we put some jack in some cider later and do a virtual cheers? It's the holidays, right? See you then. xo
PAID ENDORSEMENT DISCLOSURE: In order for me to support my blogging activities, I may receive monetary compensation or other types of remuneration for my endorsement, recommendation, testimonial and/or link to any products or services from this blog.