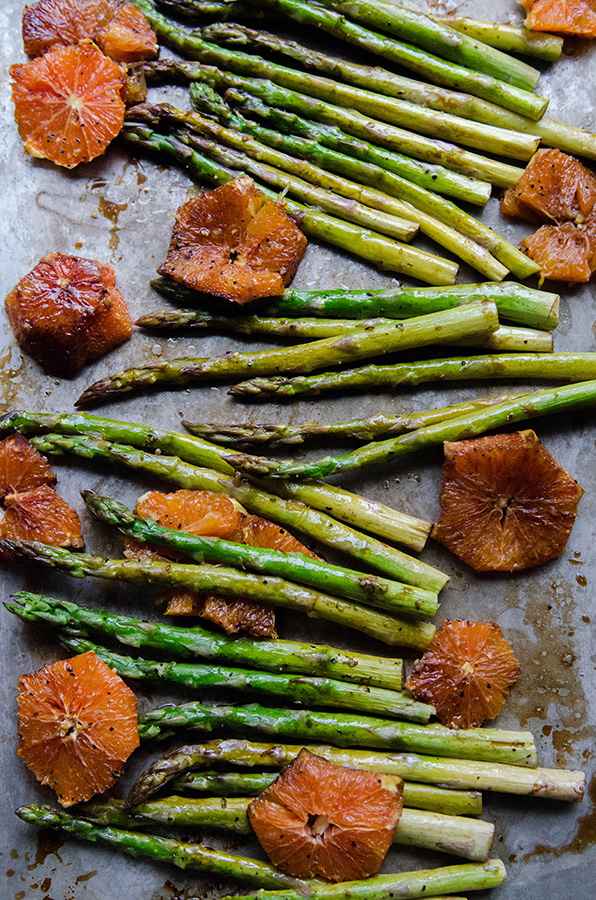 Five things I know to be true:
1) Fruit gets a little bit more awesome when you shove it into the oven and let it get all sweaty and juicy.
2) The above sentence sounds about a billion times more sexual than intended (even though I totally didn't say moist, so you're welcome).
3) Asparagus is so delicious, that I don't care if it makes my urine smell like actual cat food. It's par for the course.
4) Roasting veggies with fruit, in a bath of oil and balsamic vinegar, and then hitting them with some steak seasoning is a total culinary panty dropper.
5) The above sentence sounds only marginally worse than I intended. But, as with the feline food-urine… it's just par for the course in these parts. #BloggingIsWeird #Sorry
I could make that list a lot longer. For instance, if it included a sixth item, it would be THIS RECIPE IS THE EASIEST. If it included a seventh item, it would be that this recipe is not only easy but so delicious, I ate the whole pan while standing in the kitchen and staring off into space. Yes, I ate an entire bunch of asparagus BY MYSELF. It was one of those days where I was so happy that urinating is a solitary activity. Scratch that, I'm actually pretty stoked about the freedom to pee in peace most (er, all) days. I should definitely stop talking about pee. This is a food blog. My manners are loose today. Loose as a goose. Are geese loose? I don't know. We can go back to things that I do know. Like, I once was bitten by a goose on the buttocks. It bit my rear end and then made off with my salami sandwich. So, from that interaction, I can deduct that geese bite surprisingly hard, they like salami, and they have flexible (and/or loose) morals. In conclusion: Loose as a goose it a perfectly legitimate expression to use colloquially and with wild abandon. I'm so glad that we can tackle the really hard hitting subjects here together.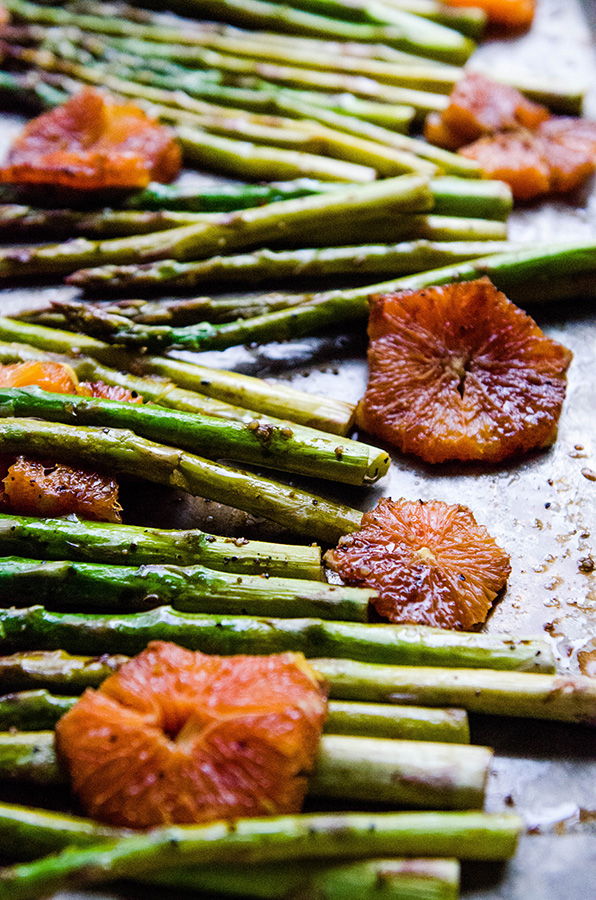 I better sign off before things get even more off the rails. All this talk of urinating, and loose goose butt-bites. It's uncouth. But, it's the truth. Sometimes the truth is uncouth. Rhymes. Poetry slam. *Drops the mic*.  You can totally put that last sentence on your obscure list  of "Things that didn't deserve a mic drop, but were given a mic drop anyway…"
But wait! There's more…
If you're still reading this (I'm sorry), have you noticed that the site is looking all new and shiny? Fun, right?!?! We relaunched last week, and I'm pretty stoked about it! In celebration, I'm giving away some of my favorite gluten-free/ paleo cookbooks. The giveaway is running through 4/29/15 — so, hurry on over to THIS POST and sign yourself up to win a menagerie of cookbooks!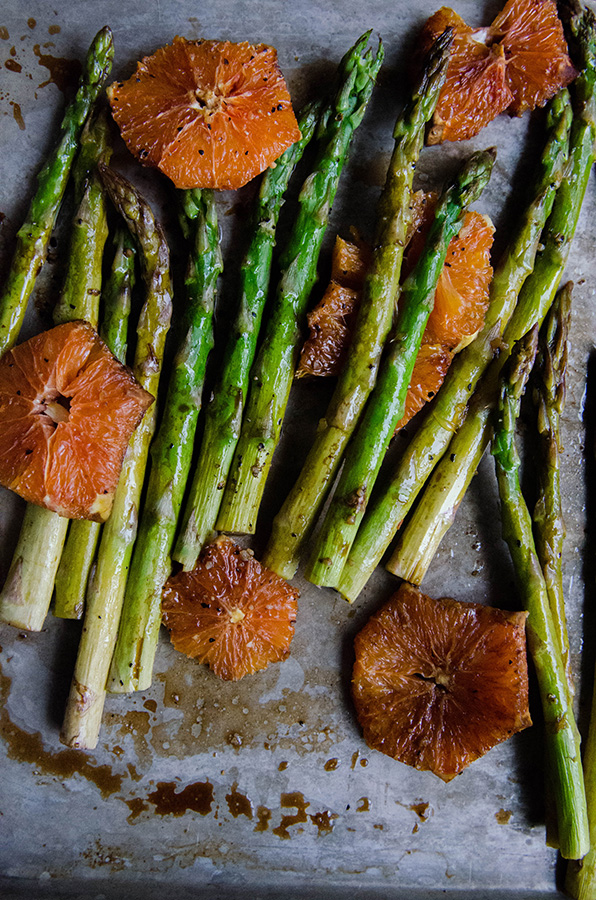 Note: I know I use "Cara Cara Oranges" in this recipe. These oranges are sweet and have a pink flesh that is almost the tone of grapefruit. If you can't find those in the store, no biggie. Just use whatever oranges you can get your mitts on! Enjoy!! xox
Balsamic Roasted Asparagus & Cara Cara Oranges
Instructions
Preheat your oven to 400 degrees.
Line a baking sheet with aluminum foil or parchment paper and set aside.
Wash and trim the tough ends off of your asparagus. Peel and slice your oranges. Place them both on the lined baking sheet.
Drizzle the oil and balsamic over the asparagus and season liberally with the steak seasoning. Using clean hands, roll the asparagus and oranges around until they are coated evenly with oil and vinegar. Make sure everything is laying flat on the pan before sticking it into the oven.
Roast for 10-15 minutes, until asparagus is tender and the fruit is soft and juicy. Enjoy!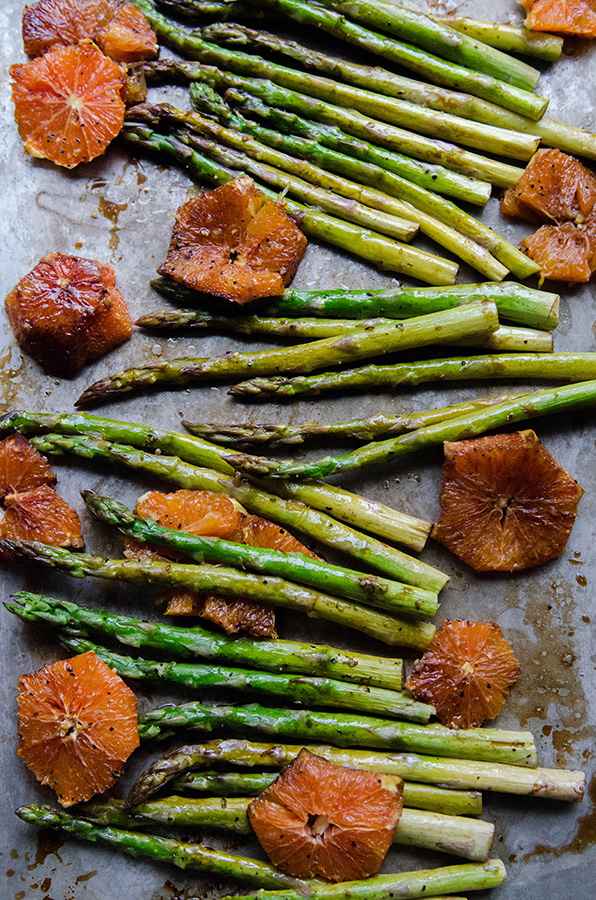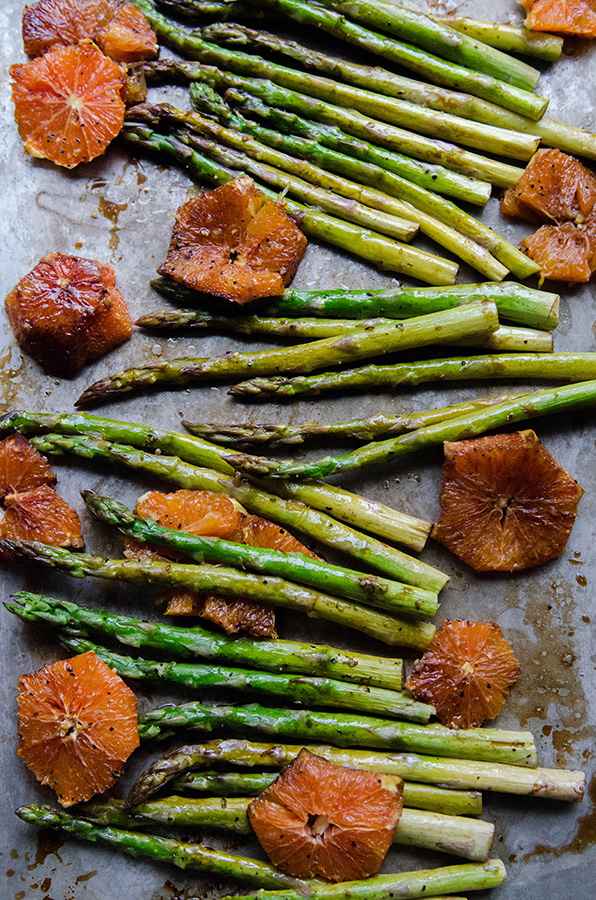 PAID ENDORSEMENT DISCLOSURE: In order for me to support my blogging activities, I may receive monetary compensation or other types of remuneration for my endorsement, recommendation, testimonial and/or link to any products or services from this blog.