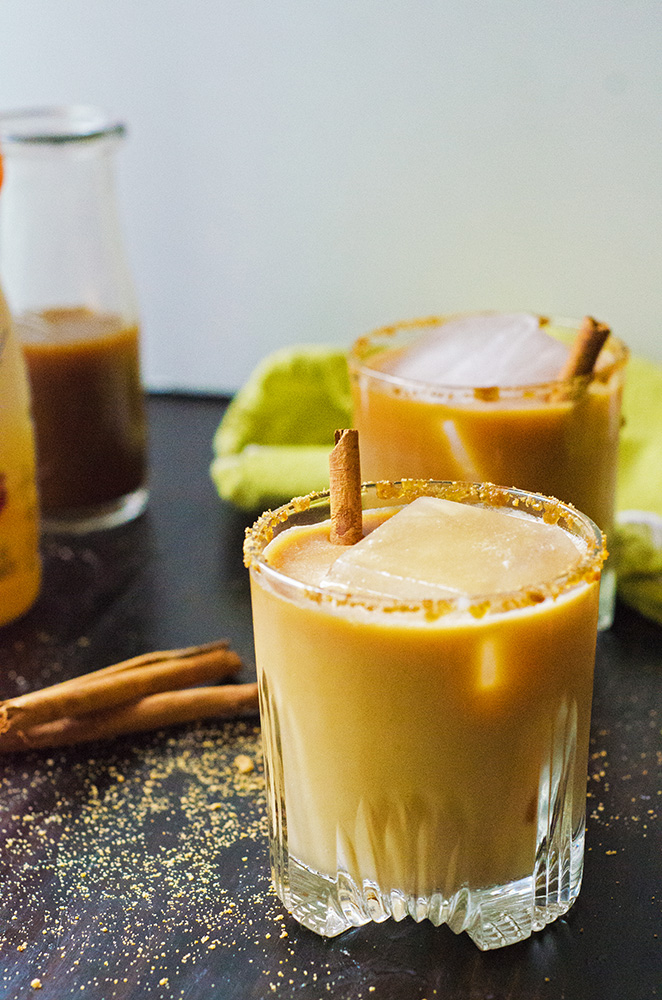 This Caramel Chai White Russian is a brunch peacemaker.
I live in a house divided by coffee and tea. My husband is a die hard coffee enthusiast, always seeking the best, most time-consuming way to grind and brew beans. The other day I found him in the kitchen borrowing my baking scale, painstakingly measuring out his morning cup of joe by weight while using some sort of fancy filter-y plunger contraption in order to extract maximum coffee-ness. I like the way a cup of coffee tastes, but my heart is forever and always deeply in a romance with tea. You wont find me special ordering coffee beans from Guatemala, but you will find me hoarding all types of herbal brews in the cabinet next to the sink. They are all stacked in there like a game of floral and ginger smelling Tetris. When you pull one out, you might find that the game more resembles losing at Jenga. I'm still figuring out an organizational system. Nobody's perfect.
So, while my marriage and our mornings tend to be divided by a thick line of differing brews, we can come together and agree on this: brunch drinks are most excellent, especially when they taste like dessert. They're even better when we can incorporate elements of both our morning cups. Plus, we both really like The Big Lebowski, so enjoying this drink in a bathrobe and talking about how the rug really ties the room together is not above us. At all.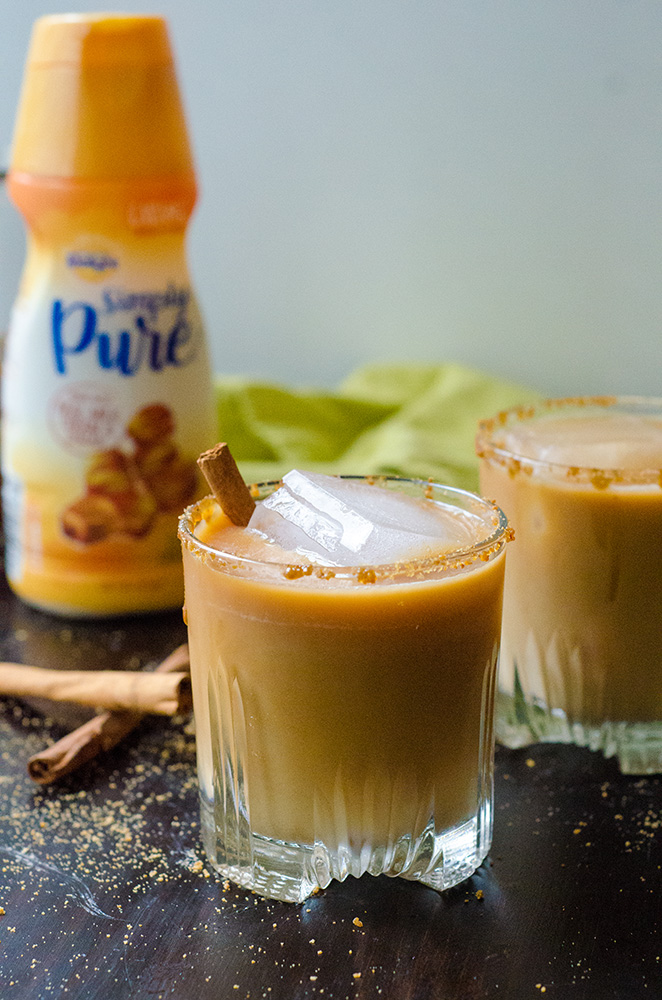 The flavor combo on this creamy drink is dreamy! I'm such a sucker for chai, and all of the spicy aromatics. Of course, you could also sub in coffee liqueur and make this drink both extra boozy and more traditional, but I highly recommend trying it this way. As you recall, I've converted my coffee fiend of a husband into a definite chai cocktail believer. The new clean label Simply Pure Caramel coffee creamer adds the needed sweetness and extra rich caramel flavor. I like that there are only five ingredients in the creamer and it's gluten-free, so I don't have to worry there. The cinnamon stick adds a bit of pizzazz–and who doesn't really enjoy a touch a pizzazz with a brunch cocktail? Isn't brunch by definition the pizazz-iest? We've broken the boundaries of breakfast and lunch, thrown them together with some jazz hands and made it okay to drink booze before noon. Bless it.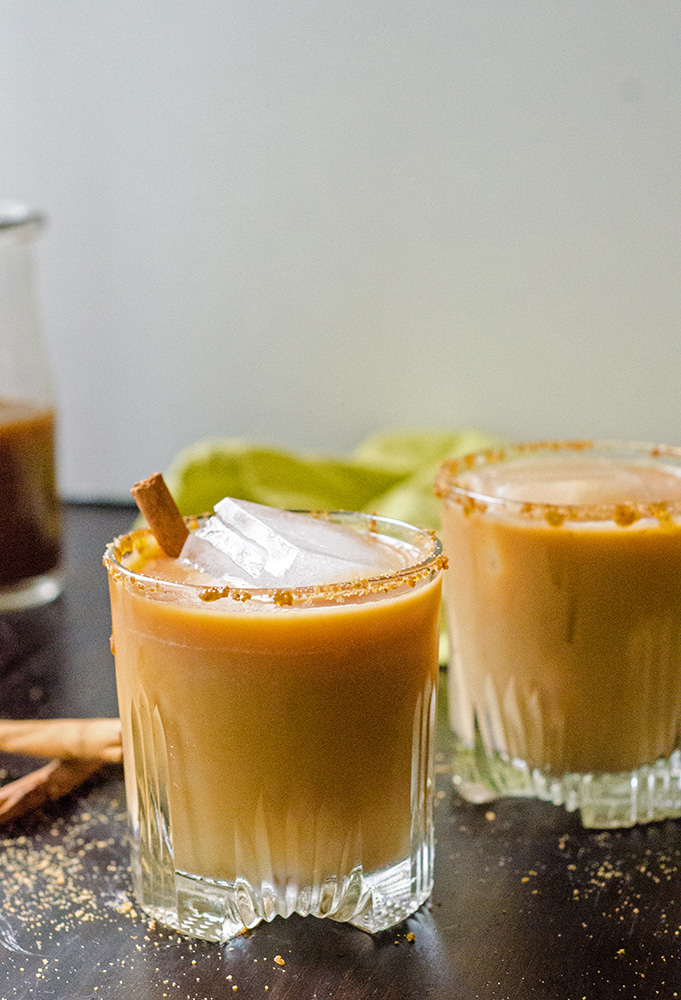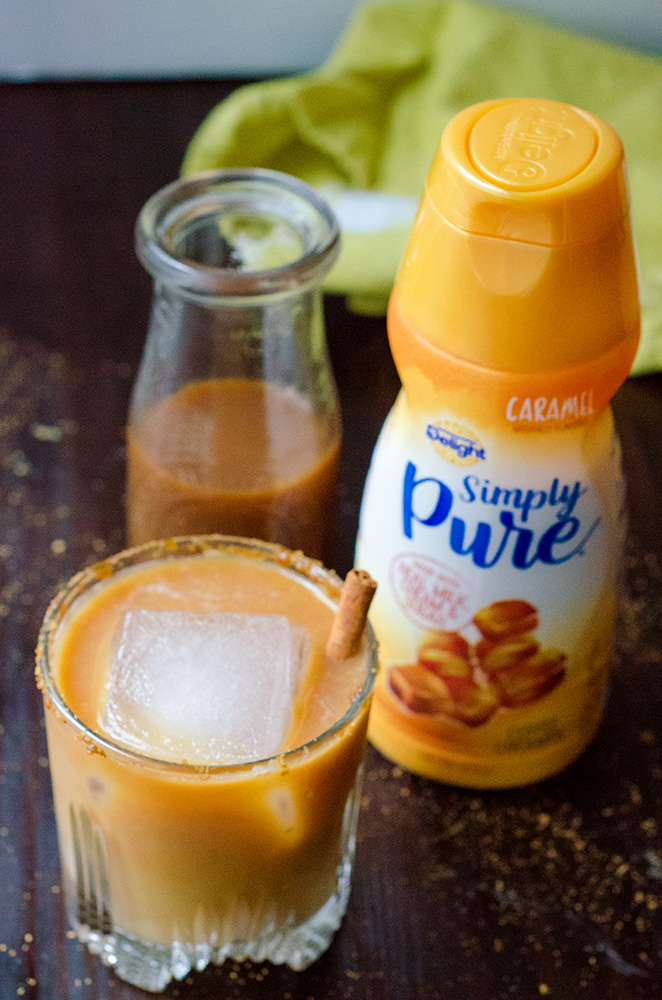 I hope you enjoy this fun Lebowski-inspired cocktail the next time you find yourself needing a brunch time cocktail! May all coffee and tea drinkers abide in the name of fantastic brunch libations! The Dude would want it that way.
This is a sponsored conversation written by me on behalf of International Delight. The opinions and text are all mine.
Comments submitted may be displayed on other websites owned by the sponsoring brand.
Caramel Chai White Russians
Ingredients
Chai Concentrate
Caramel Chai White Russian
Instructions
Prepare the chai concentrate by boiling 4 cups of water in a medium sized pot. Once the water comes to a boil, drop in the 12 tea bags and allow it to continue boiling for 15 minutes. After fifteen minutes, turn off the heat and all the tea bags to sit and cool in the water for an additional 15 minutes. Now, simply strain the tea through a fine mesh strainer, discarding the tea bags, and keep the concentrated chai liquid in a jar with a tight fitting lid. Allow to cool all the way in the refrigerator until it is cold. The tea should last for about five days in the fridge.
If you wish to rim the glasses with sugar, do so before you make your cocktails. Simple put a little bit of water into a shallow dish, and a tablespoon of brown sugar or coconut sugar into another shallow dish. Dip the lip of the glass into the water and then into the sugar. The sugar will stick to the rim of the glass.
To make this cocktail, add a large ice cube to a cocktail tumbler. First, add the vodka and then the chai concentrate. Stir with a spoon or a cocktail stirrer. Pour the Simply Pure Caramel creamer over the top. Stir once again and garnish with a cinnamon stick. Enjoy!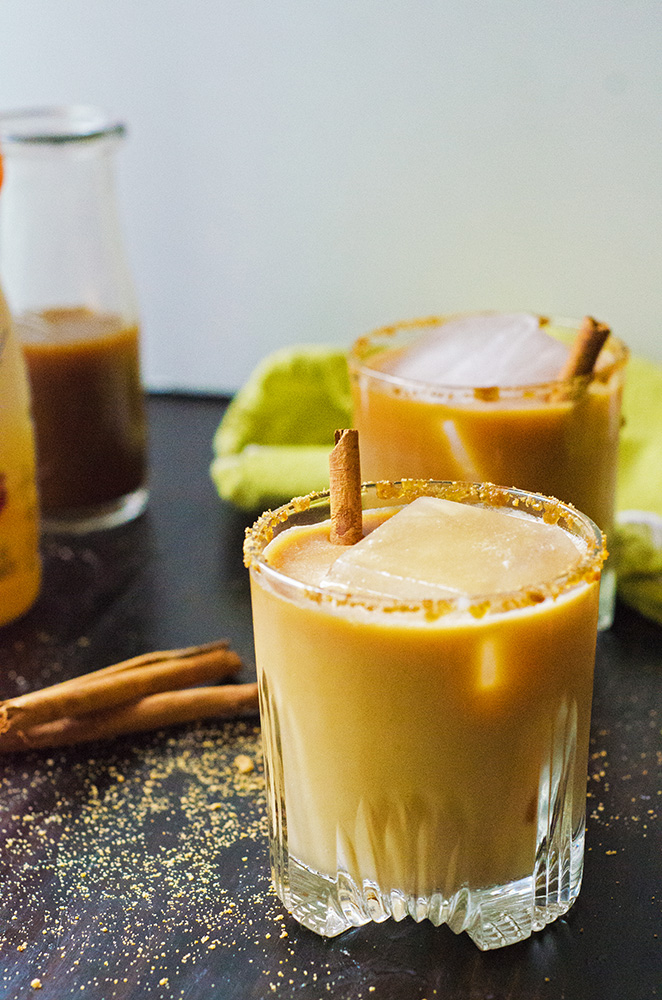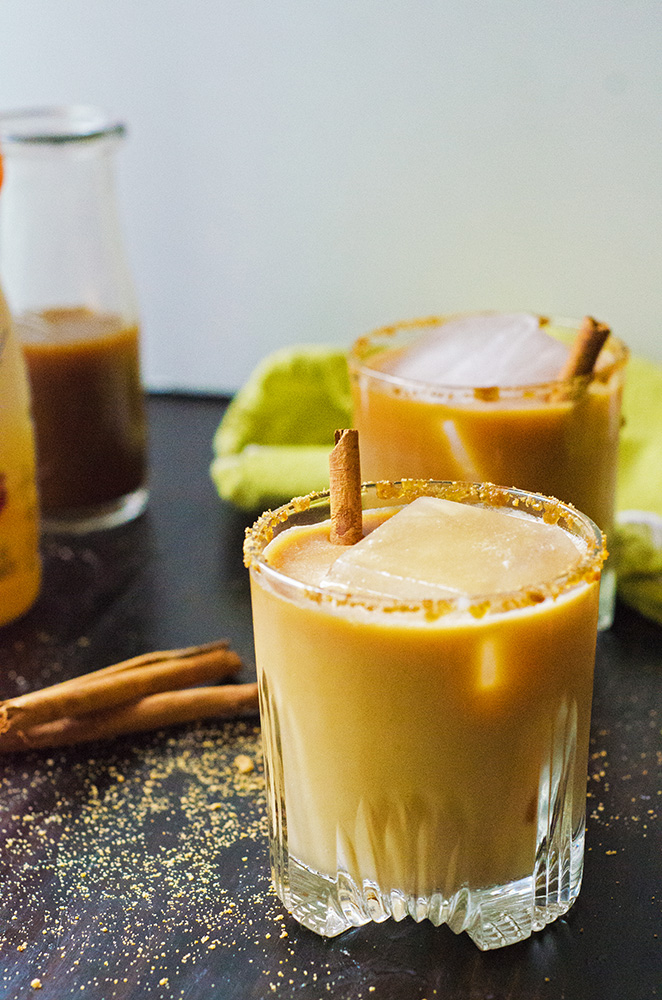 PAID ENDORSEMENT DISCLOSURE: In order for me to support my blogging activities, I may receive monetary compensation or other types of remuneration for my endorsement, recommendation, testimonial and/or link to any products or services from this blog.