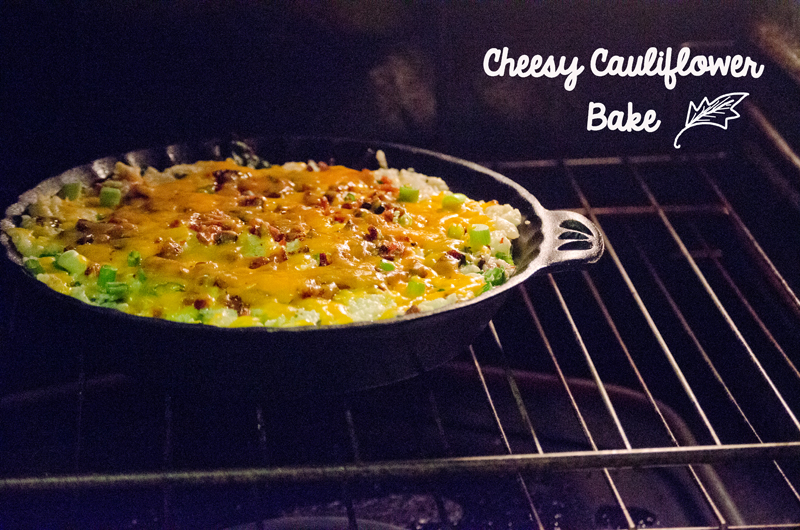 When the seasons start to change, and the weather starts to shift, I find myself going into hibernation mode. I nest. I start to do things like organize weird, neglected cabinets in the house and bake pumpkin scones. I want to be comfortable and warm and cozy.  I want to stuff my face with cheese and starch.  I want to break out my husbands over-sized, fleece sweatpants and make them acceptable to wear in public.  Let's redefine sexy.  Right? This probably won't happen, but I am still hoping.  Hey, Pajama Jeans happened, and no one saw that coming.  There's  a chance.
I am off topic.
I have gathered you all here to talk about cauliflower. The magical food that masquerades its healthy properties by acting like a delicious, creamy, potato-y, dirty, hip hugging, thigh expanding crazy carbohydrate. It is sneaky delicious. It's also packed full of vitamins and cancer fighting goodness!  Yup.  It's fancy.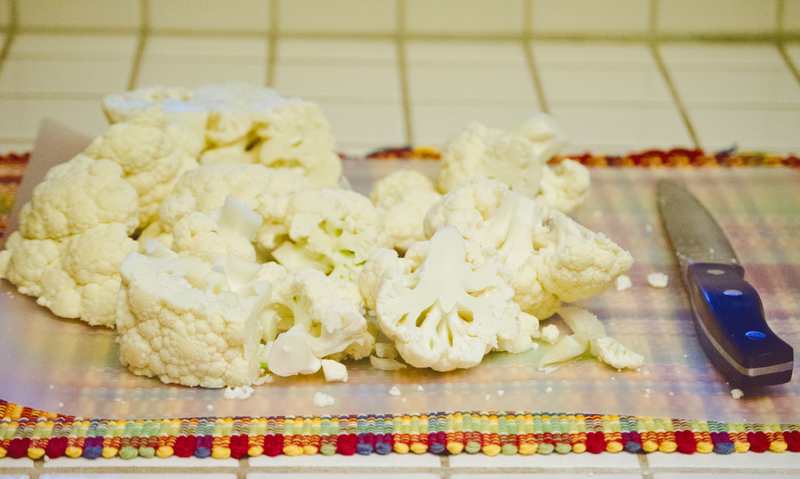 What I have created for you here was inspired by a flurry of Pinterest posts that had the words "FULLY LOADED BAKED POTATO" in them. Usually all in caps. Enthusiastically jumping off the page. I received the message loud and clear. Yes, that looks delicious.  Yes, I would like to fully load a baked potato straight into my face.  However, why not try to skinny it up a bit?  Let's give it a try, right? I also added lots of rainbow chard into the mix.   I did what I could to make this dish something I wouldn't have to feel super guilty for eating. I didn't want to get a case of those weird "I shouldn't have eaten that" sads. To my delight, it worked out beautifully! I may or may not have actually eaten our leftovers for breakfast.  Yum.
Let me talk you through it.
Ingredients:
1 head of cauliflower
1/2 cup sour-cream (I used light sour cream, but that is no matter. I assume regular would only make it more delicious.)
1/4 cup freshly grated parmesan cheese
3/4 cup sharp cheddar cheese (plus a handful more to sprinkle on the top.)
1 cup chopped green onions
1 whole bunch of rainbow chard (you can substitute whatever dark leafy green you like best. Kale and spinach would both be delicious.)
1 small package of bacon (8 pieces or so)
Olive oil for sauteing your greens
1/4 cup of chicken broth for your greens
Salt
First things first.  Time to cook your bacon.  I cooked mine in the oven following these directions. 
Once your bacon is cooked and cooling…
Preheat your oven to 350 degrees.
Cut up your cauliflower.  Remove the stem and cut it into smaller pieces.
Place the cauliflower into a large pot of  salted boiling water and cook until tender (10 mins or so).
Get a skillet going over medium heat.  Add enough oil to gently coat the pan.  Add in your greens.  Add in your chicken broth.  Saute the greens until they are gently wilted but still tender.  Set aside.
While your cauliflower is cooking, dice up your onions, shred your cheeses and measure out your sour cream.  Dice up your crispy bacon into tiny bite sized pieces.
Once your cauliflower  has reached its desired tenderness, drain it well.
Once it's drained, put the cauliflower into a large mixing bowl and mash it up with a potato masher.   At this time, add in your sour cream, parmesan, green onions and cheddar cheese.   Fold in your greens. Mix it together until it's distributed evenly. Fold in your bacon pieces reserving about a 1/4 cup for the top of your dish.
Grease up your baking dish.  I used a cast iron pie dish.
Add the mixture and pack it into the dish.  Sprinkle cheddar cheese and bacon on top.
Pop it into the over for 30-35 minutes.  You will know it is done when the cheese starts to brown and bubble.  Cheesy delicious.
Let it cool for 10 minutes before serving.
After that, all bets are off.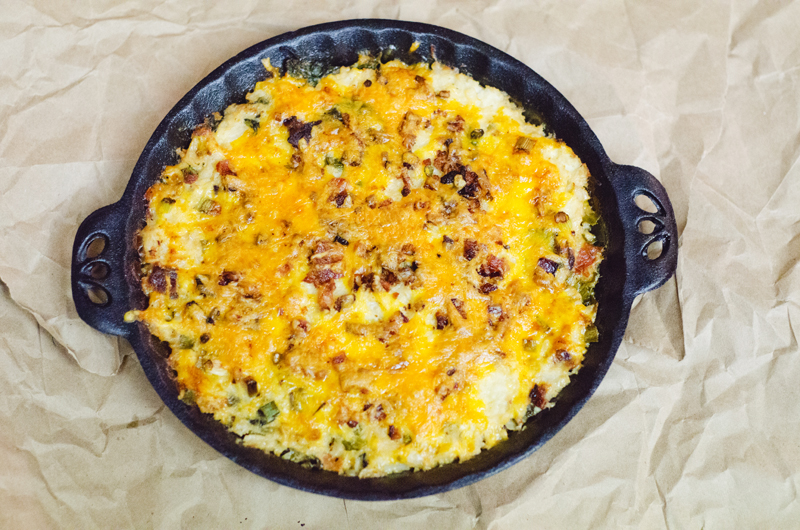 PAID ENDORSEMENT DISCLOSURE: In order for me to support my blogging activities, I may receive monetary compensation or other types of remuneration for my endorsement, recommendation, testimonial and/or link to any products or services from this blog.