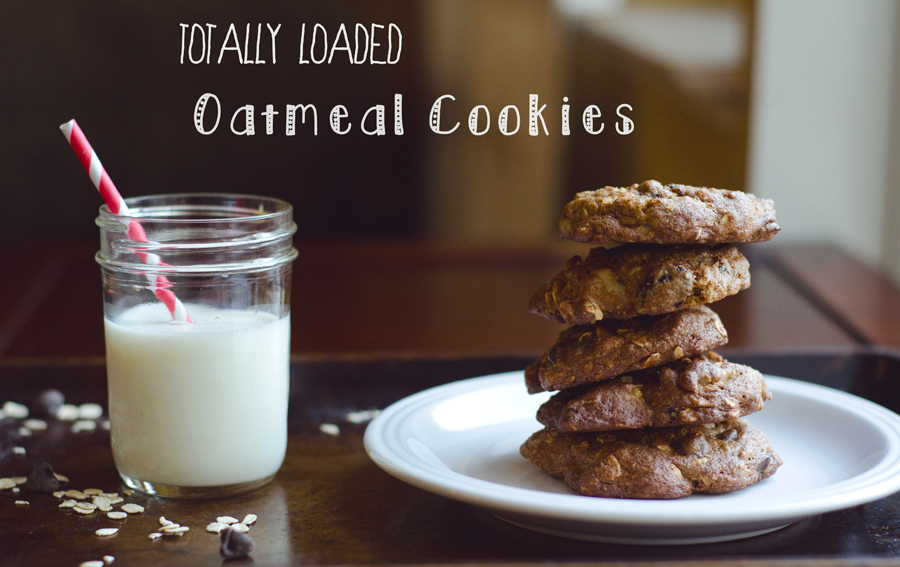 Let me start off this post by openly acknowledging I'm a hot mess.
My desk is usually a sea of papers. Most of these papers are recipes either printed out or crudely scrawled with a sharpie onto the backs of envelopes or pieces of junk mail (you never know when inspiration will strike, right?). There are composition books filled with ideas and more than likely at least four drawings of polar bears in pant suits. I am constantly cleaning up the mess and thinning down the horde, but it always seems to come right on back. I will call this my process. It's a messy process, but it gets you Cheesy Cauliflower Bakes and Peppermint Patty Brownies. I vow to myself at least once a week to get it together and type my recipes directly into a very organized folder on my desktop. This doesn't happen. It's not as much fun. It's so much harder to doodle cupcakes and pandas in the margins of the page of a Word document. It's all part of my flow.
This morning, I woke up hell-bent on sharing this cookie recipe with you. I've been sitting on it for a few weeks and I figured it was just time. Fridays are the time to start dreaming about chewy-gooey cookies. It's a fact.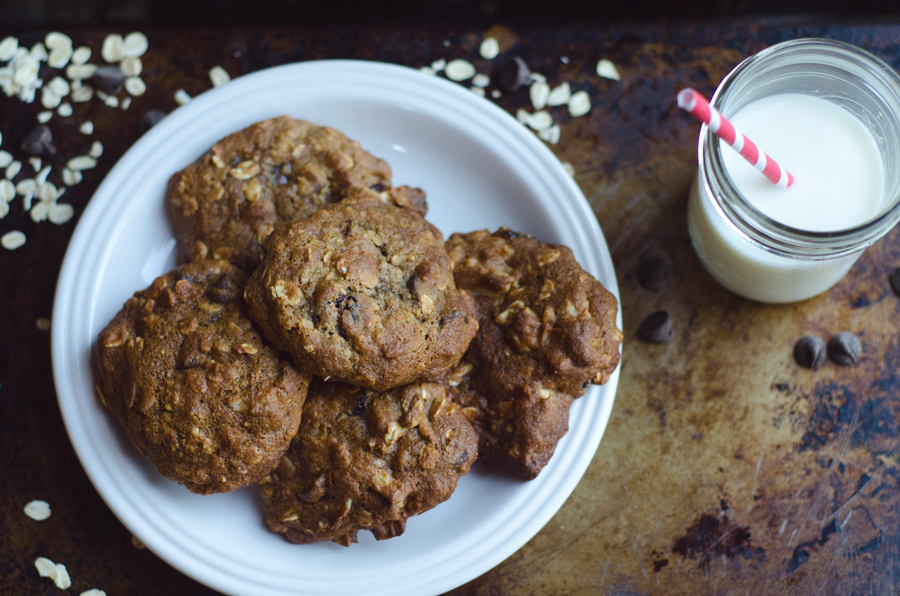 I put on my slippers, grabbed a green juice, and headed over to my desk. Uh oh. It was clean. The only thing on my desk was my camera, some pens and a crudely drawn rendering of a puppy dog wearing an afro wig. Where did I put my recipes again?
I searched my files. Nothing. I searched cabinets. Nothing. I searched binders. Nothing. I found my recipe for cheesy biscuits, but where was my cookie recipe?! I got wild eyes and started to tear apart the office. Emma, our golden retriever, looked at me and sighed loudly as if to say, "Mom. Get it together." She is hardly amused by my antics.
Now, for the final act, I decided to go through the trashcans. That is right. I really wanted to bring you these cookies. I reached my hands into the trash and started to root on through. Early morning dumpster diving at home. Lovely. I found a lot of things in there that I won't mention because, EW. I did not find the recipe.
Finally I went into my kitchen and sat on the floor in frustration. I lay down next to my dog, sulking. There was drama. Life was pretty much over. As I looked up at the microwave to my right, I saw a stack of papers making their home neatly right on top.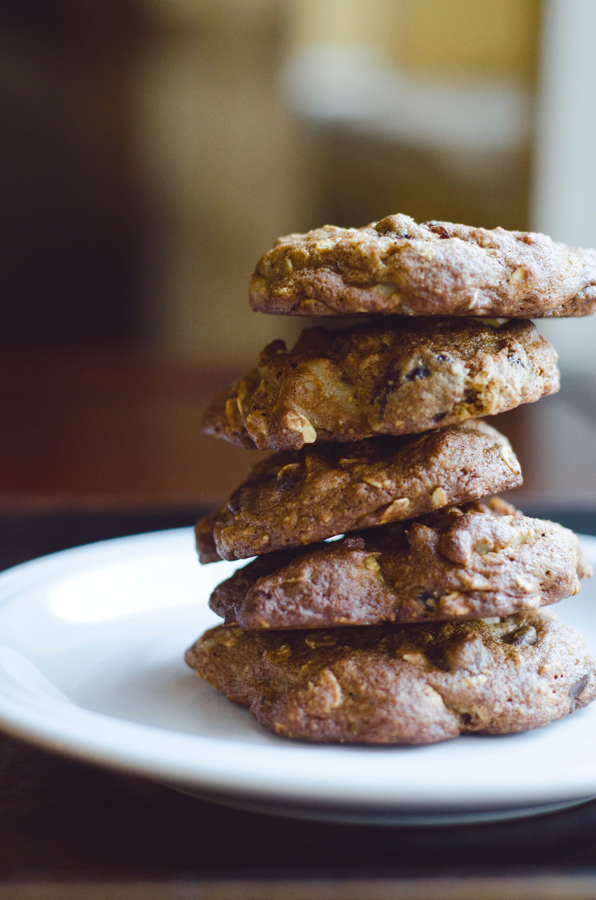 I found it.
The moral of the story is, I am a hot mess. My dog thinks I am dramatic, and I love you enough to root through trash to bring you a recipe for cookies.
These cookies are loaded with every delicious thing I could find in my pantry. The base is a chewy oatmeal cookie sweetened by brown sugar and maple syrup then made gooey and rich with butter. I took this oatmeal cookie and pumped it full of chocolate, cranberries, coconut and walnuts. It's a full house of deliciousness. Totally loaded. My husband took the remainder of the uneaten cookies to work with him and they disappeared quickly.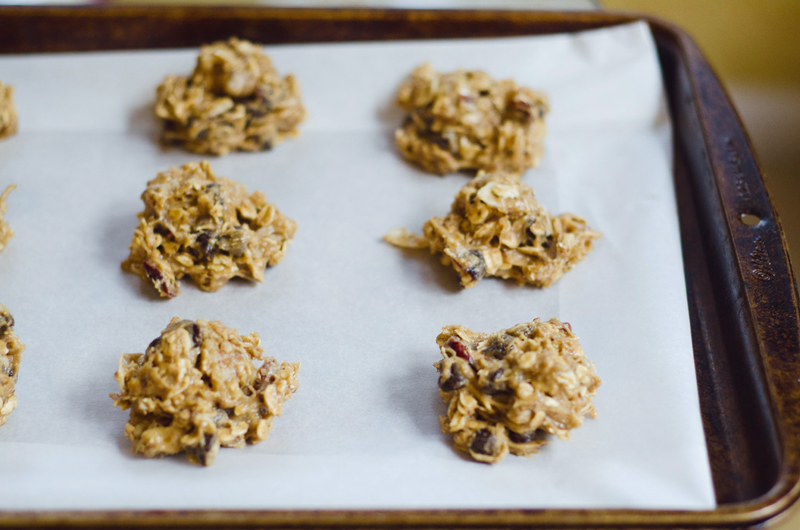 Look at those imperfectly perfect little beauties! Perhaps I should have left a little more space between each cookie… I got impatient.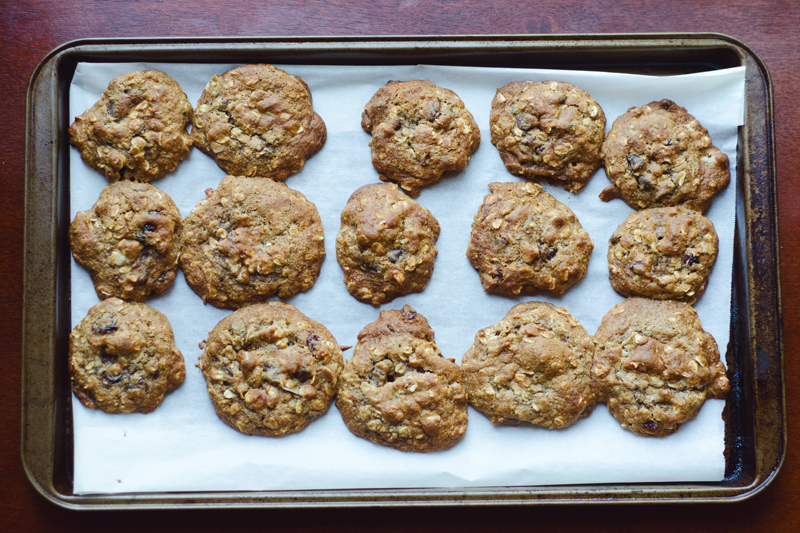 Totally Loaded Oatmeal Cookies | Gluten Free
Ingredients
1 1/4

cup all-purpose gluten-free flour (I used Bob's Red Mill)

1

cup almond meal

1

tsp xanthan gum

1/2

tsp salt

1 1/2

tsp cinnamon

1/2

cup unsalted butter, at room temperature

1/2

cup packed brown sugar

1/3

cup coconut sugar (you can use granulated sugar if you don't have coconut sugar on hand)

2

large eggs

1

tbs vanilla extract

1/2

cup maple syrup

1 3/4

cups old-fashioned uncooked oatmeal

3/4

cup dried cranberries

1/2

cup unsweetened coconut shreds

1

cup walnut pieces

1

cup semi-sweet chocolate chips
Instructions
Preheat your oven to 350 degrees. Line two baking sheets with parchment paper and set aside.
In a medium mixing bowl, whisk together your flour, xanthan gum, almond meal, salt, and cinnamon. Set it aside.
In your electric mixer bowl combine your butter, brown sugar and coconut sugar. Mix on medium speed until it is thoroughly combined. Once the mixture appears slightly fluffy (about 3 to five minutes in), stop the mixer and scrape down the bowl.
Add in your eggs one at a time, running your mixer for a minute in between the addition of each new egg. Add in your vanilla extract, and maple syrup and beat until both are completely mixed in.
Once your egg and butter mixture is completely combined, add in your flour mixture and beat until it all comes together.
Once it is completely combined fold in your oats, cranberries, coconut flakes, chocolate chips and walnut pieces by hand. Stir until it is all thoroughly mixed throughout the batter.
Spoon the batter by the heaping tablespoonful onto your parchment paper lined baking sheets.
Bake for 10 to 12 minutes or until your cookies are a beautiful golden brown.
Remove from oven and allow to cool.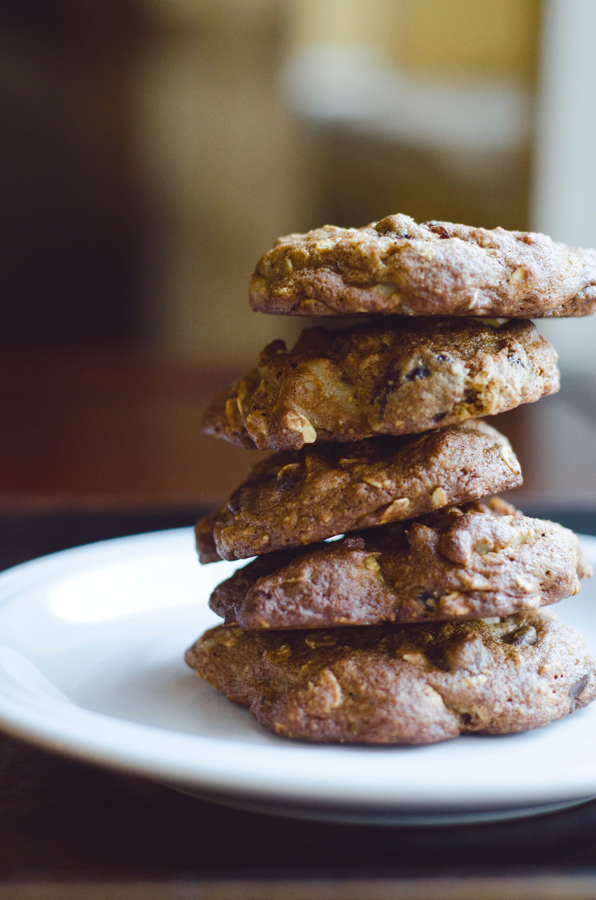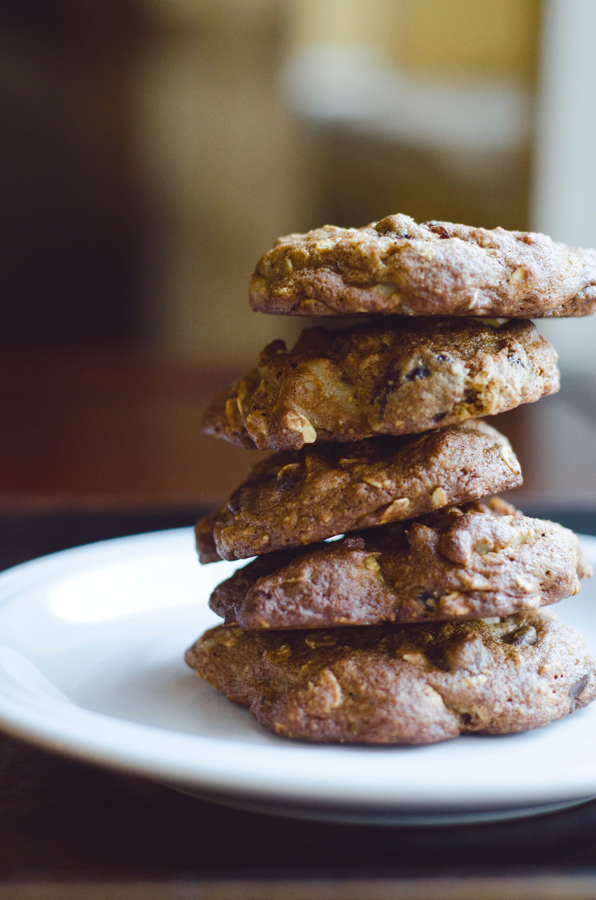 After that… all bets are off. Let the cookie feasting begin.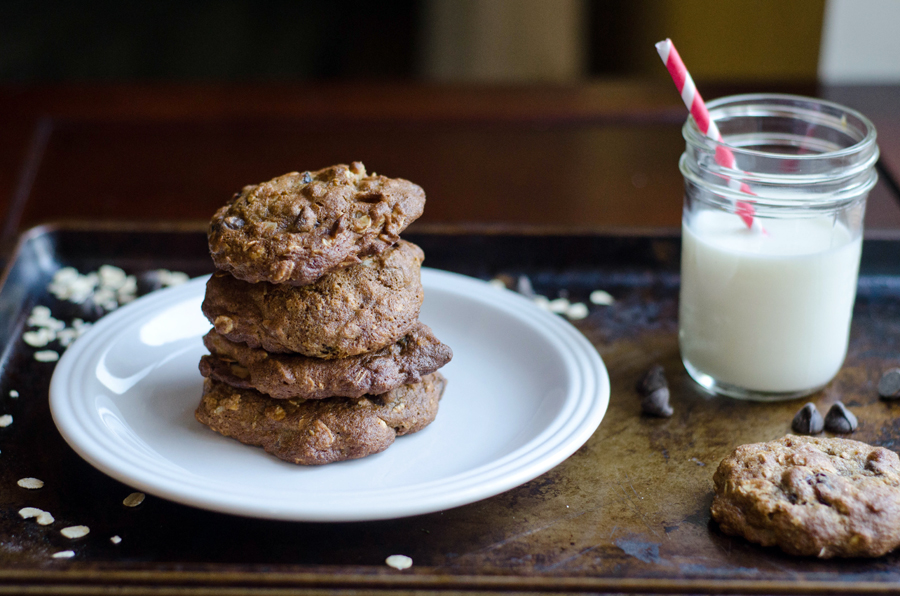 PAID ENDORSEMENT DISCLOSURE: In order for me to support my blogging activities, I may receive monetary compensation or other types of remuneration for my endorsement, recommendation, testimonial and/or link to any products or services from this blog.