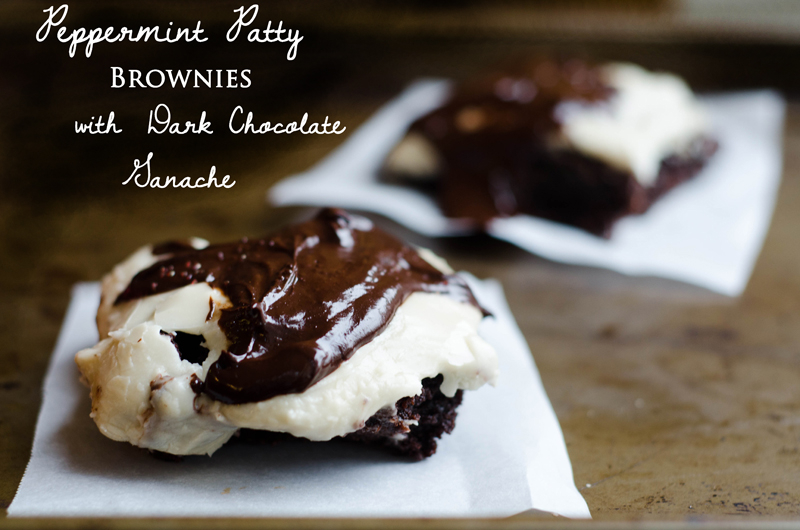 What do you do when the world just doesn't make sense?
Because, Friends, It really doesn't. Not even close.
My heart breaks for the all of the families in Connecticut. Tears roll down my cheeks and I try to make sense of this horrifying news. No sense can be made.  I extend my arms and my love and everything healing out to everyone and anyone affected by this tragedy. To all of the families that feel broken and scared and unimaginably heavy, I wish you everything. I wish you peace.
I honestly don't know what to do in times of tragedy. I always want to fix things. I want to rescue the problem. This is rarely if never possible.
So, I cook.
It's just something that we do in our family.
We tie up our aprons, roll up our sleeves and put things in pots and bring them to a simmer. We cream some butter, throw some batter in a pan and bake at 350.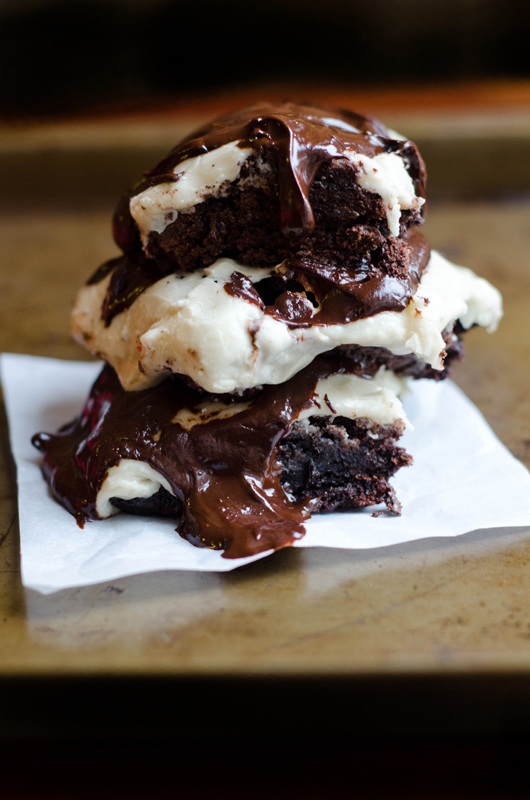 I can't fix it, but I can feed you. I can nourish you. I can care about you. I can put as much love and care and spice into this food as I know how. This is what I know how to do.
So, this weekend, that is exactly what I did. I spent most of it in the kitchen cooking. Granted, I could not cook for the people who needed it most, but I was able to nourish and love on my own little family. Hold them close and appreciate our time together.
There was a stew, there was a salad, there were cocktails, there was this decadent dessert.
It might sound like stress-eating.  I am going to go with nurturing my soul.
These brownies are not my original creation, but rather the sugary, chocolaty, peppermint infused love child of Jessica at How Sweet It Is. From the moment I saw her Peppermint Pattie Brownie recipe I knew I needed to make them gluten-free.
Lucky for me, during my leisurely Saturday visit to the grocery store (where I purchased entirely too many brussels sprouts  almond toffee chocolates) they were selling a gluten-free brownie mix. Eureka! Some might call this lazy, I call this destiny. Gluten-free brownie mix is usually a home-run. It rarely ever disappoints  It's not like the finicky gluten-free vanilla cake mixes that you have to overload with boxes of pudding in order to make palatable  Nope. It's usually just chewy chocolaty goodness. Plus, it's rarely in our gluten-free lives that we get a break while baking. Just take a break. Buy the mix. Or, get fancy on me. Either way I respect you. You are the best.
Here is what you will need…
Brownie Layer Ingredients:
1 Package Trader Joe's Gluten-Free Brownie Mix (Or, any other mix you choose. If you are using a different mix, follow directions on your box and omit the rest of the ingredients listed here. Or make them from scratch. Do your worst.)
1 egg
1/2 cup vegetable oil
1/4 cup water
1/2 cup chocolate chips
Peppermint Patty Layer:
2 cups powdered sugar
1 1/2 tbs butter, softened
3 tbs evaporated milk
1/4 tsp vegetable oil
1/4 tsp vanilla extract
1/2 tsp peppermint extract
Dark Chocolate Ganache:
4 ounces of dark chocolate, chopped
3 tbs heavy cream
Preheat your oven to 350 degrees.
Grease an 8×8 baking pan with butter or non-stick spray.
Add your gluten-free brownie mix to a large mixing bowl. Add in your egg, oil, water and mix with electric beaters until everything is combined.
Fold in your chocolate chips.
Bake for 25 minutes, or until a toothpick comes clean when inserted into the center of the pan.
Set them aside to cool.
While your brownies are cooling, you can start on your peppermint layer. Place all of your peppermint layer ingredients into the mixing bowl of an electric mixer. Beat until smooth.
Once brownies are cooled, layer the peppermint mixture on top of your brownies. Place the pan in the refrigerator for thirty minutes, or until the mixture has completely set.
After your peppermint layer has set, it's time to make your ganache.
Heat up your heavy cream in a small pot. Once it's hot, add in your chopped up dark chocolate, and stir until the two have completely melted into each other.
Layer the dark chocolate onto the peppermint layer. You can spread it over the whole pan, or spoon it on to each individual brownie.
What you get is a gooey, decadent, sugary-hug of a dessert.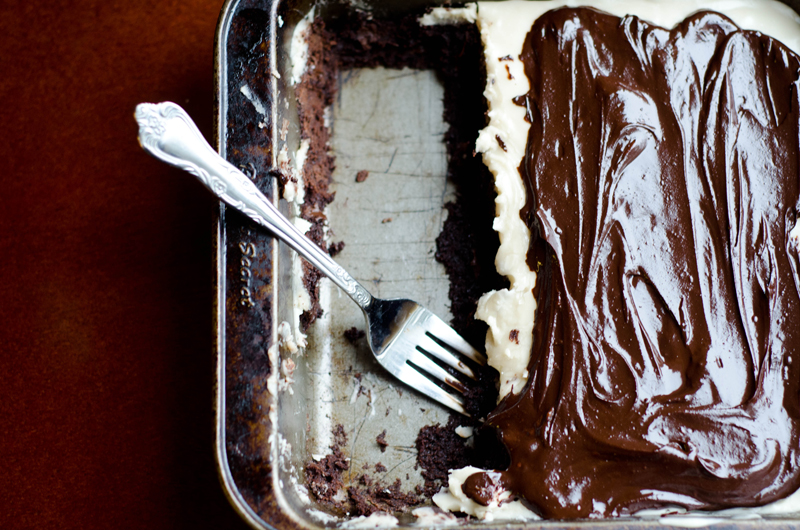 Take the fork to the pan. I won't judge you.
Be well, Friends! Hugs to all.
(Adapted Slightly from How Sweet It Is)
PAID ENDORSEMENT DISCLOSURE: In order for me to support my blogging activities, I may receive monetary compensation or other types of remuneration for my endorsement, recommendation, testimonial and/or link to any products or services from this blog.