Pancakes were always a special treat growing up. The weekend would come, and my mom would bust out a griddle and and a box of Bisquick to make us all banana pancakes. Her knack for getting the pancakes to have those delectable crispy edges is unparalleled. I still don't quite understand it. I'm just going to chalk it up to Mom having a sort of kitchen magic. I really hope that when I have kids I inherit this perfect-every-time-crispy-flapjack trait. It seems like one that would be useful. I also hope to inherit the I'm-looking-at-you-in-a-certain-way-and-now-you-should-probably-be-scared trait. Very effective in those times when your child (me) won't stop asking you to make snow cones in January (I did have one of these…so….)  while you're (my mom) on a business call. This look will halt the snow cone whining. Stat.  
Now, in a different twist of flapjackery, there were the sleepover pancakes of my youth. That sentence makes it sound like I would have sleepovers with pancakes instead of other tiny humans. Not true. Instead, a bunch of us tiny gals would get together, stay up late, make a couple of prank phone calls, dish about boys, play girl talk and then discuss how we suspected tampons were used. I know I just used the word tampon in a pancake post, but that's just the truth. We were simultaneously mystified and horrified. The only thing that seemed to calm our adolescent minds was the promise of chocolate chip pancakes come morning! If we were at my friend Rosa's house, her mother would always bust out the chocolate chip pancakes. This, to me, seemed a lot like eating candy for breakfast. It felt very, very right.
In weekends following a sleepover, I would always try and convince my mom to slip chocolate chips into her banana pancakes. To me, this would be the sort of epic moment where two perfect things collide to make one even more perfect, sparkly, shrouded in rainbows and floating through space, type of thing. She wasn't into it. Banana pancakes stayed banana pancakes. The chocolate chip pancakes at Rosa's house became the sexy mistress of my pancake world. A little bit naughty and something that I couldn't bring home to mom.
The cool part of this story is that dreams really do come true. You grow up. You move out. You put whatever the heck you want in your own pancakes. You experiment with different fruits. You go over the line and try M&M's. You dial it back and realize that chocolate and bananas are all you need. So, these gluten-free pancakes are my homage to the pancakes that divided my youth. It's a peace treaty. An offering of hope and inspiration for all of those young girls out there who live a life of pancake segregation. Banana at home. Chocolate chip on the side. Don't worry… there's a better tomorrow. You can have your bananas and eat your chocolate too. Promise.  #YesAllPancakes
Also, this gluten-free, healthified version will leave you in MUCH less of a pancake coma. Because, no one wants to be that flapjacka$$ who has to sleep off a ten hour pancake coma. I mean… I have no idea what that's like (except I do), and I'd never do that to you. PANCAKES!!! Amiright?!
Chocolate + Banana Buckwheat Pancakes
Instructions
Add your buckwheat flour, cacao, baking powder, cinnamon, and sea salt into a medium sized mixing bowl. Whisk all of the ingredients together until it is well combined.
In a separate bowl, mix together your mashed banana, egg, coconut milk and maple syrup. Whisk this mixture well until it all comes together. The banana doesn't have to be perfectly smooth, but it should be incorporated into the rest of the wet ingredients.
Add your dry ingredients slowly into your wet ingredients and whisk together until you get a pancake batter without any dry patches or lumps.
Heat up a skillet with a little bit of coconut oil in the bottom of the pan. Once the coconut oil is hot, pour a quarter cup or so per pancake into the pan. Place a couple of sliced bananas into each pancake along with a couple of chocolate chips. Allow the pancakes to cook on the first side. You will start to see bubbles in the middle of the pancakes as they become ready to flip. Once the first side is cooked, flip your pancake and cook until it is cooked through. Another minute or two. Continue to do this with the rest of the batter.
Serve the pancakes with butter and extra maple syrup! Enjoy!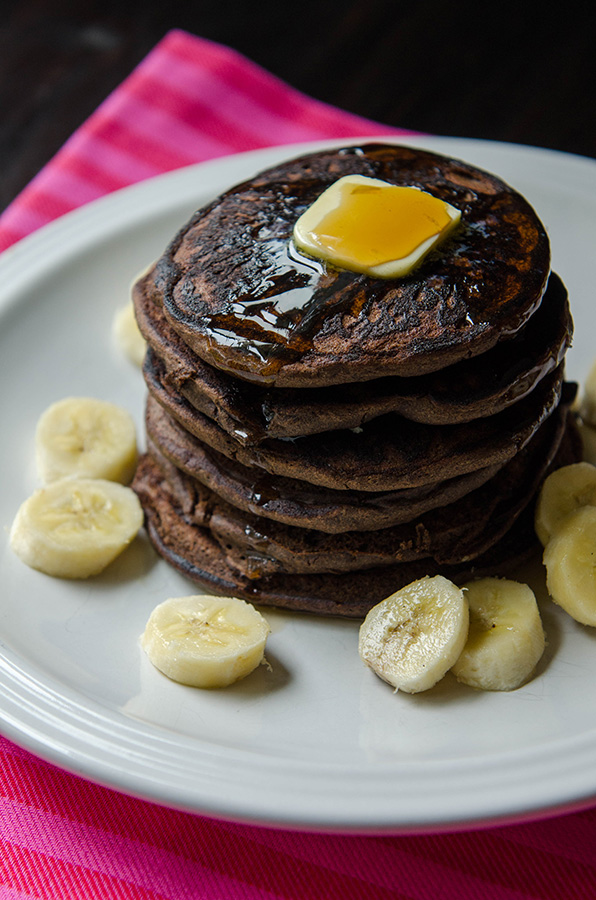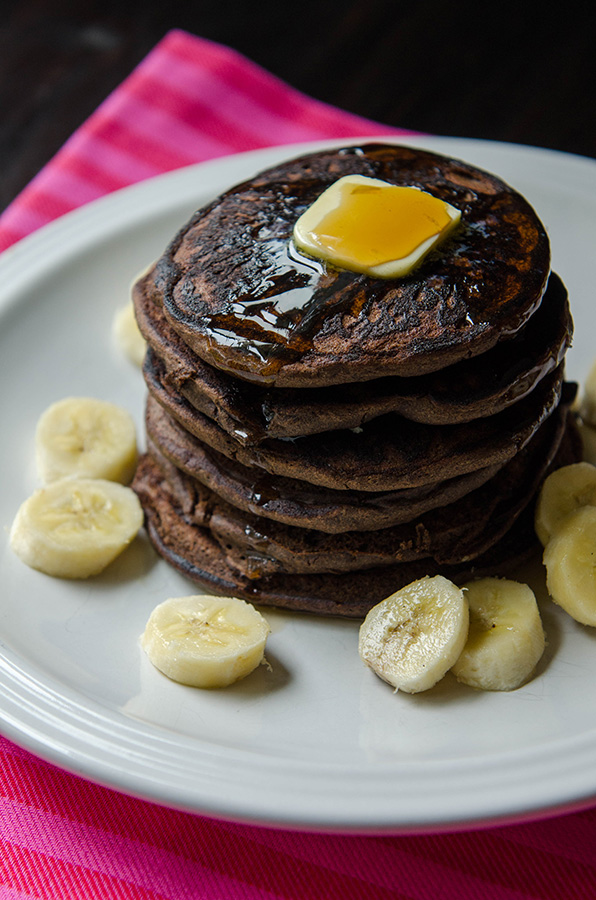 PAID ENDORSEMENT DISCLOSURE: In order for me to support my blogging activities, I may receive monetary compensation or other types of remuneration for my endorsement, recommendation, testimonial and/or link to any products or services from this blog.