Dudes. Dudettes. Polar Bears. Information-Mining Google Robots…
I don't know exactly how to address this little love letter to citrus, so, I'm just throwing it all out there. I'm experiencing a little bit of citrus fever. It's a hopeful sunny burst of color exploding out of the dreariness of winter.
Okay, I'm lying a little. Winter here in California is currently not dreary, even though we're promised some rain towards the end of the week. But, for now, I just went out for a sunny walk wearing only a t-shirt. Oh, and pants. Didn't forget those. But, still. The sun was shining, I was warm and sweaty in just my t-shirt (and pants), and I had to use all of my self control to not pilfer all of my neighbors' citrus trees. There are sooooo many! They are all dripping with citrus. How are citrus tree-owning people not jamming and canning and peeling and eating and slicing and dicing and marmalade-ing their way through this season?! How about lemon curd? Don't even get me started.
I should probably just knock on their doors and ask them if I can snag a bag of oranges or lemons. For some reason this seems like the equivalent of calling someone you just met instead of testing the waters with texting. That extremely personal moment when someone answers "Hello?" and you feel naked because you can't verbally express five wink-y tongue out smiley face emojis. Ugh. I'm pretty sure technology is ruining human existence and interpersonal relationships. Look out for my new memoir How My Cell Phone Dependency Made Me Scared To Ask For Oranges. It's sure to be a hot NYT best seller, right? Riiiight.
So, due to my lack of bravery, this salad is not made with pilfered-neighbor's-yard-citrus, but instead from citrus that I procured from my local grocer. I feel like a wiener dog saying this out loud. Where is my sense of adventure? Anyway… this salad has a little bit of everything. There's loads of texture, which is a salad must-have. Shaved fennel, radishes and snap peas provide lots of awesome crunch. The citrus is juicy, tangy and sweet! Little pops of pomegranate seeds burst like nature's Pop Rocks in your mouth, but slightly less cool, and with five billion less chemicals. It's all arranged over a bed of cruciferous greens massaged with a nutty, tahini dressing. It's a party salad. Make it for your friends. Do they have orange trees? Make them bring you a bag. You've got this.
I should note that if you make this salad it's going to come out much bigger than the salad in the photograph. Full disclosure, I only plated enough for me to eat as my lunch. I was working from home and alone and felt it unnecessary to make a GIANT salad. The guilt of dressing all of those greens would have lead me into a frenzy of trying to eat them all. I know, veggies are good for you… but, if you're up in arms about this, obviously you've never hit the kale wall. The point in time where you've eaten SO much kale that if you try to chew one more kale leaf, the world ends, your stomach explodes and the only thing to do is to fall asleep or die. Dramatic? Maybe a little.
Anyway, know that your salad will be about twice this size. Much bigger and grander than mine. Glorious. You fancy.
Citrus & Fennel Salad With Tahini Dressing
Ingredients
Salad
1

pink grapefruit, peel removed and cut into slices

3

naval oranges, peel removed and cut into slices

3

pink cara cara oranges, peel removed and cut into slices

1

fennel bulb, shaved thinly

4

radishes, shaved thinly

1

bag of cruciferous greens mix (I get this mix at Trader Joes. If you don't have a Trader Joes, simply shred up a pound of Brussels sprouts, some red cabbage and a bunch of kale in your food processor.)

1

cup sugar snap peas, chopped

1-2

avocados, chopped

1/4

cup pomegranate seeds

Fresh cilantro & mint for garnish (optional)
Dressing
Instructions
Prep all of your veggies and citrus. For the oranges, I like to cleanly slice off the peels as if I am going to supreme them, and then cut them into circles instead. I think it's visually really pretty. I use a mandolin to shave both my fennel and my radishes.
Make your dressing by combining all of the dressing ingredients into a jar with a lid. Shake vigorously until everything comes together. Pour your dressing into your cruciferous greens and use your clean hands to massage the dressing into the greens. Plate your greens onto the platter or serving bowl of your choice and set aside.
Add your snap peas, fennel, avocado and radishes. Top with the citrus, pomegranate seeds and fresh herbs. Toss before you serve and then dig in!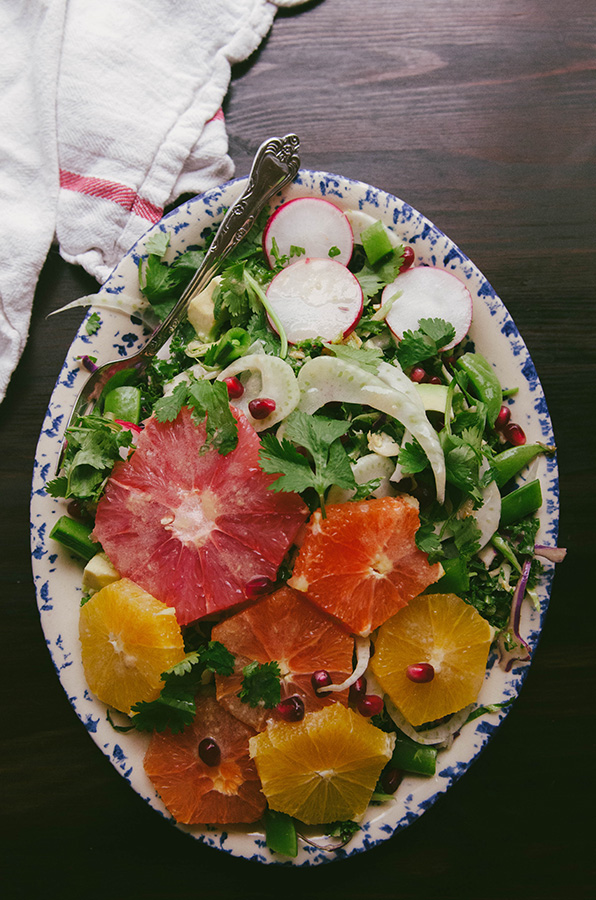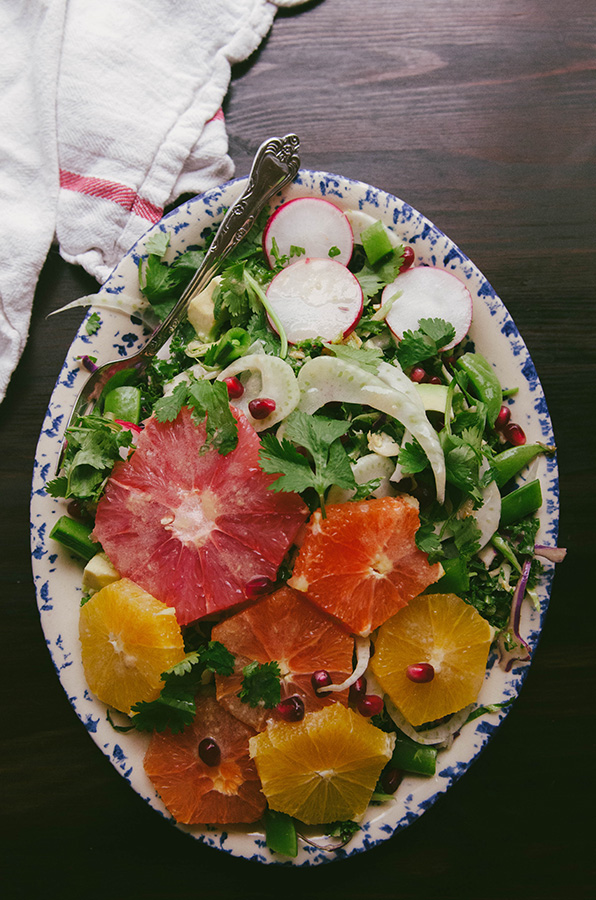 PAID ENDORSEMENT DISCLOSURE: In order for me to support my blogging activities, I may receive monetary compensation or other types of remuneration for my endorsement, recommendation, testimonial and/or link to any products or services from this blog.