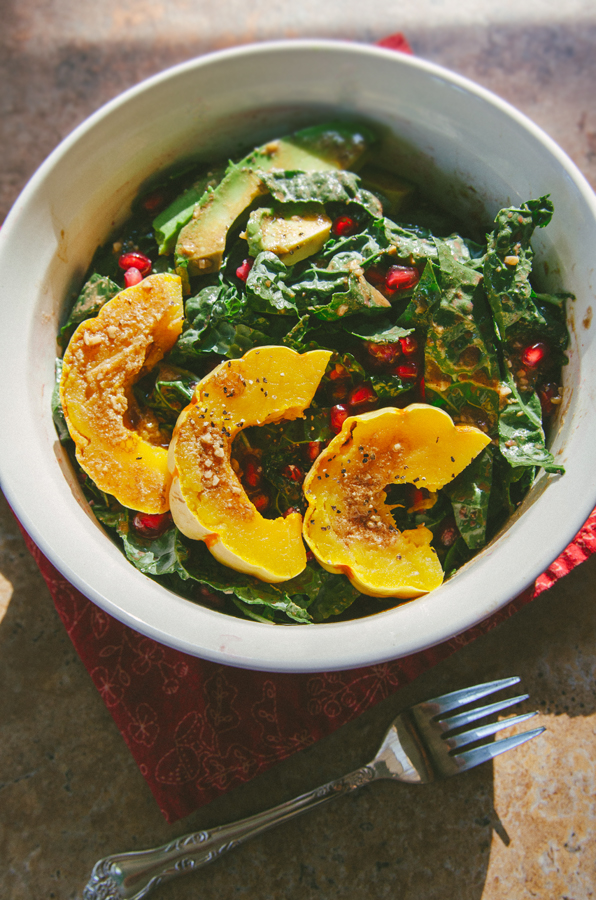 Recently I completed a ten day cleanse. I needed a reset. My body was feeling sluggish, tired and heavy. I consulted a holistic nutritionist and off I went. Shakes. Veggies. Supplements. Repeat.
I didn't talk about the cleansing process on here. I didn't really want to trouble you all with my inevitable "EHRMAGHERD, ALL I WANT TO DO IS EAT MY ARM OFF AND YELL LOUDLY" attitude. That happened around day seven. Detox is a funny thing. It can make a usually jovial human being into a crazy, wonky-eyed monster, willing to sell their first born child on the black market for half a steak and a glass of bourbon. Perhaps this is dramatic, but still… it's a thing. One night I cried into a bowl of Brussels sprouts. Just sobbing and eating. No big deal. I asked my husband to ignore me, as this was all just "part of my process". He kept his eyes to himself like a gentleman as I tried to choke down sprouts through light sobs. This is no easy feat. Did you know you use a lot of your cry muscles to swallow? No? You don't cry when you eat? Oh, ok…
I'm making this sound like hell. It wasn't. But, those of you who have done a cleanse probably get it. There comes a moment when you begin bargaining with yourself. Stomach talks to Brain. Stomach proposes you eat a small piece of cheese. Brain tells stomach to shut up. Stomach gets mad. Brain tries to console stomach. Stomach eats an apple instead, but with the scowling glare of a teenager who isn't allowed to stay out past ten on a Saturday. Brain tries to comfort Stomach, but she feels like a woman scorned. Stomach sends a " cry involuntarily into your sprouts" signal to your eyes. It's madness. Madness, I tell you.
But, it's not all bad. Like, this here salad. This was one of my meals while cleansing. Not too shabby, right? The sweetness of the delicata squash and the pomegranate seeds pair nicely with the citrus-based dressing on the kale. There is avocado for some added good fats. It's super satiating. To put things in perspective, I totally did NOT cry into this salad. That spells SUCCESS. In fact, now that I am done with this cleanse, I am craving veggies like crazy. Go figure. Well played, Cleanse. I'm on to you. 😉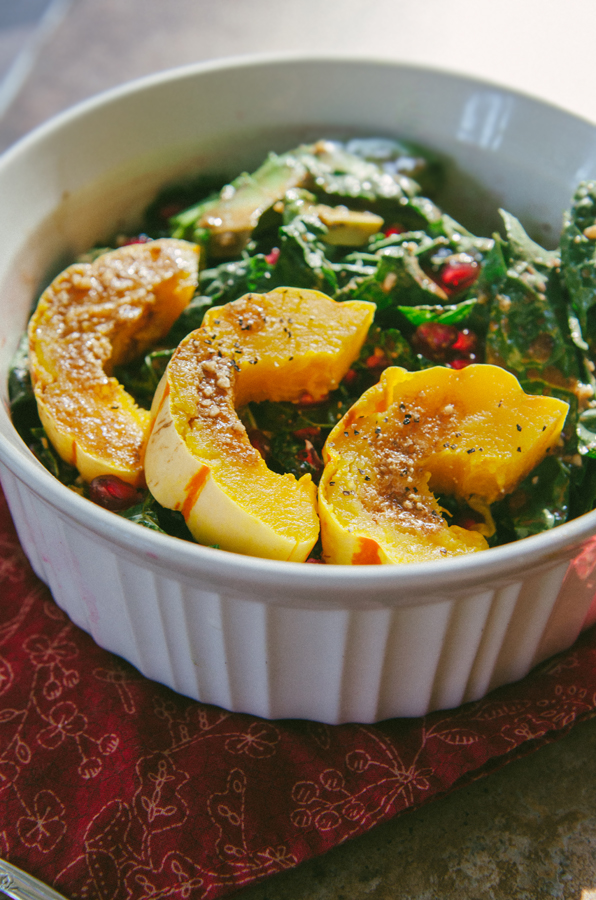 Delicata, Pomegranate & Avocado Kale Salad
Ingredients
Salad
1/2

roasted delicata squash

1

head of kale, stemmed and cut

1/2

pomegranate, seeded

1/2

avocado
Dressing
1

clove of garlic, pressed

Juice from 1 whole lemon

3

tbs olive oil

1

tbs dijon mustard

1

tbs nutritional yeast

1

tbs apple cider vinegar
Instructions
Preheat your oven to 375 degrees.
Wash your delicata squash well. Cut it in half and place cut side down in a baking dish filled with a shallow amount of water. Maybe 1/2 an inch or so.
Roast your squash for 20-30 minutes or until it is soft and can be easily punctured with a knife.
While your squash is roasting, prepare your kale and whisk together all of the ingredients for your salad dressing. Once you have cut up your kale and added it to your salad bowl, pour your dressing onto and massage it into the leaves. This will help soften your kale leaves.
Remove the seeds from 1/2 of a pomegranate and add to your salad.
Once the squash is ready, cut it up (you can leave the skin on with this type of squash!) and lay it on top of your salad. Add your avocado, and you're ready to eat!
Enjoy!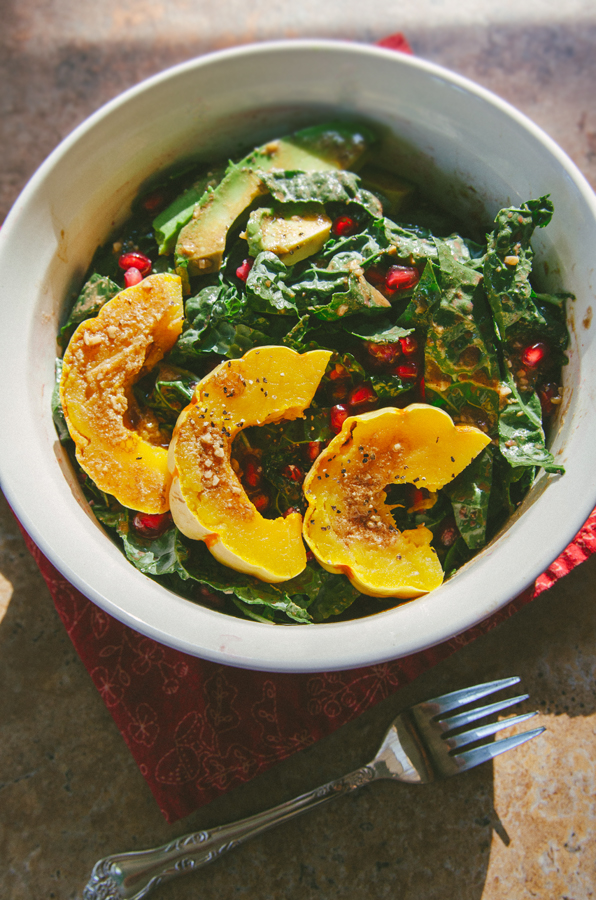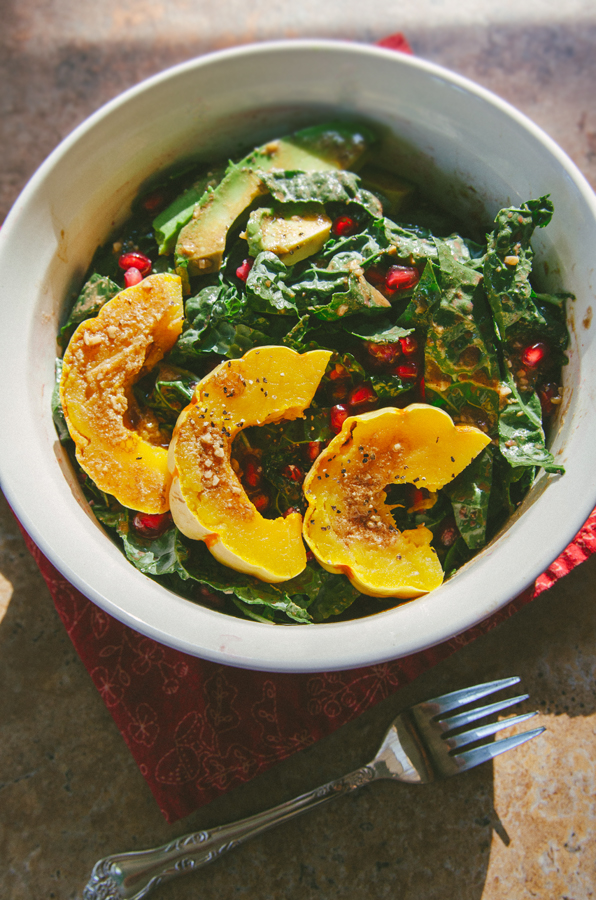 PAID ENDORSEMENT DISCLOSURE: In order for me to support my blogging activities, I may receive monetary compensation or other types of remuneration for my endorsement, recommendation, testimonial and/or link to any products or services from this blog.