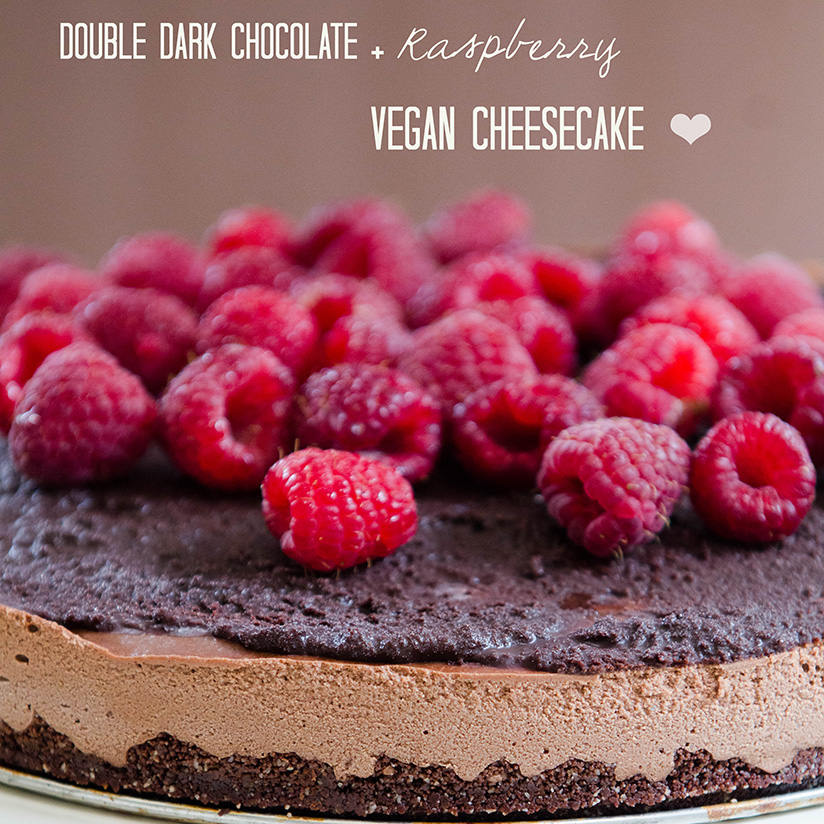 There are few things more unsettling than when people utter the words "nut cheese".  I understand your concerns. You've probably been strolling the aisles of a Whole Foods and come across a slab of shrink- wrapped-orange-hell-sponge that they refer to as "Almond Cheese". Don't let that weird hunk-a-fake-cheddah ruin everything in the nut cheese family for you. Speaking as someone who once tried to make a grilled cheese with almond cheese (ugh), trust me on this.  I've since gotten over my fears (we've even made some here before!). Heck, we've even made some delicious nut milk, and now we're moving into some next level nut cheese magic: CHEESECAKE!
When it comes to getting nutty with your cheese, the cashew is going to be your main squeeze. Did that rhyme? Feel free to print it on tote bags. That would be nutty! I know you're rolling your eyes, but I can never stop the nut puns. It's physically impossible. I've tried. It's nut gonna happen–heyyooo! Oh gosh… it's nut funny anymore.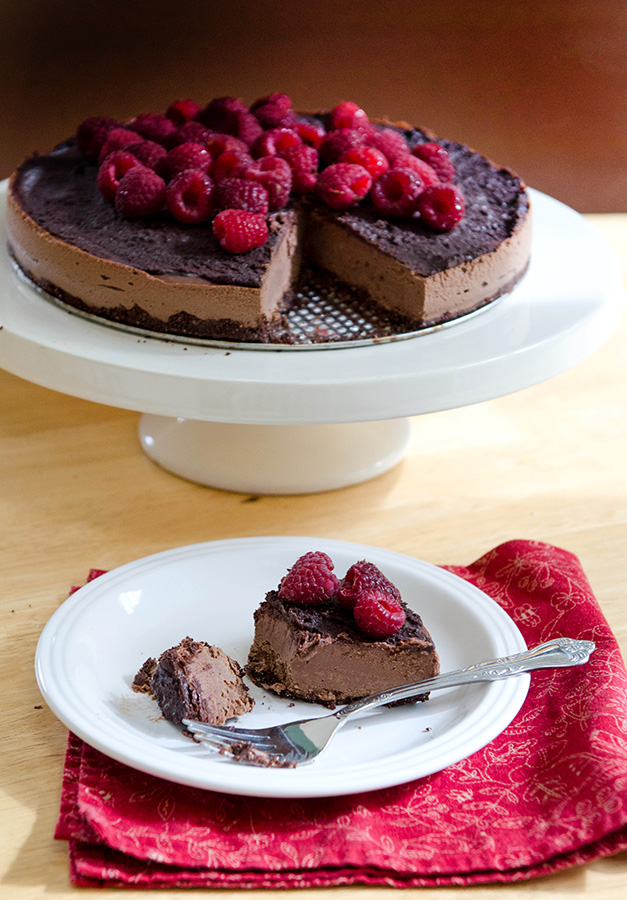 On a more serious note: CHEESECAKE! I mean, really. You can take this thing to a dinner party and you won't have to explain to a bunch of people that it's raw, vegan, paleo, gluten-free, refined sugar free, and has a bunch of nuts masquerading as cream cheese. People will have no clue. Unless they have nut allergies. Yes, then they might have a clue. Okay, best to disclose there are some nuts present in the cake to rule out any sudden swelling of airways… but, other than that THIS THING IS UH-MAYZING. Trust me. My mouth is watering just thinking about it.
It's a no bake situation, so it's perfect for the summer. The layers are super rich and fudge-y and the raspberries give it a little extra kick. Who doesn't like chocolate and berries, amiright? Not to mention, it's a pretty lil' cake. It makes a great impressive dessert for a dinner with friends. I toted this here cake over to a friend's place after I was done taking its picture (cake-ing alone can prove dangerous) and it was a huge hit. I might have even abandoned the rest of it as their apartment. There were talks of digging it out and eating the leftovers for breakfast. Always a good sign.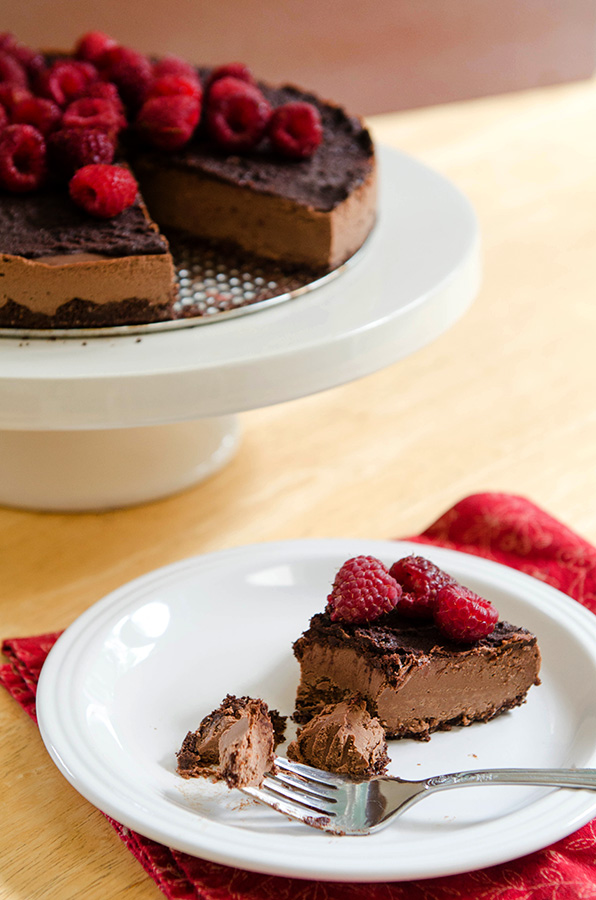 Whip one up, enjoy it with friends. Go nuts!! #sorrynotsorry
Double Dark Chocolate & Raspberry Vegan Cheesecake
Ingredients
Crust
Filling
Ganache
Instructions
Soak your cashews in water for thirty minutes and then start on the crust.
For the crust: Place all of your crust ingredients into a food processor and pulse until they come together. You want the mixture to be slightly sticky. Dump the mixture into a 8-inch springform pan. With clean fingers, press the mixture down into the bottom of the pan evenly, forming your crust layer. Set aside.
For the cheesecake layer:Drain your cashews and rinse well. Add cashews into your blender with maple syrup, vanilla, and coconut milk. Blend it for a bit until it gets creamy.
Once it's creamy, add in your raw cacao powder, coconut oil and raspberries. Blend again until creamy. You might have to scrape down your sides a couple of times and blend again.
Pour your filling into your springform pan over the crust. Put into the freezer to chill for 2-3 hours or until set.
For the ganache: Melt your chocolate chips and coconut oil in a double boiler. Whisk together. Pour layer of ganache over the top of your cheesecake. Top with raspberries. Serve immediately or place in the refrigerator or freezer until you are ready to serve. If you are storing for longer than an hour, I would put it back into the freezer. Enjoy!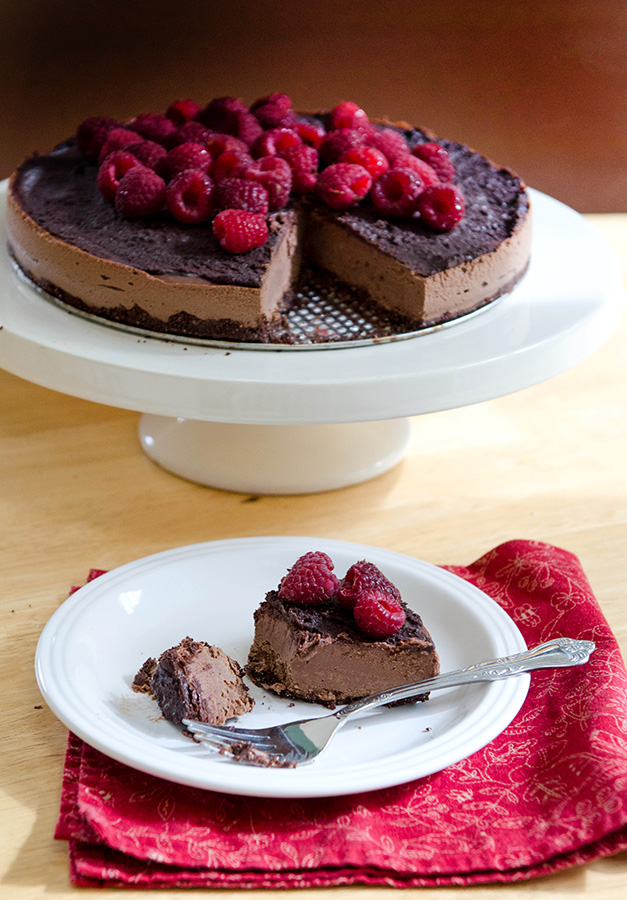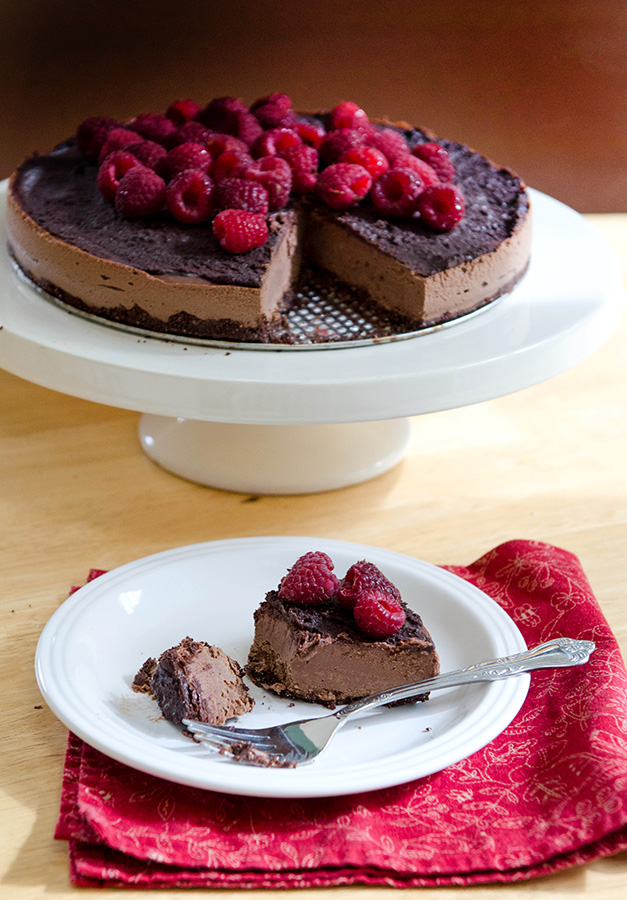 PAID ENDORSEMENT DISCLOSURE: In order for me to support my blogging activities, I may receive monetary compensation or other types of remuneration for my endorsement, recommendation, testimonial and/or link to any products or services from this blog.