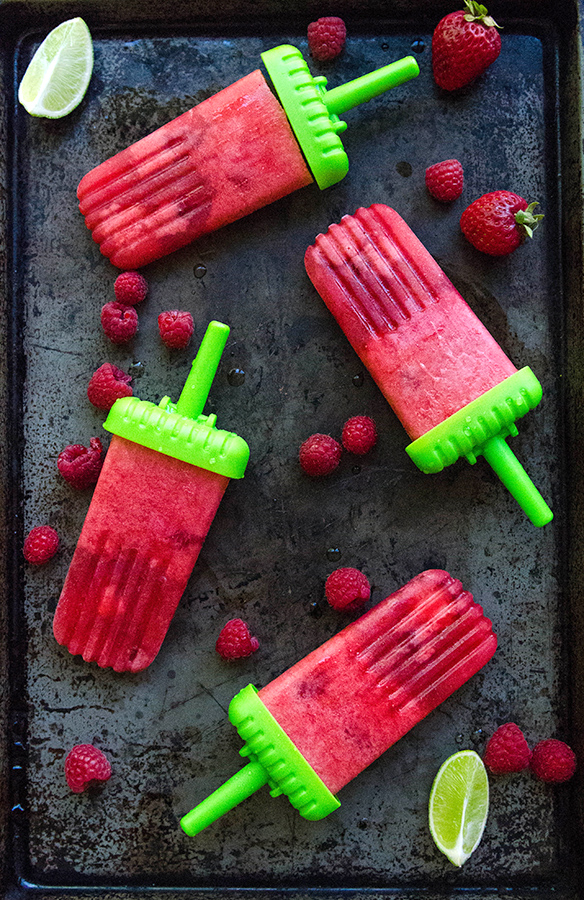 Fun facts: 
1) It's POPSICLE WEEK! That's right. All week there are bloggers around the net popping off popsicle recipes and helping you get some of that sticky-end-of-the-popsicle-juice all over your chins. Who declared it Popsicle Week? Well, that would be Billy of Wit & Vinegar. There are 37 of us throwing recipes your way this week! You can find all of them HERE on Billy's blog  as they go up throughout the week.
If you've never been to his blog, I suggest you go. He's hilarious and I kinda wish that we could get together and dunk some of these popsicles all up in some booze and just see what happens. We can talk about Mariah Carey  and sing a lot of Vision of Love (um, yeah, so..that's my Dad playing keyboards in that video–not kidding). There are lots of snacks, and sometimes we high five. At some point in the evening there are talks of learning all the choreography from Single Ladies, but after realizing we've had too many booze+ popsicle mash-ups, we just call it a day and play Scrabble. We show each other pictures of our dogs and tell stories about them like they're our kids. The usual friendship things.  Note: none of this has happened, it's just a really weird fantasy that I happen to be sharing on the internet in front of all the people. Meh. Oh, well…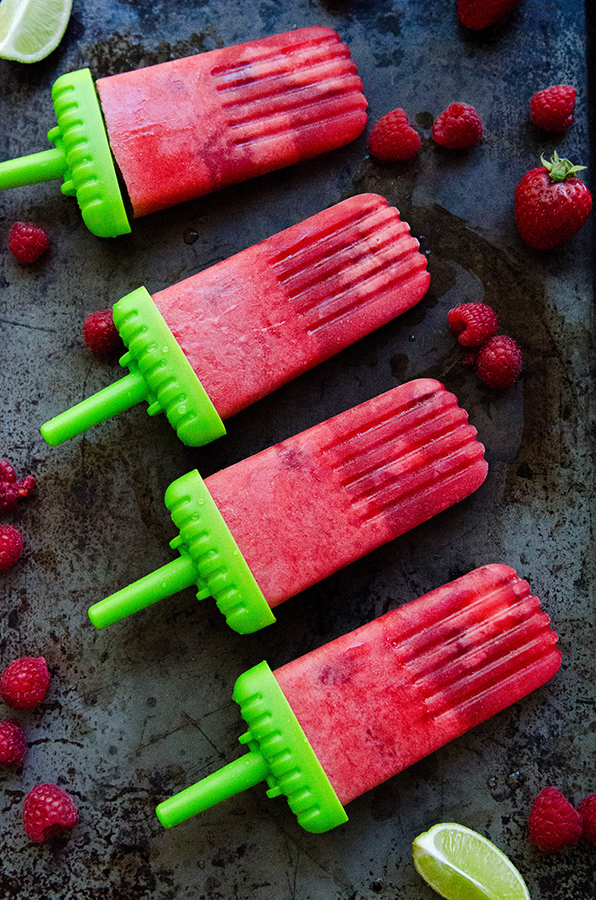 2) I didn't own a popsicle mold until about a week ago. Obviously, I am still living in some kind of stone age where we all have AOL email addresses and use things like beepers. The thing is, I'm pretty sure these molds have been around pre-beepers and pre-car phones and definitely pre-dial-up. Whoa. I know. I just blew your mind.  All in all, I'm late to the game. But, I'm so stinkin' glad I've arrived! Should I put on my puff paint fanny pack for the occasion? Oh, shoot. Those are out too? I just can't keep up. I will say that now that these ice pop molds have made their way into my kitchen I am tempted to POPSICLE ALL THE THINGS!!! Maybe even something savory? Do you think my husband would get miffed if I made soupsicles? Probably. Meatloafsicles? Yeah, no.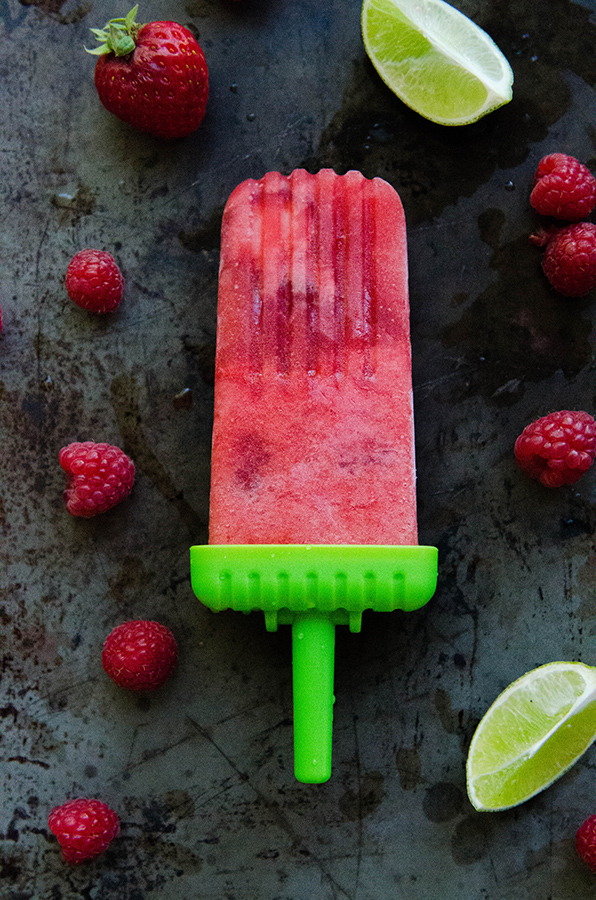 3) FACT: These here ice pops are delicious. I find that come summer, all I want to do is eat tubs of berries, and squeeze a little lime into some ginger beer. I also want to sit outside and not wear pants because it's hot.  Now, with this popsicle, you can do all those things at once. Yeah, it's pretty much multitasking. Why not be efficient when it comes to putting things in our faces–ya know? The only thing not included in this popsicle-multitask situation is the nude outside sitting–but, feel free to bring one of these ice pops along for that adventure. Just know that you might get sticky in places you don't usually get sticky.
If you're feeling even more  frisky you could add some booze to these pops. I would choose bourbon, well, because bourbon… but, also because it would be the popsicle version of THIS cocktail, which is AMAZETITS! Are we okay with the term amazetits? I just don't think amazeballs should have all the fun. #yesallpopsicles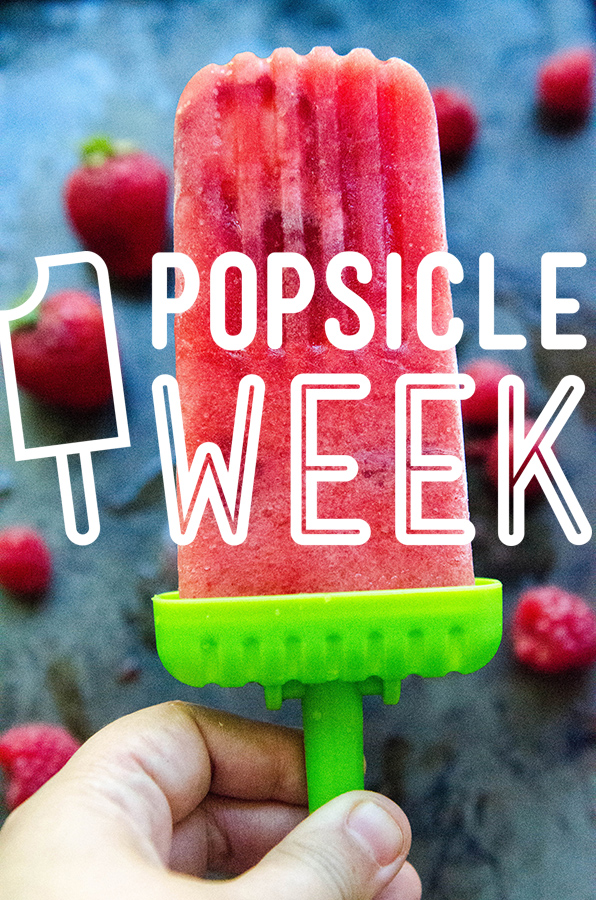 I hope you love these sweet and tart little pops as much as I do! Don't forget to check out the rest of the POPSICLE WEEK contributions. More and more should be popping up daily, so check back frequently. Tell your friends. It's on.  xox
Ginger Berry Lime Ice Pops
Ingredients
1

bottle of ginger beer (I used Reed's Ginger Brew)

1

cup fresh raspberries

1/2

cup fresh strawberries

Juice from two limes

1

tbs honey
Instructions
Add all of your ingredients to a high powered blender and blend on high until well combined.
Pour your mixture into your popsicle molds per the instructions specific to your mold and allow to freeze all the way through for 6+ hours.
Enjoy!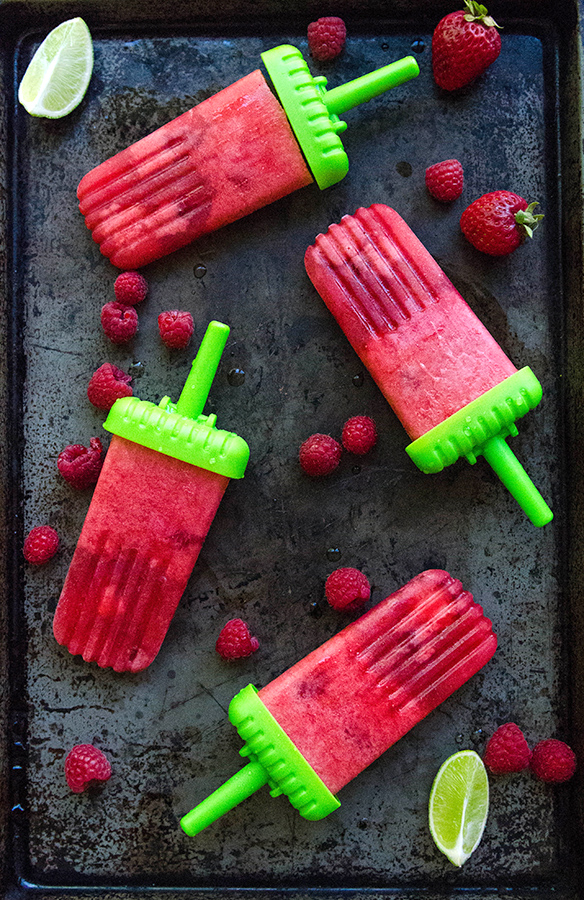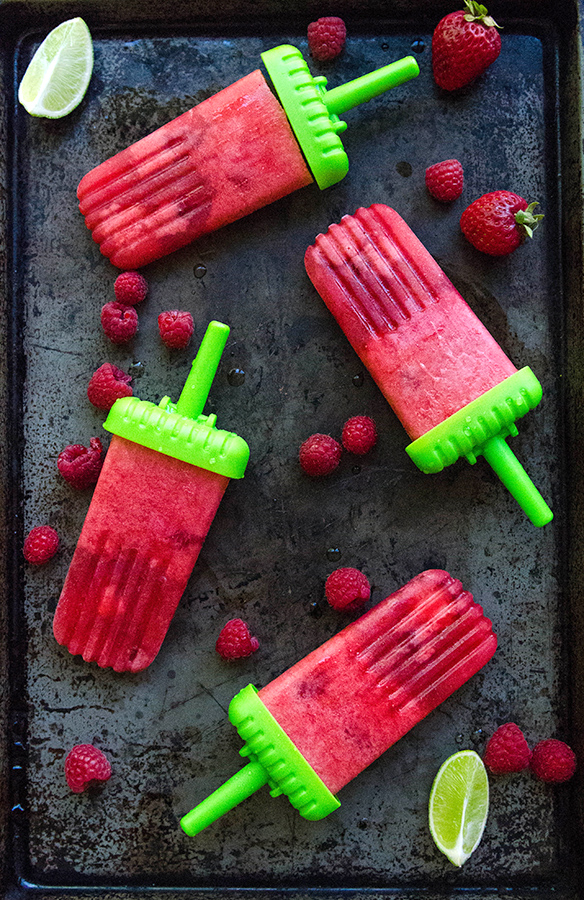 PAID ENDORSEMENT DISCLOSURE: In order for me to support my blogging activities, I may receive monetary compensation or other types of remuneration for my endorsement, recommendation, testimonial and/or link to any products or services from this blog.