So, it's been a while since I've posted in these parts. I'll totally catch up with y'all real soon.
But, today isn't about me. Today is about my dear blogging buddy Emily, of The Pig & Quill. My favorite internet piggy is crazy pregnant with a baby girl. You guuuuuyz, the pig is about to deliver a piglet!!! And by piglet, I obviously mean a tiny, adorable, squishy little human that will inevitably make my aging ovaries hurt with every single Instagram photo of her adorable newborn face.
So, in celebration of this momentous event in Em's life, I teamed up with my friend Sherrie in order to spread love, well-wishes and general baby-loving merriment across the interweb in this lil' piggy's honor. We've invited tons of our blogging buds to join us for a virtual pig-out potluck BABY SHOWER! You'll find a bunch of links at the end of this post that will take you on one heck of a tasty ride around the web. Buckle up. Maybe ask Em if you can borrow some elastic waist prego-jeans (dude…can I?) and get ready to party pregnant style. I don't really know what partying "pregnant-style" entails. But, my guess is no-booze, lots of cake, several pieces of crispy chicken, and maybe some french fries? Am I close? No? Maybe? I think, yes. I'm bringing dense, fudge-y brownies packed with gooey chocolate chips and macadamia nuts. Those should fall in line with this final pregnancy pig out.
Yes, I'm aware of how many pig puns there are in this post. And, no. I can't stop.
So, Emily. This is the part of the post where I address you directly and say some sappy mushy things straight from the ol' ticker. You, my friend, are one of a kind. I am so happy that this weird internet brought us together as friends. Blogging is totally like Match.com, but almost everyone keeps their shirts on in photos, so that's good. Wait… I lost my train of thought. Okay. So, even though we met through the shady internet and there were no topless photos exchanged (is that something that actually happens? I don't know. I've never been on a dating website. But, I watch Catfish… Nevermind), you've become a dear friend. When I found out that you and Chris were going to have a baby I made a sound, that if typed out would resemble "EEEEEEEYYYYEEAAAHHHHAYAYAYAYAAYAYAYAeeeeeeeEEEEEE!!!" This is emotive friend speak for, "I'm bonkers happy for you". You're going to be a great mom, Emily. I know this is one heck of an adventure that you're about to embark on, but when I think of you with your baby girl all snuggled up in your arms, it makes my heart swell. I know you'll love her wildly, protect her fiercely, and do your best to make sure she tries all the flavors that life has to offer. Even the weird ones that you hate, like thick herb-y ranch dressing… because, her body, her choice. You've got this, mama. I love you and stuff. Also, wanna share half a pan of brownies and gently sob and laugh as we read the rest of these baby shower posts? Cool. xox
Now, I leave you all with a recipe for the best grain-free brownies I've ever made (seriously, these are RI-DONKULOUS), and a bunch of links to more delicious food in celebration of Em and her piglet to be. We're hashtaging this whole shindig as #EmsPigletParty. Follow the the love around the internet.
Follow these delicious links to celebrate #EmsPigletParty Celebration! 
Grain-Free Dark Chocolate Brownies With Macadamia Nuts
Instructions
Preheat your oven to 350 degrees. Line a brownie pan with parchment paper and set aside.
Melt your butter and your dark chocolate together in a medium sized sauce pan over low heat. Stir constantly so the chocolate and butter do not burn. Once it's melted, set aside and allow the mixture to cool for ten minutes.
Once your mixture has cooled for ten minutes, whisk your sugar into the butter and chocolate mixture. Add the maple syrup and vanilla and whisk some more. Next, whisk each egg into the batter one at a time. After the eggs are in, whisk in the cassava flour. Whisk it well until the flour is completely mixed in and there are no lumps.
Fold in your cacao and salt. Lastly, fold in the chocolate chips and macadamia nuts.
Pour your mixture into your parchment lined brownie pan and bake in the oven for 30-35 minutes. Check your brownies after 30 minutes. They should be dense and fudgy, but a toothpick should come out clean when inserted into the center.
Once they are done, allow them to cool for fifteen minutes or so. Cut into brownie slices and serve warm. These would go great with a scoop of ice cream or a large glass of almond milk. Enjoy!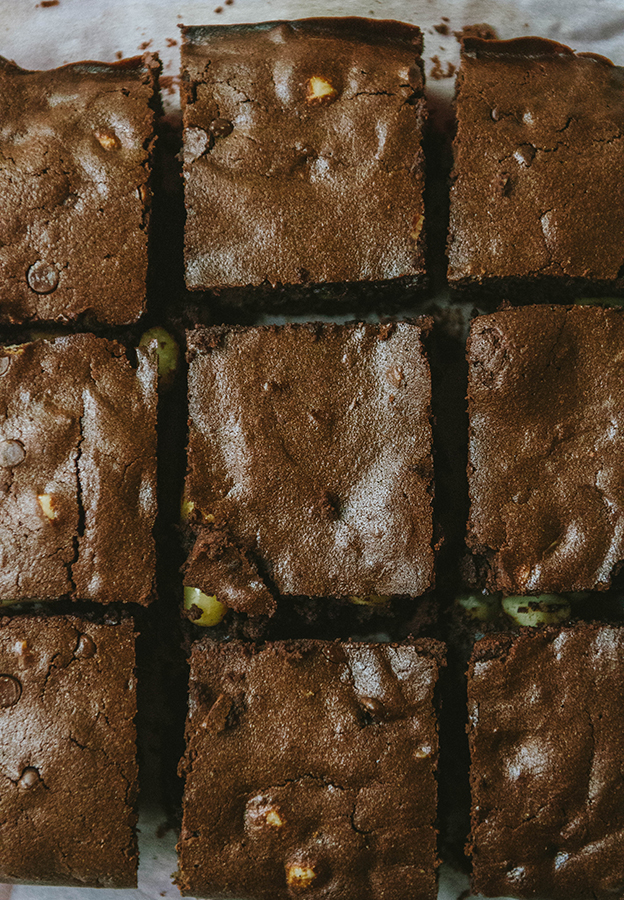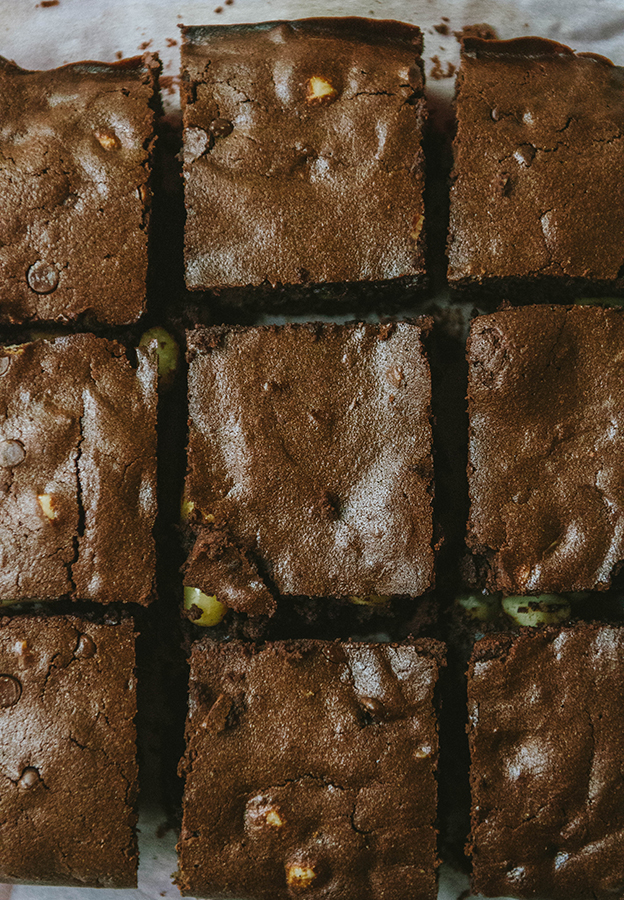 PAID ENDORSEMENT DISCLOSURE: In order for me to support my blogging activities, I may receive monetary compensation or other types of remuneration for my endorsement, recommendation, testimonial and/or link to any products or services from this blog.