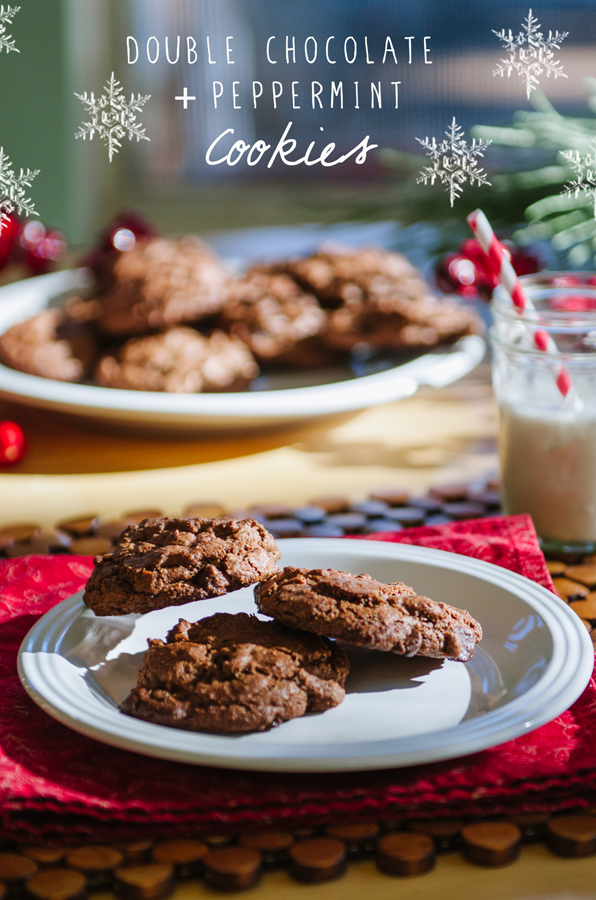 I know, we're running out of time for Christmas baking. I get it.
But every now and again a little bit of magic happens in the kitchen and you'd just feel guilty keeping that magic all to yourself. That's this cookie. I don't want to get arrested by the Cookie Police and harshly sentenced on account of not sharing. I'm going to share. I promise. Chill out, Cookie PD. Get those cookie cuffs off my wrists. I'm going to need these hands for baking.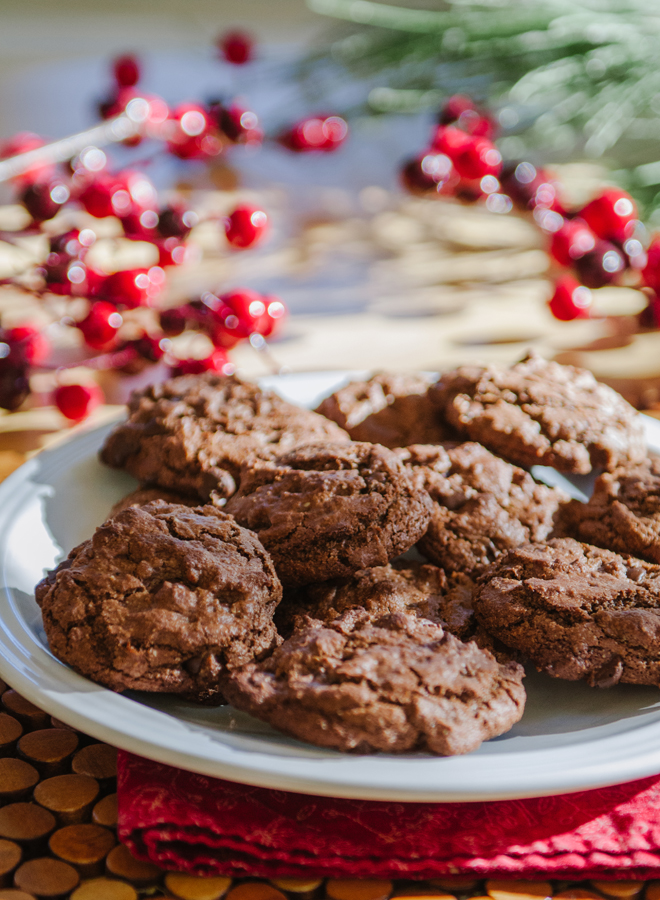 So… what is the perfect thing to go with chocolate? Yes, the answer is MORE chocolate. You're totally correct. So… let's do that. Let's make a grain-free chocolate cookie and bombard it with chocolate chips. Feeling crazy? Perhaps we can jazz it up with a hit of peppermint extract. Yes. Yes. YES. Christmas just exploded in your cookie. Not like overstated-ugly-sweater-wearing-Christmas with a blow-up Snowman in the front yard, but instead, sexy understated chocolate-Christmas with a tasteful yet low cut peppermint sparkle dress and a totally accidental mistletoe kiss with Ryan Gosling. You get it, right? Nothing weird going on here. Perfect.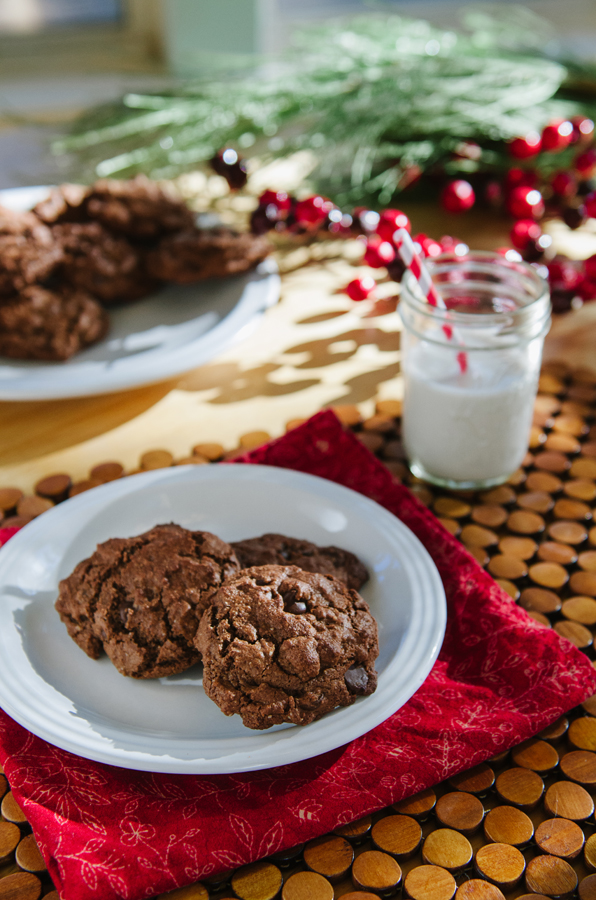 Hmm… how does one tie this together? I've created an organization called the "Cookie PD" and likened this cookie to some sort of sexy Ryan Gosling fantasy. I'm not mad at it, but we might have metaphorically left Kansas (I'm actually in California) and taken some sort of Christmas-themed cookie tornado straight to Oz. Are we Judy Garland in this metaphor? Yes. Yes we are. Does this make Ryan Gosling the Tin Man? I really don't know. Speaking of Judy Garland, do you know about her rendition of Have Yourself A Merry Little Christmas? Love it. Did I make it full circle? Not quite. But, the effort was there.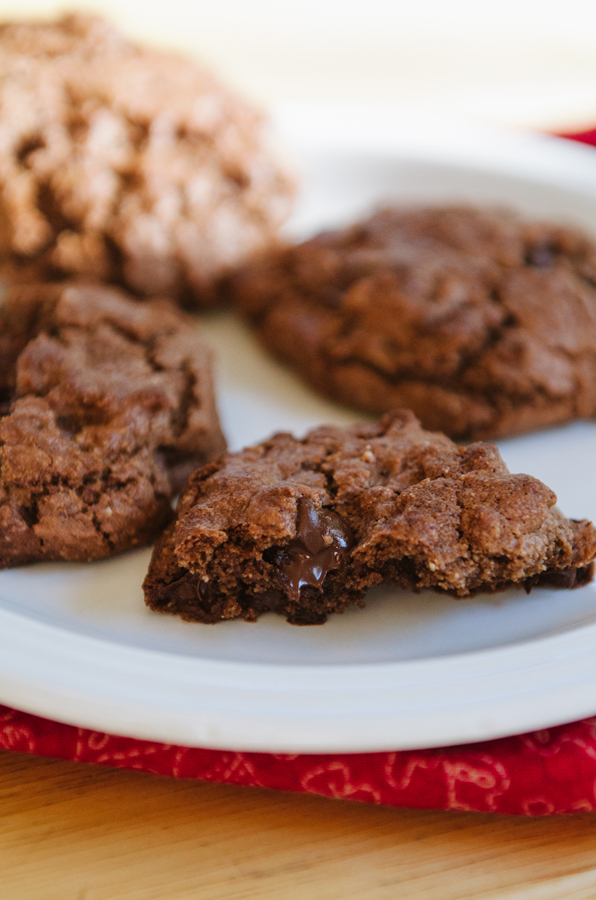 Wishing you all the VERY best holiday! I hope you enjoy your day… please fill it with buckets of these cookies. Eat all of them. Come back here and tell me if I over-exaggerated when I likened them to making out with Ryan Gosling at a Christmas party. Probably. But, ya know… if it falls a little short, that still means they're pretty dang good.
Alright gotta go… I'm on the lamb from the Cookie Cops. #What #ThisIsWeird #IFeelUncomfortable #JudyGarlandHelpMe #MerryCookiemas #RyanGoslingOfCookies
xoxox
Grain-Free Double Chocolate & Peppermint Cookies
18 cookies
adjust servings
Ingredients
2 3/4

cup almond meal

1/2

tsp sea salt

1/2

tsp baking soda

1/4

cup unsweetened cocoa powder

1/2

cup coconut oil, melted

3/4

cup maple syrup

1

tsp peppermint extract

1

tbs vanilla extract

1 1/2

cups semi-sweet chocolate chips
Instructions
Preheat your oven to 350 degrees.
Line a baking sheet with parchment paper and set aside.
In a large bowl mix together your almond meal, salt, baking soda and cocoa powder. Stir until they are well combined.Set aside.
In a medium bowl whisk together your coconut oil, maple syrup, peppermint extract, and vanilla. Make sure to whisk until they are well combined.
Add your wet ingredients into your dry ingredients and mix together until they are completely combined and there are no patches of dry ingredients anywhere.
Fold in your chocolate chips.
Spoon your dough onto your parchment lined baking sheet one heaping tablespoon at a time. Leave approximately 2 inches of space between cookies.
Bake for 10-15 minutes or until the tops of the cookies start to look set and start to crack. Be careful not to overcook. Check them half way through.
Let your cookies cool on your baking sheets for fifteen minutes or so and then serve! They are incredible when they are still all warm and melt-y!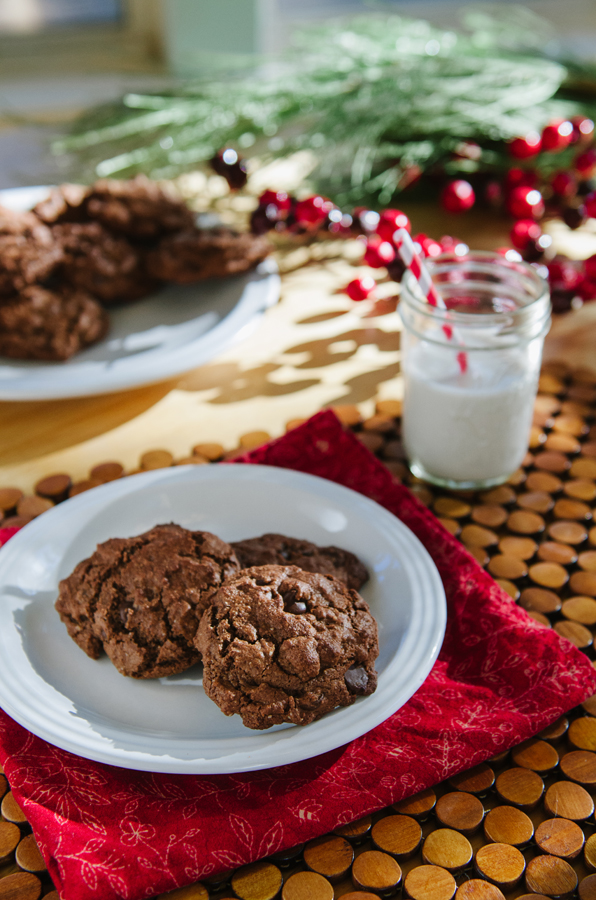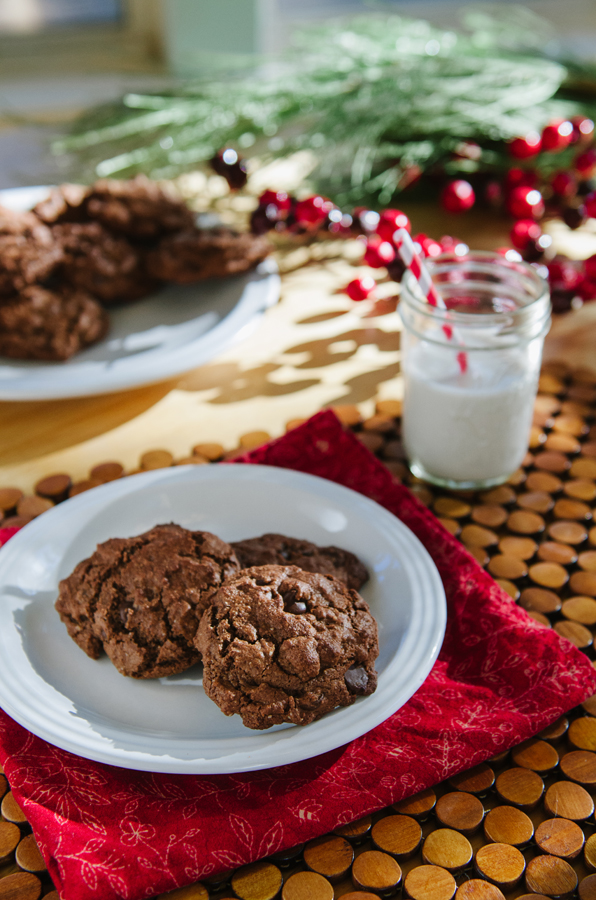 PAID ENDORSEMENT DISCLOSURE: In order for me to support my blogging activities, I may receive monetary compensation or other types of remuneration for my endorsement, recommendation, testimonial and/or link to any products or services from this blog.