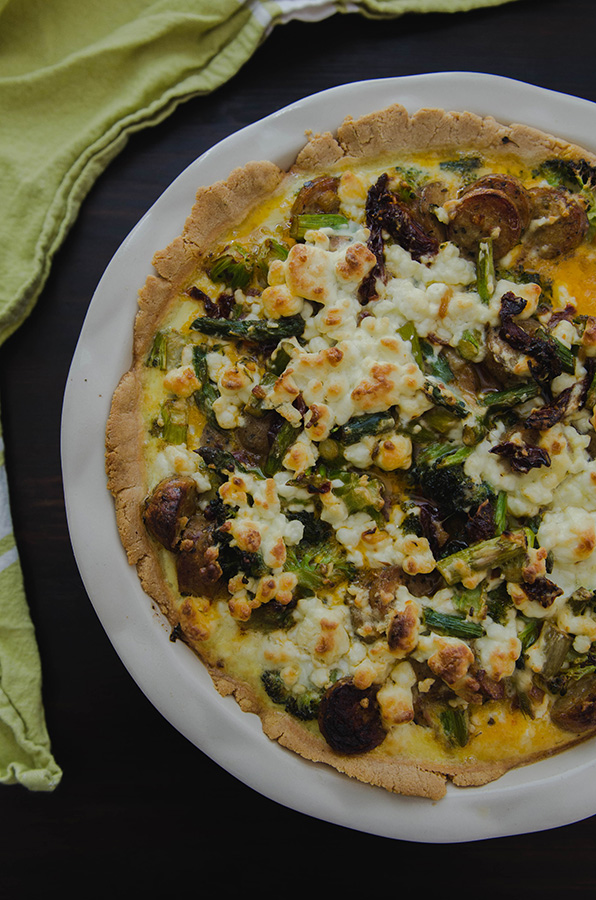 There are defining moments in life where you're forced to examine what makes you different. For me, one of these moments centered around a hot dog. It was a sunny afternoon in '94, and a friend of mine had come over for a play date. We were hungry, so my mom suggested some snacks. One of the things on the list was "a cold hot dog". This didn't strike me as particularly alarming, as I had been eating hot dogs in various states of cooked-ness for as long as I could remember. It wasn't uncommon to grab a cold one right from the package and eat it with my hands like it was a hydrated Slim Jim. I grew up in a Hawaiian family, and this was normal. Other ways to eat hot dogs included: in a sandwich, fried in a pan, with Pork n' Beans, and of course, with eggs.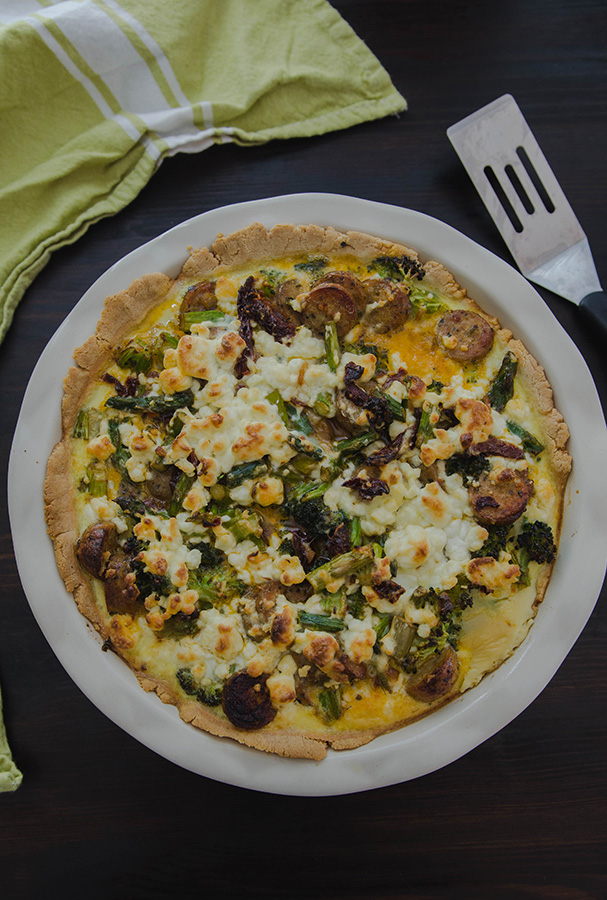 As it turns out, not every kid grew up with a plate full of dogs, or reaching for a cold tube of nitrates. My friend reviled in the thought of putting a cold tube of hot dog meat in her mouth. I pretended like it was gross too, trying to maintain my cool. Yet, in my heart, I knew that this moment was definitive. Much like the summer of '95 when I would realize not every household owns a rice cooker, and not everybody enjoys their rice with soy sauce. Reality is awkward and sometimes harsh. By the way, if you ask for Shoyu in a haole's house, there are a lot of blank stares. I learned this in the early 90's. As you can tell, the 90's were a very enlightening time for me culturally.
Quiche was not something I grew up with. In fact, the first time I ever had a quiche was at the same friend's house who had dissed the idea of slamming down a cold hot dog. I was skeptical of this savory egg pie. I was even more skeptical that it came from a box in the frozen section. But, I tried to be open. We removed it from the plastic wrapping, and placed it on a baking sheet. Into the oven it went, and out it came steaming with crispy bits of cheddar and flecks of broccoli. I liked it. It felt foreign and exotic to me. This is how I felt about country club brunch food at the time. A whole new world, y'all.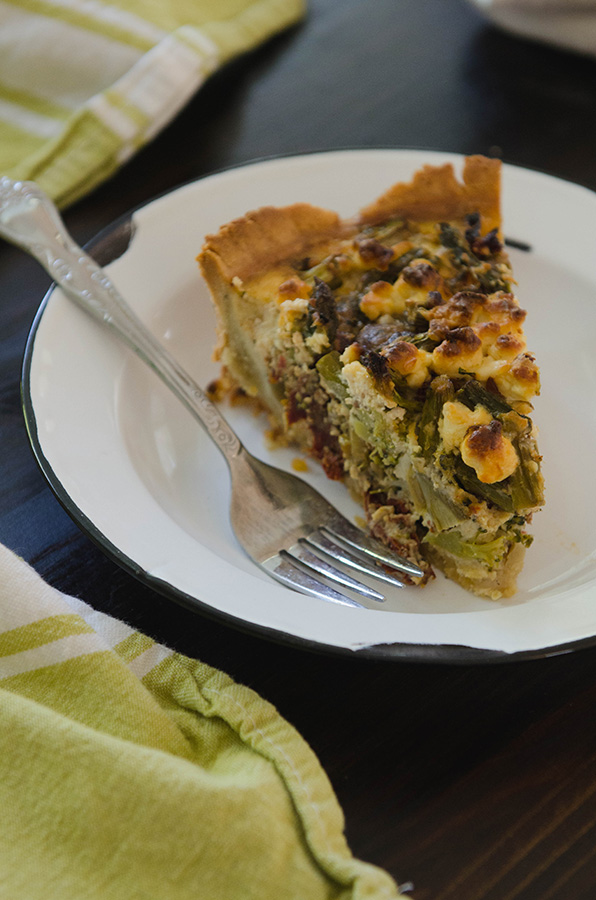 So, yesterday I decided to mix worlds. We're quiche-ing with sausage. Yes, dudes. It's fancy hot dogs and eggs. Granted, it's like wayyyyy fancy hot dogs and eggs. There was never any goat cheese or sun dried tomatoes involved back in the day. The only tomato that entered the hot dog and eggs equation was a side of Heintz. Lucky for you, my palate is open and grown. So, we're making something that is in no way gross, and that even the coldest of cold hot dog denyers can get down on.
I think this is the point in the post where I can stop talking about hot dogs. Phew. So, this quiche is kind of a party. It's filled with all sorts of goodies. Asparagus and broccoli, goat cheese and sausage. I mean, YASSSS, YASSSS, YASSSS. The whole things is baked up in a buttery grain-free pie crust. It's a good situation. This could totally be your weekend brunch. You hear that, Easter? I'm coming for you.
Spring Harvest Quiche with Sausage, Sun Dried Tomatoes & Goat Cheese
Serves 6
adjust servings
Note: You can make this quiche a day ahead of time, and gently reheat it in the oven the next day. If you're worried about the crust burning when you reheat, simply tent the whole thing with foil.
Ingredients
Crust
Filling
1

Tbsp. olive oil

1

large shallot

3

cloves of garlic, minced

12

ounces fully cooked sun dried tomato chicken sausage, sliced into circles (I bought mine at Trader Joe's)

12

ounces asparagus, ends trimmed and chopped

2

cups broccoli florets, chopped

1/4

cup sun dried tomatoes, oil strained off

4

large organic eggs

1/2

cup full fat coconut milk

1/4

tsp.sea salt

4

ounces crumbled goat cheese
Instructions
Preheat the oven to 375 degrees. Grease a 9 inch pie dish with either butter or coconut oil and set it aside.
Combine almond flour, arrowroot starch, egg, butter and sea salt into a food processor. Process together until a dough is formed. It should come together in a ball.
Using clean hands, remove the ball of dough from the food processor and place it in the middle of the greased pie dish. Press the crust into the pan as evenly as possible, allowing it to go up the sides of the dish. You can also roll the ball of dough between two pieces of parchment paper with a rolling pin, and flip the crust into the dish. I find that pressing it into the pan is much easier.
Set your crust aside and start on your filling. Heat up olive oil in a large saucepan over medium to high heat. Once it's hot, add in the shallots and the garlic. Saute together until the shallots are translucent. Add in the chopped up chicken sausage and allow it to get brown and crispy on the edges. Add in the asparagus, broccoli and sun dried tomatoes. Cook together until the vegetables are very tender.
Once the filling is cooked, transfer it to the pie dish, on top of your uncooked pie crust. In a separate mixing bowl, whisk together the eggs, coconut milk, salt and goat cheese. Whisk it together well and then pour the mixture evenly on top of the vegetables in the pie crust.
Place the pie dish on a baking sheet, and transfer it into the oven. Bake for 45-60 minutes, or until the quiche is cooked through the middle. Once cooked through, remove from oven and allow it to cool significantly. It it is too hot when you're slicing it, the filling will fall apart. It still tastes amazing, but it wont come out in clean slices. Giving it cooling time helps everything gel together and set.
Once it has cooled a bit, slice it up and serve! Enjoy!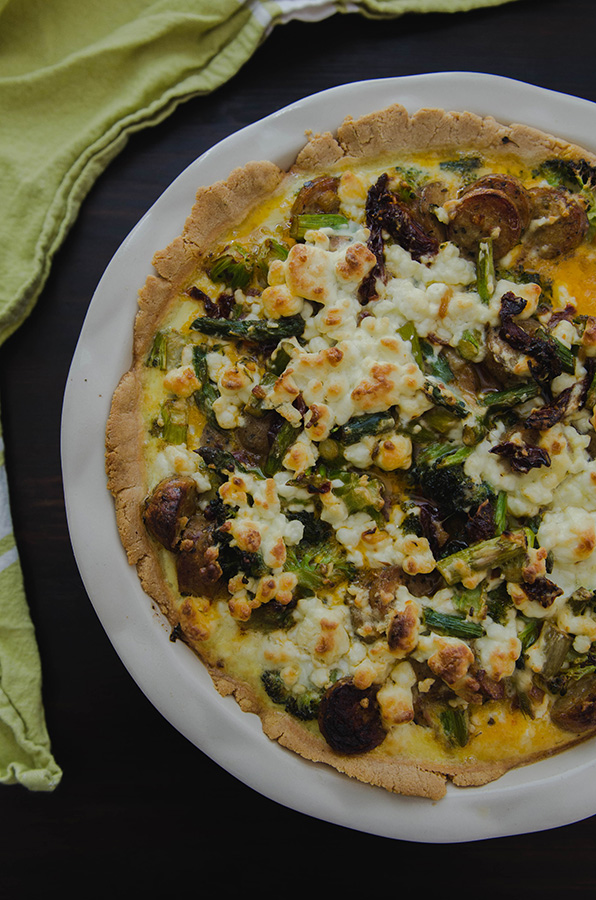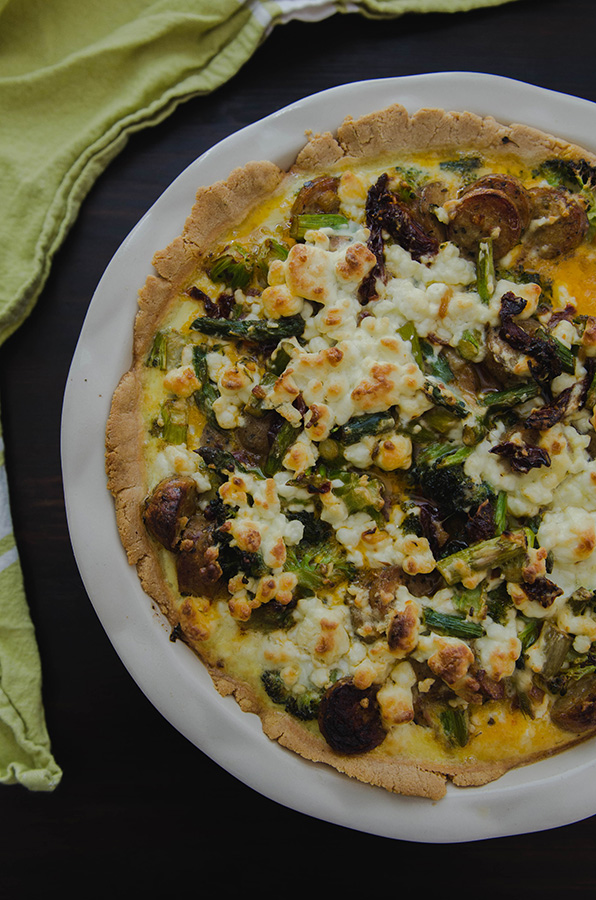 PAID ENDORSEMENT DISCLOSURE: In order for me to support my blogging activities, I may receive monetary compensation or other types of remuneration for my endorsement, recommendation, testimonial and/or link to any products or services from this blog.