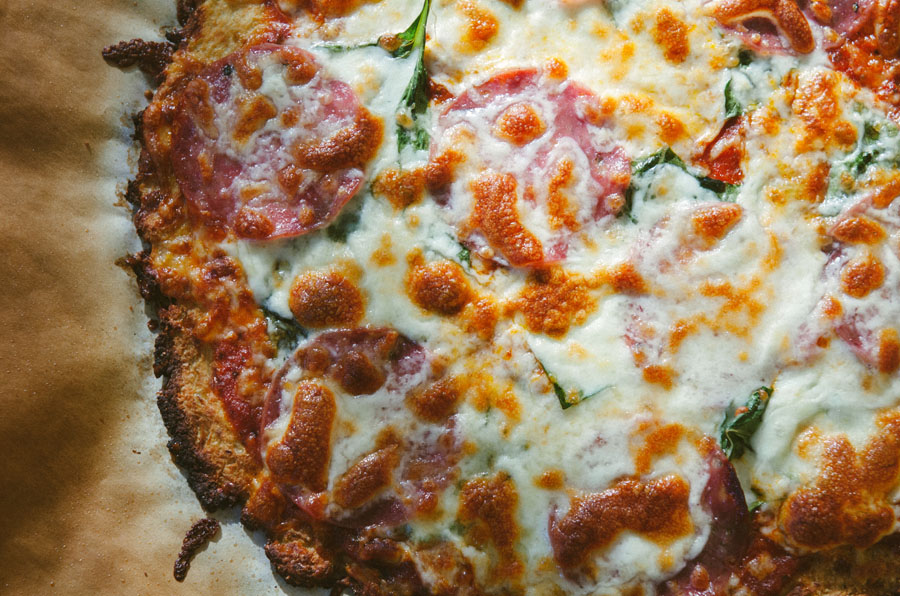 There comes a time in every girls life where she finds an extra head of cauliflower in her fridge, converts that head of cauliflower into pizza, and then proceeds to nonchalantly shove that ENTIRE pizza down her pie hole. You know that whole "dance like nobody's watching" saying we hear so frequently? This is the sneaky-awkward-alone with my feelings on a wednesday-food-blogging-girl equivalent. I ate this pizza like no one was watching (even though my dog watched the whole time–begging–judging–begging). Should we make some "Eat Like Nobody Is Watching" t-shirts? Maybe, yes. Sometimes you just have to let your hair down and go for it. Er… maybe in this case pile your hair into a messy bun on top of your head to avoid any sauce splatter that is headed straight for your coif. Don't give me that look–like you've never gotten a big chunk o' tomato sauce stuck in the ends of your ponytail. We're friends. We can admit these things. This is a safe space. We're in the trust tree.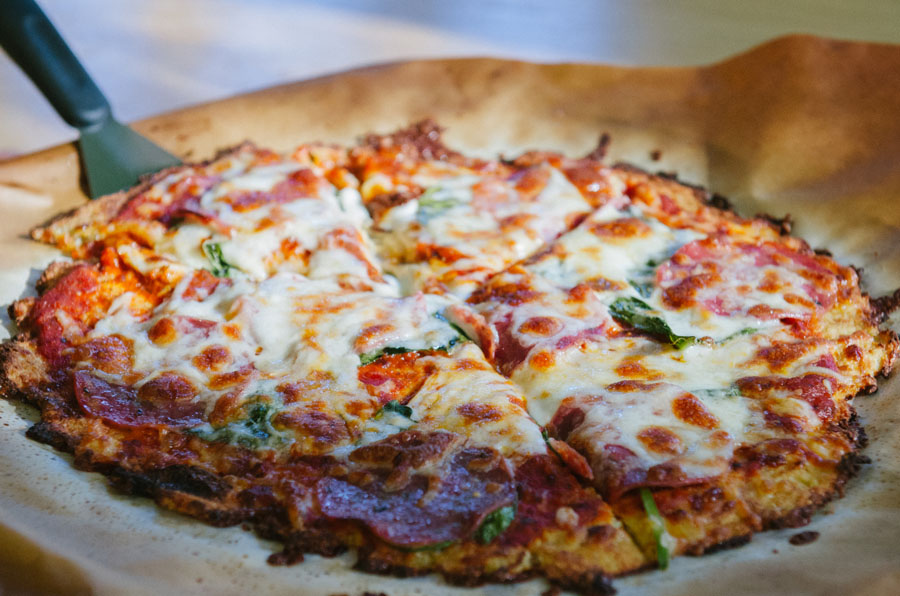 So, after consuming this entire cauliflower pizza I decided to display my shame on Facebook with this post. Being the glorious bunch of kind and wonderful enablers you are, you did not shame me, but rather clamored for the recipe so you too could eat like no one is watching. Thanks for understanding. I get it. But really, to be fair… the crust on this pizza is made out of CAULIFLOWER. That's a vegetable. Are we really doing that much wrong? Let's just say it was good enough to make me feel real rebellious. Next stop: leather pants.
Before we go any further down this road of delicious and oh-so-cheesy debauchery, it's necessary to give credit where credit is due. A while back my friend Michelle from The Lucky Penny wrote a post on THE BEST Cauliflower Pizza Crust.  The girl wasn't lying. So, today we're going to be using her recipe for the framework of this pizza-pie. Michelle, our tummies thank you. Mad props. Feel free to go and high five her. She'll like it.
You might have already jumped on the cauli-pizza train, but maybe you're a first timer. Maybe you are thinking how in the heck are we going to get a big ol' crazy cauliflower to look like a cheesy pizza? I had these same concerns. But, I assure you it is easier than you think. Unless you think all you have to do is put sauce and cheese on a raw cauliflower head… then, it's going to be a little bit harder–but hang in there, it's worth it.
Firstly, you are going to get out your food processor and process your cauliflower florets until they resemble what Michelle explains as a "powdery snow"–I feel that is an expert description. I do live in California though, so what do I really know about snow?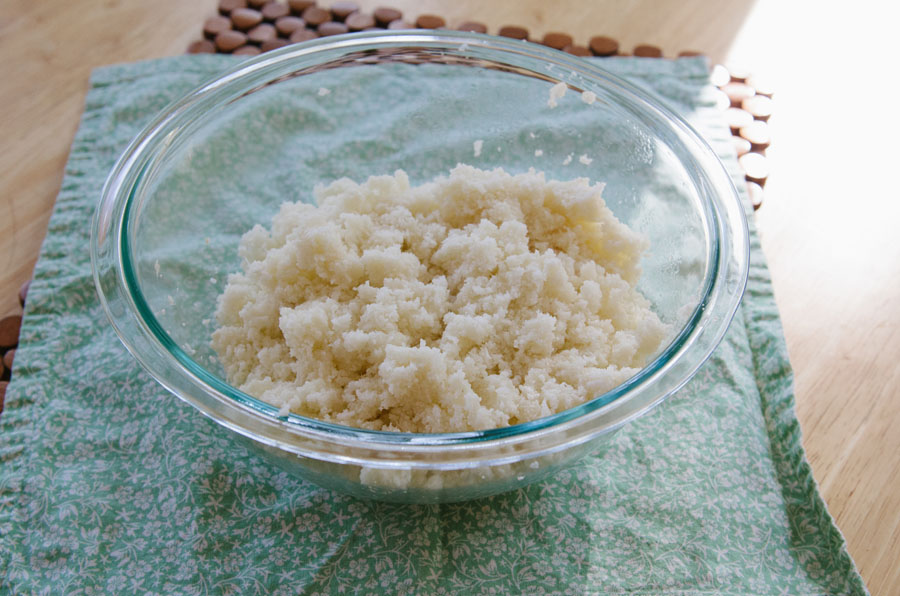 Once you have your cauliflower snow, dump it into a microwave safe bowl and cover it with a dish towel. You're going to microwave your snow for about four minutes. After you are done microwaving, dump out your hot cauliflower onto a clean dish towel and allow it to cool before you attempt the next step.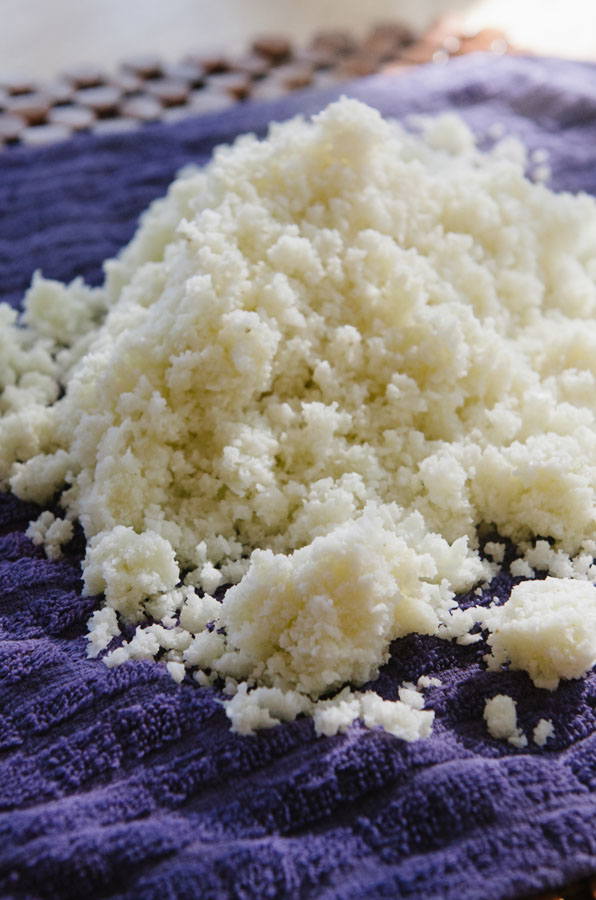 Seriously. Let it cool down. If not, you are going to burn the heck out of your paws. Once it has cooled down quite a bit (give it several minutes), you can start the next step. You are going to wrap up the cauliflower in your clean dish towel and wring it out over a bowl. Your goal is to wring as much of the water out of the cauliflower as possible. The more water you can get out of your cauliflower the better. You might ask why I didn't photograph this step… you'll see. Your hands are kind of full of cauliflower juice. My camera said no.
After your pulp is relatively dry, add it to a bowl and mix in your other ingredients. We are going to be using some cheese, egg, and spices to make it come together. I also added in a couple of tablespoons of almond meal since my mixture needed a little extra binding. This is totally fine. It will depend on the head of cauliflower you get. If your mixture seems a little bit loose, simply add almond meal a tablespoon at a time until it has a little more structure.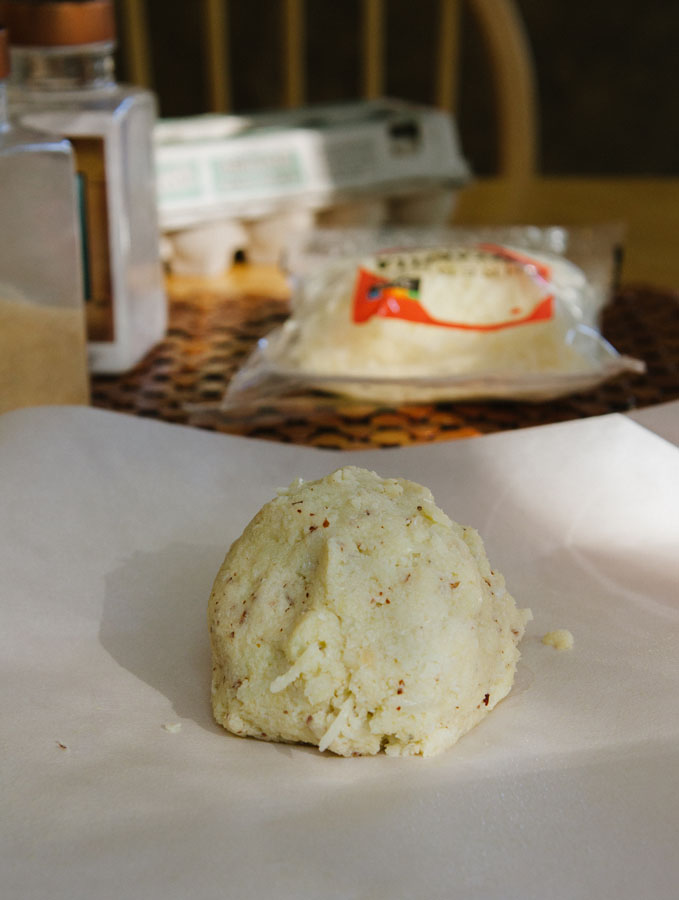 Make a ball out of your "dough" and set it in the middle of a piece of lightly greased parchment paper. Using clean hands press the mixture down into a flat pizza dough.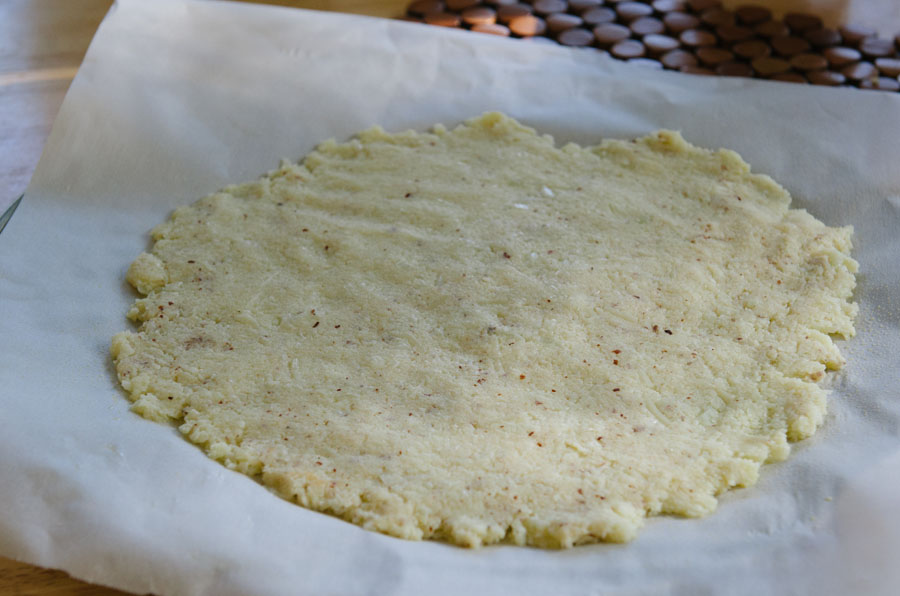 It will look something like the picture above. You don't want it to be so thin that it will fall apart, but you also don't want it so thick that it won't cook properly. Use your discretion.  Slide this crust onto your hot pizza pan and let it cook in the oven for a bit before you put any of your toppings on.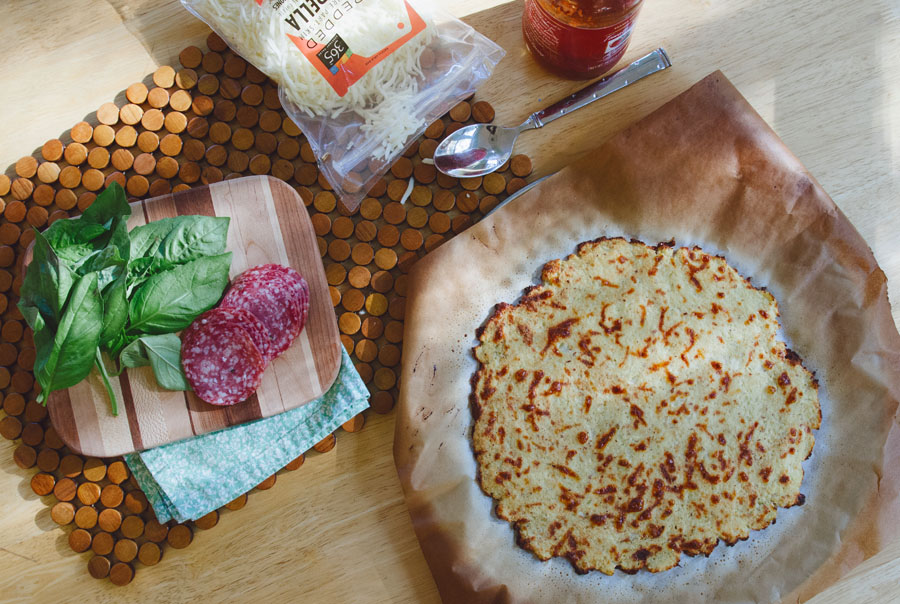 Your crust should be relatively firm and have a beautiful golden brown color forming on top. Now, you can top it with whatever your heart desires. For me I went pretty simple. It was a tomato sauce, salami, basil and mozzarella kind of day.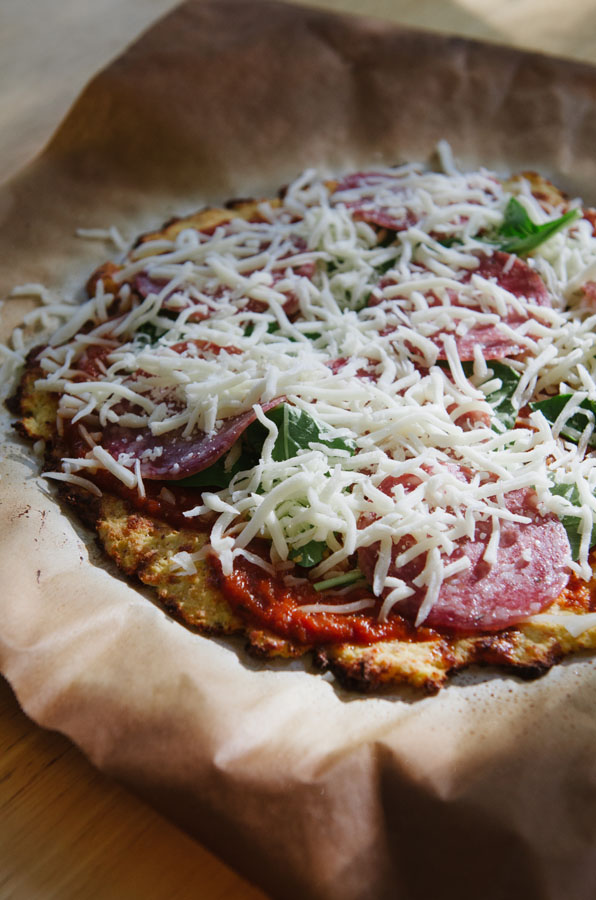 Once you've loaded up your pizza how you like it, you're going to pop it back into the oven.  Mine was in there for about ten minutes…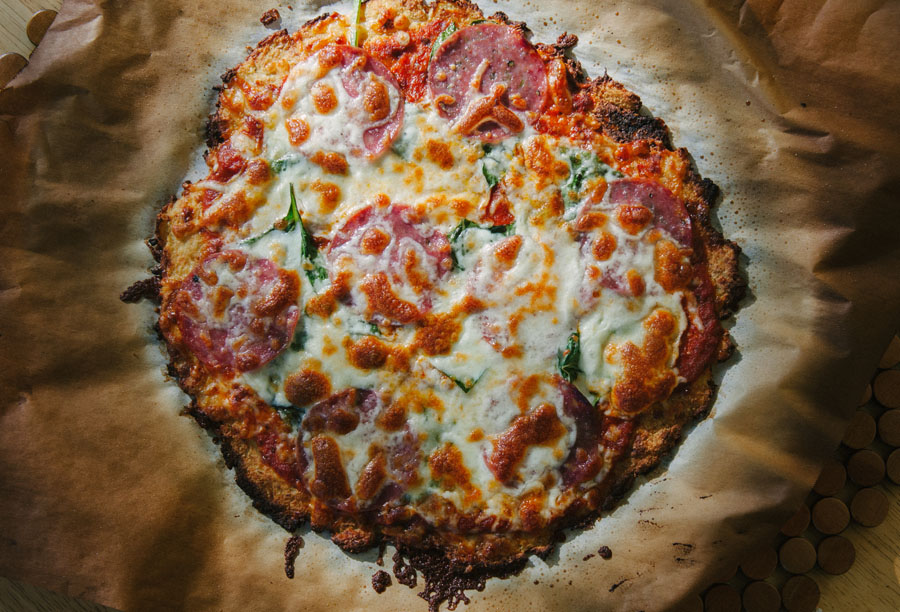 Then this happened. What is it about those browned crispy bits of cheese that are just irresistible? True food porn.
Allow your pizza to cool for a couple of minutes and then cut it up into slices. Pretty neat, right? I was highly skeptical that a crust made of cauliflower could be eaten like regular pizza. It's real.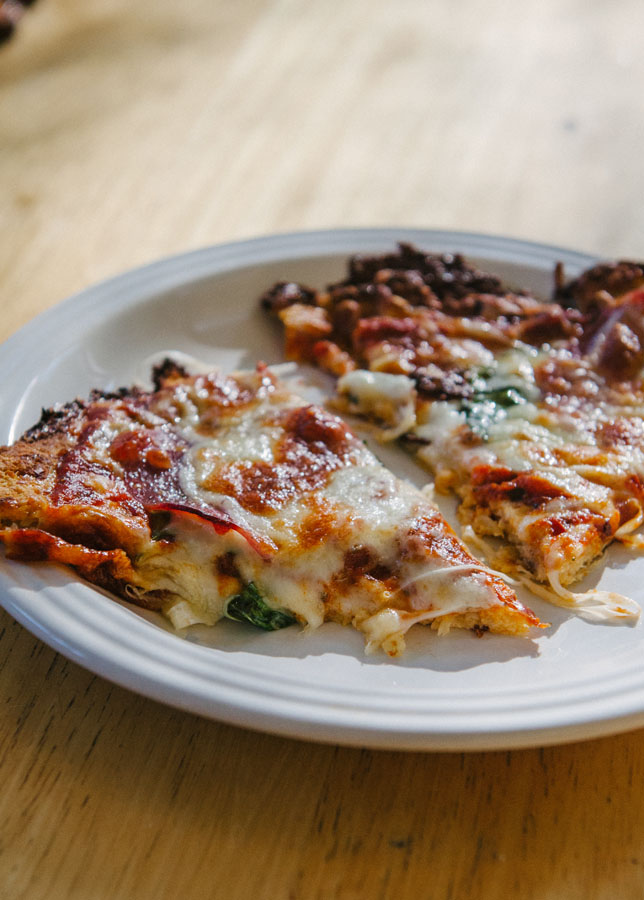 Now, do what you will. Eat like no one is watching. It's totally fine… i'll look away. 😉
Awesome Cauliflower Pizza Crust
Ingredients
1

head of cauliflower (should make approximately 2-3 cups once it's processed)

2

tbs granulated garlic or garlic powder

1/2

tsp sea salt

1/2

cup grated mozzarella cheese

1

egg

1-2

tbs of almond meal (optional)

Plus, the toppings for your pizza! I used tomato sauce, salami, basil and mozzarella cheese, but you can use whatever you want! Get creative.
Instructions
Place a pizza pan or a pizza stone in your oven and turn the heat on to 450 degrees. Allow the pan to heat up inside the oven while you work on your crust.
On a large cutting board lay out a large piece of parchment paper and lightly grease it. I used some olive oil spray. You can use whatever you have on hand.
Wash and dry your head of cauliflower. Remove the stem and the leaves and chop into florets. Process your florets in a food processor until they resemble "powdery snow". Once processed your cauliflower should yield approximately 2-3 cups.
Dump your cauliflower into a microwave safe bowl, cover it with a dish towel and microwave for 4 minutes.
Once done, dump it out on to a clean dish towel and allow it to cool off for several minutes. You want it to be cool enough to handle without burning your fingers.
Once it has cooled, wrap it up into that clean dish towel and ring it out over a bowl. You really want to go for it. Ring out as much water as your possibly can. The drier the pulp, the more likely your crust is to turn out chewy and to not fall apart.
Once you are done ringing out the water from the cauliflower, put the now drier cauliflower pulp into a mixing bowl. Add in your spices and your cheese and mix together with clean hands. Add in your egg and mix together until it is thoroughly combined. If you mixture seems loose you can add in your almond meal and mix again.
Form a ball with your mixture and place it into the center of your lightly greased parchment paper that you had set aside. Now, using clean hands push down on your mixture and form it into a pizza crust shape.
Remove your hot pizza pan or pizza stone from the oven and using your cutting board slide the parchment paper containing your crust gently onto the hot pan.
Place the pan, now containing the pizza crust, into the oven and bake for 8-12 minutes. Check periodically. If you crust does not seem like it is firming up give it a little bit longer. You want it to be golden brown on top and have a relatively firm texture before you load it up with toppings.
Remove from oven and load your pizza up with toppings.
Put you pan back into the oven with your loaded up pizza and cook for an additional 5-7 minutes or until your cheese is slightly browned and very melted and bubbly.
Allow it to cool for a couple of minutes after you remove it from the oven. Cut with a pizza cutter and serve!
PAID ENDORSEMENT DISCLOSURE: In order for me to support my blogging activities, I may receive monetary compensation or other types of remuneration for my endorsement, recommendation, testimonial and/or link to any products or services from this blog.