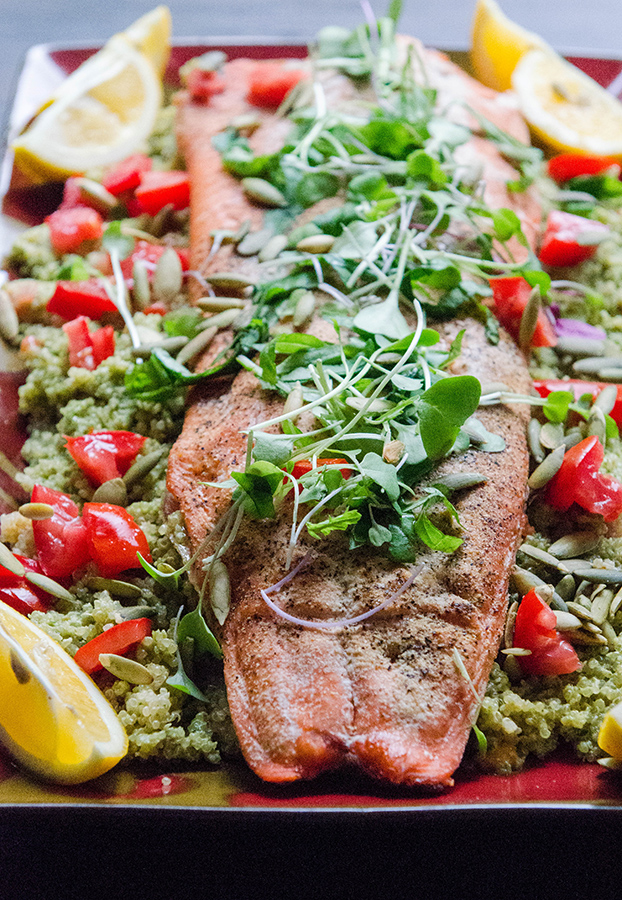 Lately I've felt like I've been stewing in some sort of creative rut.
The words aren't flowing freely from my fingers. Perhaps this is why I've signed up to write an entire novel in the month of November. Clearly, I'm a glutton for punishment. The graph of my current word count tells me that I will most likely be finishing this "novel" (I use quotations since my "novel" has turned out to be  a collection of non-fiction stories about my very real, very awkward life) sometime around mid December. Nothing inspires a person more than being approximately sixteen days behind on a writing project when you're already suffering from an intense bout of writer's block. Can you see my sarcastic-smirk face right now? Because, that. Is hibernation an option for humans? I kind of want to sign up. Maybe they have a month dedicated to napping. Count this girl in. 
I kind of wish the gods of creativity would come down to earth and slap me in the face with a freshly caught salmon. The idea of a fish slap is really funny to me. Also, this is the best possible segue that I can come up with to connect my first paragraph complaints of being creatively blocked and transitioning this post into one about FISH. Oof. The tragic stretch of that transition is not lost on me. But, let's just soldier on. You know the old saying… "Give a girl a fish, and she'll eat for a day. Teach a girl to write about fish, and she'll make an ass out of herself"? Something like that. I feel that's pretty applicable here.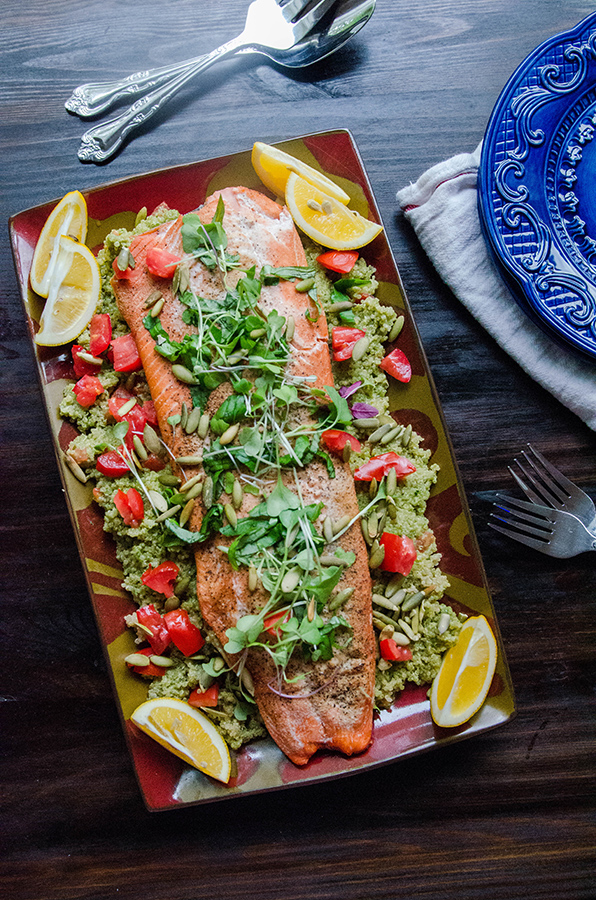 After realizing that I've been blogging for about two years and there's not a single fish recipe on the site, I knew I had to right that wrong. This is my pescatarian love letter to you.  Salmon was always a staple in my house growing up. We had the kind of house that served as a gathering place. A large piece of salmon was an easy way to feed a lot of hungry mouths. Not to mention it's delicious and healthy. My mom always made salmon really simply with only a few spices and some lemon juice. People would almost always ask for the recipe and be dumbfounded that it was only a few ingredients. I decided to keep the salmon in my recipe simple just like my mama's, and then spice it up with some fancy pesto quinoa. I used pepitas because… you know, fall and stuff.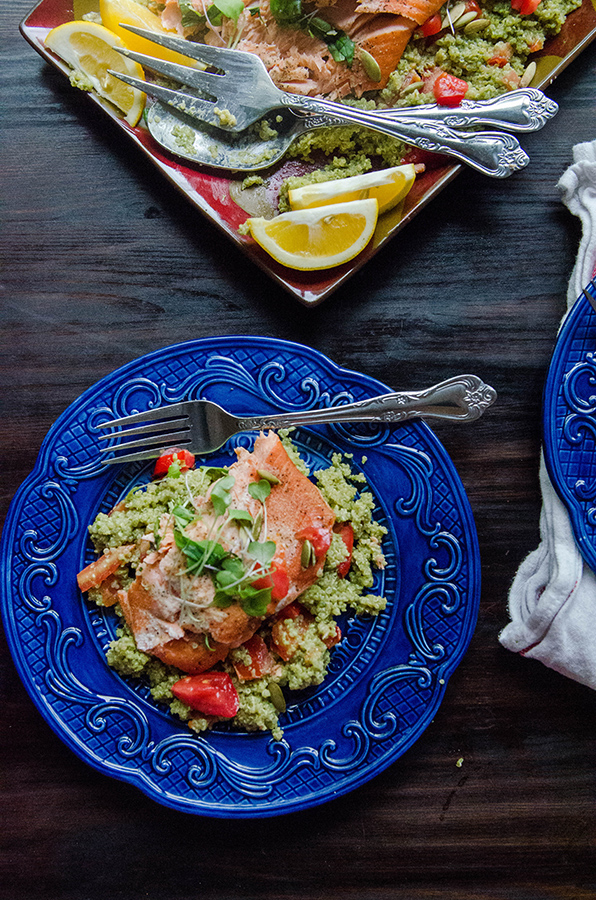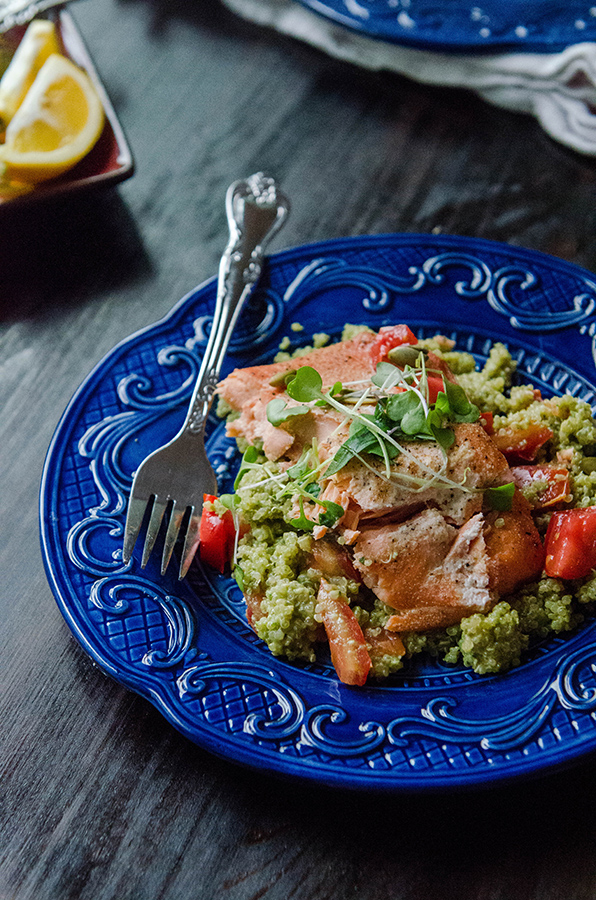 So, invite some friends over. Eat some salmon. Be merry.  Maybe these Omega 3's will help me write an entire book in November. Probably. Sounds right. 😉
Lemon Roasted Salmon With Pepita Pesto Quinoa & Tomatoes
serves 6-8
adjust servings
Ingredients
Fish
Pepita Pesto
Quinoa
Toppings
Instructions
Preheat your oven to 350 degrees.
Cover a large baking sheet with tinfoil, grease the baking sheet with a little bit of olive oil so that the fish will not stick. Rinse your salmon fillet under water and then pat dry with paper towels. Place the fish on top of the greased baking sheet. Season generously with lemon juice, salt, pepper and granulated garlic. Once your oven has reached temperature place the salmon inside to bake for 30 minutes, or until it is tender and flaky in the center.
Add the quinoa and chicken stock into the pot of a rice cooker and allow to cook until all of the liquid is absorbed. If you do not have a rice cooker, simply cook on the stove stop.
Place all of the ingredients for the pesto into the food processor. Process until it turns into a creamy pesto. Add this pesto mixture to the quinoa once it is fully cooked. Stir into the quinoa so that all of the grains are coated and it becomes green in color. Add tomatoes into this mixture and stir.
Add the quinoa to the bottom of a serving platter. Layer the salmon on top and garnish with any remaining diced tomatoes, basil leaves, pepitas and micro greens and lemon wedges. Now it's ready to serve! Enjoy!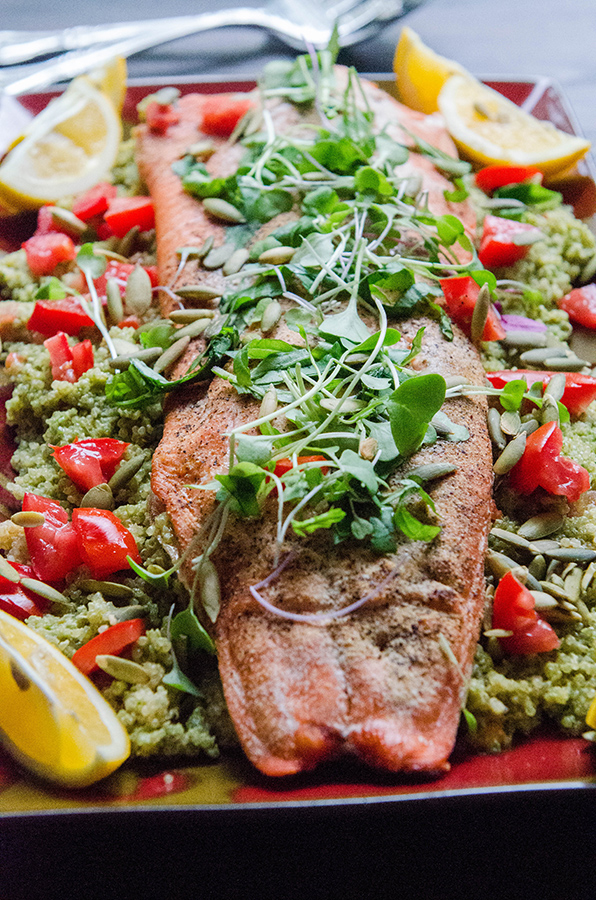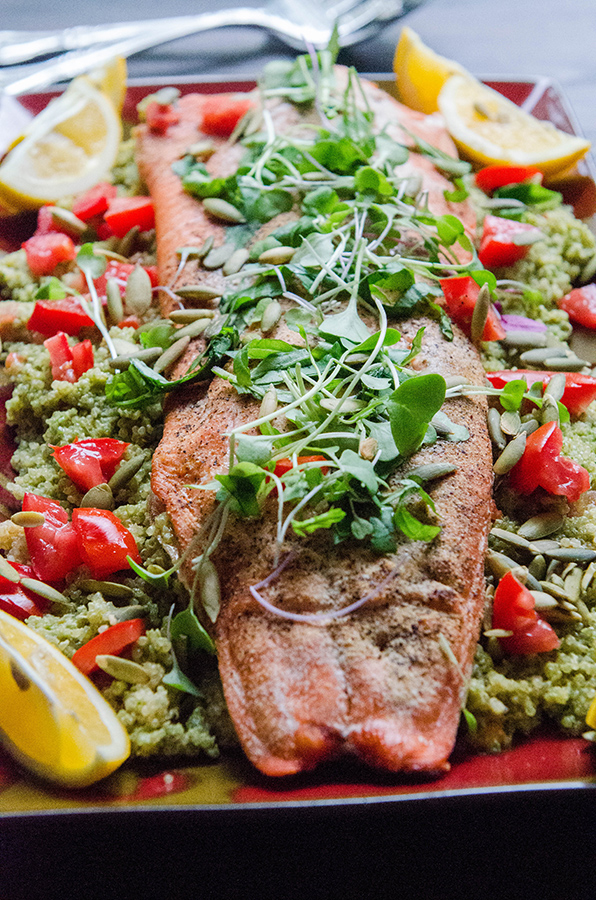 PAID ENDORSEMENT DISCLOSURE: In order for me to support my blogging activities, I may receive monetary compensation or other types of remuneration for my endorsement, recommendation, testimonial and/or link to any products or services from this blog.