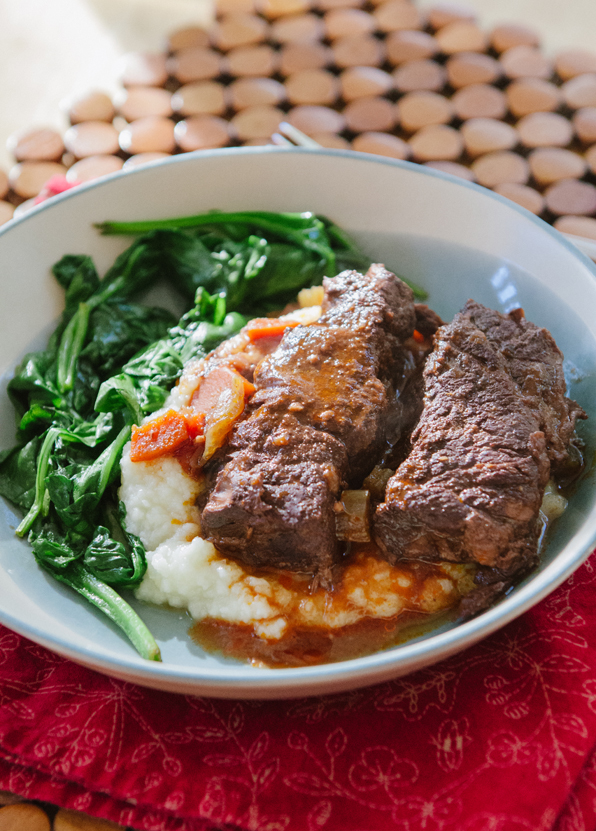 Christmas is in six days.
But, we're not going to talk about it.
Instead, we're going to discuss how Hawaiians measure things. Later we will segue into how the only thing to do is to eat these short ribs for breakfast, lunch and dinner and then again for breakfast. Buckle up.
Over Thanksgiving my family came to stay with us. It was great. Things only became greater when my Mom decided to make her short ribs. I'm not one to turn down an offer when there are tender chunks of beef involved. We've discussed it before… but, steak is truly my power animal.
Although I've learned how to make many of our family recipes, I'd never learned how to make my Mom's short ribs. I decided to watch her work. I asked her about her measurements.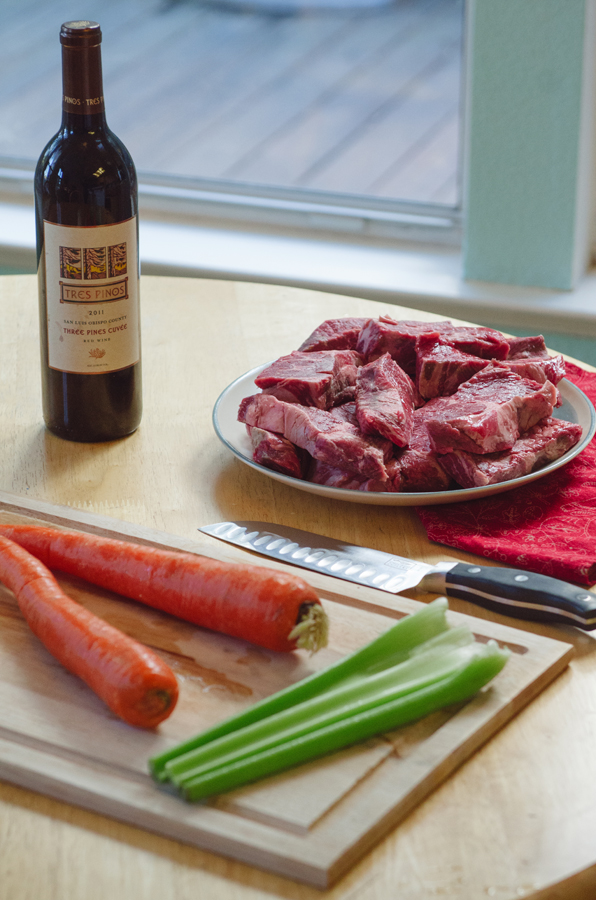 First off…  let me just preface this by saying when you ask a Hawaiian woman for measurements you should be prepared. I am fairly guilty of many of the things I'm about to explain to you. I have gotten a lot better since I started this food blog, but, when I'm just going for it in the kitchen and improvising, measurements turn into loose suggestions. In our family we call this method "put some". I know we've talked about this before. Don't ask my grandmother how much garlic she puts in her Shoyu Chicken… just put. We come up with creative points of reference. We measure the amount of water in our rice cooker by something we like to call the "finger method". If you ask how much wine or vinegar or soy sauce is in a recipe don't be surprised if you hear "a couple of glugs".  When you ask how much meat you should cook you might be met with "you know, enough for everybody." We've got our own system. It's working out. No one ever goes hungry.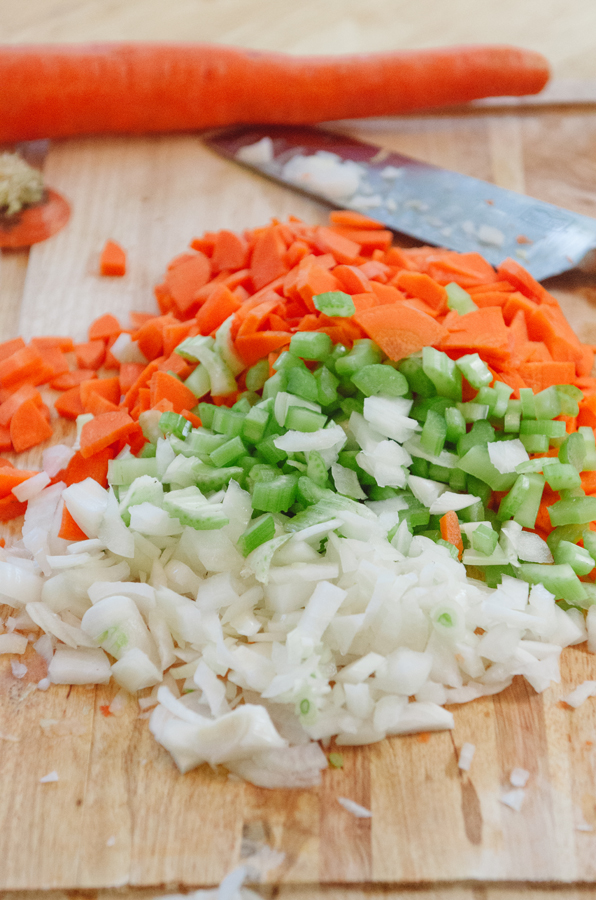 So, when I asked my mom how much of everything she was putting in her short ribs I was met with "a can of each". This was a new one. She pointed at the can of tomato sauce that she had used and then started to fill that can up with all of her other ingredients. There was a can of brown sugar. There was a can of soy sauce. This can kept on getting filled with things that would essentially taste amazing together, but I knew that when I tried my hands at short ribs I was going to try and health it up a bit. My body gets kind of mad when I put a can of sugar in it. Nevertheless, they were amazing. The can method works. I endorse it. Thank you, Hawaiian mother. You know things.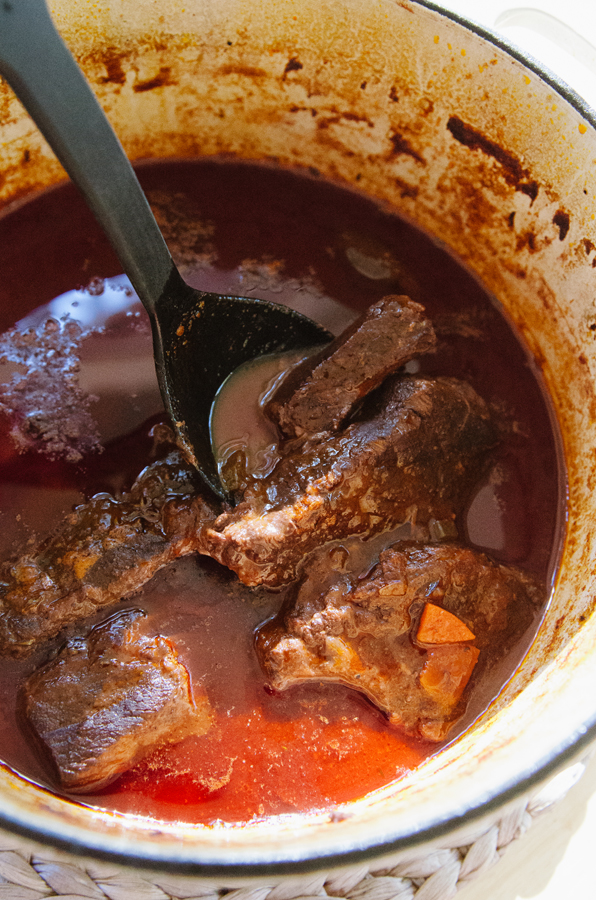 So these, while they are not the product of my Mama's loving hand or the fool-proof can method, are my take on the short rib. Oh, and they're good. Like, REALLY good. I might have eaten them for four solid meals in a row. That plate that you're looking at in these pictures… that was my breakfast. Yeah. 'Nuff said.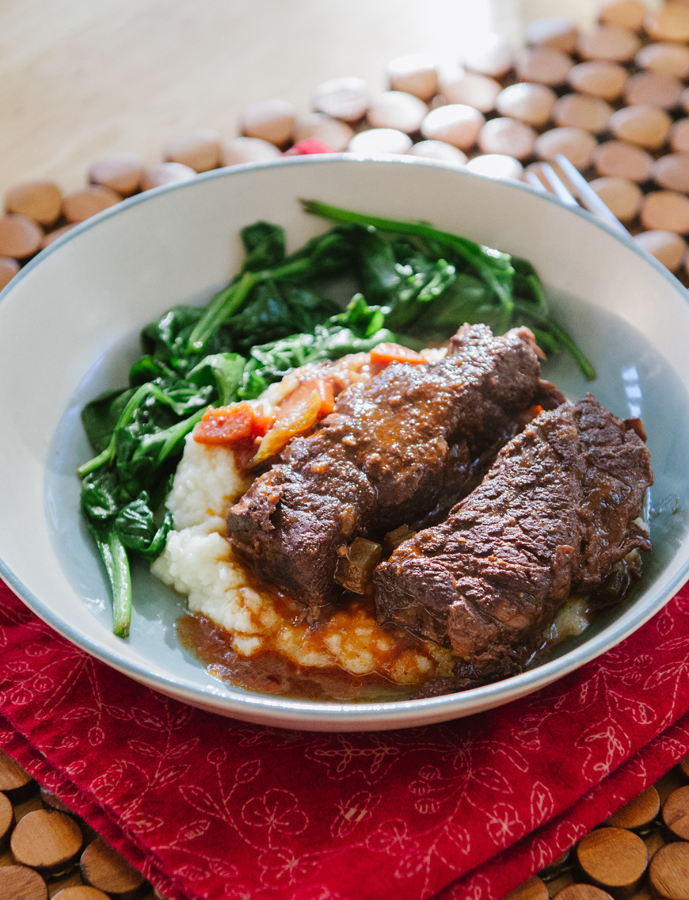 Other than taking a couple of hours to cook, these ribs are pretty easy to prepare. Once they are in the pot and simmering in your red wine sauce, you're essentially off the hook until they are done. Not bad, right? I made up a batch of cauliflower mashed potatoes and some wilted spinach to accompany my meal, but you could get creative. Serve them over potatoes, pasta, rice, salad, or even solo! Eat them for breakfast, lunch, dinner and then breakfast. Trust me. I'm a professional. 😉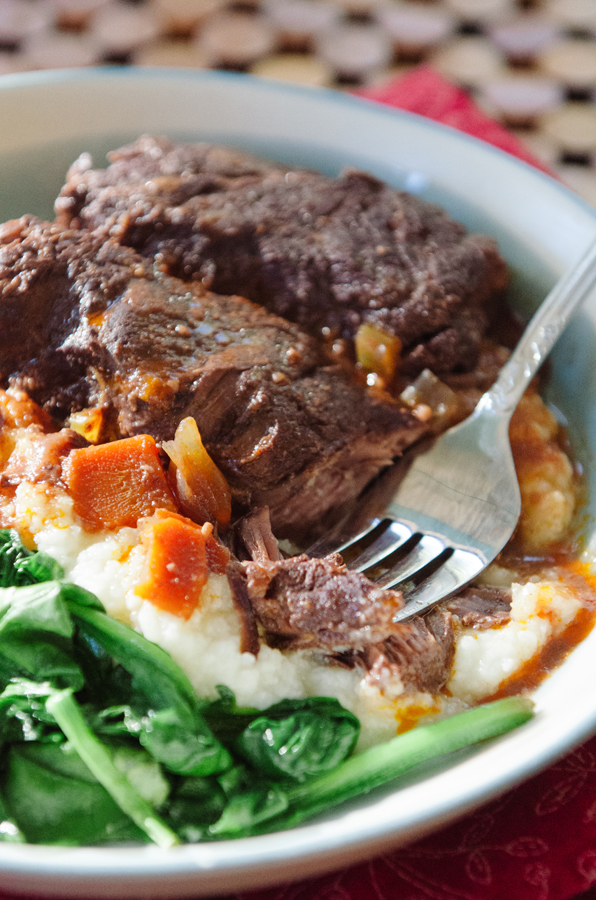 If you haven't found something to cook up for your family this Chrismas (ugh, I know I said we weren't going to talk about it) then this might be just the thing. It's low maintenence comfort food that feels both special and familiar when it's scooped out of the pot and onto your plate. I really hope you enjoy it! Sending you lots of love and holiday denial cheer! xox
Red Wine Braised Short Ribs
Ingredients
3.5

lbs boneless beef short ribs

1

tbs coconut oil (or other cooking oil of your choice)

salt, pepper, granulated garlic (to taste)

1

onion, diced

2

carrots, diced

3

celery stalks, diced

1

tbs minced garlic

1

bottle of red wine (I recommend a Cabernet)

4

cups beef broth

1 15oz

can of plain tomato sauce
Instructions
Rinse off your short ribs and pat them dry.
Most short ribs come in very long strips. If so, cut them in half into more manageable pieces. Liberally salt, pepper and garlic each side of your short ribs.
In a large soup pot heat up your coconut oil over medium heat.
Once you coconut oil has heated up, add in your short ribs. You might have to do this in two batched. We are going to sear each of the short ribs, so you don't want them to be crowded or stacked on top of one another.
Brown your short ribs on all sides until the outsides have a nice light brown seared crust to them. Set aside.
Chop up your onion, carrots and celery into small and similarly sized pieces. Add them to the bottom of your soup pot along with your minced garlic and cook them in the fat left over from searing off your short ribs.
Allow the veggies to soften, and the onions to get nice and translucent.
Add your short ribs to the pot along with the entire bottle of red wine. Add in your can of tomato sauce and your beef broth as well. Stir.
Cook over medium-low heat for 3-4 hours with the lid on, stirring ocassionally. Once ready your short ribs should be extremely tender!
Enjoy!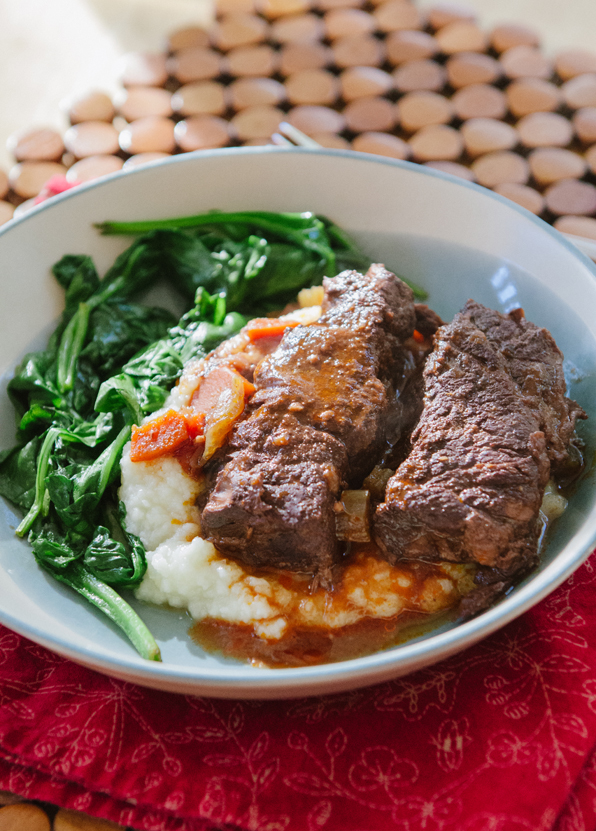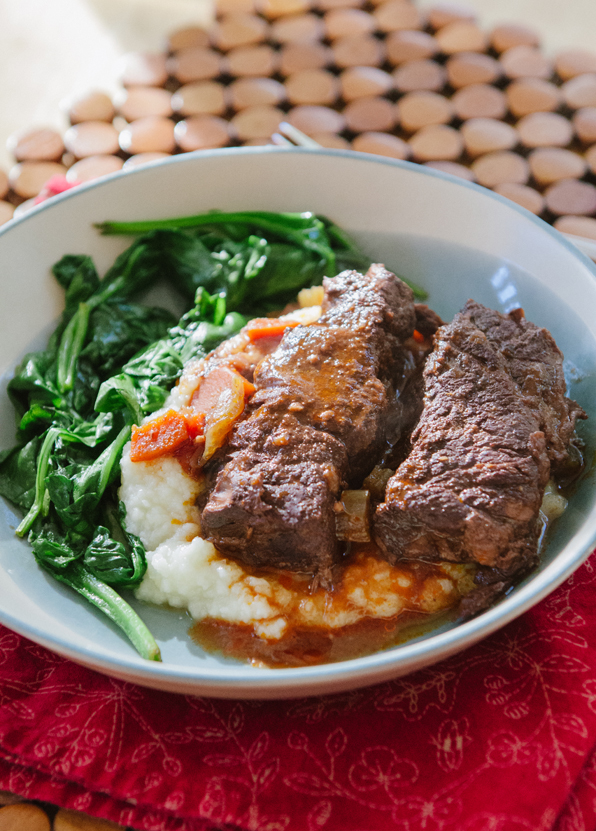 PAID ENDORSEMENT DISCLOSURE: In order for me to support my blogging activities, I may receive monetary compensation or other types of remuneration for my endorsement, recommendation, testimonial and/or link to any products or services from this blog.