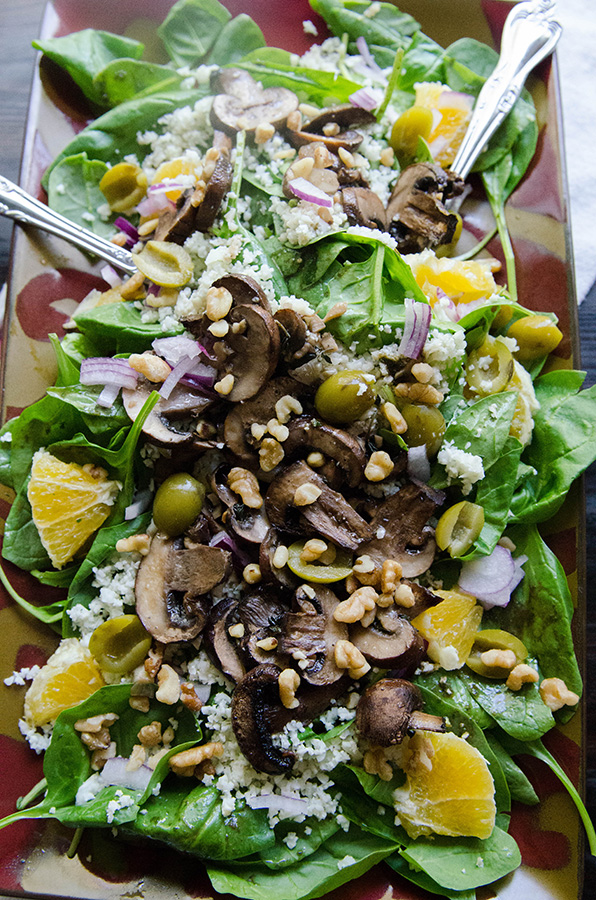 Happy New Year, Friends!!
I hope you had a great holiday season. I spent my time road-tripping up to Washington state in order to spend Christmas with the in-laws. This is the first major trip we've embarked on since I started my Lyme treatment. Big deal stuff.  We packed up our little car and made room for our golden retriever in the back seat. We listened to a lot of  this podcast. We took Emma to the beach on Christmas day. We drank some of my Apple & Cinnamon Bourbon at night. We watched an entire slide show of really adorable fat naked baby photos featuring my husband as said really adorable fat naked baby. We stopped in Portland for a night on our way home  and stayed in a totally quirky dog friendly hotel. I woke up to gluten-free apple fritters and then spent too much money at Powell Books. You can check out more of our trip on Instagram.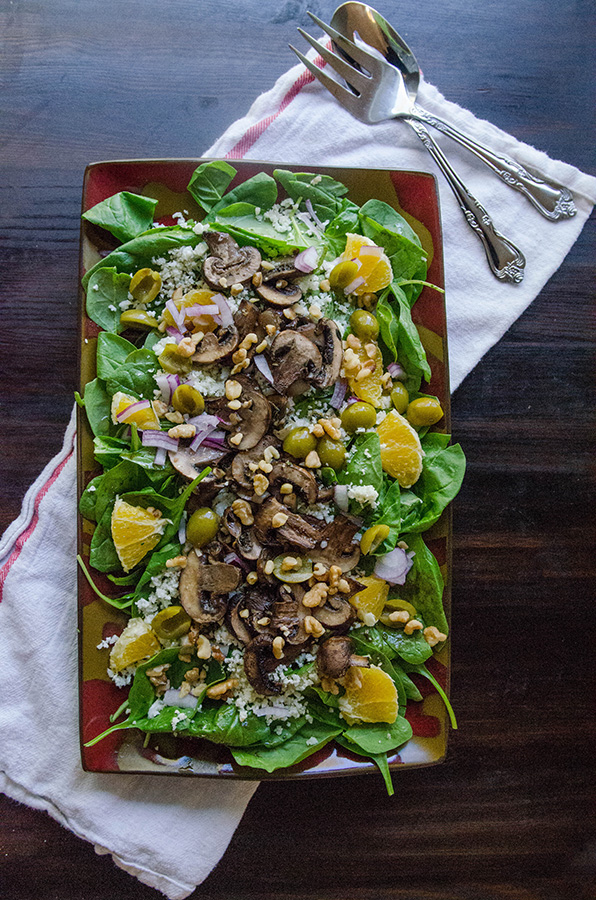 And even though I tried to keep my diet on point (yes, I brought a cooler full of bone broth and other necessities in the trunk—totally normal 😉 ), there was the occasional dietary insanity that followed (hello, I ate two grilled cheeses in one day. No big deal, I chased it with a gluten-free pizza the next day. Oof. Cheese attack). After returning from our trip I had a bit of a health crash. My Lyme flared up. My joints hurt. I found myself deliriously tired. I was forced to really take care of myself and basically perma-nap for a week straight, using every single detox method I've got at my disposal. I'm still working the holidays out of my system. I was so proud of myself for being well enough to go on that trip (yay!), so being met with a flare-up on the other end was slightly frustrating. But, if I learned anything in 2014, it's to listen to my body. Don't fight it. Love yourself enough to take care of yourself–it's important. Also, when your joints hurt, don't eat two grilled cheeses. It doesn't help.
So, onward to 2015!  I can't be the only person who is craving veggies like crazy right about now, right? I figured we could start out the year with a hearty salad. The kind of salad that you can eat as a meal and you won't feel deprived or angry about it afterward. The kind of salad that has crunch and sweetness and umami flavors. I think you'll dig it. The warm mushrooms and toasted cauli-rice mix with the cold ingredients to make it a bit of a warm/cold mouth adventure. Ugh. I don't think that mouth-adventure should ever be used in a sentence, but it's already done. You know what I mean. It's exciting. It's got something for everyone. Except a grilled cheese. It doesn't have a grilled cheese on it. It's for the best. Trust me. Especially if you've got a slight dairy allergy. What kind of crazy person eats that much cheese when they are lactose intolerant anyway? That's nuts. (Runs and hides).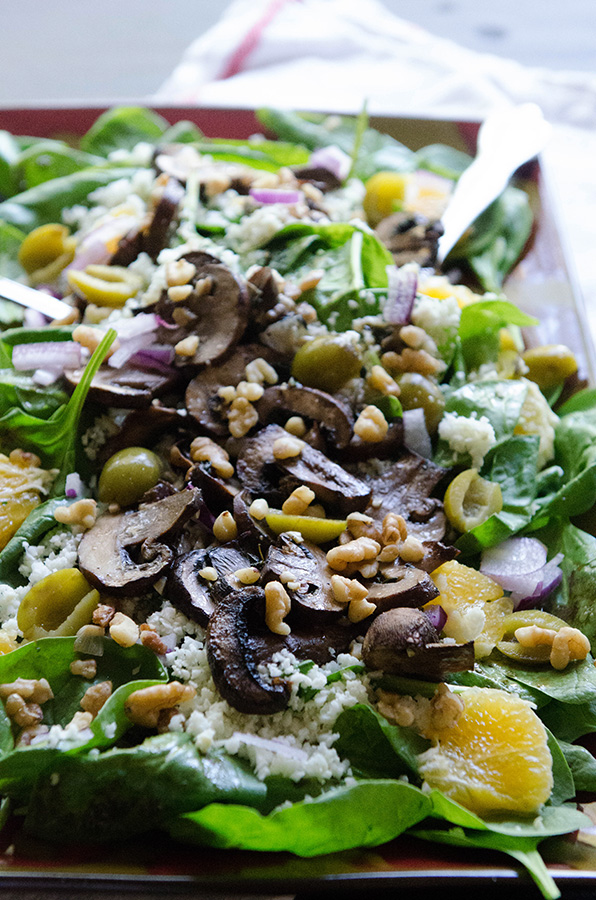 I've got some more thoughts on this new year, and a bunch of new things in the works for SLHO! Totally exciting things. But, for now, I'm going to try and exorcise the rest of the holidays out of my body with a large green juice, a detox bath, and maybe some time in the kitchen prepping chicken soup and ALL THE VEGGIES.  I love you guys. Wishing you all a wonderful, healthy and vibrant year filled with the kind of laughter that makes your sides hurt and the kind of love that makes your heart explode with all the feels. Oh, and salad. I wish you this salad. 😉
What are your wishes for the new year? Setting any intentions?
Sautéed Mushroom & Cauliflower Rice Salad With Spinach, Oranges & Olives
Ingredients
Mushrooms
3-4

tbs avocado oil

2 8oz

packages of crimini mushrooms, sliced

1

shallot, minced

4

cloves of garlic, minced
Cauliflower
1

head of cauliflower, riced & toasted
Salad Ingredients
8-10

cups of baby spinach

2-3

oranges, segmented

1/3

cup toasted walnuts

1/2

cup sliced green olives

1/2

red onion, diced
Dressing
1

bunch of parsley

1

clove of garlic

1/2

cup olive oil

1/4

cup balsamic vinegar
Instructions
Preheat the oven to 350 degrees.
Add your chopped mushrooms, minced shallot, minced garlic and avocado oil together in a baking dish. Toss so that everything is coated with the oil. Roast for 35 minutes, flipping the mushrooms half way though.
While your mushrooms are roasting, prep your cauliflower rice. Run your sliced up cauliflower through a food processor fitted with the grater attachment. This will process the cauliflower to look like rice. Add a little bit of oil (couple of teaspoons) to a hot skillet and toast the cauliflower rice until it softens slightly. Set aside.
Prep your dressing. Place the parsley, garlic, olive oil and balsamic vinegar into the food processor and allow it to process until it's the consistency of salad dressing. Set aside.
Assemble the layers of your salad starting with the spinach and red onions. Add the cauliflower rice, roasted mushrooms and top with the oranges, walnuts and olives. Pour the dressing over the top of the salad. Toss and serve.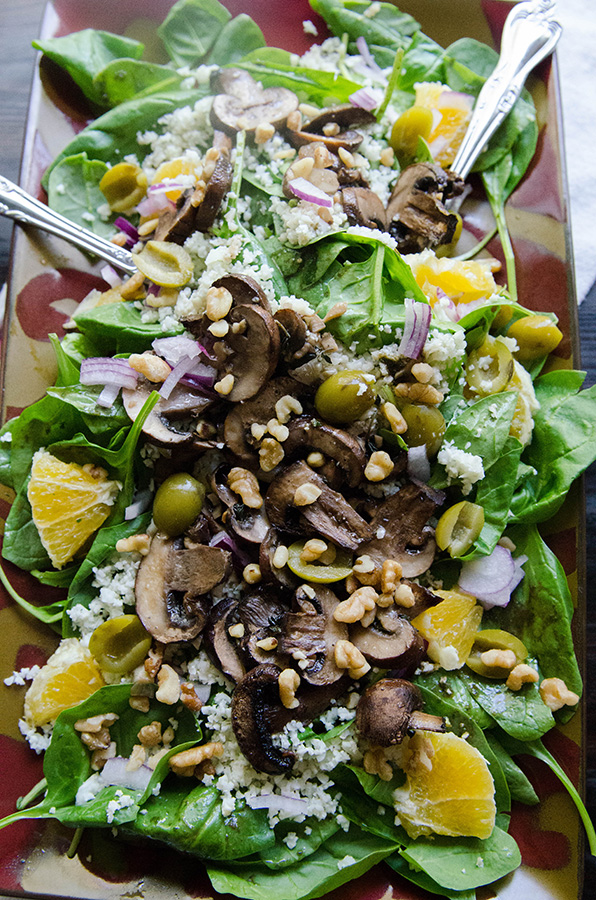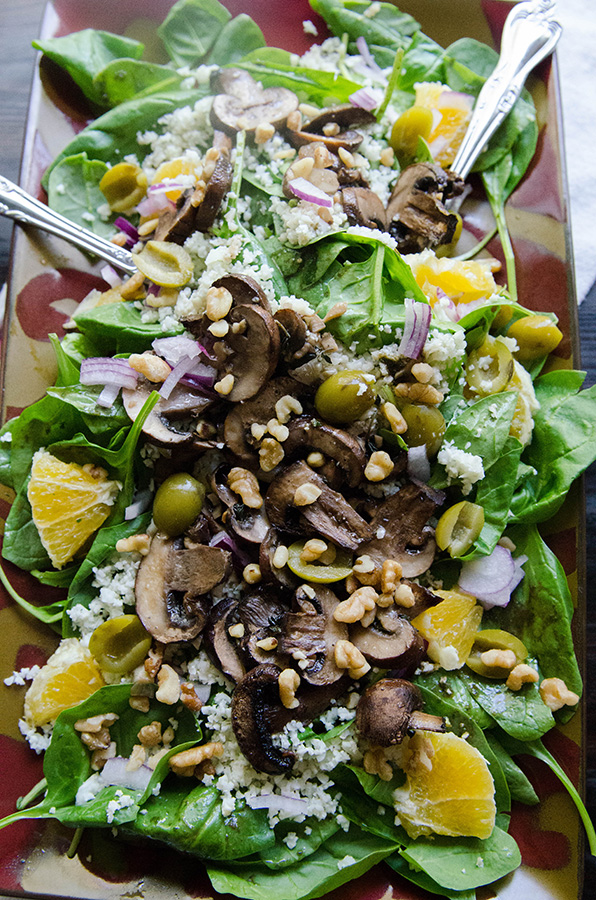 PAID ENDORSEMENT DISCLOSURE: In order for me to support my blogging activities, I may receive monetary compensation or other types of remuneration for my endorsement, recommendation, testimonial and/or link to any products or services from this blog.