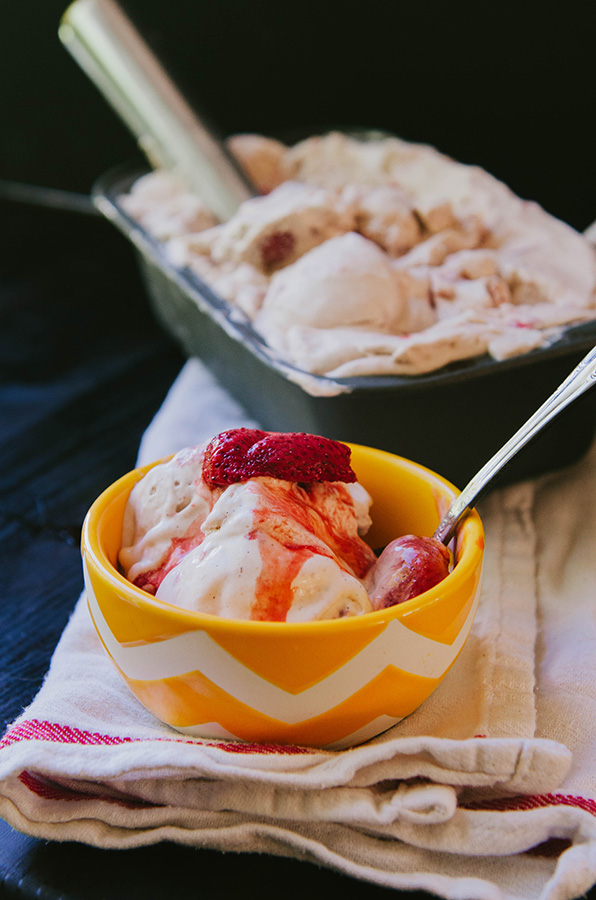 Okay. I admit the name of this recipe is long, complicated, and lacking a certain amount of finesse. I'm with you.
What would it be like if we named recipes like we named nail polish? Everything would be fun and flirty. Like, I could get away with calling this ice cream something like "Strawberry Pantie Dropper" or "Moist Vanilla Dreams" or maybe just "Kotex". This seems slightly far fetched, but I honestly have a blush in my makeup kit called "Orgasm". So, this isn't too far off base. Have you ever written a paragraph that is 99% regrettable. Because, this one.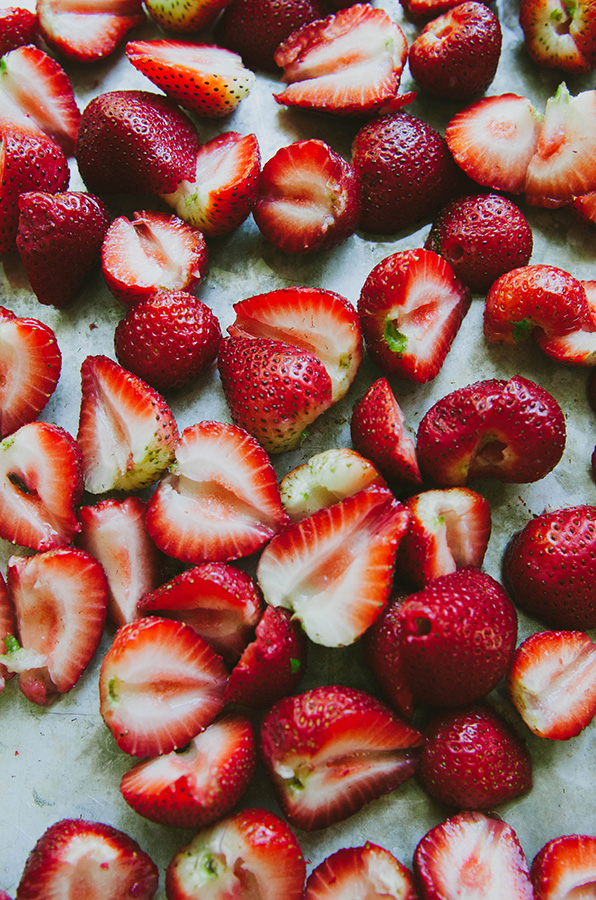 Anyway, this ice cream isn't called "Hunky Strawberry Two-Step". Not today. I'm sorry. Instead, there's an extremely long parenthetical included in order to demonstrate just how friendly this dessert is. Because, you guys, this ice cream is pretty much the friendliest. Think Sesame Street meets Care Bears meets Miley Cyrus (pre-twerk, pre-tongue, pre-wrecking all the balls). There's no dairy. There's no gluten. There's no eggs. The whole thing is sweetened with mutha-truckin' DATES, Y'ALL.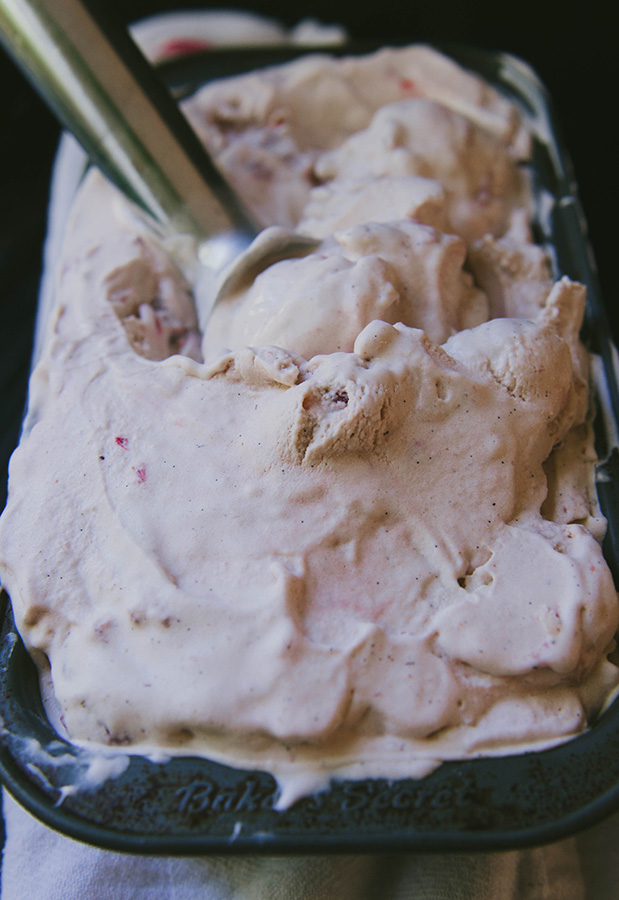 If I had to give some sort of award acceptance speech on behalf of this ice-cream I would dedicate it to "All the boys and girls with tummy-aches. This one's for you. Because, everyone deserves ice cream in their life. Even if you're lactose intolerant and milk makes you fart-y. This one's for YOU! No milk, you guys!" And then the you're-done-with-your-speech-award-music would start to blast through the speakers because I said fart-y. I'd panic. Hugh Jackman would probably be there. I think he'd grab my arm and help me backstage. He just seems like that kind of guy.I'm fairly sure I just painted the picture of my ice cream winning an Oscar. Which, is most likely not going to happen. It's good, but it's not as good as Meryl Streep. Ain't that just a universal truth. Maybe that should be its flavor name "Almost As Good As Meryl".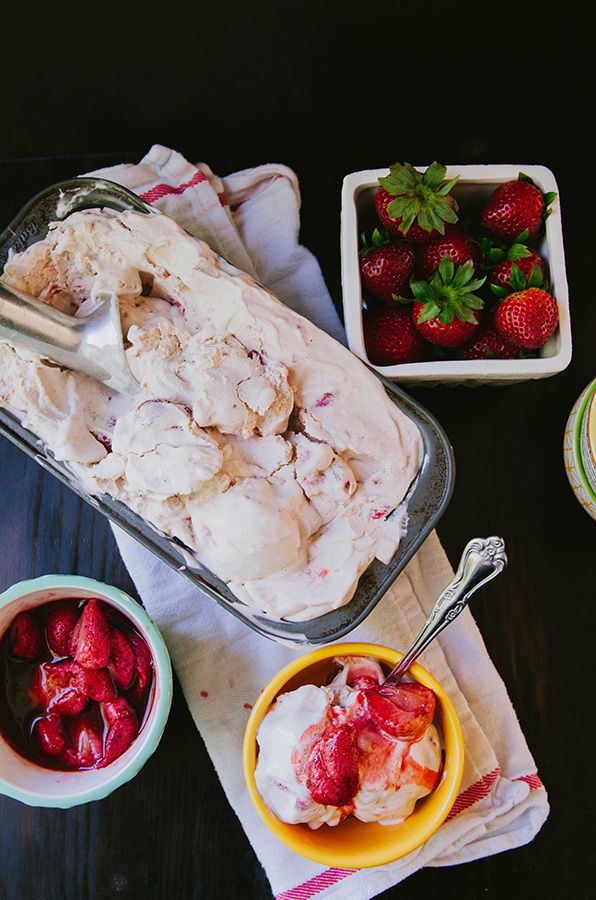 Side note: Can we just discuss how good fruit gets when you roast it (re: Roasted Summer Fruit Cookie Shortcake) ? Because, this isn't out first fruit roasting rodeo, and it sure as heck wont be our last. When you pop these berries into the oven and let them get all roast-y and syrupy. Ugh. It makes me drool just thinking about it. Pair that together with a coconut milk and vanilla bean base, and well… that's a dessert. Actually, I've been tucking into this and calling it lunch. That's cool too. Proposed flavor name change: "Afternoon Delight". Think about it.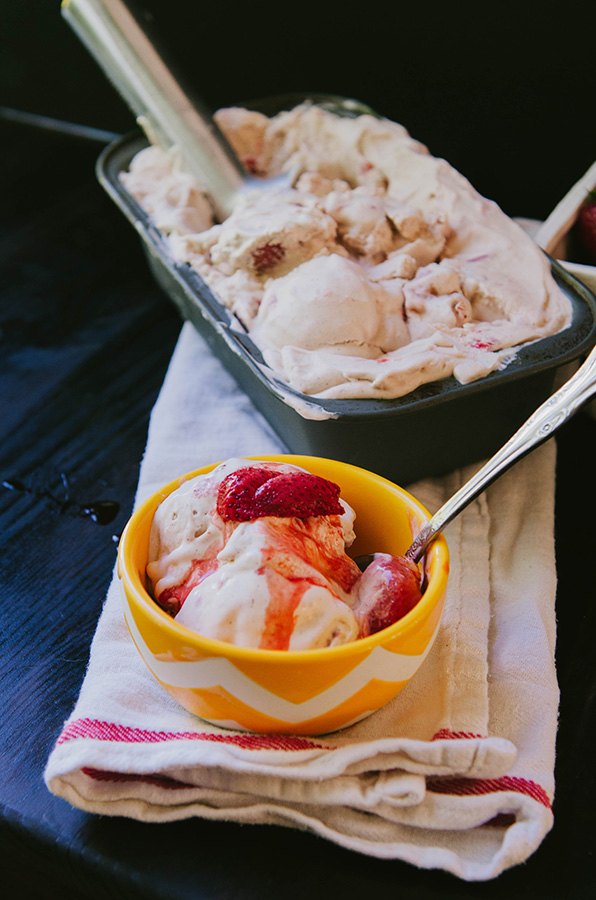 Curious as to what ice cream maker I use? Here ya go.
Thanks for hanging out, guys! You're the best. xx
Roasted Strawberry & Vanilla Coconut Milk Ice Cream
Ingredients
Ice Cream
Roasted Strawberries
2

lbs. strawberries, hulled and cut in half

1/4

cup coconut sugar

1

Tbs. vanilla extract
Instructions
Add all of the ingredients except for the boiling water and gelatin into a high speed blender. Process together until it becomes smooth and there are no chunks or rough pieces of dates. This might take a few minutes to process fully.
In a separate mug, whisk together the gelatin and hot water for about a minute or so. Once whisked together well, add this to the blender and blend on high until it is well incorporated.
Pour this mixture into bowl (I like these, since they come with lids) and cover it. Allow it to refrigerate for at least an hour. The mixture will thicken a bit in the refrigerator.
While you're waiting for your ice cream mixture to thicken, you can start on your berries.Preheat the oven to 375 degrees.Line a baking sheet with parchment paper and set aside.
Pro tip: Use a metal straw to hull your strawberries. It works like a charm. Once your berries are hulled and chopped, add them into a mixing bowl with the coconut sugar and vanilla extract. Stir until the berries are thoroughly coated in both.
Pour the berries out on the parchment paper and spread out evenly. Roast them for 20-25 minutes, or until the fruit is soft and syrupy. Once they are done, remove them from the oven and set them aside to cool.
Once the ice cream mixture has refrigerated for at least an hour, remove it and pour it into the chilled bowl of your ice cream mixer. Turn your ice cream maker on and allow it to start churning. After a few minutes, add in 1/4 of the roasted berries with their syrup. Allow it to keep churning. Once the mixture looks like it's starting to turn into a soft ice cream, add more of the berries with their syrup. You can add all of the berries if you like, or do as I did and reserve a small portion of the berries and syrup to be drizzled over the top when serving.
Once the ice cream has reached consistency, scrape it out of the machine and into a container that is safe for freezer storage. Your ice cream is now ready to eat! Scoop it up. Top it with your favorite toppings. Enjoy!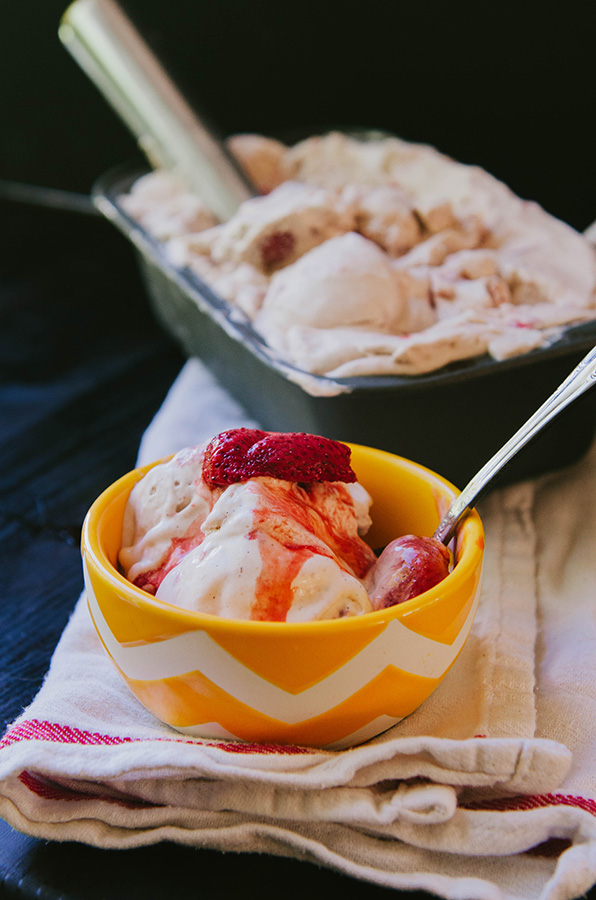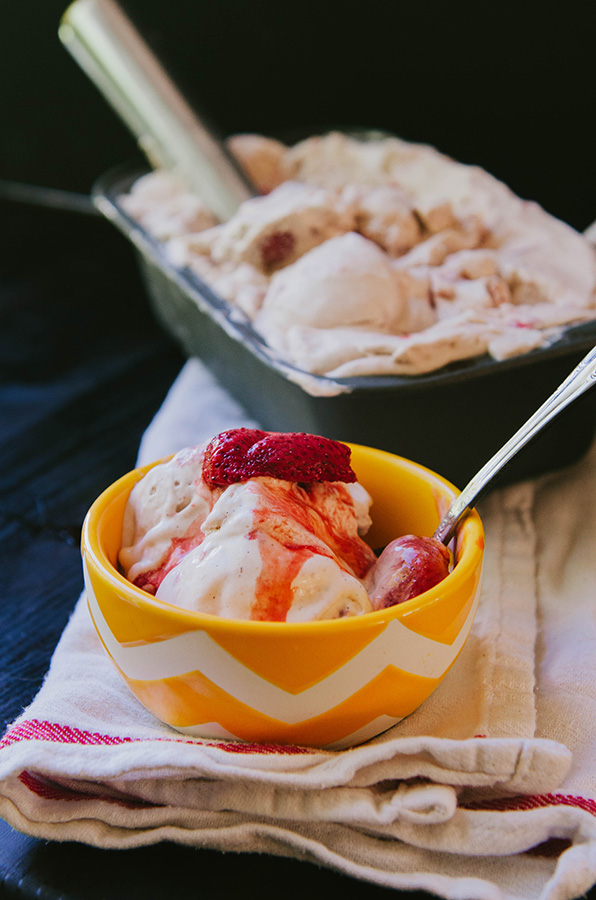 PAID ENDORSEMENT DISCLOSURE: In order for me to support my blogging activities, I may receive monetary compensation or other types of remuneration for my endorsement, recommendation, testimonial and/or link to any products or services from this blog.