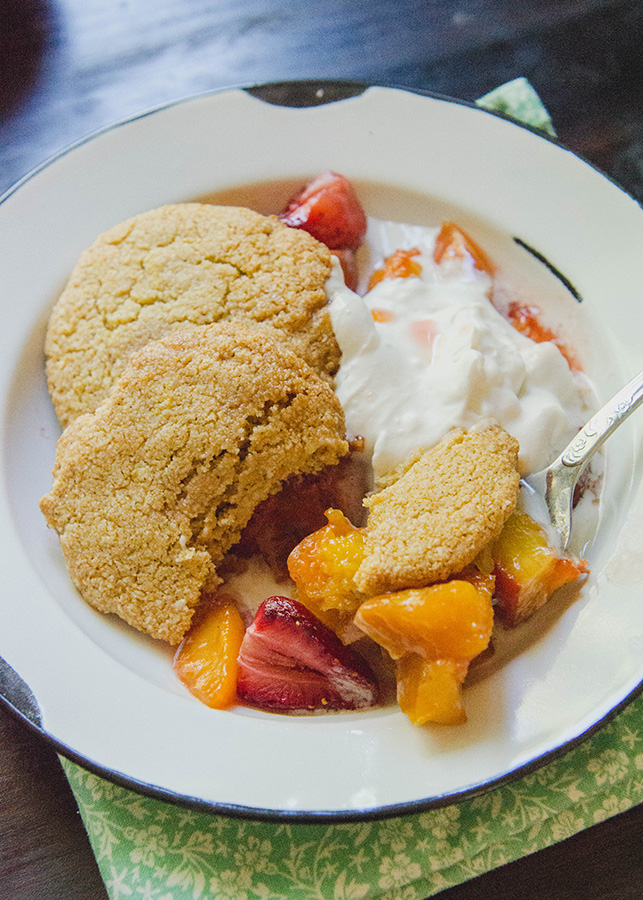 Summer felt different when I was a kid.
It was thick and lazy with the scent of chlorine clinging to everything. Perpetual tan lines carving their way through my shoulder blades. Rich purple plums being plucked off of my grandparents' tree — the warm juice trickling down my chin. It was matinee movies with buttered popcorn. It was watching my dad try to put out fires we'd accidentally set with shady roadside Fourth Of July Fireworks. I can still see him running around the back yard, chasing away sparks with the lid of the BBQ. It was the beach, and family vacation. Sleepovers were long, and filled with whispers about boys. We made prank calls and ate pancakes. It was dusky evenings in the tree house–swinging in a hammock and deciding what character I'd be in The Babysitter's Club (Claudia–always Claudia). It was the sticky packages of store bought shortcake, fresh strawberries and a canister of whipped cream. A little bit gross, but also kinda great.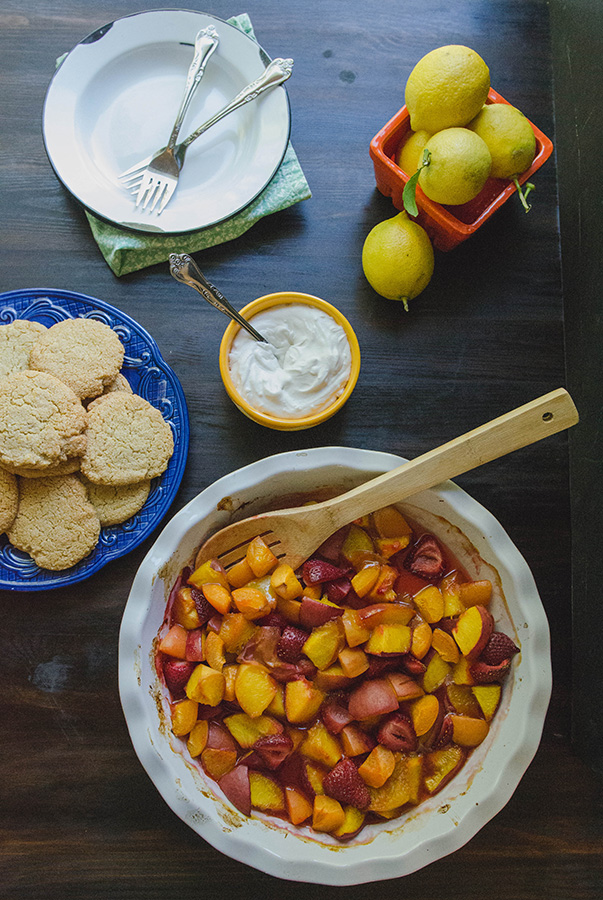 As an adult,  summer is still thick and lazy. There's less chlorine, and more sun protection. My grandparent's tree was cut down, but whenever I find those dark purple plums at the farmers market, I buy them in droves. My Dad has retired from chasing me around with a BBQ lid, although sometimes that might be helpful (re: the time I almost set my hair on fire with a flaming kitchen towel). And, the gross (yet weirdly great) sticky shortcakes we used to buy wrapped in plastic have been replaced for less gluten-y things. Sorry, processed weird little cake friends. We've moved on. It's not you, it's me. But, also you. I'll still sign your yearbook if you want. Yes, I really mean it, "Have a bitchin' summer".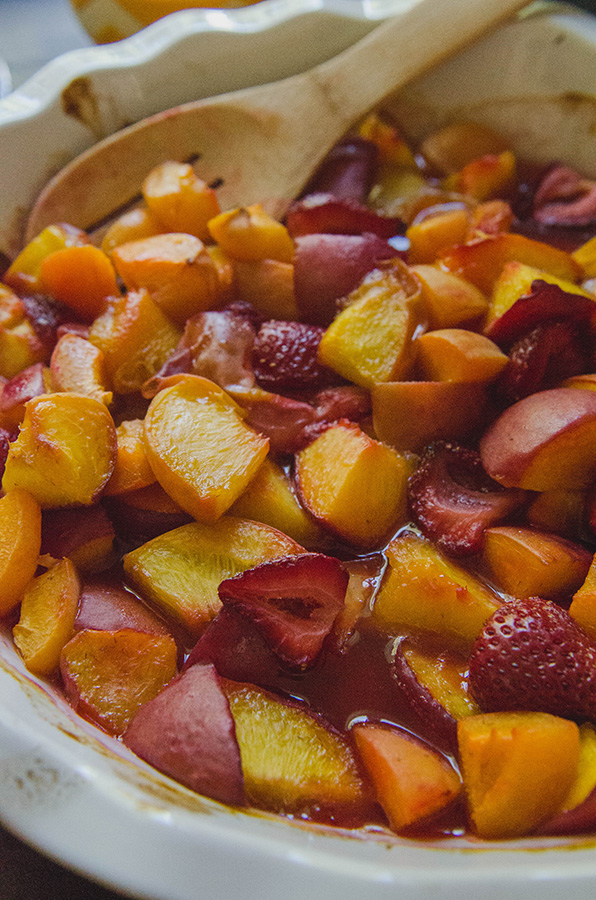 I knew I wouldn't be able to completely replace the memory of strawberry shortcake as I knew it growing up. That's hard to do. But, I could make something different and new that might be even better. So, if you're looking at this and going—um, is this shortcake short a cake? The answer is an earnest, yes. Did I replace cake for these Grain-Free Lemon & Vanilla Cookies? I totally did. Are there some peaches and apricots floating around with your strawberries? You betcha. And, if we're not totally and completely off the rails from traditional shorty-cakes, we're roasting the fruit and topping it all off with coconut whipped cream. It's a bold choice and a new frontier in the sport of summer short-caking, although one I feel you will NOT be mad at.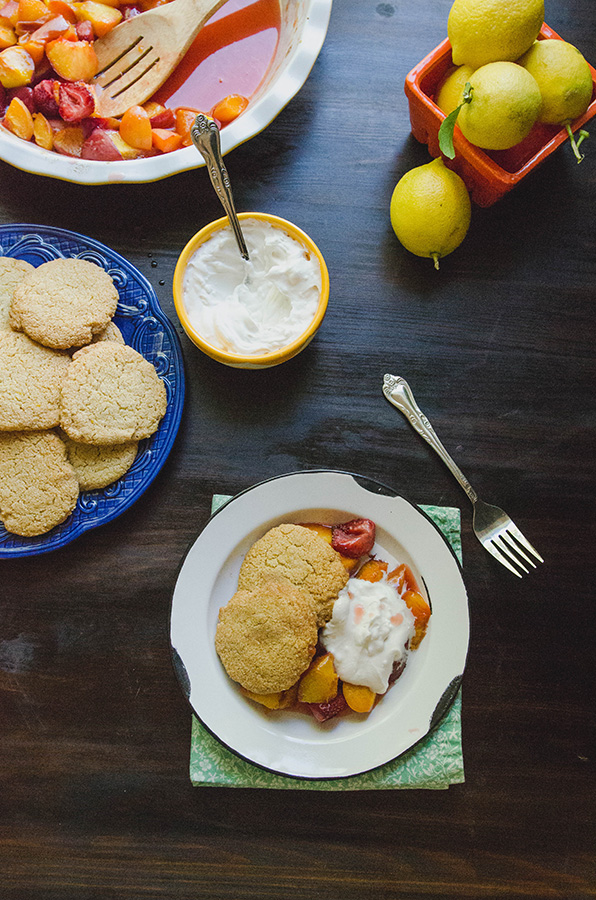 The cookies are buttery and soft. The fruit is warm and sticky with vanilla and honey. The coconut cream is cool and light. I mean, it's pretty much a perfect summer bite. Did that rhyme? Because, gurrrrl, this dessert is honest to goodness poetry. Full disclosure: I'm writing this post at midnight, fueled only by some light insomnia and a trove of bad jokes (#sorry).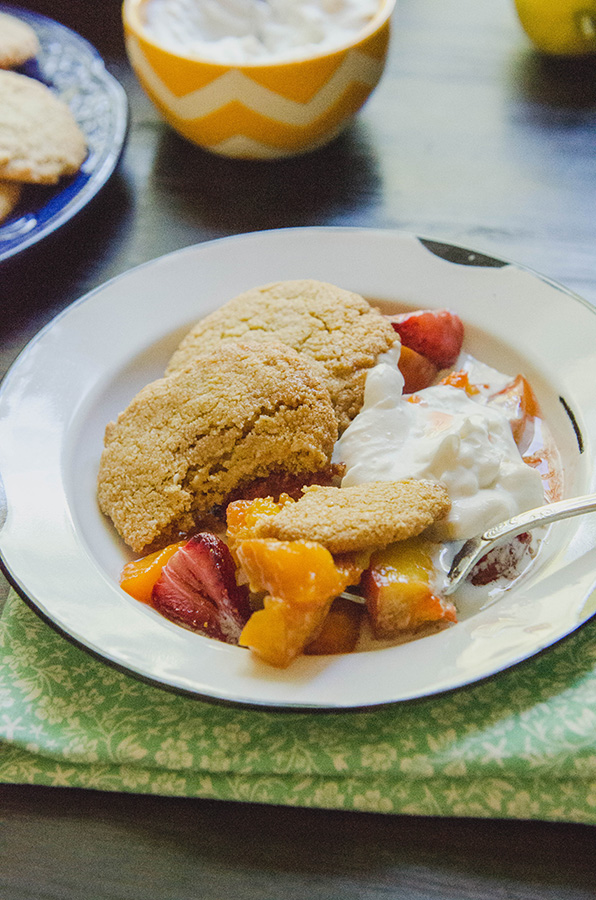 Perhaps I should cut this post short(cake). Honestly, I can't stop. If you'd be so kind as to short-cookie-cake me in the face. You know the way. It's a slapstick routine traditionally done with a cream pie. This should work though. We're not sticking with traditions. We're making new ones. Less gross. No Cool Whip. And, regrettably no members of The Babysitter's Club. But, what we lack in tween fiction, we make up for in creative cookie-ing. I'm putting this in the win category. *Thumbs up emoji*
Roasted Summer Fruit Cookie Shortcake With Coconut Whipped Cream
Ingredients
Cookies
Roasted Fruit
Coconut Cream
Instructions
Bake a batch of the Grain-Free Lemon Vanilla Cookies and set aside.
Turn your oven up to 425 degrees and line a baking sheet with parchment paper.
Add all of your fruit into a bowl with the honey and vanilla extract. Stir well so that the honey and vanilla get mixed in to all of the fruit. Pour the fruit onto the parchment paper lined baking sheet and spread out evenly into one single layer.
Bake for 20-25 minutes, or until the fruit is soft and syrupy but still retains it's form. Remove from the oven and transfer the fruit and it's syrup to a dish to cool a bit.
While the fruit it cooling slightly, you can make your coconut whipped cream. Open up the refrigerated coconut milk can and scrape the solid coconut cream from the top. There will be quite a bit of cream before you hit the separated coconut water. Once you hit the coconut water, set that aside. You should now have all the separated coconut cream in a mixing bowl. Add in the honey and use a hand-mixer to whip it until it resembles whipped cream.
Serve you your Cookie Shortcakes by placing the warm roasted fruit on the bottom of the dish, and topping it off with the cookies and coconut whipped cream. Enjoy!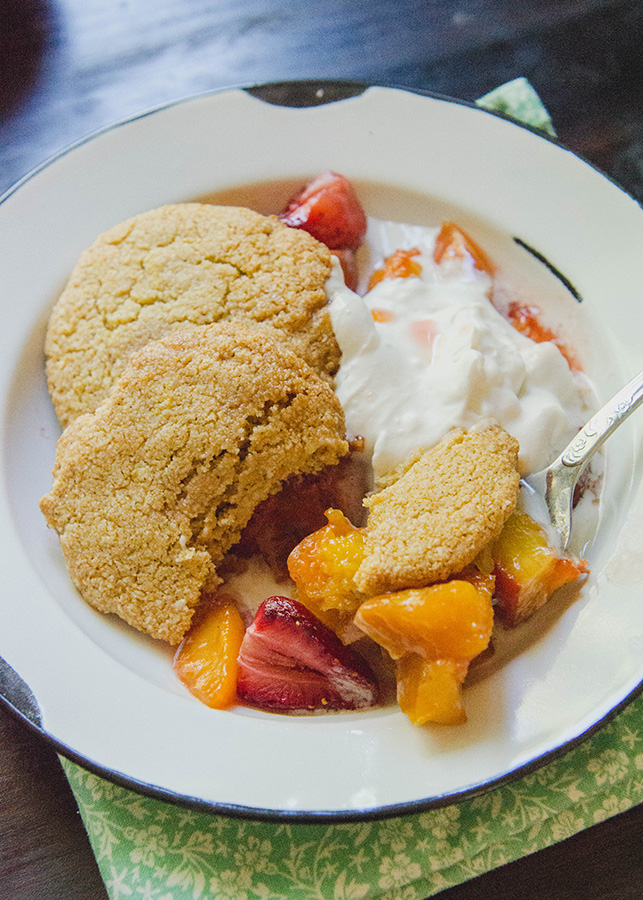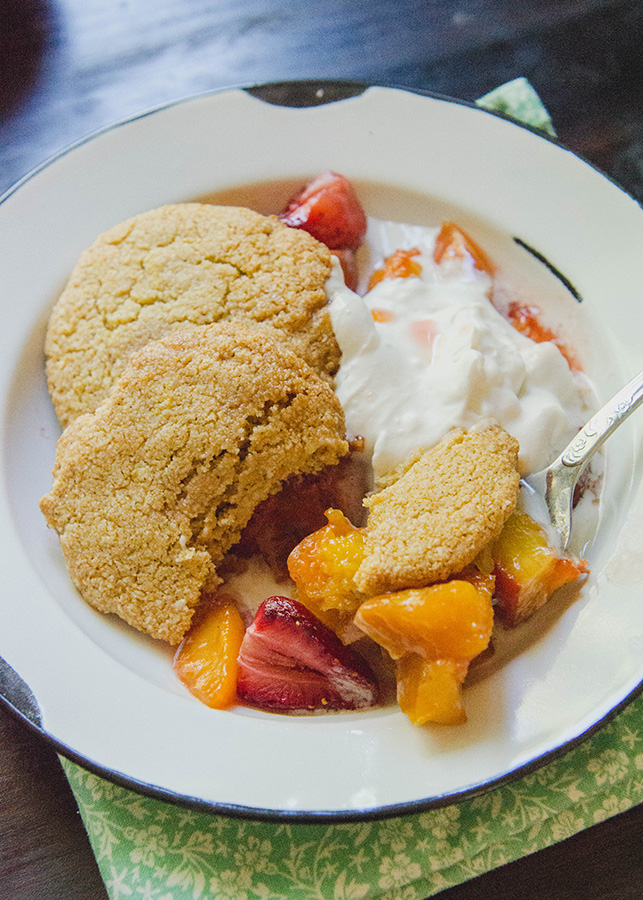 PAID ENDORSEMENT DISCLOSURE: In order for me to support my blogging activities, I may receive monetary compensation or other types of remuneration for my endorsement, recommendation, testimonial and/or link to any products or services from this blog.