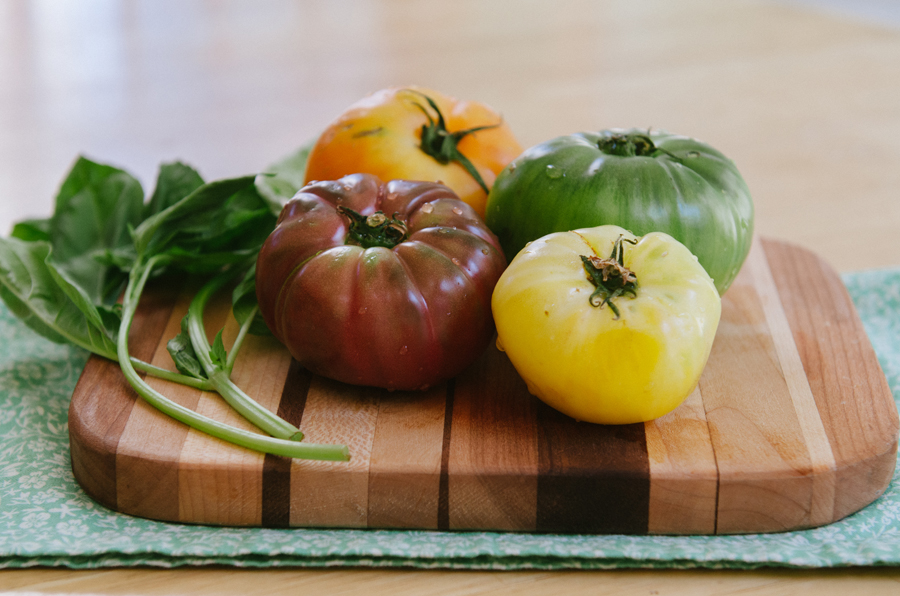 How much have I talked about summer lately? A lot. Are you all hoping I shut my face soon? We get it, Gina. It's hot. You aren't wearing pants. It's time for cocktails. The produce is amaze. We get it. Just stop. #WishICould
So, yeah. All of those things. But… TOMATOES, amiright? I mean, look at them. Just add them into the summer celebration! Is there a tomato dance? I'm sure we can figure one out. Maybe a jazz square on bottom with a raise the roof on top? My dance library is limited. Let me know if you come up with something more exciting. The more shoulder action the better. If you want to add in a shimmy, I won't get upset.
Tomatoes are totally the apples of summer (they aren't, but it's Monday and my analogies are lazy at best). They are sweet, juicy and plentiful. They come in every color and variety, and markets are exploding with them. Just ask my husband how crazy and muppet-like my face looks at a summer farmers market. You would think I'm a six-year-old at Christmas. I had a very similar expression on my face in 1989 when I ripped the Santa Clause paper off a Barbie Dream House. Excitement + Bliss + OMG-DAD-PUT-THIS-TOGETHER-BEFORE-I-LOSE-MY-MIND-AHHHHHHH-OMG! Except, with tomatoes it is Excitement + Bliss + OMG-PETE-LET-ME-BUY-THESE-BEFORE-I-LOSE-MY-MIND-I'M-GOING-TO-PUT-THEM-IN-A-SALAD-AND-MAYBE-EAT-ONE-IN-THE-CAR-ON-THE-WAY-HOOOOOME-AHHHHHH-OMG!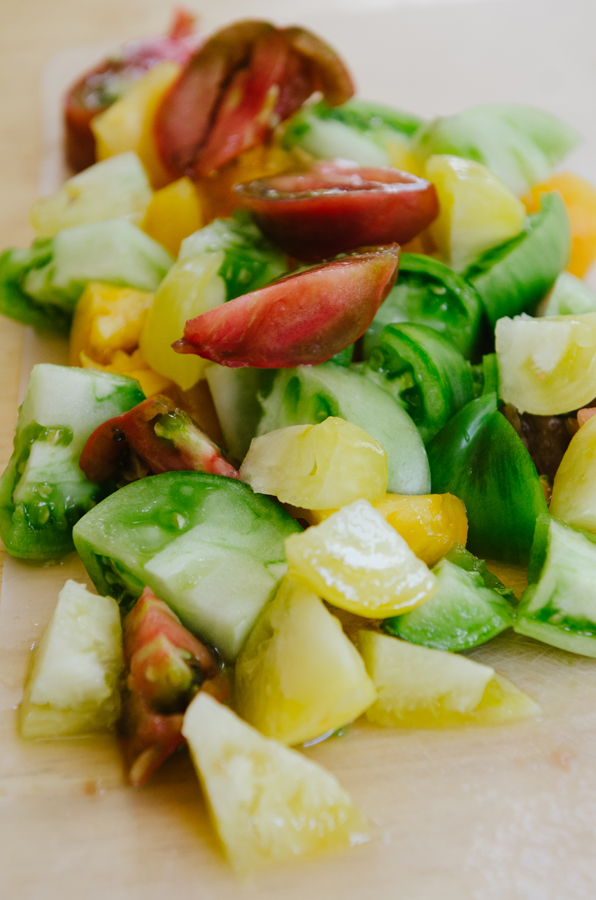 In a sentence: I lost my mind at a farmer's market. Simple. Just like this salad.
I unpacked my little heirloom tomato babies. I washed them. I chopped them. I threw them into a bowl with some chopped up basil, olive oil and a little bit of sea salt. I mixed it together.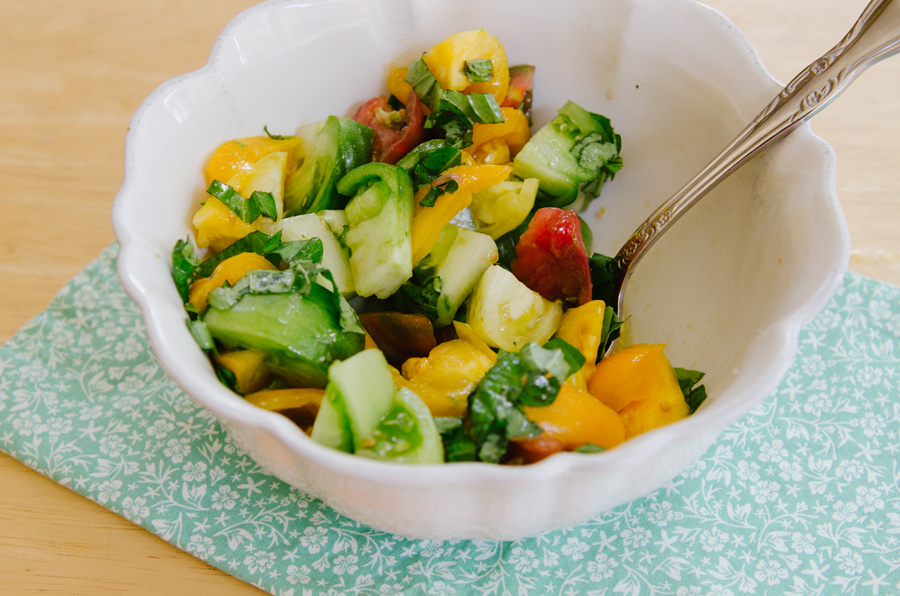 I brought out chunks of burrata cheese and toasted some bread. I set the table and put out a small dish of olive oil and balsamic vinegar for dipping. When my husband saw that there was toast and he could probably assemble this simple salad into a sandwich that is when HE lost his mind. My husband can make anything into a sandwich. It's his thing. I've seen him take an entire Lumberjack Breakfast Special and fit it in-between two pancakes, pick it up, and eat it like a sandwich. It's an art. I'm constantly impressed.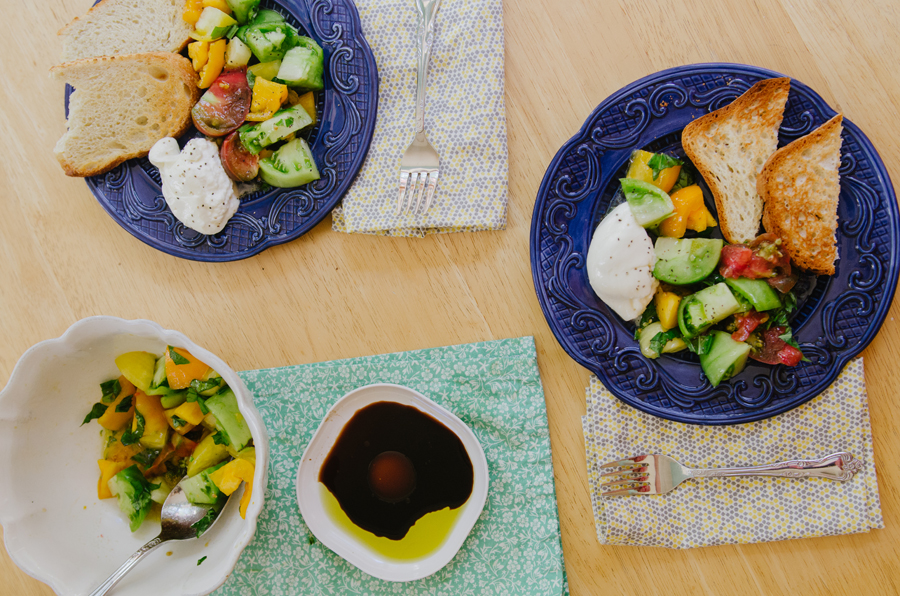 We sat there on a lovely summer afternoon, dunking hunks of bread into oil and vinegar, layering on tomatoes and topping it with gooey burrata cheese. Total summer bliss.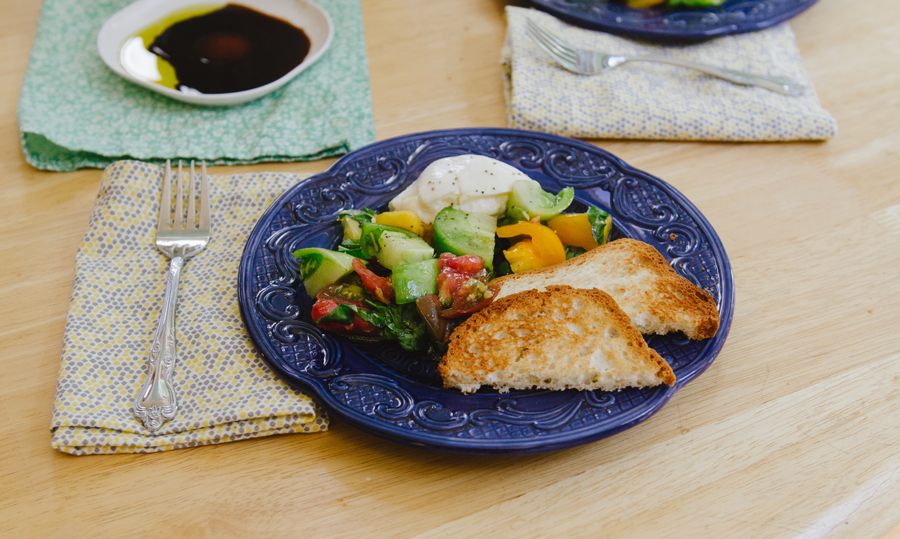 I know, there I go yammering about summer again and overusing the word "bliss," but really, this is a special time of year. Insert decided "tomato dance" here. That just rhymed, so I'm pretty sure this whole thing is basically poetry. An ode to summer, if you will.  Gross assumption? Nah.
Simple Heirloom Tomato & Burrata Salad
Ingredients
4-5

heirloom tomatoes in various colors

Small bunch of basil

Olive oil

Pinch of sea salt

Toast (I used Udi's gluten free bread)

Burrata cheese

Balsamic Vinegar

Fresh cracked pepper
Instructions
Wash and chop all of your tomatoes and add them to a large bowl.
Wash and finely chop your basil and add that into the bowl with your tomatoes.
Drizzle some olive oil over the top of your tomatoes and add in a generous pinch of sea salt. Stir until all of the tomatoes are coated. Crack a little fresh pepper over the top of your salad.
Serve with a hunk of fresh burrata cheese and toast.
In addition, you can serve with some balsamic vinegar and olive oil.
Enjoy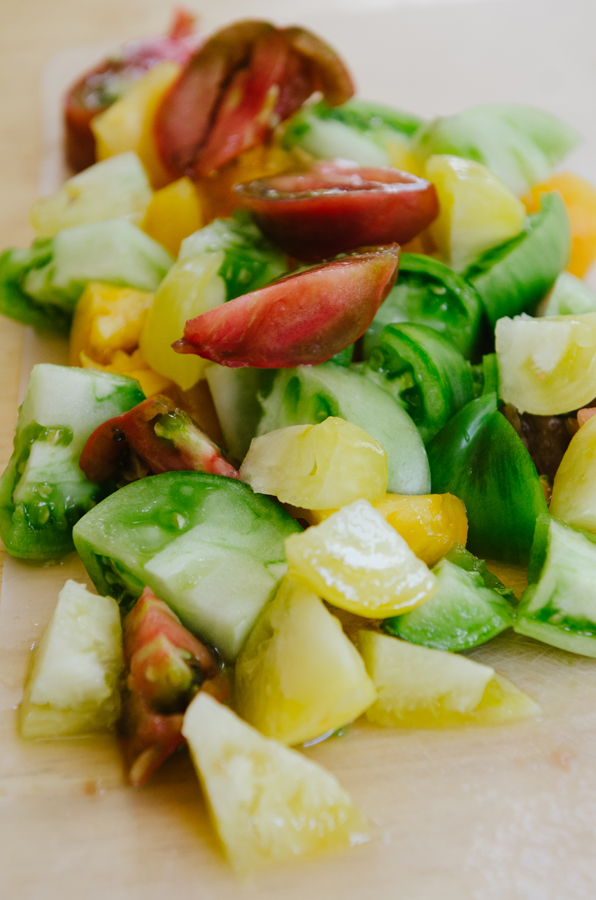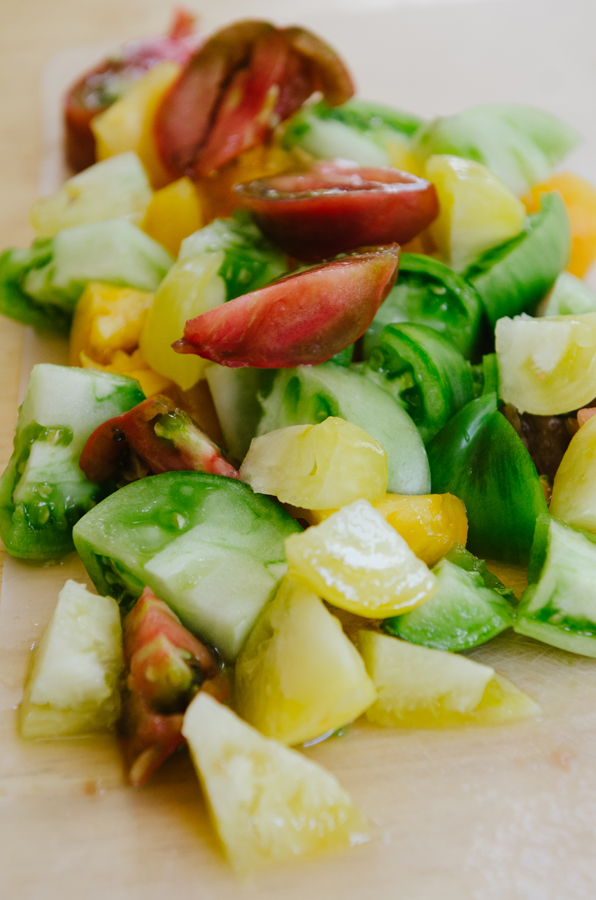 PAID ENDORSEMENT DISCLOSURE: In order for me to support my blogging activities, I may receive monetary compensation or other types of remuneration for my endorsement, recommendation, testimonial and/or link to any products or services from this blog.