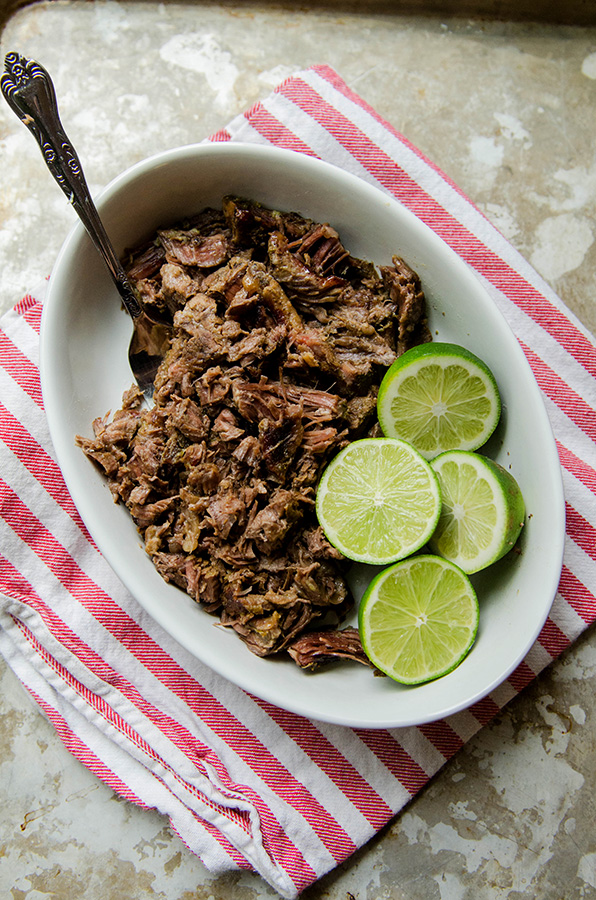 Margarita Beef isn't like Margherita Pizza.
You know that moment when you're thinking, "Oh, Gosh–what glorious fusion! They've finally combined my favorite alcoholic beverage with my favorite slab of carbs and cheese!! Praise Cheese-us!" But, no. They didn't figure out how to infuse your pizza with a fishbowl marg. Turns out Margherita Pizza was named after a queen and not after tequila. No one's getting drunk off of pizza. Put your shirt back down. No one is going to lick that salt off your belly-button now. But, I appreciate your enthusiasm to make pizza-body-shots a thing. You can reply with at least twelve sad face emojis if need be. I get your disappointment. But, fear not. Cue up your emoji keyboard and get ready to fire a Spanish Dancer, because I basically slow-cooked this beef in an actual cocktail.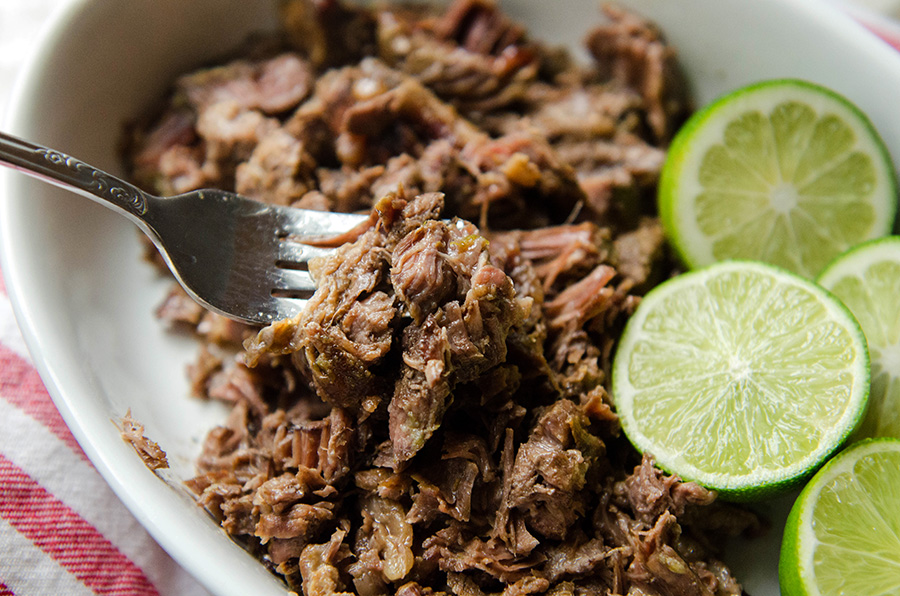 To those of you who don't have emojis installed on your phones (who are you? I want to interview you about your life?!), I apologize for my intense emoji-citement. But, sometimes I can say a whole lot more with a little icon than I can with words. Meh, that's probably not true. But society's acceptance of emoticons as actual emotion has made me lazy. So, if I send you like twenty racehorses and a goat, you'll know that I'm feeling whimsical. If I send you nine chocolate chip cookies followed by an angry face, you should come home with dessert. If I send you the little smiley poop emoji. Well, you get the idea…
Anyway, I digress. We were talking about beef. Slow-cooked beef. Beef that's been dumped into your slow-cooker and swirled around in a bunch of tequila and lime juice and salt. It's kind of like when you go to Mexico and the bartender makes a margarita in your actual mouth (I've only seen this on television–but, I'm 99% sure this is a thing that happens). Well, this time you're the bartender and you're making a meaty marg inside the mouth of your slow cooker. Seriously, put down your shirt. We're not doing body shots. Okay, fine. Just one. As long as I can chase it with with a hunk of steak instead of a lime wedge. Great. Did this take a turn? I'm not sure if I can come back from pretending to eat steak out of someone else's belly button. We'll try. Should we ignore this paragraph? Probably. Should I have deleted it and started over. Oh, totally. But, I'm just going to let it sit here. These words–just stewing awkwardly in tequila-drenched prose like a literary Spring Break hangover. This is time for that monkey face palm emoji. That one goes right here. Great.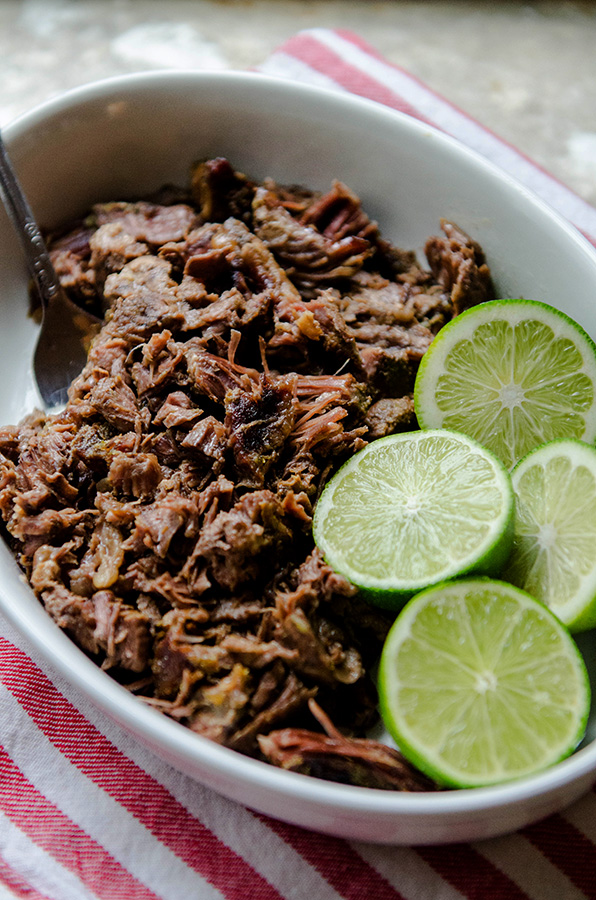 I've been getting a lot of chuck steak recently in my CSA, and this has been a brilliant way to use it up. It cooks until it's really tender and super flavorful. There's hardly any ingredients, and it cooks in a slow cooker. Um, hello perfect summer dinner. No need to sweat over your oven. Don't fuss with your charcoal grill tonight. Just sit back… relax… pour a cocktail for yourself and one for this beef.  I like to use this as the meat in a taco salad or taco bowl. I shred up some lettuce, top it off with margarita beef and some guacamole and salsa. Eat your heart out, Chipotle. My beef is drunker and guac is totally not extra at this house.*Fancy drink emoji, cow emoji, thumbs up emoji x 10.* 
Slow-Cooker Margarita Beef
Ingredients
2-3

lbs. chuck steak

1/2

cup silver tequila

Juice of 4 limes

Zest of 1 lime

salt, pepper, granulated garlic (to taste)
Instructions
Add all of the ingredients to your slow cooker and cook on low for 4-6 hours, or until the beef is done and easily shredded.
Once it's done, use a couple of forks to shred your beef. Now it's ready to be used in tacos, over salad, in a lettuce wrap, or any way that you choose. Enjoy!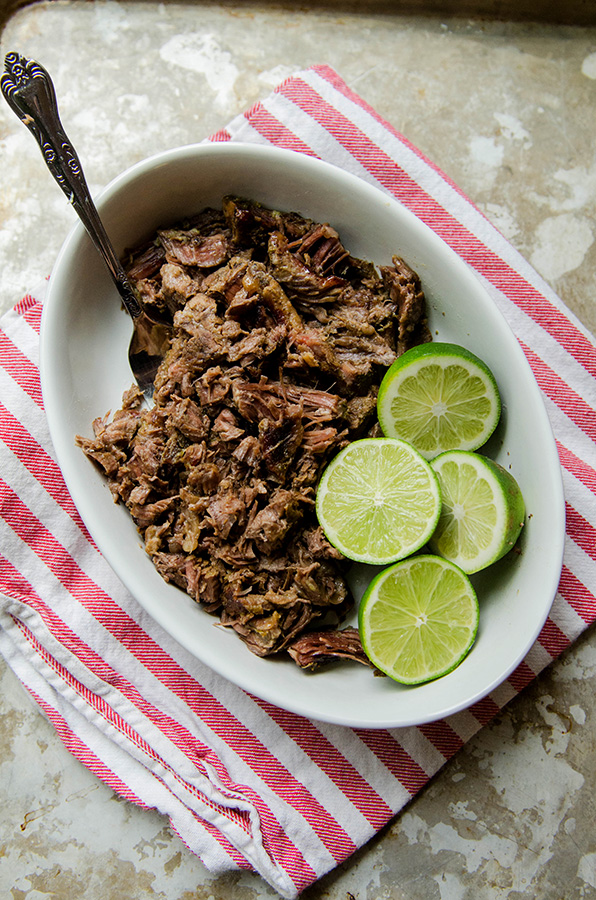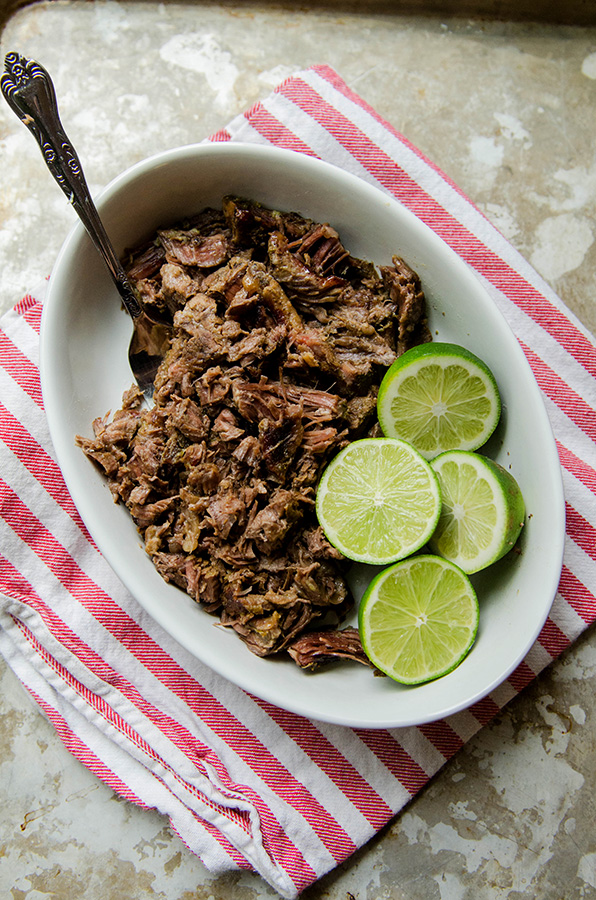 PAID ENDORSEMENT DISCLOSURE: In order for me to support my blogging activities, I may receive monetary compensation or other types of remuneration for my endorsement, recommendation, testimonial and/or link to any products or services from this blog.