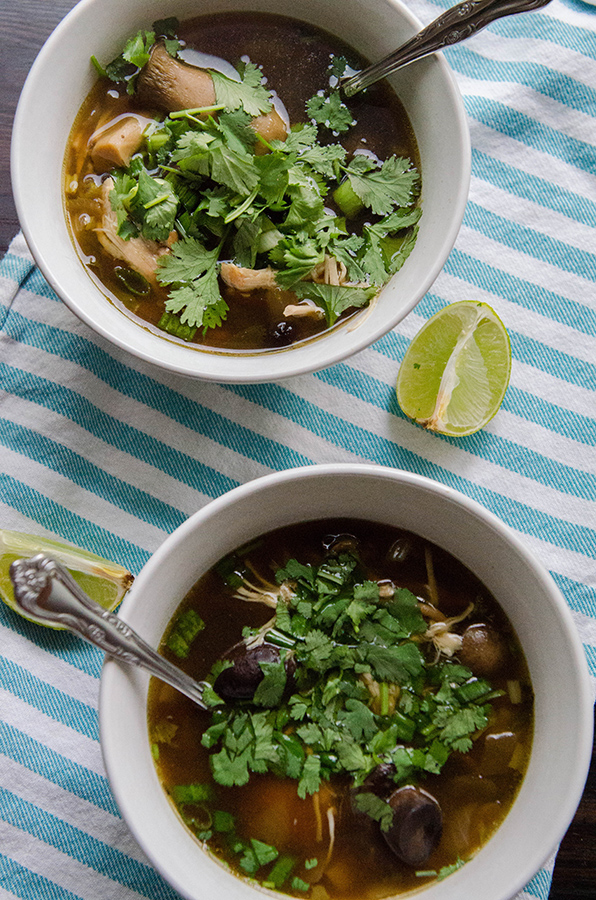 Today is the day after the holiday one might refer to as "Eatsgiving".
And, if you're like me and have a mountain of leftovers in your fridge. you most likely have been playing the part of "The Glutton" in a motion picture sequel known as "Thanksgiving Take Two: Who's The Turkey Now?"  This is a movie that takes place in your own living room on the couch with a plate that's filled up with bird and gravy and stuffing and veggies and ALL THE THINGS. No cameras are present. Just a pair of sweatpants and some shameless crumbs on your shirt from that second piece of leftover pie. Who are we kidding? It's your third piece. You mindlessly ate an entire piece of pie as a snack while making up a batch of broth with your turkey bones. You're nothing if not resourceful. Also, every time I'm saying "you" or "you're" know that I'm definitely talking about me. Yes. I've thrice pie-ed. Also, the plot of this movie is a little thin—unlike the gravy in my mouth corners.
So, what now? Do we carry our excessive turkey consumption into the weekend? That's a lot of turkey you guys. I'm going to be in a perpetual nap state. Turkolepsy. I think that's a thing. It coincides with Early Onset Stuffing-Belly and Eatallthepieitus. I think it's a safe bet to re-purpose those leftovers into something new. Let's make soup. This might just pull us (me) our of our (my) Thanksgiving-Coma.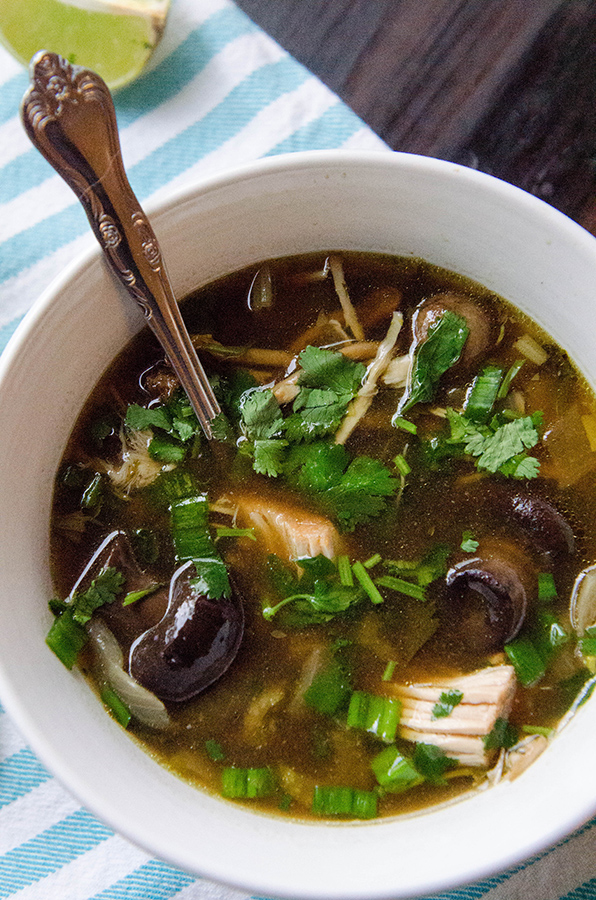 I crafted this recipe a couple of weeks ago in anticipation that I might need some inspiration in my post-Thanksgiving gravy-haze. I originally used turkey tenderloins, which come out amazing. Using leftover roasted turkey also comes out DELISH. Either way, I think you'll dig it. Mushrooms, ginger and kombu all add some Asian flare to the broth. It's the warm liquid hug that my stomach is begging for. It's the answer to that nagging voice deep down in my tummy that keeps whispering things like "Hey, can we get some veggies down here?" and then I just put it in a sleeper hold with another slice of pie. Well, I'm releasing my inner voice of reason from its pie-choked state and trying to make things right again. Does anyone know how long you have to preform CPR on your better judgement before it's gone? Is there some sort of moral-911 I should be dialing? No? Okay… I'll just fire up the crock-pot, and give these leftovers a face-lift. That's right… don't expect me to just quit cold turkey. #puns #dadjokes #sorrynotsorry #heyyyyooooo
Slow-Cooker Turkey & Mushroom Soup With Ginger & Kombu
Ingredients
Soup
2

lbs turkey tenderloin (or leftover thanksgiving turkey)

1

tsp salt

1

tsp granulated garlic

1

tsp ground ginger

1/2

tsp pepper

1

onion, peeled and chopped

4

cloves of garlic, peeled and pressed

1

bunch of celery, chopped

1 8oz

pack of crimini mushrooms

1 8oz

pack of specialty stir-fry mushrooms such as enoki, oyster or clamshells (if you can't find these just add in another pack of crimini mushrooms)

1/3

cup chopped scallions

1/2

bunch of cilantro, chopped

1/2

cup coconut aminos (you can sub in tamari if you don't have coconut aminos on hand, or simply use soy sauce if you're NOT gluten intolerant)

6-7

cups beef broth (or other broth of your choice: chicken, turkey or beef all work well. It's even better if you make it from scratch)

1

piece of kombu
To Garnish
Lime wedges

Chopped scallions

Cilantro

Sriracha
Instructions
If you are using turkey tenderloin, use the salt, garlic, pepper and ginger to spice them up on all sides. If you are using leftover thanksgiving turkey feel free to skip this step. I do however recommend that you add the ginger to the pot no matter what. It helps develop the flavor we are going for.
Place your meat into the slow cooker with the rest of the ingredients listed. Give it a stir and put on the lid. Cook on low for six hours or until the turkey is tender and the broth is rich. Once everything is cooked through, taste again and season as needed.
Serve and garnish with a little fresh lime juice, fresh herbs, fresh scallions and sriracha. Enjoy!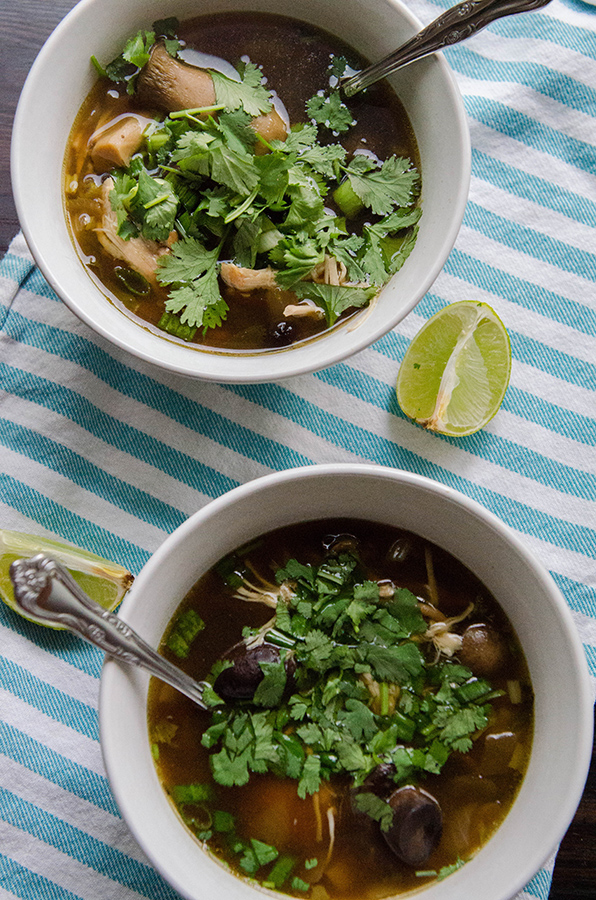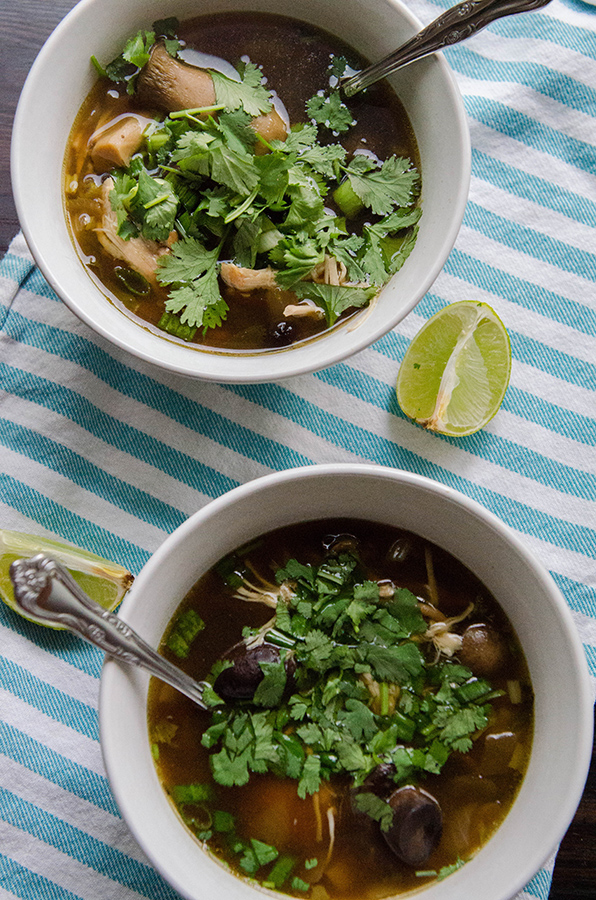 PAID ENDORSEMENT DISCLOSURE: In order for me to support my blogging activities, I may receive monetary compensation or other types of remuneration for my endorsement, recommendation, testimonial and/or link to any products or services from this blog.