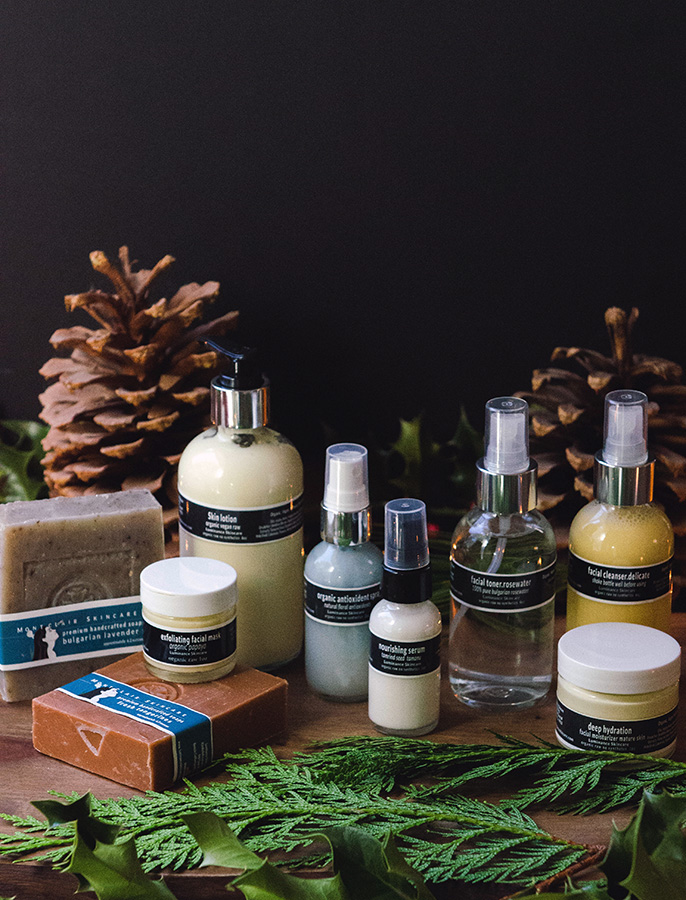 I've spent the last two years on a furious mission to heal from chronic illness. This has meant taking a look at the food I eat, the environment I'm in, the cleaning products I use, and all of the factors that could potentially be adding to the toxic load within my system. This also means taking another look at the beauty and skincare products I put on my face, since anything you put onto your skin is absorbed into your body with as much expediency as if you put it into your mouth and chewed it. It's kind of gross to think about putting soap or face-wash into your mouth, and I'm not suggesting you should. This isn't A Christmas Story, and I'm not Ralphie's Mom. But, wouldn't it be great if the products used on your face were so safe and non-toxic that you wouldn't have to contact poison control if you accidentally took a bite out of the soap (yeah, but don't–k, thanks)? Yes. The answer is yes. How great would it be to flip over your face wash or moisturizer and only find ingredients that you can pronounce, identify, and knew to be nourishing!? Really freakin' great.
As luck would have it, I found Luminance Skincare a couple of months ago. Their products are gluten-free (because, yes…gluten totally hides in skincare and that sucks), vegan, and raw to boot! They sent me some samples, and from the first wash I was hooked. So, today we're teaming up to chat about non-toxic skincare, the art of washing one's face, as well as giving away a whole set of their beautifully-made skincare products (happy holidays to YOU!).
I was lucky to have a chance to chat with Kim, the creator and scientific mind behind Luminance. He dropped some serious knowledge bombs on me. For example, did you know we're 16% skin by weight? I didn't. That's a lot of skin to tend to. Did you know that coconut oil will clog your pores if you put it on your face, but it's great in soaps because of how the molecules change during the soap making process? I didn't know that. I've been drenching my mug in coconut oil for about a year thinking I was doing my skin a favor, even though by the middle of the day I would find myself feeling pretty greasy. The fatty acid profile of coconut oil doesn't lend itself to being well absorbed externally.  As it turns out, it's best for your skin when taken internally. Put it in a smoothie, fry up some chicken legs — but, no need to rub it all over your face. Wanna hear all sorts of tips, tricks and skin science? I asked him a few questions, and you can read his answers below!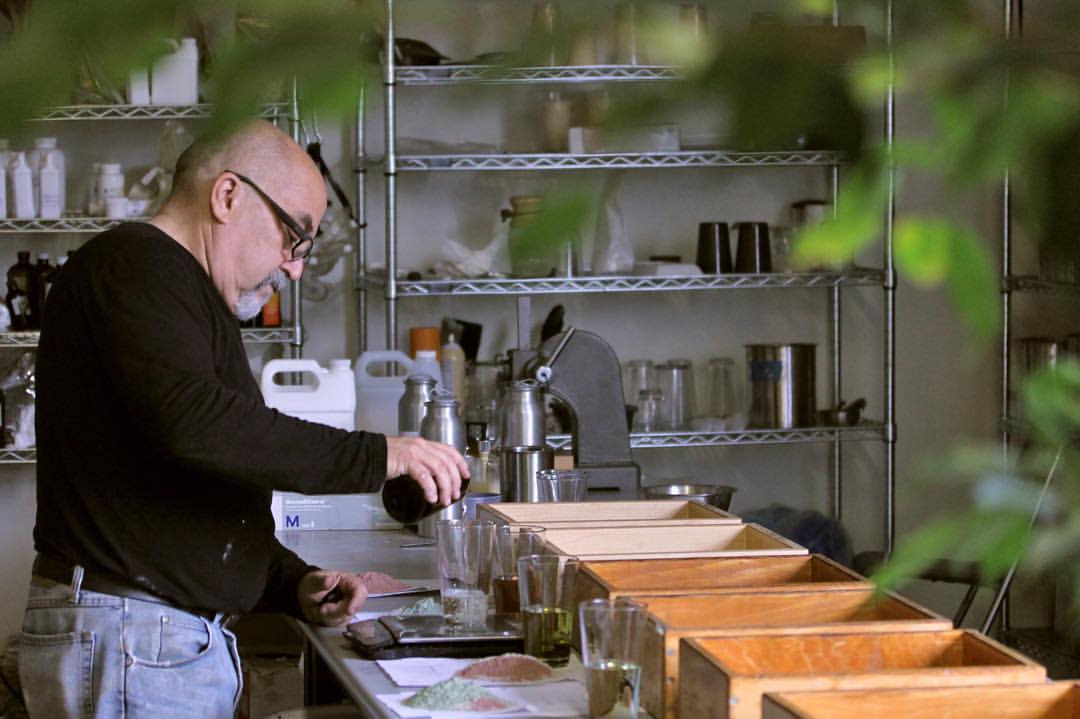 What inspired you to create these non-toxic products?
My wife, Priscilla, was experiencing really awful migraines. Doctors weren't able to find the cause of them, and just sort of pushed a bunch of drugs her way, but she kept getting the migraines. One day we were able to make a connection between fragrances in beauty products and her migraine headaches.  We entered a mall through the back of a department store near all of the perfume and make-up counters and she got and instant migraine. It turns out she was very sensitive to the synthetic petrochemical fragrances used in almost all commercially available beauty products. Even the ones that claim to be "natural" or "fragrance-free" can be big time offenders. If something claims to be "fragrance-free" it still includes something called "masking scent" which is a synthetic petrochemical fragrance designed to make that fragrance smell unscented. Essentially, it covers up all of the gross chemical smells of the commercial toxic ingredients.
Initially, we took a look at "natural" products that were available and already on the market. But, what I found was unimpressive and still loaded with toxic components. These products still included chemicals and things like formaldehyde. The problem with cosmetics is that the toxic chemicals used aren't regulated by the FDA. Many of the ingredients in commercial skincare are known carcinogens, but they get a free pass since we aren't eating them. The thing is, if you put something on your skin, you're still absorbing it. You're eating it, you just didn't have to chew it.
So, I started to take matters into my own hands and created soaps for my wife to use that wouldn't make her sick. I became passionate about it.  At the time I was a very successful electrical engineer in Silicon Valley. I wasn't worried about money. So, I spared no expense to find the best products to make natural and synthetic free skincare. What started out as trying to help my wife, turned into a passionate pursuit with an extensive product line. We make some of the most natural, non-toxic skincare on the market. We are a "do no harm" company. Everything is vegan, raw, and naturally gluten-free.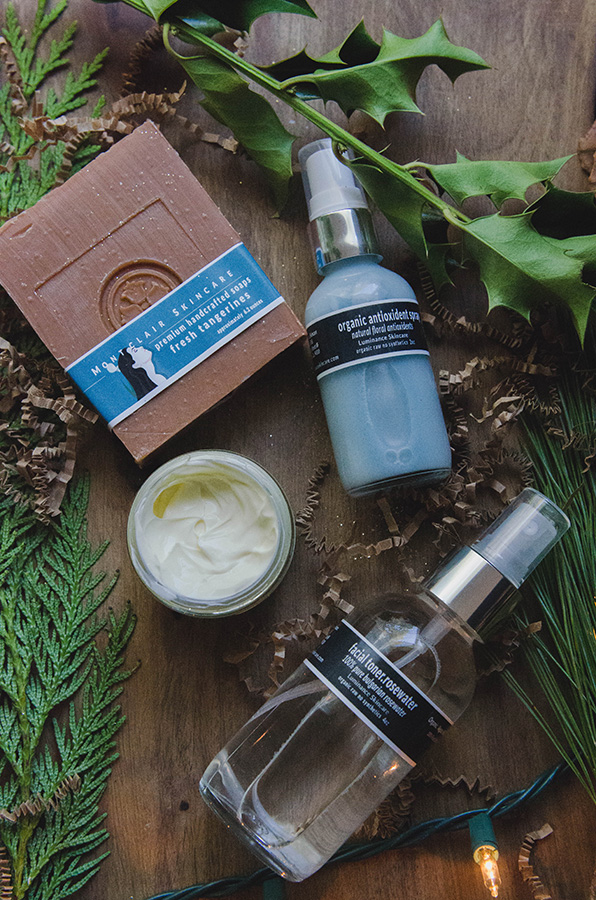 What are some red flags I should  look for when I'm considering purchasing a skincare product?
As far as fragrance goes, be wary of the word Parfum. This is just a fancy way to say it's full of chemical fragrance. Also, look for products that boast about their use of 100% pure essential oils. Companies are proud of that, and it will be on the bottle. Some companies will say there are essential oils in their products, but it won't be the pure essential oils. Don't be swayed. Look on the back. Also, if you're gluten-free you want to be wary of binders in commercial products such as xantham gum and polysorbate as these can contain wheat derivatives.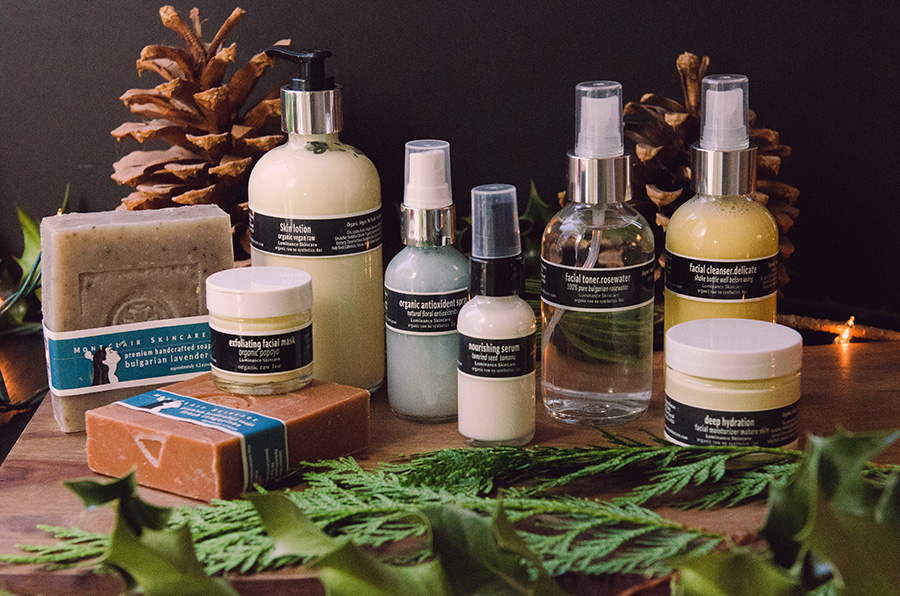 What's the number one mistake you see people making with their skincare?
Hands down, it's the way people clean their face! You're looking for a cleanser that is not synthetic and also has a good PH balance. Synthetic cleaners are trying to duplicate how real soap works, and falls short in several ways. Soap is actually a great facial cleanser, but the PH in real soap is too high to be optimal, so we balance that naturally with a blend of oils. You'll notice when you get a bottle of our Delicate Facial Cleanser, that it separates and you must shake it before use. What you're seeing is the oil and herbal extracts that help to lower the PH of the soap sitting on top, and below that is the real soap. Once you shake it together, it is naturally and perfectly PH balanced for your skin.  Use the facial cleanser and massage your face gently, rinse it off with only a couple splashes of water and pat dry gently with a clean cloth. You want the skin to be moist and soft instead of overly rinsed and squeaky. After gently cleansing your face, you want to apply a toner. The alkalinity of tap water challenges the skin, which can make skin more oily or combination. By using a toner, like our Rosewater Toner, it helps to adjust that balance. And, after you tone with a few spritzes of the rosewater, you simply moisturize well with something like our Hydration Facial Moisturizer.
Can we talk about exfoliation? As a teenager, I used to ravage my face with something that felt like sand and it hurt. This is probably not good. What's the best way to exfoliate?
Haha. Yes, that's not good. My general motto on all things skincare is, "Easy does it. Be Gentle." Taking care of your skin should not hurt. Ever. Skin is pretty amazing. It is a self-replication protection membrane that is dynamic. If you use a harsh scrub to exfoliate, the skin perceives that it is being attacked. It protects itself by forming calluses. It's similar to if you do a lot of construction work, or work with your hands a lot, they will form calluses and become rough. Well, the same thing happens to your face when you exfoliate like that. Another problem with abrasive exfoliants or peels is that they make you lose both the skin cells on your face that are dead and alive. The goal is to only strip away the dead skin cells gently. When we strip away the live cells that aren't broken or ready to be stripped away we leave ourselves vulnerable to UV damage. Luckily, gentle exfoliation is pretty easy. When you're washing your face, use your hands, fingertips and palms to give yourself a nice and gentle massage. This will take off the skin that needs to be removed. I even tell people not to use a washcloth–it's unnecessarily abrasive. Using this finger massage cleansing method acts as a natural exfoliant, stimulates circulation in your face and works as a micro muscular massage. All good things. Then, every two to three weeks, you can use the Papaya Enzyme Exfoliant Mask. Papaya is interesting. When I was younger and worked in kitchens, I saw chefs use papaya enzymes in very high concentrations as a meat tenderizer. It breaks down what holds skin cells together. I use a very diluted concentration of these enzymes in this mask, and the dead skin cells fall off without any scrubbing. It's a discriminating exfoliant since it breaks down the dead cells, but leaves the living cells intact.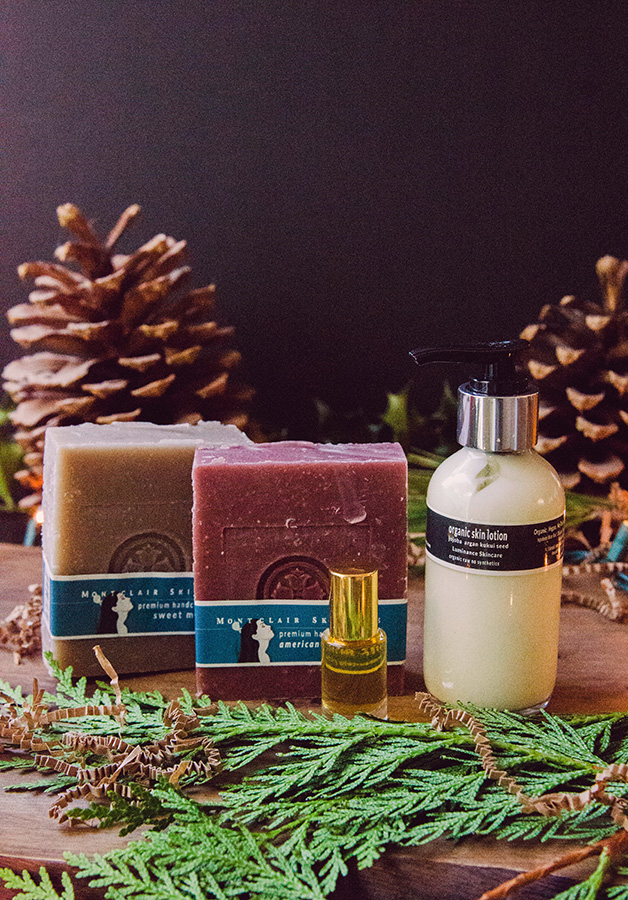 The transition of the seasons has left my skin feeling a bit flustered. What tips do you have for our skin in this colder, harsher weather?
The Skin Butter that we carry is amazing for dry skin. It's the richest moisturizer that we make. You can also try oil cleansing with pure grapeseed oil before you do your facial cleansing routine. This is an Ayurvedic practice. Put a little bit of grapeseed oil into your palm and use your fingers to massage it into your face. Allow it to sit for a couple of minutes, and then resume your normal skincare routine. This should help with dryness. Young people have a tendency not to believe me when I tell them to wash their face with oil. They're skeptical that it will make them break out, but it wont. The oils we use in our products are some of the best things you could put on your skin. However, people often make the mistake of putting coconut oil on their faces. Due to it's fatty acid profile, it doesn't make a good skin cleanser, and instead might clog your pores. The same goes for olive oil. So, if you're using either of those oils on your face, I would recommend swapping them out with avocado oil, grapeseed oil, rosehip oil, kukui nut oil, argan oil or sweet almond oil. All of those are very nice.
If you had to pick a couple of products as your absolute favorite, which would they be?
The Peppermint Foot Cream! I developed this foot cream since I have type two diabetes and need to be very careful with my feet. It's wonderfully moisturizing. It also has three herbal antifungal and antibacterial compounds. It takes ten minutes for the moisture to absorb into your feet completely. I like to joke with people that this foot cream is actually a marital aid. You and your spouse can give each other foot rubs, and then you have ten minutes where you have to wait before you can do anything else. You can talk about your day, and catch up. My other favorite products are of course the facial cleanser, toner and moisturizers. Oh, and the jasmine sambac! It smells amazing. You can just roll a little on your wrists. We get it straight from India, and it's the highest quality jasmine sambac you can get. I have a hook up.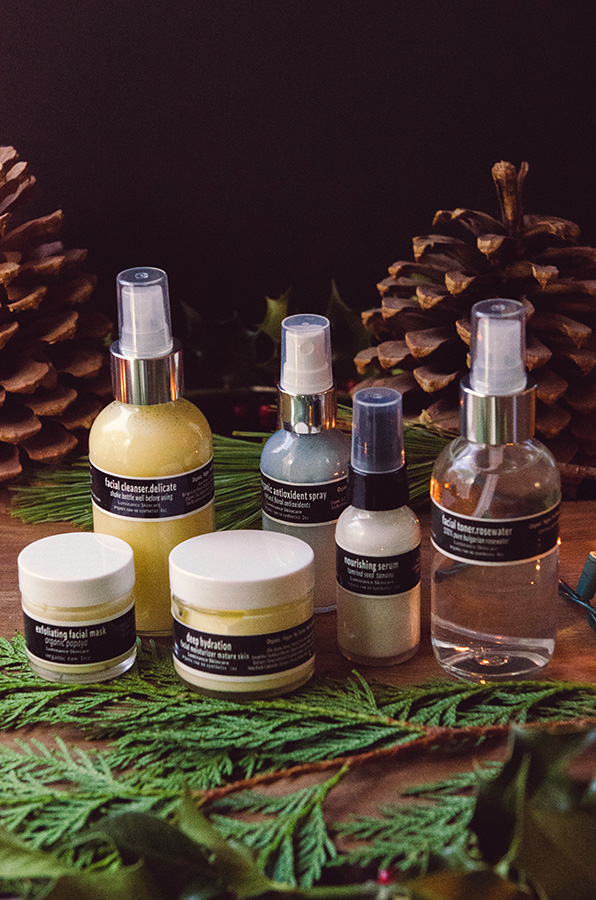 Isn't Kim great? I love when people are passionate about what they do! I bet after all of that, you'd love to try some of these awesome products! Well, you're in luck! Since it's the holidays, the team over at Luminance has put together some really beautiful gift boxes. I'm going to give you a chance to win the Large Facial Gift Box! It contains everything that's pictured in the above photo, and some of my favorite products I've tried so far, such as the cleanser, toner and that amazing exfoliating mask!  They've also extended a 15% off deal to our readers when you enter in the code soletshangout at checkout!
You're going to love these products. Detoxifying your skincare routine totally doesn't have to be a bummer. Enter to win below! ♥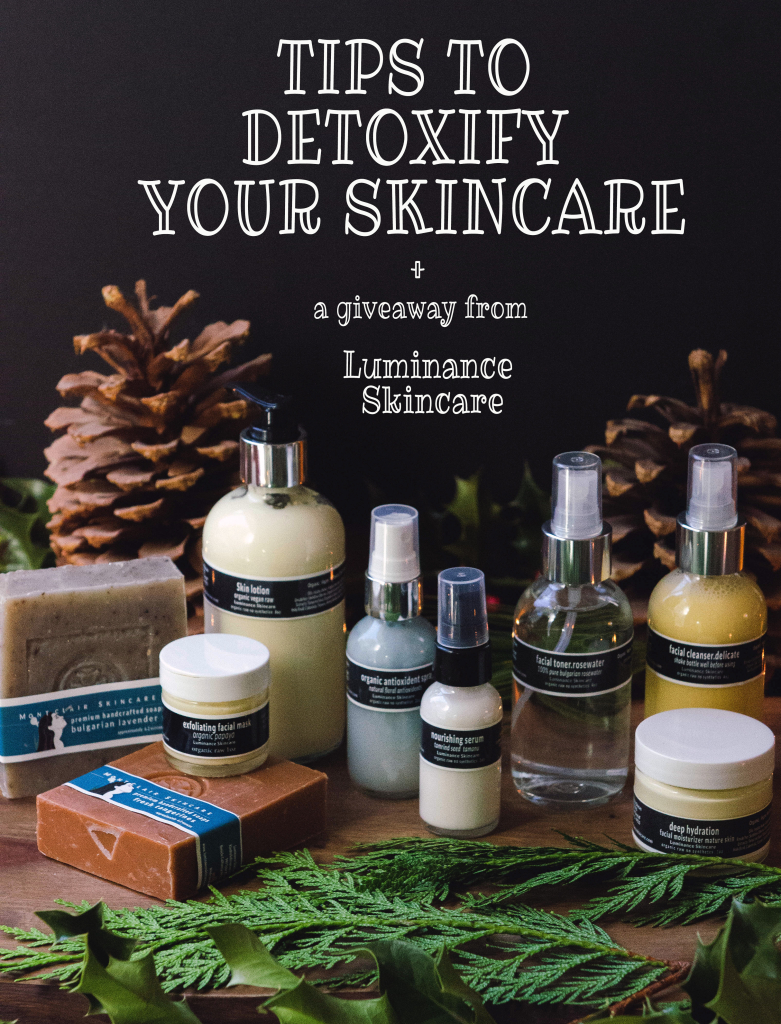 PAID ENDORSEMENT DISCLOSURE: In order for me to support my blogging activities, I may receive monetary compensation or other types of remuneration for my endorsement, recommendation, testimonial and/or link to any products or services from this blog.