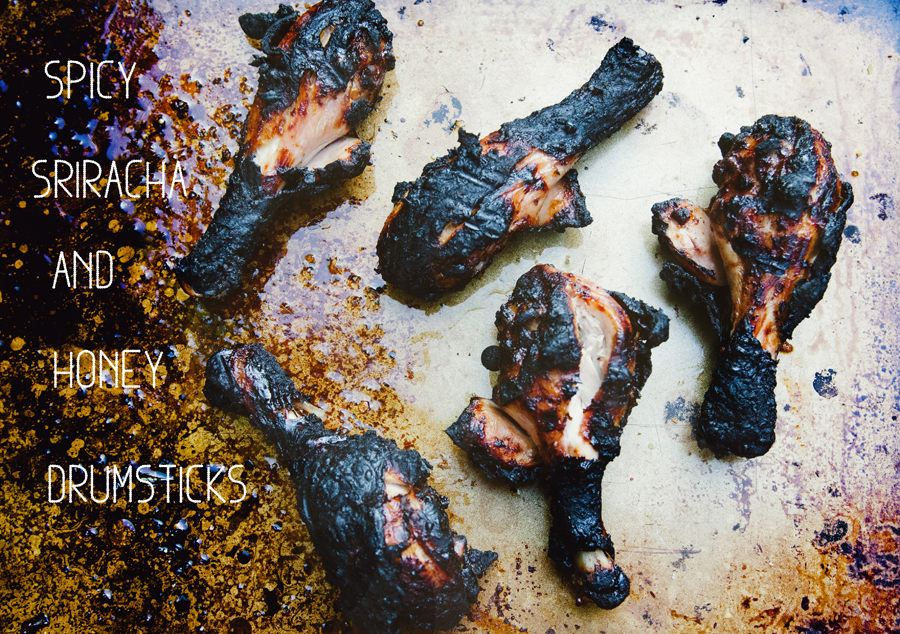 It's HOT. Summer has arrived.
Who's sweating? Raise your hands…
If you're in California, I bet your hand is up. Unless you are one of those crazy bears that claims they don't sweat. You know the type. That girl who wears make-up to the gym. You look at her and think "Jeez. Big mistake. After this kickboxing class she is going to look like a clown." You almost feel sorry for her. The thing is, she is one of those non-sweating unicorns. The intense workout only makes her more glow-y and sparkly. You on the other hand (me) are sweating so heavily that it looks like you have just gone on a deep sea adventure. Your cheeks are red, your upper lip is moist, you try to put on your sunglasses, but they fog up from your general swampy-ness.  Moist. No one likes that word. Also, no one likes to be moist. Especially on their upper lip. Ugh. What? Why do I say these things. Gag. I don't know if I can make that sentence sound better. Help.
Isn't there some stupid saying out there claiming that "Women don't sweat, they glisten." FALSE. Unless you are that glow-y unicorn girl. Then you glisten. You are beautiful. I am jealous of the way your bangs aren't turning curly in this heat. Stop it.
Anyway…
Since we are already so gosh darn hot, let's light the grill make something spicy, sticky and messy. Let's flavor punch our mouths. Maybe the heat from these drumsticks will distract from the fact the backs of my knees are sticking to this chair. Maybe I will get messy enough eating them that I wont look like a fool when I go to stick my whole body under the cold outdoor hose after dinner. Awesome. Maybe they will reset our temperature. Maybe they will make my upper lip stop "glistening" (nope). Oh, well… either way, these are delicious. They are simple to make, and satisfying to eat. I think these would grill up real nice for your 4th of July BBQ. Just sayin'. Who doesn't like a sweet and spicy combo?!
Ok, time to break out the sriracha.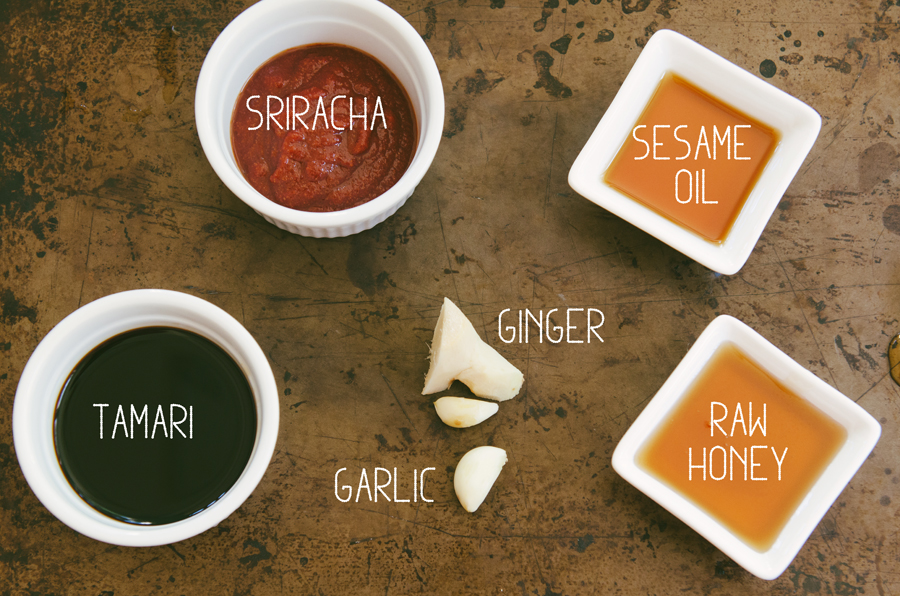 Look how easy that marinade is.
Add all of your ingredients together in a bowl. Grate up your ginger and crush your garlic. Whisk it away.
Let your little drumsticks take a spicy marinating bath for an hour or two. You can turn them half way through your marinating time to make sure they are nice and coated everywhere. Now you have some time. What are you going to do? Are you going to catch up on The Bachelorette? Are you going to remember to water your plants? Is your tomato plant burnt and crunchy too? Whoops.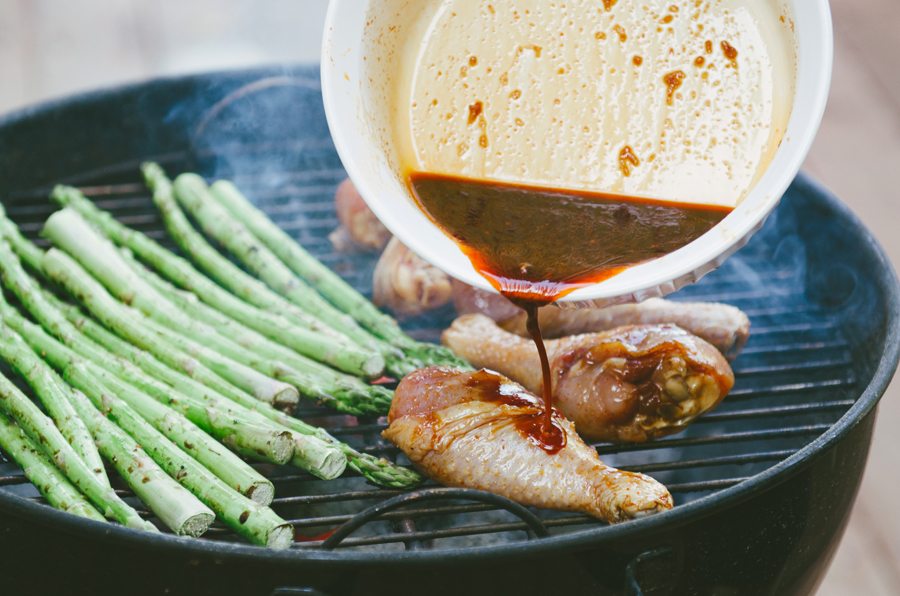 Now it's time to grill! Look at my hubby, not wanting to waste any of that glorious marinade!
This is what they look like when they are done. Yum. I love mine to be slightly charred. I enjoy the crispiness of the skin as I tear it off the bone. Sounds graphic, but yes, I stand by that statement.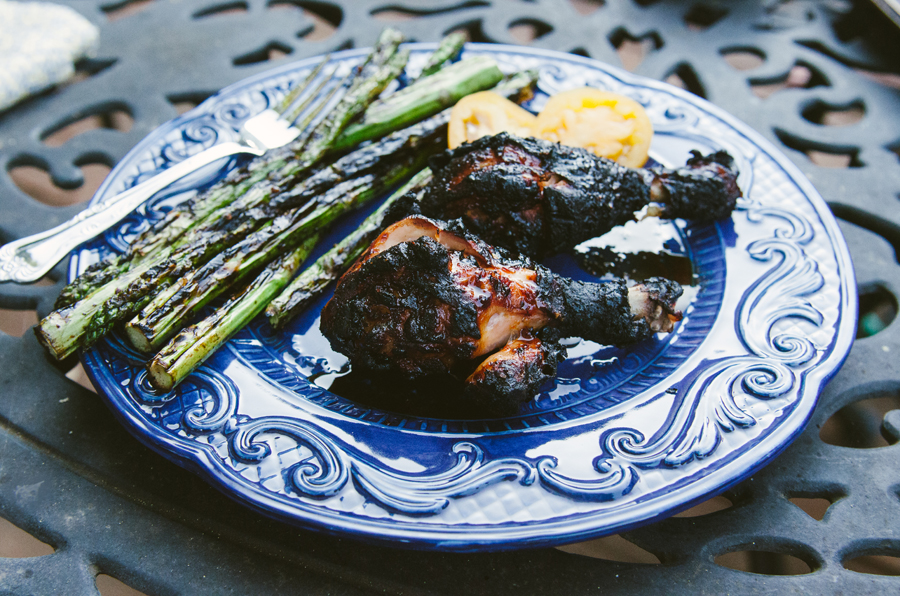 Serve it up with your favorite grilled veggie, and you've got yourself dinner. Since my husband and I like things spicy, I whipped up a little extra dipping sauce on the side. It's not necessary, but it sure adds an extra level of flavor. Yum. Enjoy!
BTW, Did you see that this little blog of mine was featured over at Beard and Bonnet? You should swing over there and check it out. Stay a while. Poke around. Meg makes some incredible food. You will love it.
Also, as I'm sure you've been informed many a time, Google Reader is no more. In order to follow my blog with ease, I recommend that you follow me on Bloglovin or Feedly. Both are easy to sign up for. You wouldn't want to miss out on your favorite blog posts. Heck, while you are at it, don't hesitate to subscribe directly to So…Let's Hang Out. See the subscribe section to your right? Just put in your e-mail address and click the button. When I have a new post, it will be sent directly to your inbox. No guess work. I promise never to spam you. That would just be rude.
Ok, I am going to go and take a cold shower now. Stay cool, Amigos.
Spicy Sriracha & Honey Drumsticks
Ingredients
Marinade
1/4

cup sriracha

1/4

cup tamari (use coconut aminos for paleo)

2

tbs dark sesame oil

1/4

cup raw honey

2

small garlic cloves, crushed

1

inch piece of ginger, grated

5-6

chicken drumsticks, skin on
Dipping Sauce
1

tbs honey

1

tbs sriracha

1

tbs tamari

juice of 1/2 a lemon
Instructions
Combine all of your marinade ingredients in a bowl that will be large enough to add your chicken drumsticks to. Whisk your ingredients together until they have all combined.
Once your marinade is combined, add in your drumsticks. Roll them around until they are all covered in the juices of the marinade.
Cover and refrigerate for an hour or two. Half way through your marinating process, turn your chicken to make sure your marinade soaks into all sides.
Once your chicken is done marinating, light your grill. I used a charcoal grill. Once the grill is heated, place your chicken onto the grill.
You can control the heat of your grill by using your BBQ lid. I like my drumsticks charred, so I opted to leave the lid off for most of the grilling. If you want less of a char, use your lid. You are going to cook your chicken for at least 12 minutes a side, or until the internal temperature of your chicken is 165 and juices run clear.
Serve your chicken with a bit of the dipping sauce and your favorite grilled veggie! Enjoy! Making this recipe for more than two or three people? Just double it up.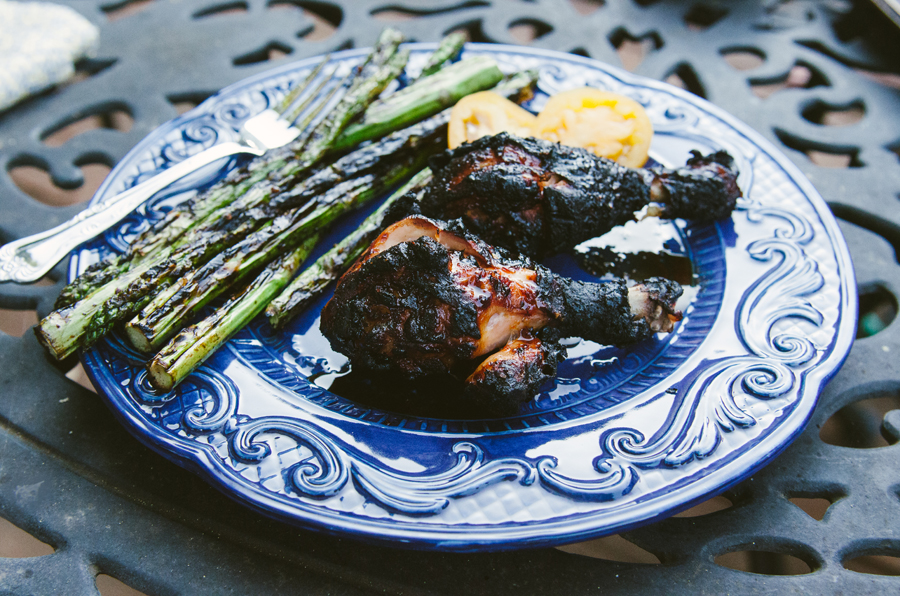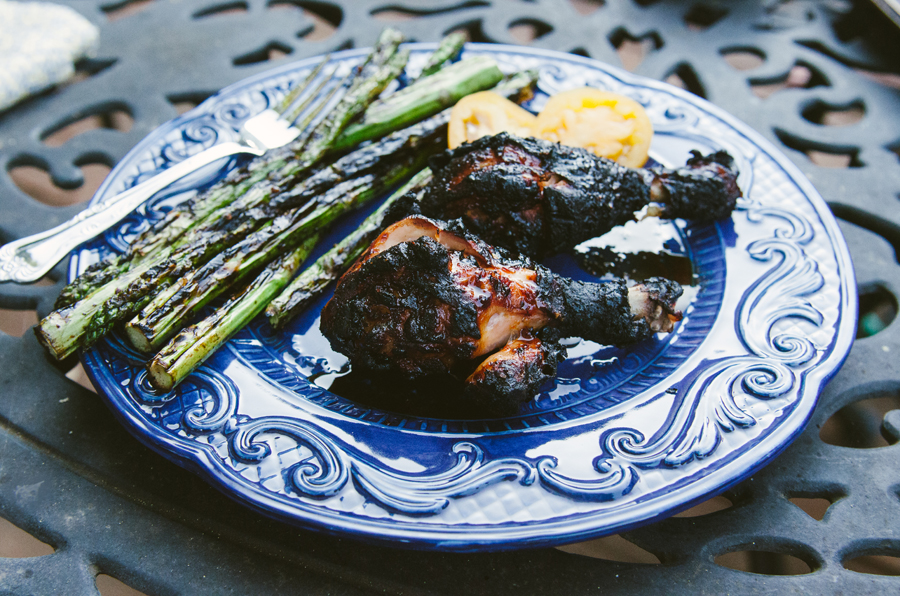 PAID ENDORSEMENT DISCLOSURE: In order for me to support my blogging activities, I may receive monetary compensation or other types of remuneration for my endorsement, recommendation, testimonial and/or link to any products or services from this blog.