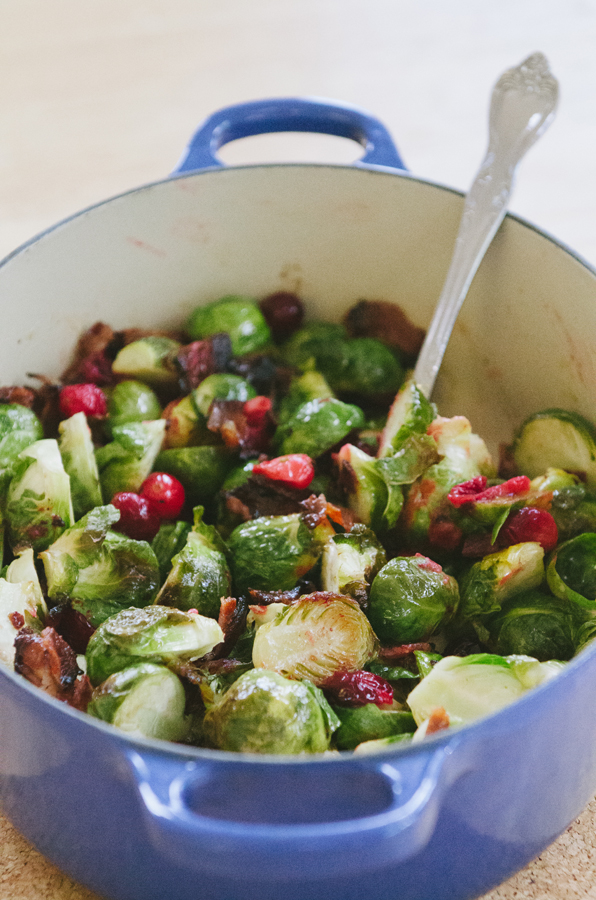 Okay, so I've been getting a little side-dishy lately. We've made Butter & Wine Roasted Mushrooms, Bourbon & Honey Glazed Carrots and now I'm punching you in the mouth with these Brussels Sprouts. Thanksgiving is upon us in less than a week, and I just want to make sure you have some bangin' gluten-free side dish selections to accompany what is sure to be a hefty meal of turkey and all sorts of other incredible things. Is it weird that I am drooling just thinking about it? I plan to imbibe with a Pomegranate Margarita (or two) as well as sink my after-dinner teeth into one of these Gluten-Free Buttermilk Apple Hand Pies. Yes, yes. You guessed it. I will be wearing something spandex.
It's always an awesome moment when you realize you have a package of bacon in the fridge. Yesterday, I had one of these awesome moments with myself. I was going through our meat drawer and came across a forgotten package of this cured-salty-meat-of-the-Gods (that's what we're calling bacon these days) I had purchased earlier in the week. It's kind of like slipping into your winter coat for the first time since last season and finding a twenty dollar bill in the pocket. It feels special. * Note: after writing that sentence I snuck off to check the pockets of my winter coats. It ain't nuthin' but suspicious pieces of Kleenex and throat lozenges. Ew. You can't win 'em all.*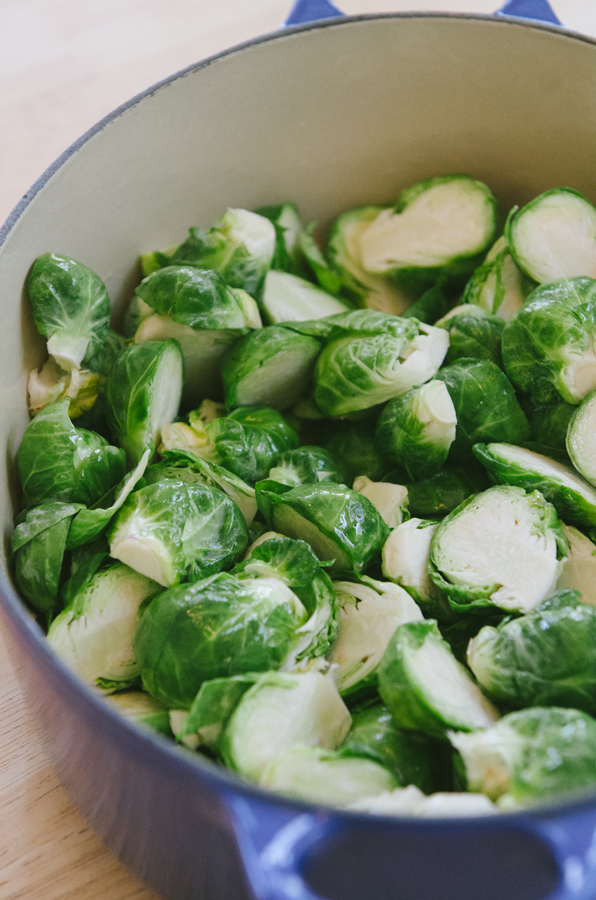 How are we feeling about brussels sprouts these days? I am ALL about them, but that wasn't always the case. You can read about my tumultuous relationship with sprouts and get a crazy good recipe for this One Pan Crispy Chicken Legs and Brussels Sprouts here. I legitimately thought they were sent to this earth to poison us all. Then I wised up and cooked them properly. Now, I'm obsessed! I could eat these things every day of the week. You know what makes them even better? Take roasted sprouts, add some cranberries, add some bacon and then slather it all with a mix of honey and dijon mustard. I mean, do I have to convince you, really? I think the general consensus is that bacon makes everything better. If you happen to be a vegetarian or a vegan you could sub in veggie bacon or just omit it altogether. You will still get plenty of great seasonal flavor between the sprouts, cranberries and the dressing.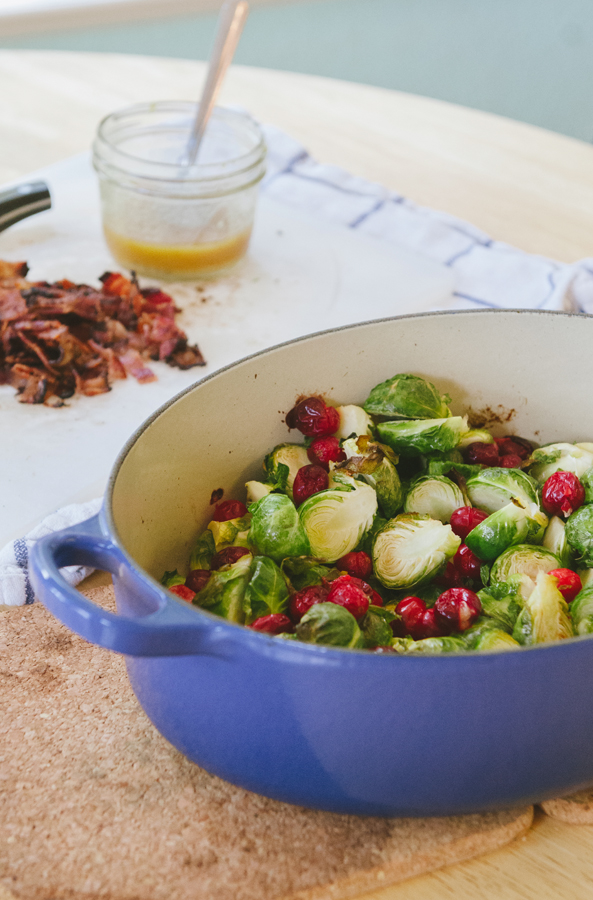 While your sprouts and your cranberries roast, use that time to fry up some bacon and prepare your honey and dijon dressing. After your cranberries and sprouts have gotten all roasty, you simply add in your bacon and your dressing and stir it up. Make sure to try and coat all of your sprout mixture with the dressing. The sweetness from the honey helps to balance out the tartness of the fresh cranberries.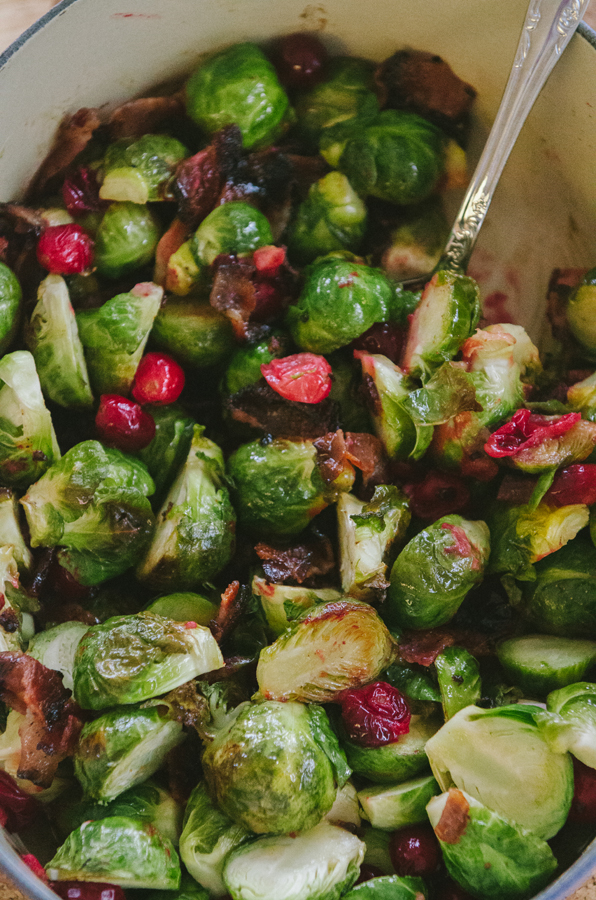 Do you wanna put your face in that? I do. Oh wait… I did.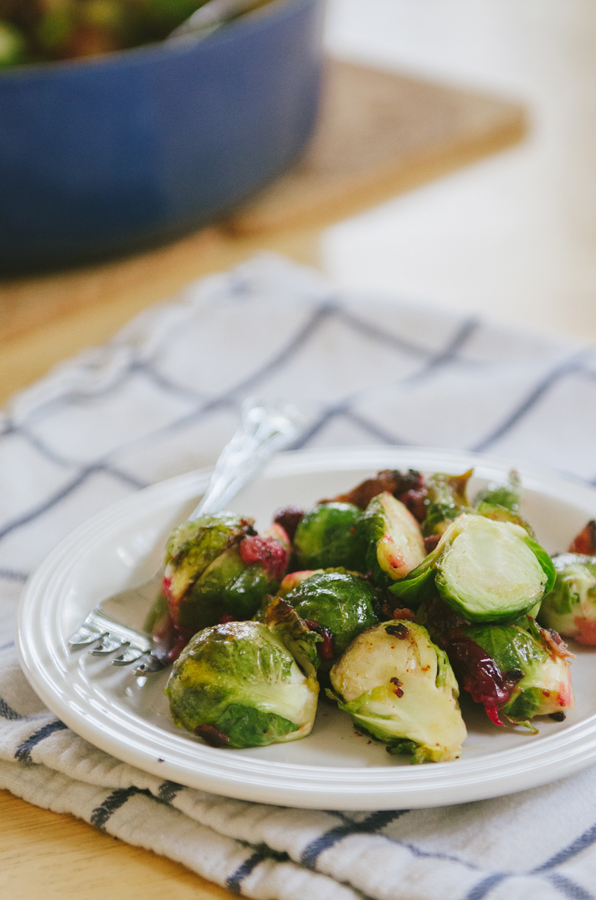 Serve it as a side dish at your Thanksgiving dinner, or simply eat it in semi-large quantities for lunch. That's what I did. No regrets.
I hope you enjoy, Friends! xox
Bacon & Cranberry Roasted Brussels Sprouts With Honey Dijon Dressing
Ingredients
Roasted Sprouts
1

stalk of brussels sprouts, removed from stalk, cleaned and halved

2

tbs olive oil

1

cup fresh cranberries, washed

7

pieces of good quality bacon, fried till crispy and then cut into bite sized pieces

salt & pepper, to taste
Dressing
1/4

cup raw honey

1

tbs dijon mustard

2-3

tbs olive oil
Instructions
Preheat your oven to 400 degrees
Wash and half all of your brussels sprouts. Add then to a bowl and toss them with 2 tbs of olive oil. Salt and pepper them.
Add your sprouts to a roasting pan. I used a french oven like this one. Roast sprouts by themselves for 20 minutes.
While your sprouts are roasting, fry up your bacon. After your bacon is fried, set it aside to cool. Cut it into bite sized pieces and set aside.
Remove your sprouts from oven and add in your fresh cranberries. Allow them to roast together for 8-10 minutes.
Remove your sprouts and cranberry mixture from the oven and allow it to cool slightly.
Mix together all of the ingredients from your dressing and whisk until it is all well combined.
Add your bacon to your sprouts and pour the dressing on as well. Using a spoon, mix everything together so that the sprout mixture is covered with the dressing mixture.
Serve and enjoy!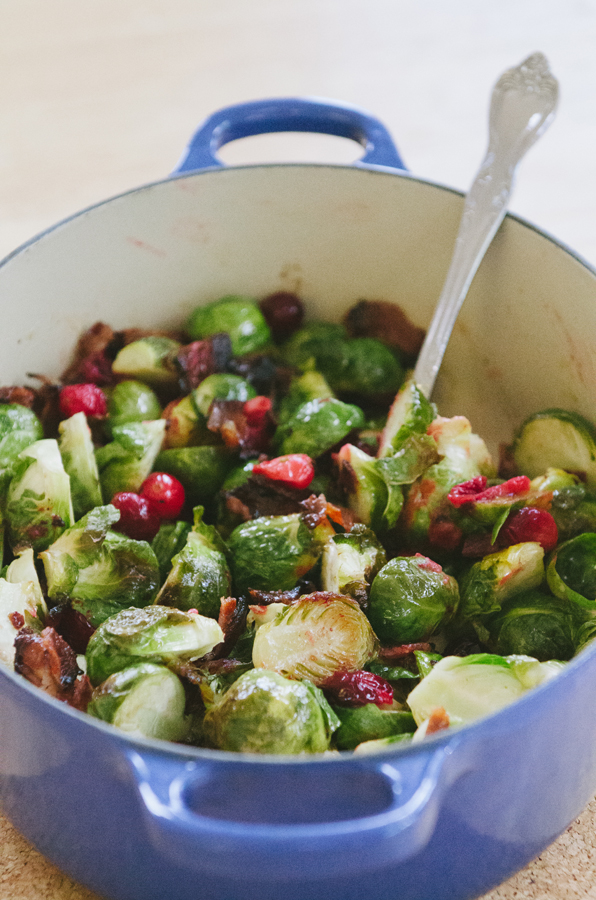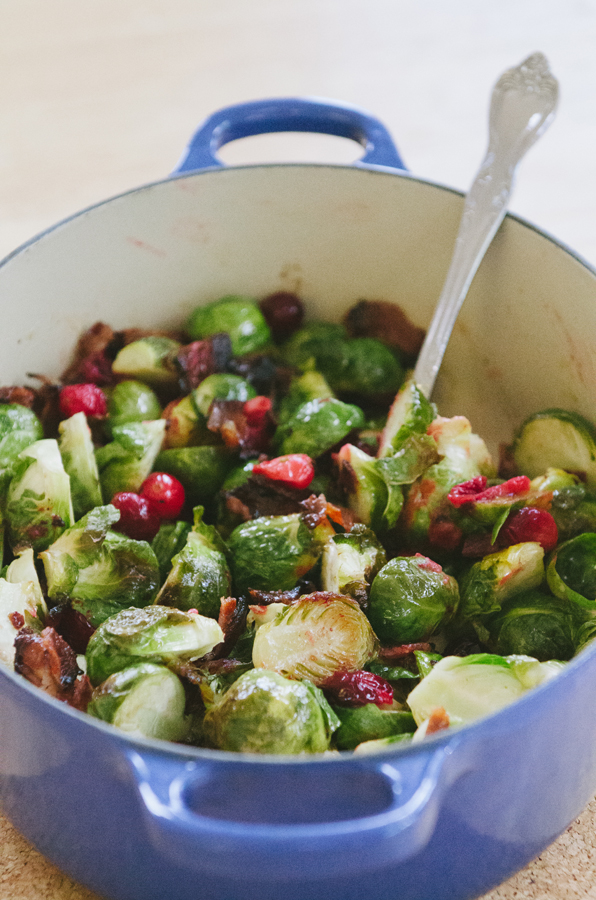 PAID ENDORSEMENT DISCLOSURE: In order for me to support my blogging activities, I may receive monetary compensation or other types of remuneration for my endorsement, recommendation, testimonial and/or link to any products or services from this blog.