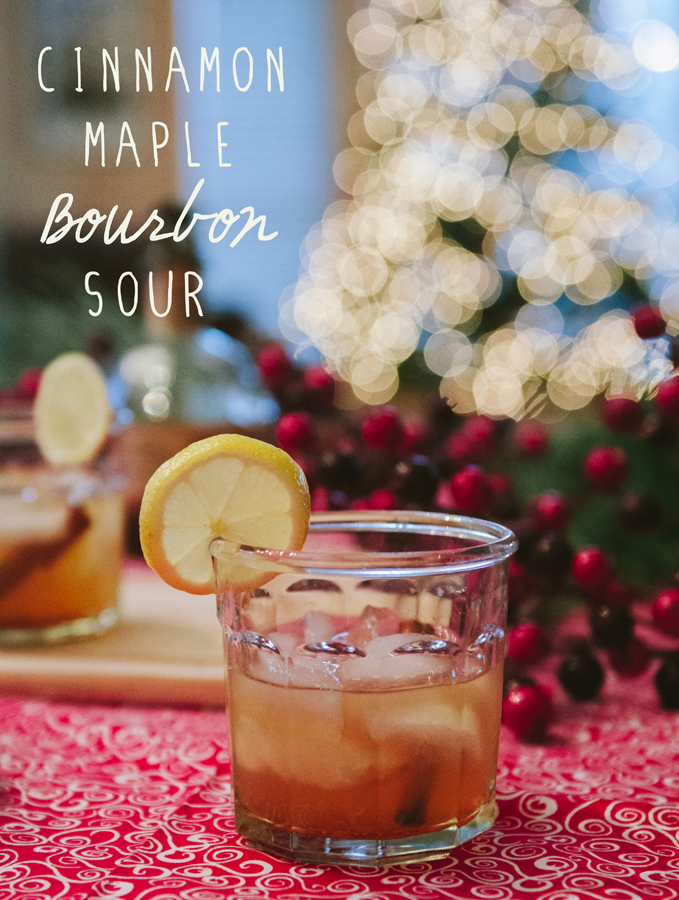 Note: This post was written under the influence of a Cinnamon Maple Bourbon Sour. Although delicious, they may influence you to write an open and loving dialogue directly to Bourbon itself. I just thought you should know. I apologize if you feel awkward. I know I do. Carry on…
Hello, Bourbon.
Funny to run into you here. We just keep on meeting like this, don't we? I'm into it.  I'd much rather run into you than say, Mike's Hard Lemonade. I ran into that dude a lot in college. He was a real headache. So, what I'm trying to say is… It's nice to see you.
It's no secret you're one of my favorites. I've infused you with apples and you helped me celebrate my birthday. I've poured you over muddled raspberries in the summertime. I've mixed you with champagne in times of celebration. We've been through a lot together. I sometimes just keep it simple and sip you straight up. After all, you're just as pretty without all that makeup (I hear flattery gets you everywhere–is it working?).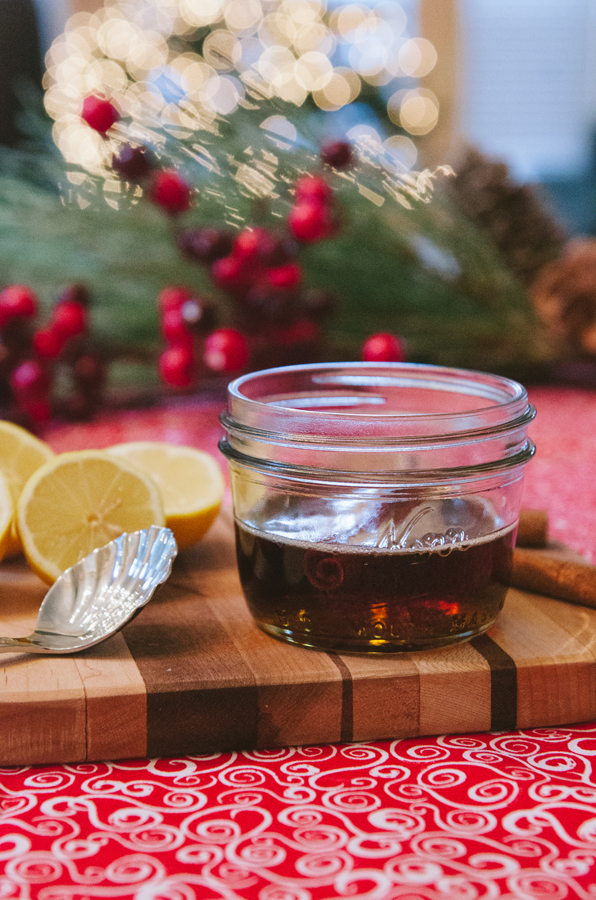 So, with the change in season, is it any surprise I'm making you into this Cinnamon Maple Bourbon Sour? Okay, maybe it's not surprising, but it's going to be delicious. Let me set the mood for you. I'm going to spice up maple syrup with cinnamon and then let you two mingle. Get comfy. Don't be shy. Tell her she's pretty. Stare her deep into her cinnamon-swirled eyes and ask her about her hobbies. Girls like that.  Don't worry, I'll light up the Christmas tree and provide some mood music. Do you like the Mariah Carey Christmas CD circa 1994? Me too. Let's crank it. Or we could listen to my version of a Christmas mix-tape. Yeah, I spent time making this. Don't judge me. Alright, cool. It's definitely the holidays. I feel all warm and fuzzy inside. What's that? You and that cinnamon maple syrup want some privacy? Um… okay. I'll be back in minute with a couple of lemons. No funny business please.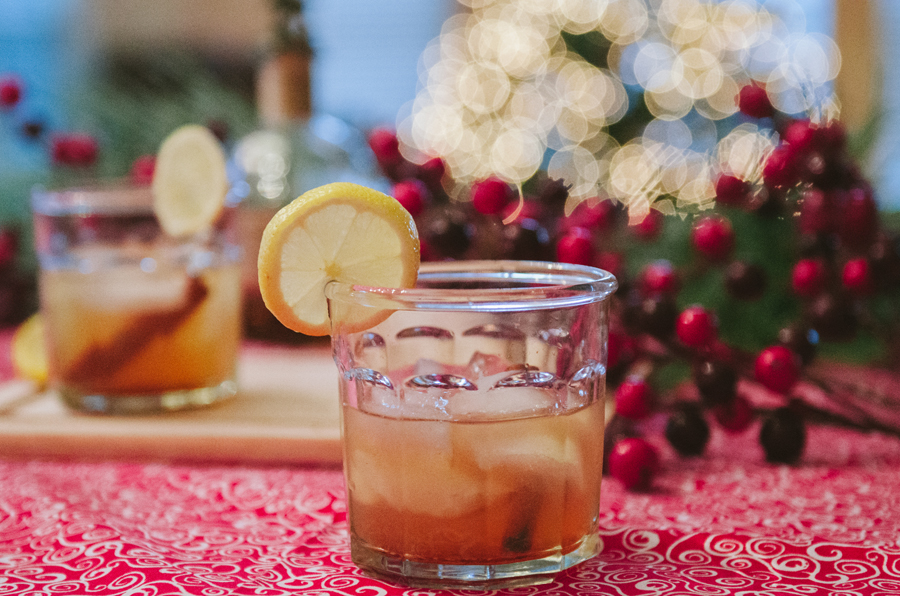 Okay. I'm back with those lemons.
You two look awful cozy. Can you make room for this lemon juice? How about some ice cubes? Good. I'm going to stir you with a cinnamon stick. 'Tis the season, amiright? Perfect.
Okay, so this has been really fun. We should do this more often. I'd love to have you over again and introduce you to my friends. I think you'd really get long. Would you like to come over for Christmas this year? Sounds like a plan. No, don't worry… you don't have to bring anything. Just yourself.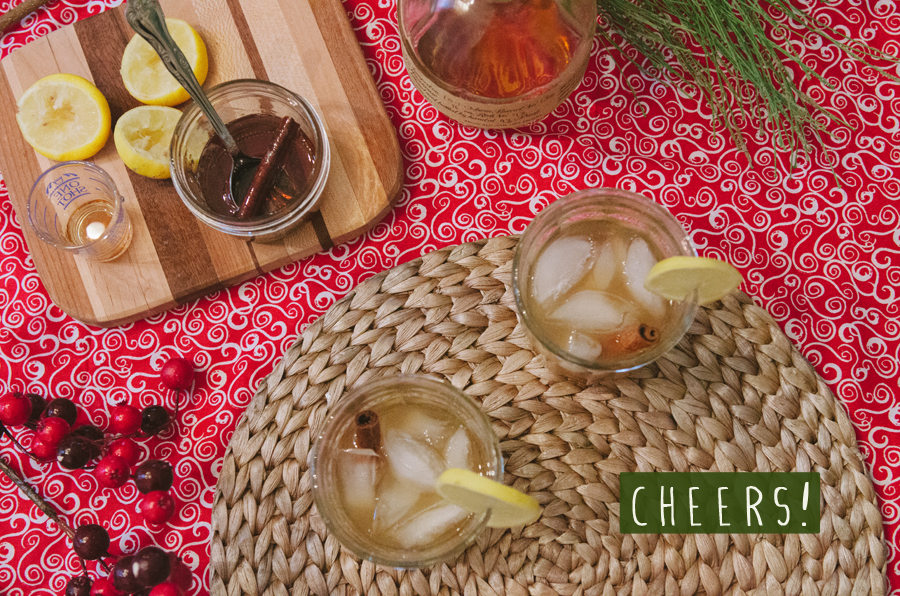 Phew! I'm so glad we got through that. Are you still here? Bless you.
This post was crafted for The 12 Days of Paleo Christmas. I teamed up with all of the bloggers listed in the graphic below to bring you some AWESOME holiday recipes. I've been sharing them daily on my Facebook page, and will be sharing a round up of all of the recipes on the final day! Just a little something to look forward to.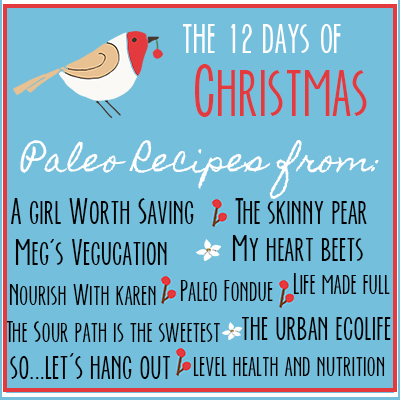 Cinnamon Maple Bourbon Sour
1 drink
adjust servings
Ingredients
Cinnamon Maple Syrup
1/2

cup maple syrup

1

cinnamon stick
Cinnamon Maple Bourbon Sour
2

shots of Bourbon

Juice from 1 lemon, freshly squeezed

1

shot Cinnamon Maple Syrup

Ice

Lemon wedge, for garnish

Cinnamon sticks, for garnish
Instructions
Add your maple syrup and a cinnamon stick to a small sauce pan. Heat it up over low heat until it comes to a boil.
Allow your syrup to simmer for five minutes or so over low heat.
Remove from heat and allow it to come back to room temperature. Put in a container, such as a mason jar.
Add your bourbon, lemon juice and maple syrup to a cocktail shaker. Shake vigorously.
Pour your drink over ice.
Garnish with a lemon wedge and a cinnamon stick.
Enjoy!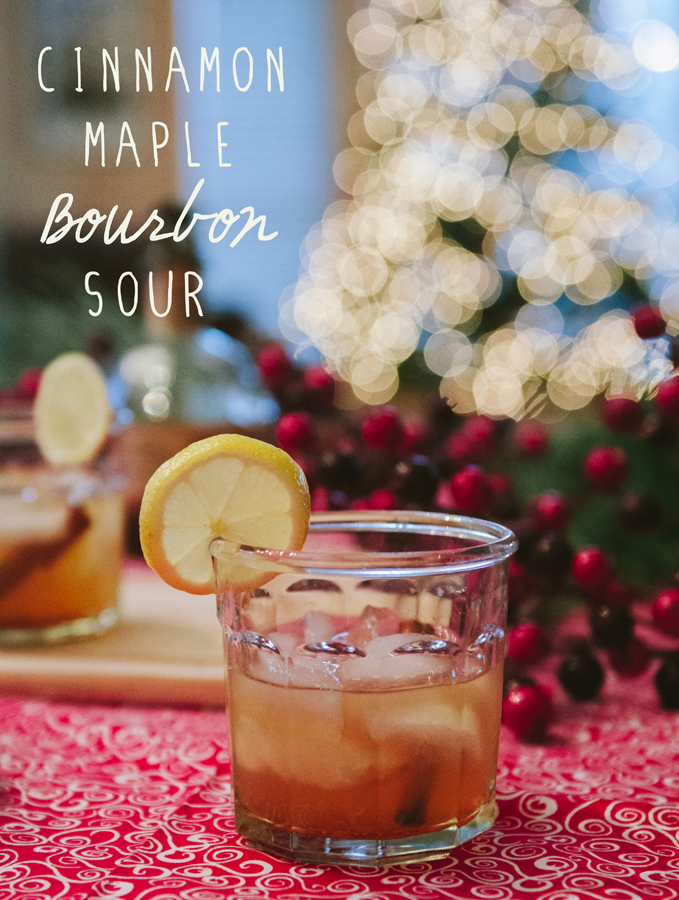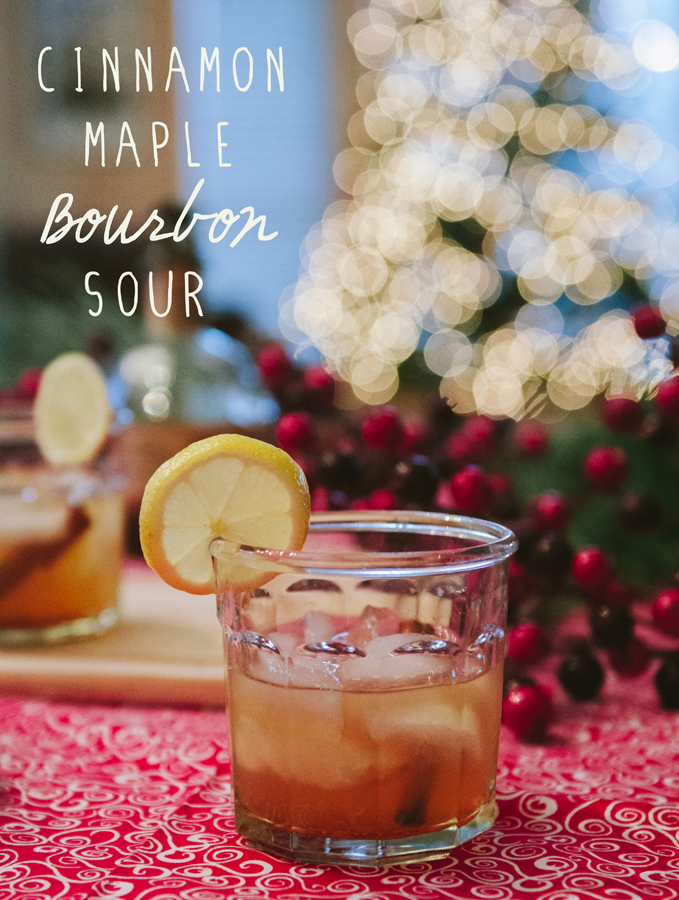 PAID ENDORSEMENT DISCLOSURE: In order for me to support my blogging activities, I may receive monetary compensation or other types of remuneration for my endorsement, recommendation, testimonial and/or link to any products or services from this blog.