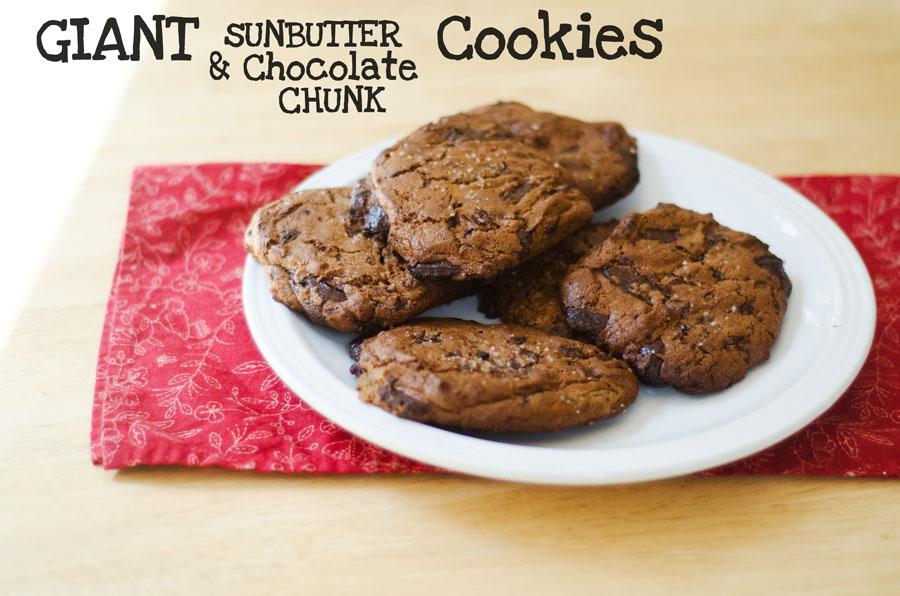 After a week of intense recipe failures one needs to bake cookies.
I think this is a rule. It feels like it should be a rule. Let's call it a rule.
In between my lemon bar attempt and operation "OMG, is that supposed to be gnocchi!? ", I managed to get something right. I put some sunflower seeds into a food processor and  made some nut butter. I combined it with almond butter. The two did a happy dance. I added in large chunks of dark chocolate, and decided that these cookies should be GIANTS. Instead of making a recipe that would yield a sensible dozen, I decided to instead make you six cookies. Big cookies. Forget about your kitchen failures cookies. Are you surprised that I didn't just make one big cookie and take a fork to it? Yeah, me too.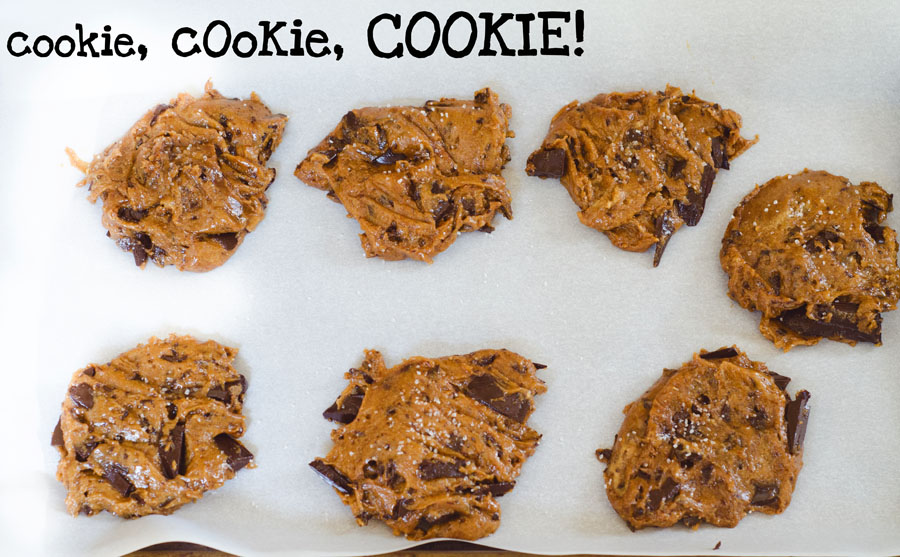 Look at those chocolate chunks. Mmmmm. Did I mention that these cookies are totally paleo? Yup!
Although I completed my 30 days of paleo, and have since dipped my hungry little hands into the world of certain carbs, I can say I felt really good for most of those 30 days. I will most likely still incorporate a lot of paleo recipes on this site and continue to eat that way most of the time. It really wasn't as difficult as I thought it was going to be. There was a day where I wanted to eat a wheel of cheese and had to resist the urge, but that is normal. Cheese is a naughty temptress. That is a weird sentence. I will not erase it. It's going to live here.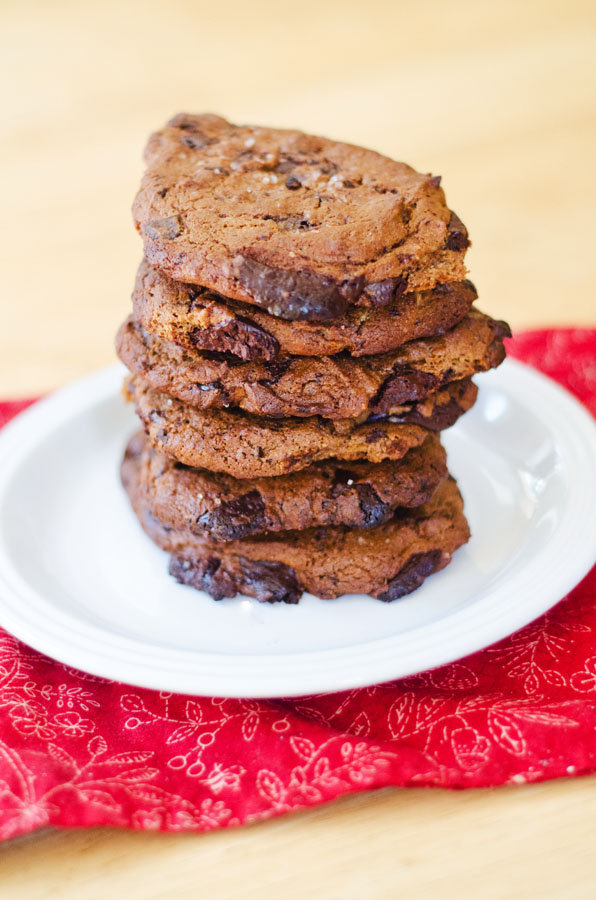 On another note, we recently hit five hundred likes on Facebook! You people are rad. Thank you so much for hanging out with me and letting me personify cheese in sultry ways, or indulging me when I use the term "nut milk" too liberally. Seriously. You punch me in the face with your awesomeness.  If you haven't subscribed to get So…Let's Hang Out posts sent to your inbox, you can totally do that too! Just enter your email address into the box under where it says "Subscribe to So…Let's Hang Out" (psst…it's on the right.) and we will be hanging out in no time.  Thanks, Friends! xo
I hope your week is chugging along awesomely! Either way… giant cookies. Do it.
Giant Sunbutter & Chocolate Chunk Cookies
Ingredients
1/2

cup sunflower seed butter (you can either buy this pre-made, or you can make your own by processing 2 cups of sunflower seeds in a food processor until it is smooth and creamy like almond butter)

1/2

cup almond butter

1

egg, beaten

2

tsp vanilla extract

1/3

cup maple syrup

1/2

teaspoon cinnamon

1/2

teaspoon baking soda

1/2

teaspoon baking powder

1/4

tsp salt

1

cup dark chocolate, coarsely chopped into chunks.

Coarse sea salt, to sprinkle on top (optional)
Instructions
Preheat your oven to 350 degrees.
In a large mixing bowl, mix together all of your ingredients except the chocolate chunks until they come together and mixed thoroughly.
Once the batter comes together, fold in your chocolate chunks.
Line a baking sheet with parchment paper, and scoop your batter onto the baking sheet to form six cookies.
If you like a little sea salt on the top of your cookies, sprinkle a little onto each cookie before putting it in the oven.
Bake for 18-20 minutes, or until they are golden brown.
Allow to cool, then enjoy cookie-monster style!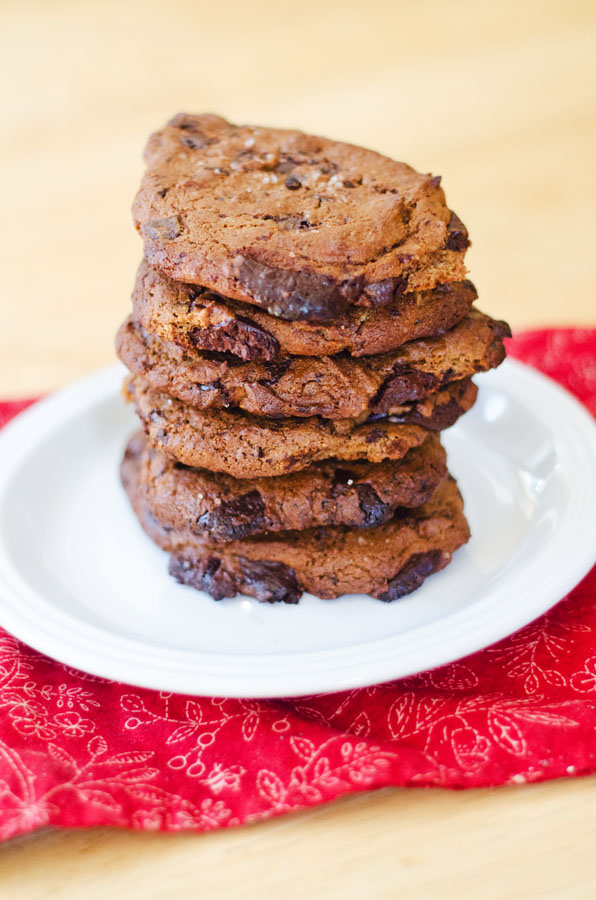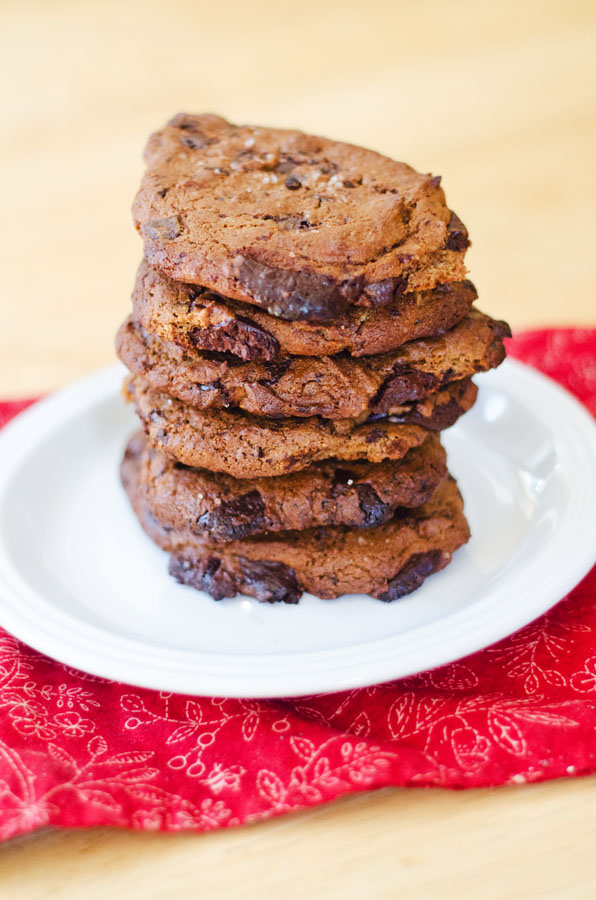 PAID ENDORSEMENT DISCLOSURE: In order for me to support my blogging activities, I may receive monetary compensation or other types of remuneration for my endorsement, recommendation, testimonial and/or link to any products or services from this blog.