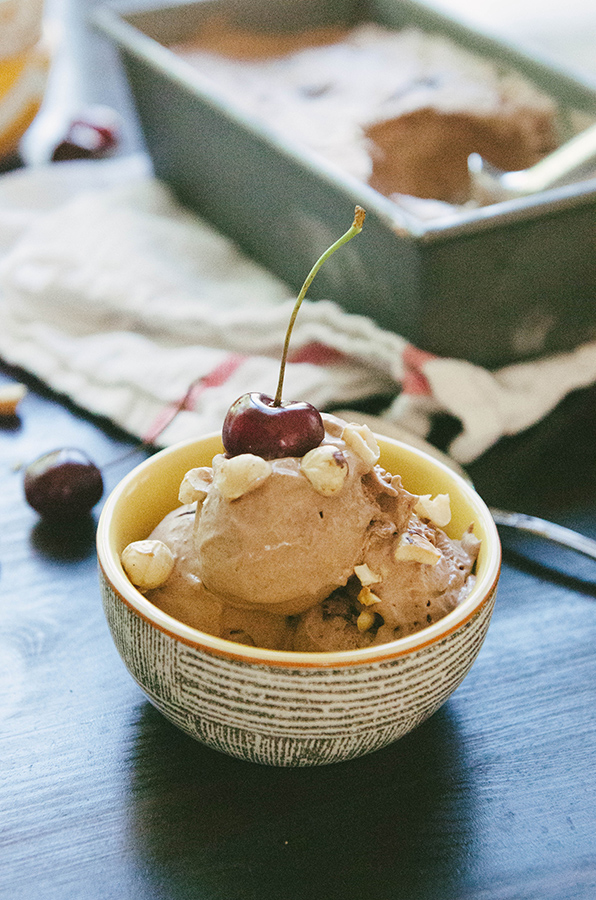 If you've been following along this past month, you'll know I've been chomping, loving and sometimes struggling my way through a Whole 30. I've been coming here and writing you full disclosure,  overly-honest weekly recaps of  what this experience has been like. If you're just tuning in now, lemme catch you up: Week One. Week Two. Week Three.
So you know what this post is, right?! It means I DID IT! Holy Bears. I made it. This is Whole 30 graduation. That moment where I walk across the stage in my cap and gown and gloriously move that tassel from right to left. I go to accept my Whole 30 diploma and moon the audience.( I think I saw that in a 90's movie once–maybe we'll scrap that bit). This is the moment where we cue the Chariots of Fire theme song as I cross the finish line. I'm wearing dolphin shorts (because, why not). I valiantly break tape with my chest. Is that tape made out of cheese? Maybe. In that case, I break the tape with my mouth.  I chug some water and then eat all the ice cream.  Of course, none of this actually happened. Well, except the ice cream. You can tell by these photos that ice cream totally happened. I'm gonna hook you up with a recipe so that it can happen for you too. But, first things first…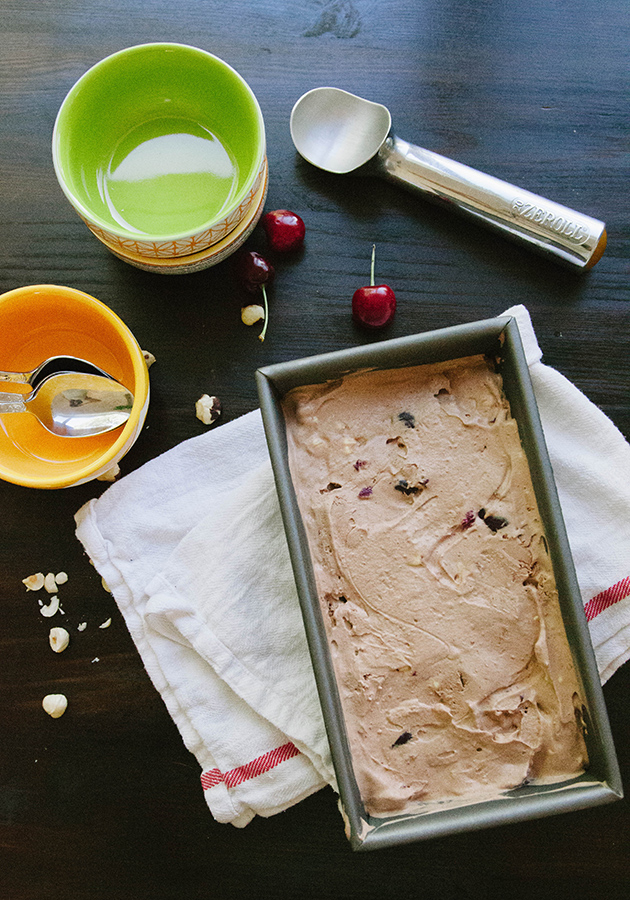 Instead of doing our usual day by day recaps, let's do something different. It is the final post after all. Plus, you guys get it by now. I'm having stress dreams about churros and pretending that sparkling water is booze after shoveling my mouth full of cocktail olives. I'm eating carrots when I'm stressed and putting things like guacamole on my pork chops. Yeah, that happened. I've actually coined the term "Guac-Chop" as something that exists in my culinary prowess. As in, "Hey, would you like to come over on Tuesday? I'm whipping up a batch of Guac-Chops." To which you should always enthusiastically reply "YES." Because, slathering a grilled piece of pork in avocados is a special kind of beautiful. Truth. So, instead of taking it day by day, let's just dive into a little synopsis of that I learned. Draw a few conclusions. Should I get out the jump to conclusions mat? No? Okay. We'll keep it casual.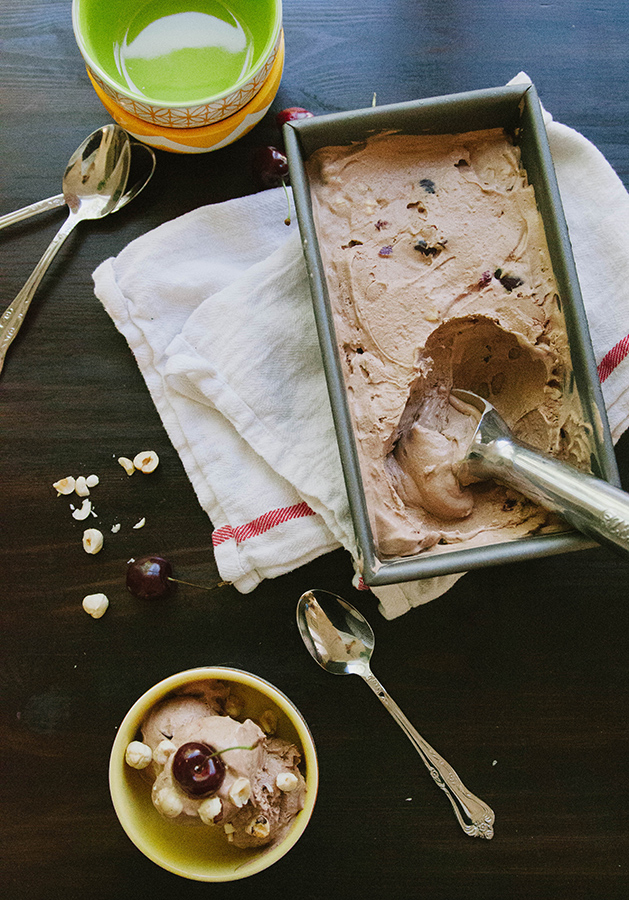 What I've learned:
1. I really love food (obviously). It is possible to still love food and not eat cheese, grains, sugar or legumes. Heck, maybe I loved it a little more at times. I mean–Guac-Chops.
2. I'm a stress eater. I would've never identified as such before doing the Whole 30. I always considered myself to eat very clean and very balanced, but it turns out that when I'm stressed (which just happened to be a lot during these past thirty days) I would automatically want to reach for chocolate, or something salty like chips. It wasn't that I was hungry, it just seemed like the next logical thing to do. OH EM GEE, I can't believe I lost an entire blog post because I forgot to press save, PASS THE CHOCOLATE! Or, I just spent ALL THE HOURS on the phone with my health insurance disputing claims–GIMME SOME CHIPS! You get the idea. That's where my brain goes. The Whole 30 forced me to make healthier decisions, and when those healthier options sounded icky I could conclude that I wasn't hungry at all.
3. If you can't drink, it's time to find another way to decompress. I'm not a huge drinker, but I do like to have a cocktail in the evening or some wine on occasion. It helps to ease stress. It brings my crazy-spent-all-day-typing shoulders down away from my ears. It's hard to steer clear from booze  in social situations (re: Week One, Bourbongate) especially, if you're like me and can run a bit on the anxious side when you're meeting new people. Did I just spill the beans? Yeah, I have a bit of social anxiety when I'm going into a new social setting. But, after my bourbon-filled-hung-over-in-tears slip-up it was time to get real. It turns out that when you're eating extremely clean and you fill your tank with copper-barrel aged fancy pants bourbon, things don't feel good. That experience (nay, hangover) made it pretty easy to stay away from booze for the rest of the Whole 30 journey. But, as far as dealing with the day to day stress I've done things like setting some time aside for meditation (away from the computer), working in my garden, going to yoga class, walking and jogging. Also, if all else fails… do that sparkling water + cocktail olive thing. It's a little cray, but it does the trick. Or, can you get a slushie up in here? Yes. Yes you can.
4. Meal prep is everything. In order to set yourself up for success, you're going to have to make sure your fridge is on point. Load up your fridge with veggies, organic meats, eggs and fruits. Some of my favorite ways to prep were by spending some time roasting veggies and sweet potatoes, slow cooking meats, or cutting up veggies to have on hand as a quick snack. Hard-boiling eggs is always a win too! I could do an entire post on this. Perchance I will…
5) Sugar is a real B****! Yeah, I said it. One of the most difficult things that happened for me during these thirty days was the sugar cravings. I'm not even the sugar-bug of my family–that would be my husband. In our years together I've witnessed him eat an entire Abba-Zaba and then chase it down with a Dr. Pepper. This feat is only made more noteworthy since he ate that Abba-Zaba in under a minute. Do you know how hard that is to do? It sure ain't easy. Me–well, I'm more of a dark chocolate gal. I thought I had this thing in the bag. No sugar? No problem. Well, that isn't exactly how it felt. It felt like a problem. For the first week and a half I craved all the sweets. I replaced those sweet treats with smoothies, or just a good old fashioned piece of fruit. It helped me get over the hump. By week three things felt pretty normal. Did I want a piece of cake? Sure. Did I need it? No. Do fruits and veggies taste super sweet right now? YES. Without eating any sugar things start to taste a whole lot different. Holy SUGAR SNAP PEAS!
6) Fat is my friend. Fat has not made me fat. Eating lots of good fats such as avocado, coconut cream, coconut oil, crispy chicken skin, organic bacon etc… have given me fuel in these past thirty days. I feel like I perform better with a little fat in my tank. I'm sure there's a dirty joke in there somewhere. Oh, well.
7) I feel AWESOME! Compared to when I started this journey, I'm feeling great. My energy has greatly improved. I get less blood sugar dips (which lead to the dreaded HANGER). My stomach looks flatter, I feel lighter and I have WAY fewer cravings. Pretty great, right? I'm not going to lie to you and tell you it was easy as pie–you know it wasn't. You've read the posts. But, I will say that the benefit of how I feel right now was worth that time I cried over carnitas or that weird dream where I took a bath in Alfredo sauce. So, if you are feeling sluggish, or hooked on sugar, or you just feel curious as to what it would be like to fill your body with healthy food for thirty days straight—I say go for it. You can always email me  for support (I do my best to respond to each of you)  and I will high five you and tell you it's okay that you are stress dreaming about eating a potato filled with cookies. If you wanna cry on my virtual shoulder about chocolate cake, we can do that too. I get it.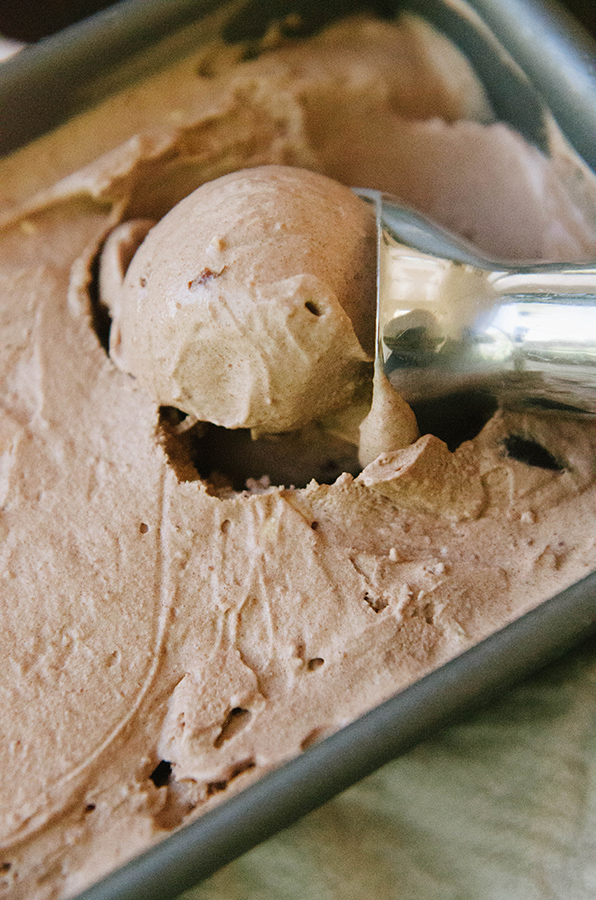 The way I broke my Whole 30 was fairly anticlimactic. My husband and I ordered sushi from a nearby restaurant. There was rice involved. It was a small amount. I felt fine. Since we both have been feeling so great, I think we're afraid to sway the balance too far in the other direction. We've pretty much been eating the same way, but will occasionally treat ourselves. I've dabbled in a little bit of raw cheddar on some taco bowls. There was a glass of wine. You know, just taking it slow. Finding my balance. Trying not to go from zero to friend chicken nugget pizzas. You know the deal.
However, I think we should celebrate this whole thing with some ICE CREAM!! This ice cream is pretty much Whole 30 legal (besides that whole sex with your pants on thing). It is filled with coconut cream, raw cacao and chunks of roasted hazelnuts and ripe cherries. The whole mixture is sweetened with dates and thickened with gelatin! Heck yes. It tastes sinful, but you will not crap your pants after you eat it. Am I allowed to say that on here? Meh. If you're lactose intolerant, you get what I'm sayin'. Perhaps a little too well. If not, I'm just sorry for all those words.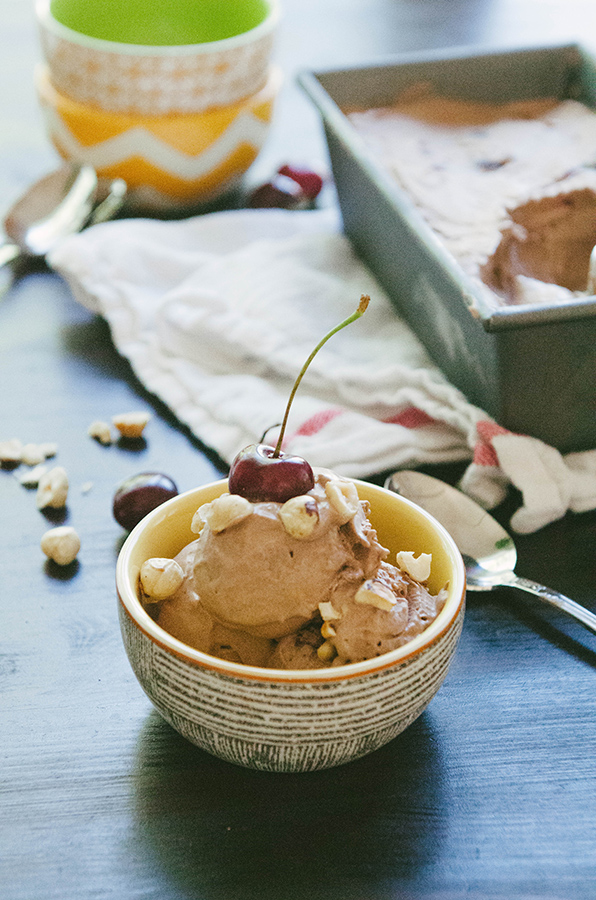 Thanks for going on this journey with me! I really appreciate all of your comments, support and all the laughing with me.  You are true blue. Now, let's eat some gosh dern ice cream! You in? Cool. I'll go grab some spoons. xoxo
Honest Whole 30 Recap, Week Four + Dairy-Free Chocolate Cherry Hazelnut Ice Cream
Instructions
Add the coconut cream, dates and coconut milk to a high powered blender and process on high until the dates have broken down and everything is well combined.
Put 1/4 cup of hot water into a bowl and combine it with your gelatin. Whisk together until it dissolves and no longer has any lumps. Add this mixture to your blender along with the raw cacao and vanilla extract. Blend on high until everything is smooth and uniform.
Pour your mixture into a bowl, cover it and refrigerate for at least an hour, or until it gets very cold.
Pour your mixture into the bowl of your ice cream maker, attach the other components of your machine per the manufacturers instructions and turn it on.
Once your ice cream is starting to set up (about five minutes from completion) add in your cherries and your nuts. Once those have been distributed evenly throughout and your ice cream has set up, it is ready to eat! You can store it in a container in the freezer for several days, however... it won't last that long.
Garnish with more hazelnuts and a cherry on top! Enjoy!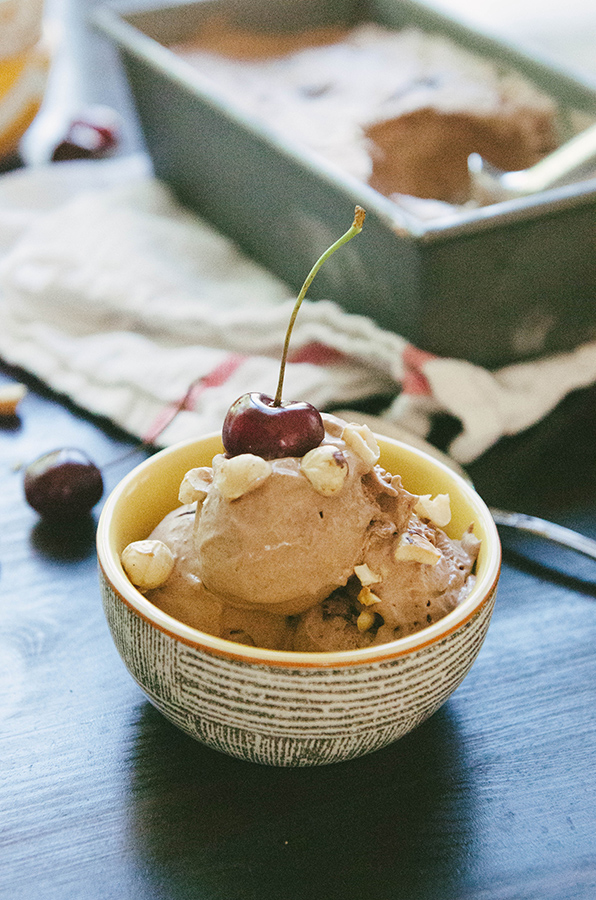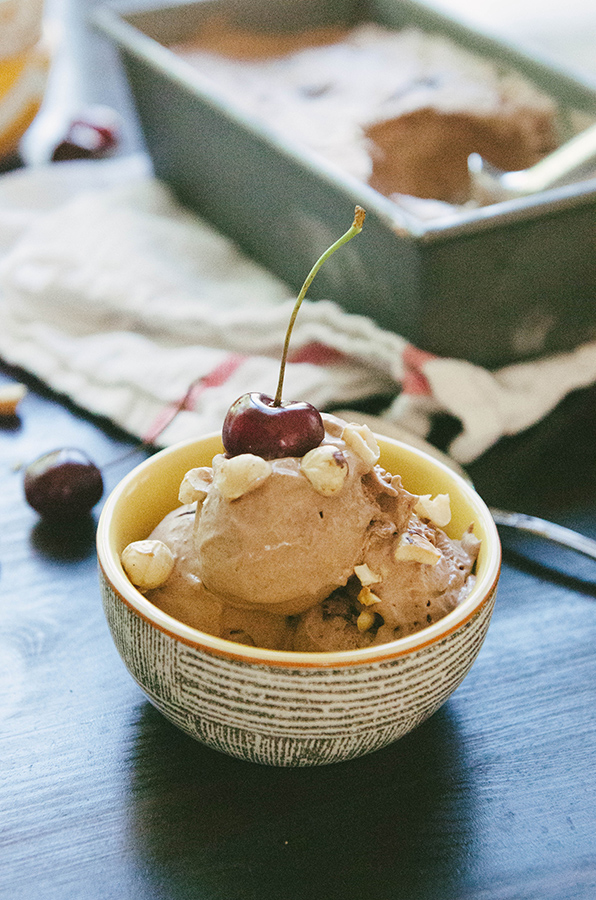 PAID ENDORSEMENT DISCLOSURE: In order for me to support my blogging activities, I may receive monetary compensation or other types of remuneration for my endorsement, recommendation, testimonial and/or link to any products or services from this blog.