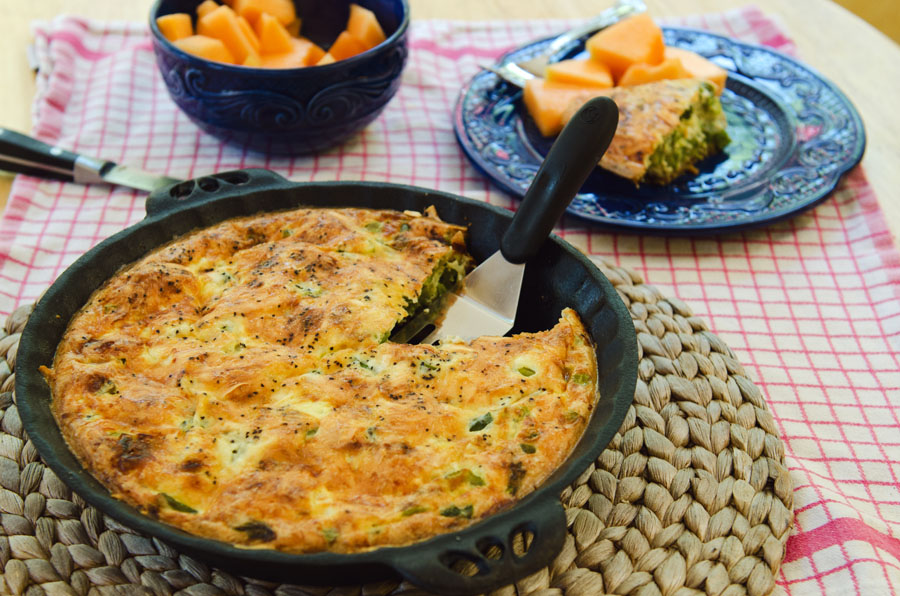 What have I always said is the most important thing?
Wait… did you say bears? You probably said bears. Nope. It's breakfast (tied with bears). So, maybe I really miss Arrested Development already. Did you have a chance to watch the entire fourth season? We knocked that out in a couple of days. Now I want more and immediately would be best.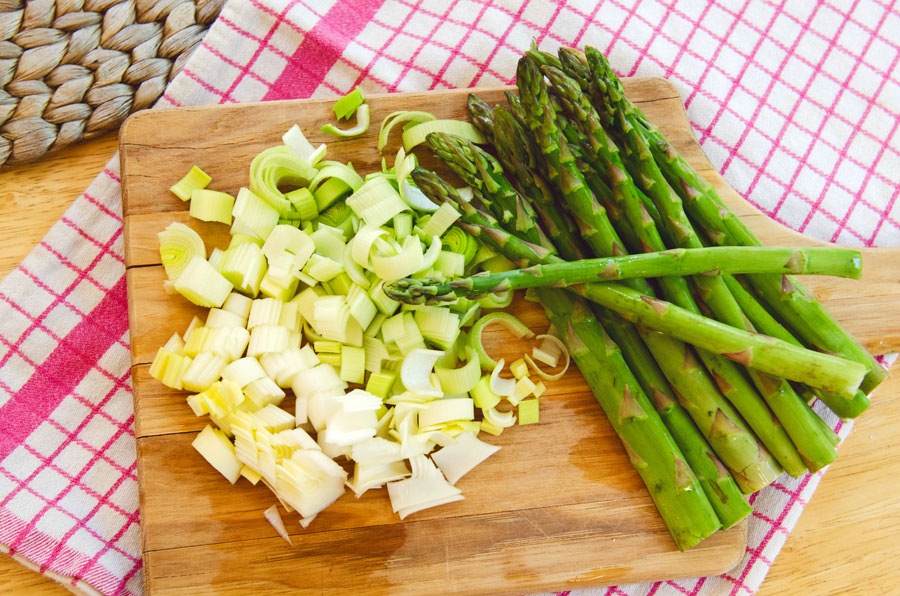 We totally don't have more episodes, but we DO have a recipe for breakfast. Important. I wish we had a recipe for brunch with bears. I could totally share my eggs with a couple of Grizzlies. I guess this is called "camping", and the bears are usually discourteous party-crashers that would love to snack on your femurs with club sauce. Real. This daydream just got 100% more terrifying. Moving on…
Remember that Crustless Quiche we made a while back? The one where everyone was like "Well…Isn't this just a frittata?" To which I replied," Maybe, but no. But, probably." Such sticklers. Just let crustless quiche happen. I am pretty sure it's a thing. To avoid further frittata accusations, I have fashioned you a crust. You won't be mad. It is really quite delicious. Should we get weird and call this a "crusted frittata"? I just can't keep up.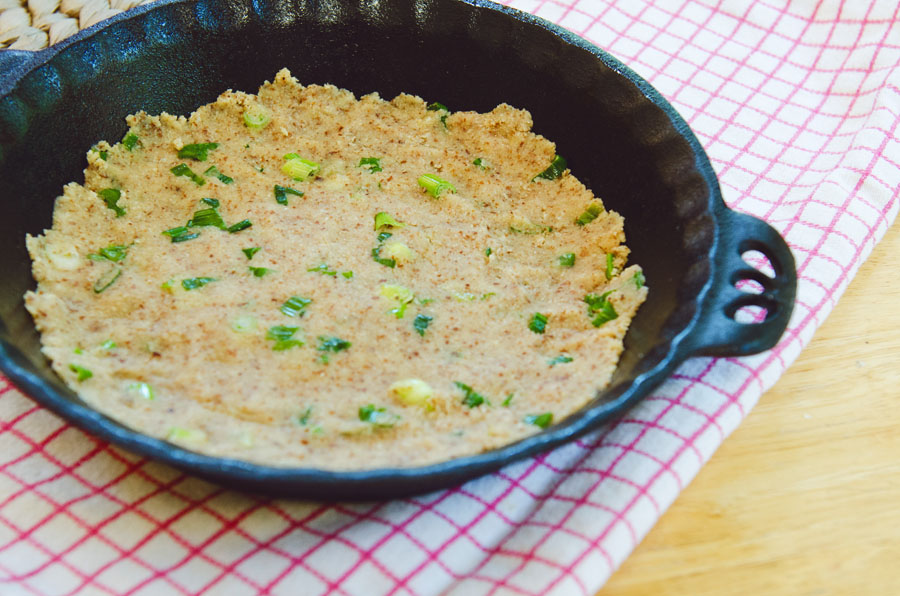 This quiche is fairly easy to whip up, and while it's great for breakfast I totally found myself tucking into it for lunch and dinner. Breakfast + leftovers = happy dance.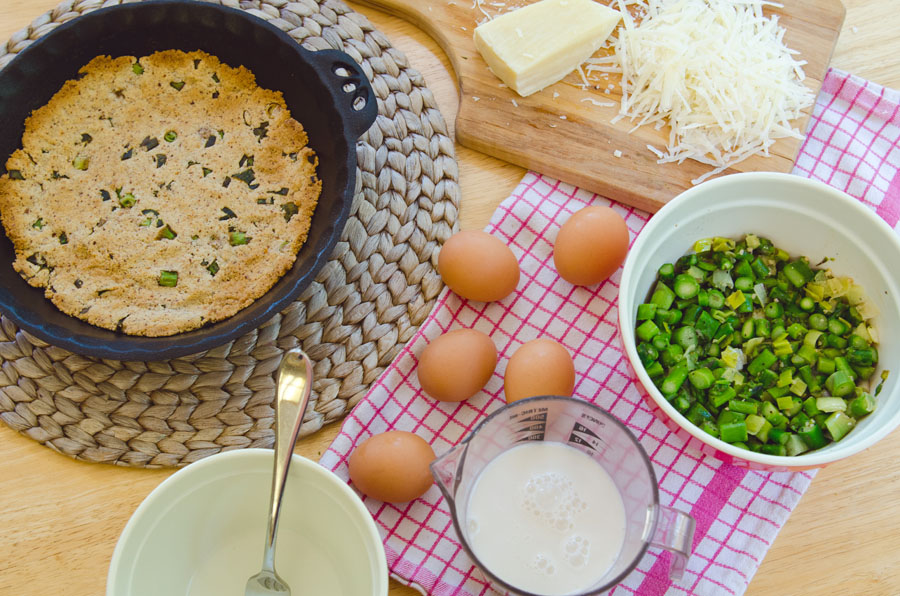 Ingredients here are simple. I sautéed some asparagus and leeks together in a little bit of olive oil. I added some garlic and some spices. All you need now is a little bit of cheese, milk, and some eggs and we are in serious breakfast making business. While I totally recommend this asparagus and leek combo, you could easily use any veggies you have on hand. Part of the magic of a quiche is how easy it is to use up extra veggies that would otherwise go to waste! You know what I'm talking about. Don't pretend like you don't have a weird zucchini graveyard setting up camp in a crisper drawer. It happens.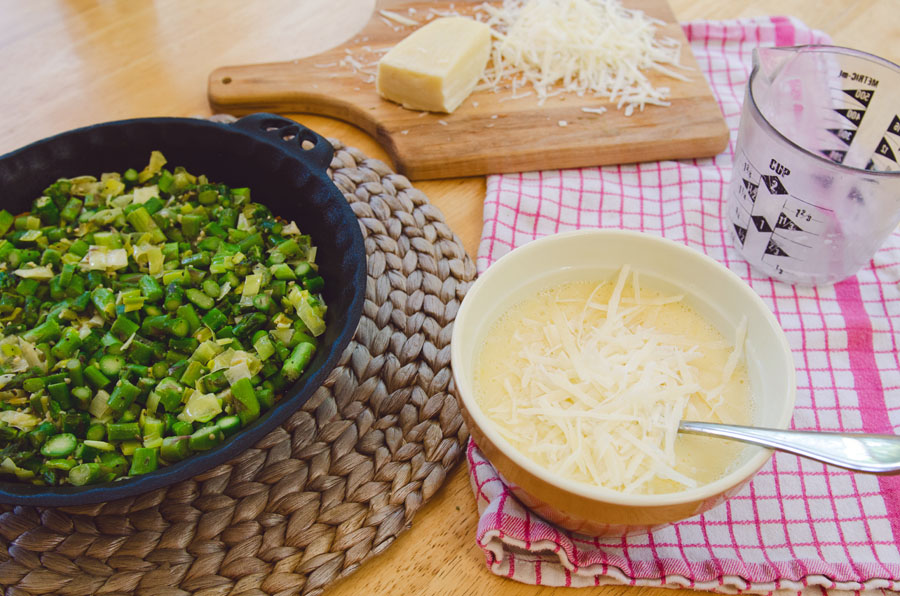 Filling goes down onto our pre-baked almond meal crust. Eggs and milk are beaten together. Half of our cheese goes straight into the bowl with our eggs and milk and is beaten in while the other half waits patiently to be sprinkled on top to form a golden-brown, crispy-edged crust. Yum.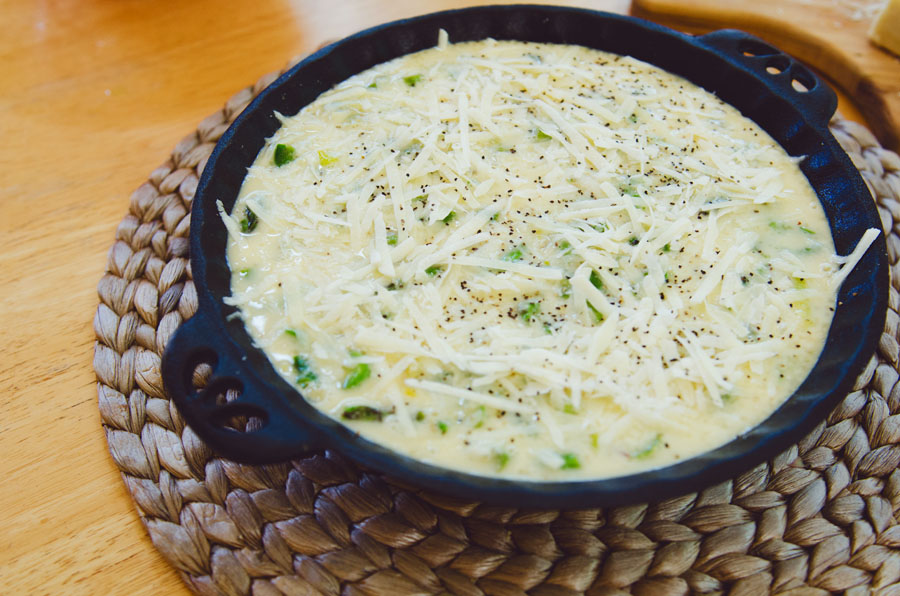 Feel free to sprinkle a little salt and pepper on top before you pop it in the oven. I did. That's right, we're living on the edge. Pop that baby in the oven and let it bake.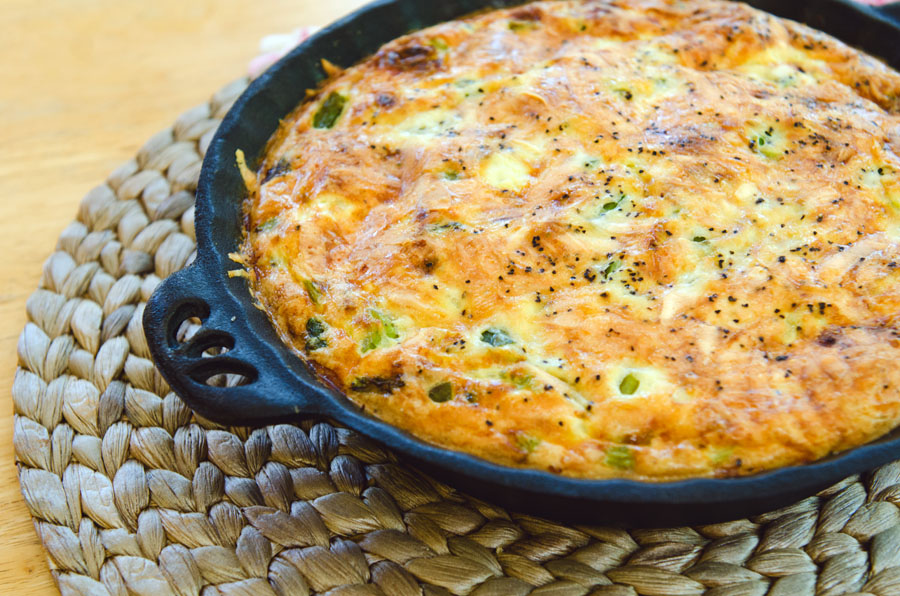 Sweet golden crusted glory! We've done it. We've made the most delicious crusted frittata (cringe) in the land.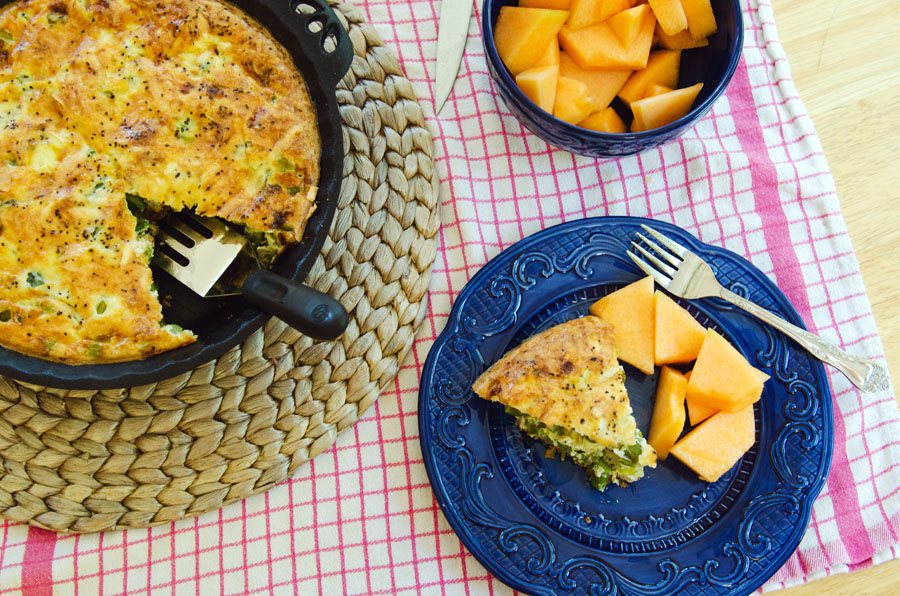 Serve it up with a little bit of fresh fruit for a breakfast! For lunch and dinner, I served it up with a little side salad. Enjoy!
Leek and Asparagus Quiche With Almond Meal Crust
Ingredients
Crust
1 1/2

cups almond meal

pinch of sea salt

1/2

tsp baking soda

1/4

cup minced scallions

1/4

cup coconut oil

1

tbs water
Filling
1

tbs olive oil

1

bunch of asparagus, trimmed and chopped

2

cloves or garlic, minced

1

small leek, chopped including green parts

5

eggs

1

cup milk (I used plain almond milk)

1

cup Pecorino Romano cheese, grated

Salt & Pepper to taste
Instructions
Preheat your oven to 350 degrees.
Combine your almond flour, baking soda, salt and scallions into a medium sized mixing bowl.
In a different bowl, whisk together your coconut oil and water.
Stir your wet ingredients into your dry ingredients until it is thoroughly combined to form a dough mixture.
Press your dough into the bottom of a well greased pie dish.
Bake for 13 minutes or so, or until the crust becomes golden brown.
Set aside and allow to cool completely before filling.
While your crust is cooling, you can begin to prep your filling. Coat the bottom of a medium saucepan with your olive oil and allow it to heat up on the stove over medium heat.
Once your olive oil is hot, add in your garlic and your leeks and saute until the leeks become soft and cook down.
Once your leeks have cooked down a bit, add in your asparagus along with a pinch of salt and pepper. Allow the mixture to cook, stirring occasionally, until the asparagus softens slightly. This will only take a couple of minutes. Your asparagus should still be a vibrant green color.
Once your mixture has cooked together nicely set it aside.
Whisk together your five eggs and your milk in a separate bowl. Add in half of your grated cheese and whisk again.
Layer your asparagus and leek mixture on top of your cooled almond meal crust.
Pour your egg mixture on top of the asparagus mixture.
Sprinkle the remainder on the cheese evenly on top of your quiche and salt and pepper the top as desired.
Bake quiche at 350 degrees for 35-45 minutes or until the top is golden brown and there is no liquid when a knife is inserted into the center. Your eggs should be completely cooked through.
Allow to cool for 10 minutes or so, and then serve it up and enjoy!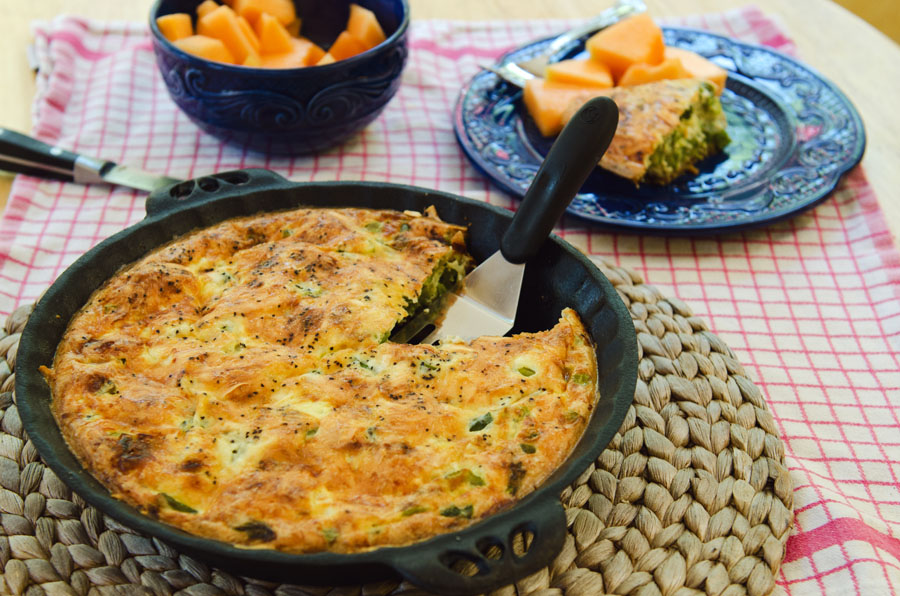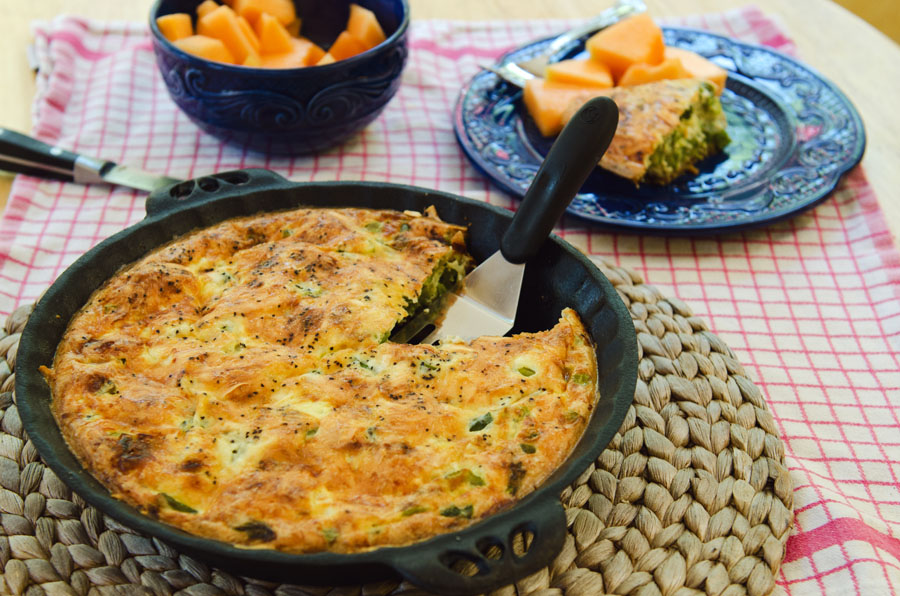 PAID ENDORSEMENT DISCLOSURE: In order for me to support my blogging activities, I may receive monetary compensation or other types of remuneration for my endorsement, recommendation, testimonial and/or link to any products or services from this blog.