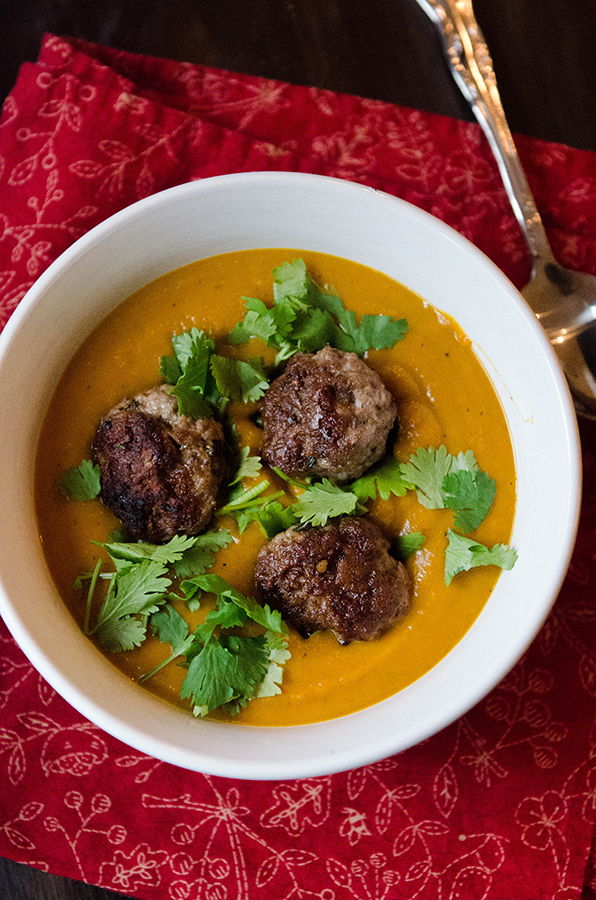 So, I haven't eaten eggs, tomatoes, peppers, white potatoes, eggplant, grains, dairy or nuts in about twelve days.
I'm doing a bit of an elimination diet in order to detect some suspected food allergies. I'm not going to lie to you, it could be easier. In the past twelve days I've realized I feel slightly paralyzed without eggs and I put tomatoes in nearly everything. But, in the hopes of not freaking out and attempting to sell my kidney on the black market for a plate of runny-yolked gold, I've been trying my best to make satiating meals that aren't lacking in flavor. However, I'd like to reiterate that taking away things like tomatoes and chili powder and paprika make me feel like I'm cooking with a couple of those lobster claw oven mitts on. A little clumsy. A little frustrated. A little confused as to why I have lobster claws instead of hands. I'm sure there were like a zillion better, more coherent similes that I could have used right there. But, of course, I went oven mitts. Oy.
Enough complaining. No more weirdness about lobster mitts or hawking a kidney for eggs. Let's talk about this beautiful bowl of soup. This soup is EVERYTHING. This soup made me want to high five my taste-buds in a blaze of "oh, my gosh, this lacks nothing" glory! This, my friends, is what triumph looks like. A flavorful explosion of fall and meatballs and herbs and spice and lime. No diggity, no doubt.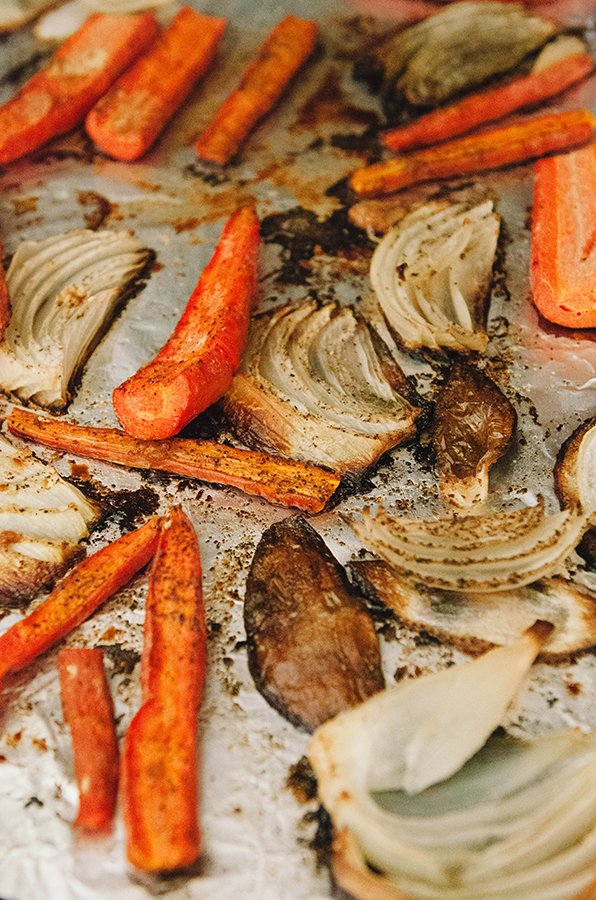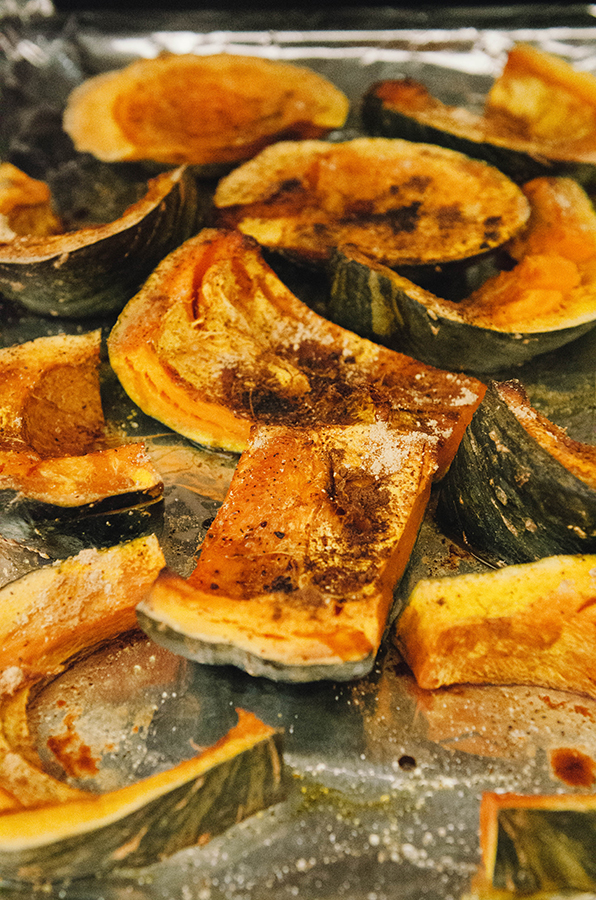 It all starts with roasting. See that little charred bit of onion? I ate it like a potato chip. Desperate times call for desperate measures. Who are we kidding, I probably would have done it anyway. It was delicious.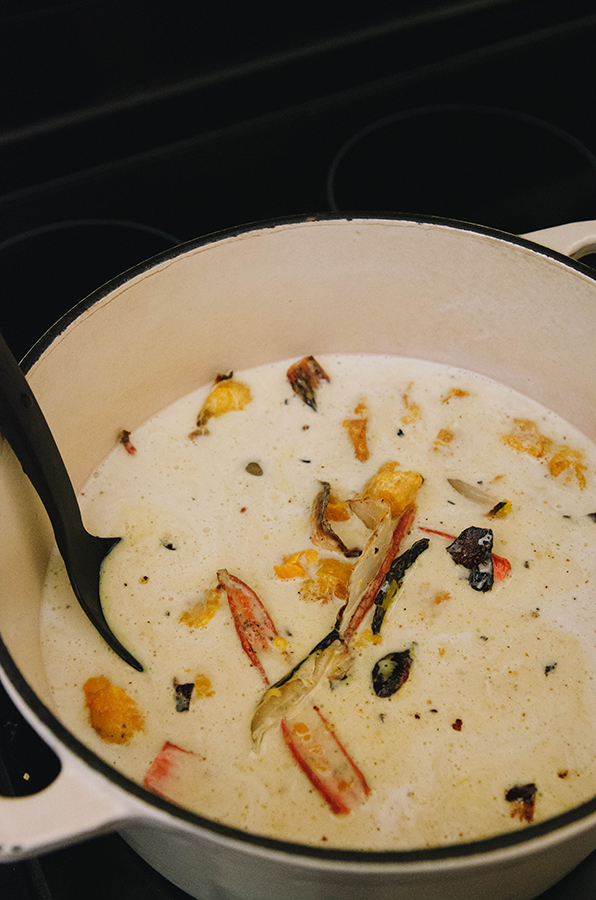 Roasted veggies and scooped-out squash meat come together with chicken broth and coconut milk in order to make one big simmering pot of "this kind of looks like soup-y garbage". Don't worry, things will get much more aesthetically pleasing soon. We're going to employ the help of my good friend the immersion blender. It all becomes a creamy dreamy orange bowl of hot-hot love.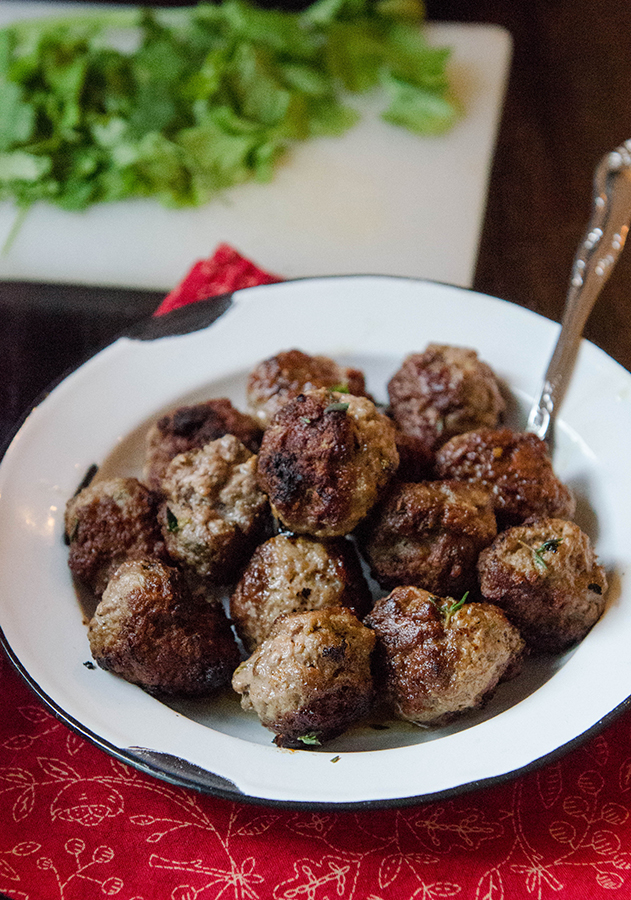 Now, if I'm honest with you, I've never been a huge fan of creamy soups. They taste good. I won't deny that. But, they always seem to be too sweet or lacking in something to make it a meal. For me, this is protein. That's where this meatball comes into play! Ta-daaaaa! Meal. Just like that.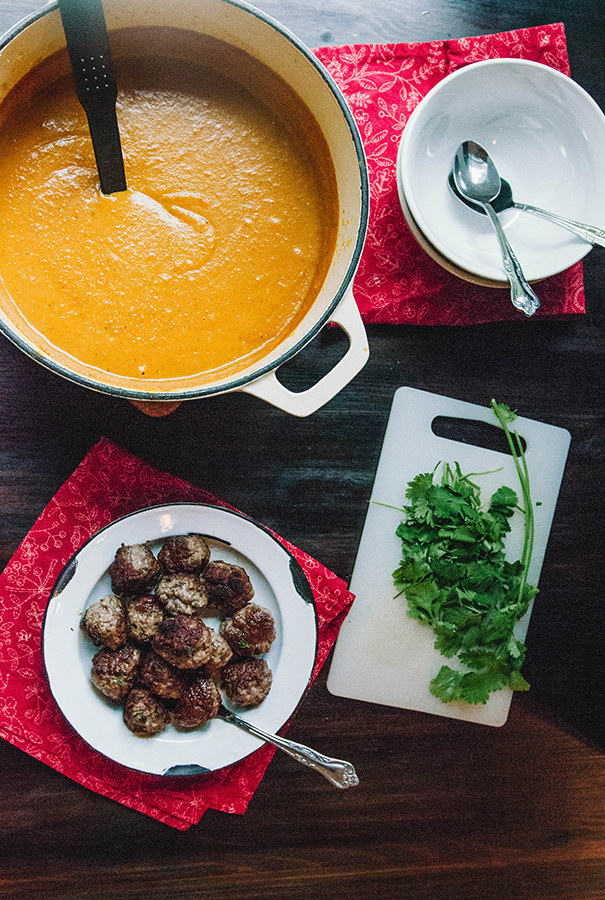 The soup is prepped. The meatballs are ready. The herbs are chopped. My tummy is grumbly. Shall we eat? Yes. I think we shall. I'm actually roasting more squash to make this soup AGAIN as we speak. I might be a little bit addicted. No big deal.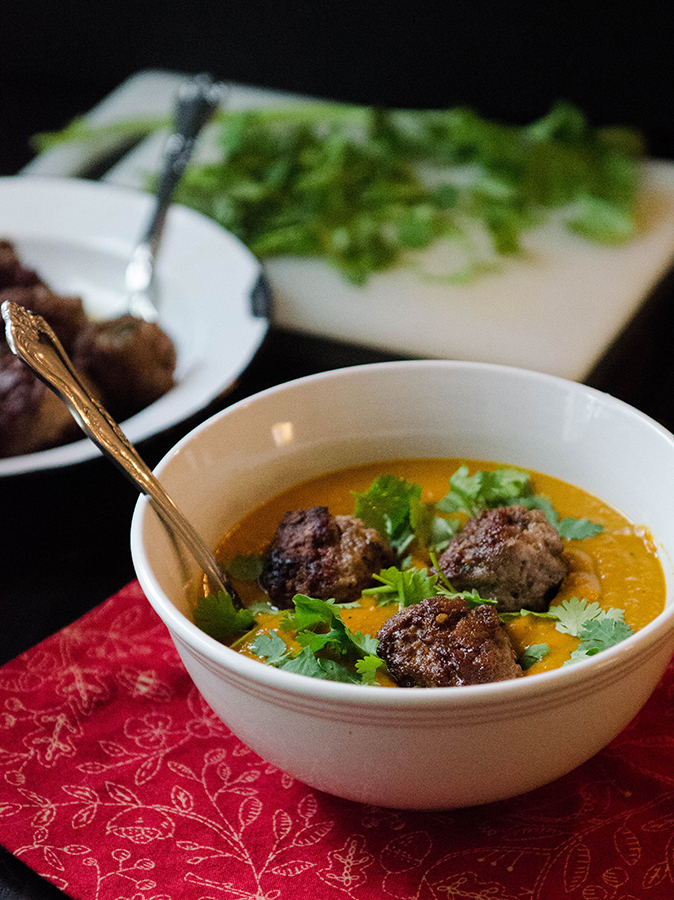 Roasted Kabocha Squash, Carrot & Ginger Soup With Lamb Meatballs
Ingredients
Soup
2

tbs coconut oil, melted

1

medium kabocha squash, seeded and sliced into chunks

5

medium orange carrots, quartered

1

yellow onion, peeled and chopped

3

cloves of garlic, peeled and left whole

Salt & pepper (to taste)

2

tsp ground ginger

1

tsp ground cloves

4

cups chicken broth (learn how to make your own here)

1 13.5

oz can of full fat coconut milk

1

inch ginger root, peeled and grated
Meatballs
Garnish
Fresh cilantro

Fresh cut limes
Instructions
Preheat your oven to 375 degrees.
Line two baking sheets with tin foil and set aside. Cut up your carrots, onions, and seeded kabocha squash into large chunks. Toss with melted coconut oil, salt, pepper, ginger, and cloves. Make sure all of the veggies are coasted evenly. Lay out the veggies onto the baking sheets along with the whole cloves or garlic and allow to roast in the oven for 45-60 minutes or until the veggies are fork tender. You should be able to scoop the squash away from the skin easily. Once the veggies are done take them out and allow them to cool until they are no longer too hot to handle with your hands.
Add the carrots, onions and garlic to a heavy bottomed soup pot. Scoop out the meat of the kabocha squash, discarding the skins. Add the scooped out cooked flesh of the squash to the soup pot with the other roasted veggies. Add the chicken broth, coconut milk and freshly grated ginger to the pot with the veggies. Allow to simmer over a medium heat for 20 minutes or so in order to allow the flavors to marry.
While the soup is simmering, start on your lamb meatballs. Add the ground lamb and spices to a bowl and combine well with clean hands. Once the lamb and spices are well combined, portion the lamb into 12 equal portions and roll them into small meatballs. Place a pan on the stove and heat a tbs of coconut oil over medium heat. Once the oil is hot, add the meatballs to the pan. Allow them to cook, rotating every couple of minutes in order to cook them fully.
Once your soup has simmered for 20 minutes, remove it from the heat and using an immersion blender, blend the soup until it is completely smooth and creamy.
After the meatballs are cooked through, you are ready to serve! Fill a bowl with soup, add a couple of meatballs to your bowl of soup and garnish with cilantro and the juice of half a lime (trust me on the lime juice, it's amazing). Enjoy!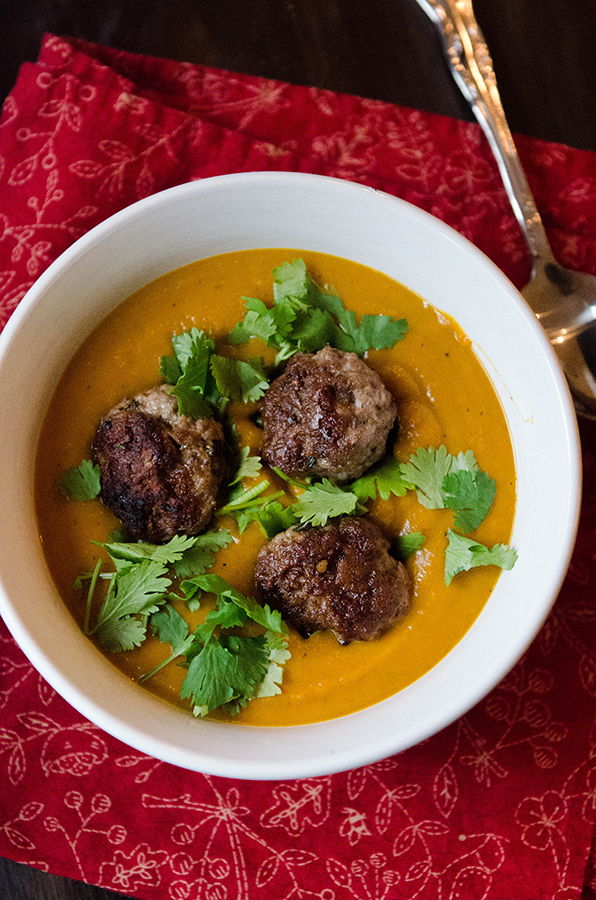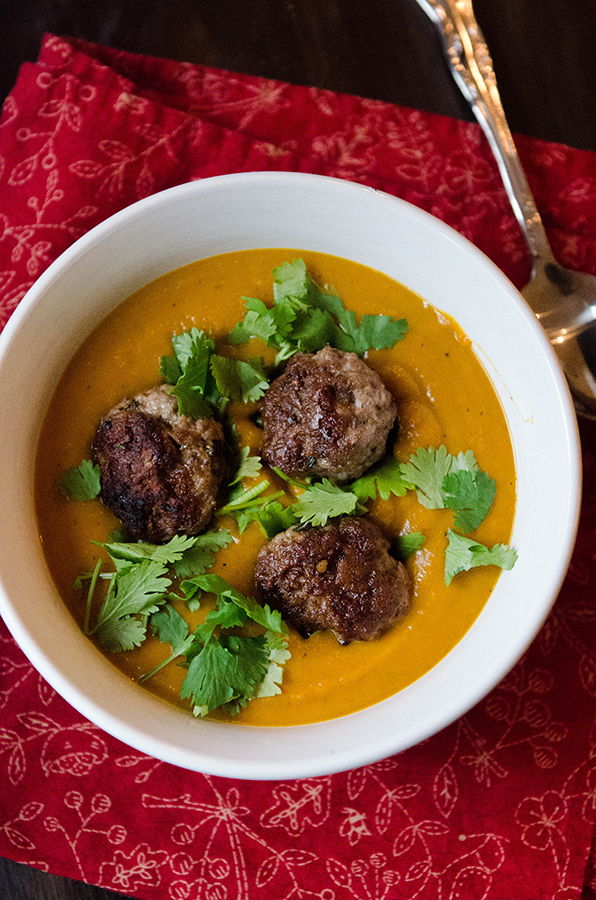 PAID ENDORSEMENT DISCLOSURE: In order for me to support my blogging activities, I may receive monetary compensation or other types of remuneration for my endorsement, recommendation, testimonial and/or link to any products or services from this blog.