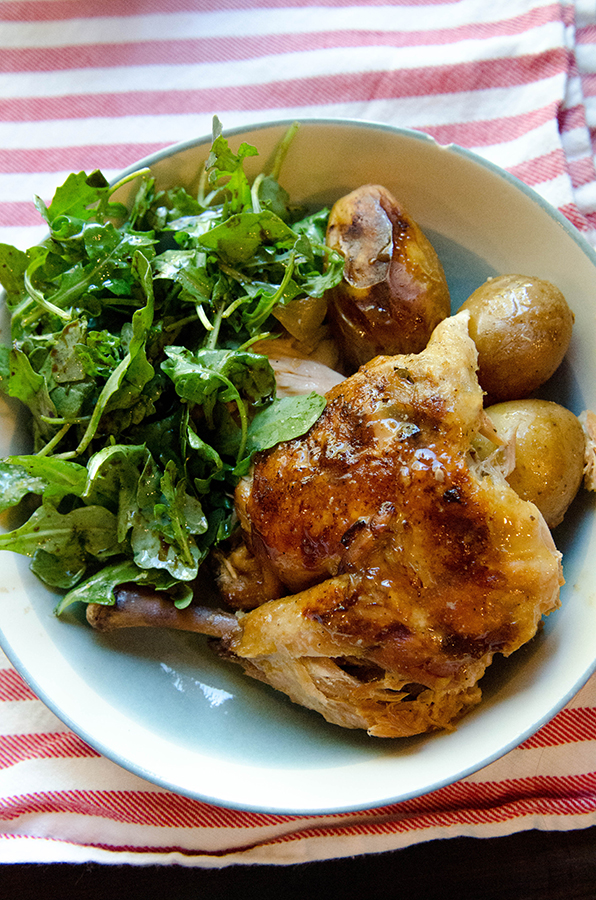 I have a new appreciation for "casual gravy".
I used to think that gravy was only a thing to be made on fancy occasions. The kind of occasion where we set the table with the "wash by hand" dishes and then soil our almost-formal wear with bits of yams and stuffing. Hmm, clearly as I write this I'm excluding gravy as being used for one occasion: Thanksgiving. Pouring the drippings of the large bird into a pot and making it thick with some sort of roux; this was the whole of my gravy making experience. Fancy holiday gravy to be enjoyed on fancy holiday plates.
Also, just so you know, I once met a clown named Wavy Gravy, We sang some songs together… but, that my friends, in no way relates to edible gravy and is a tale for another day. But, on the scale of gravies, I would dub Wavy Gravy as casual. Just in case you are wondering.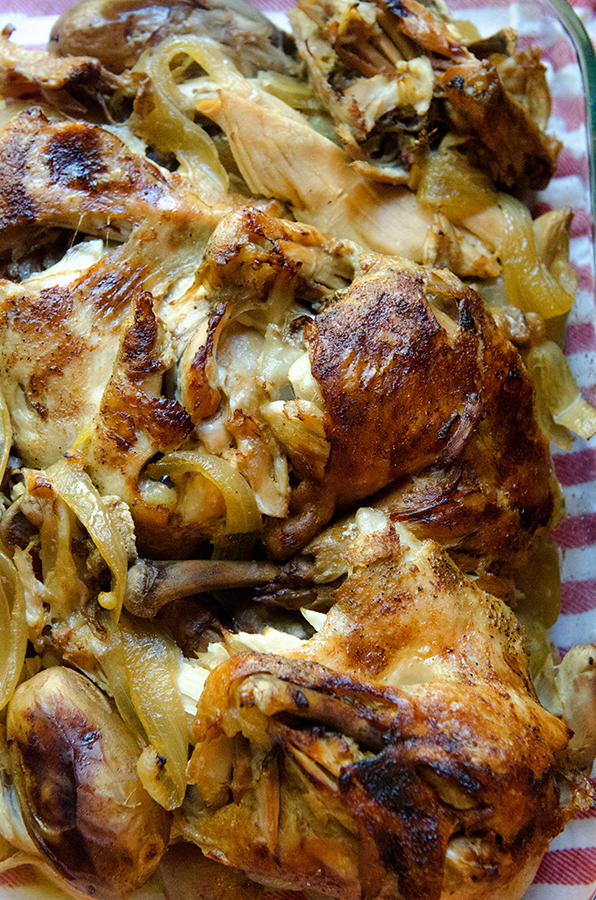 Casual gravy is a weeknight gravy. It's easy. It's awesome. It's my new favorite thing. Roasting whole chickens is also my new favorite thing. Cooking whole chickens in a crock-pot and then smothering them with gravy?! Can you have a new favorite-favorite thing? If so, that one. The fact that this gravy is a mixture of chicken juices and hard apple cider? OVER THE TOP.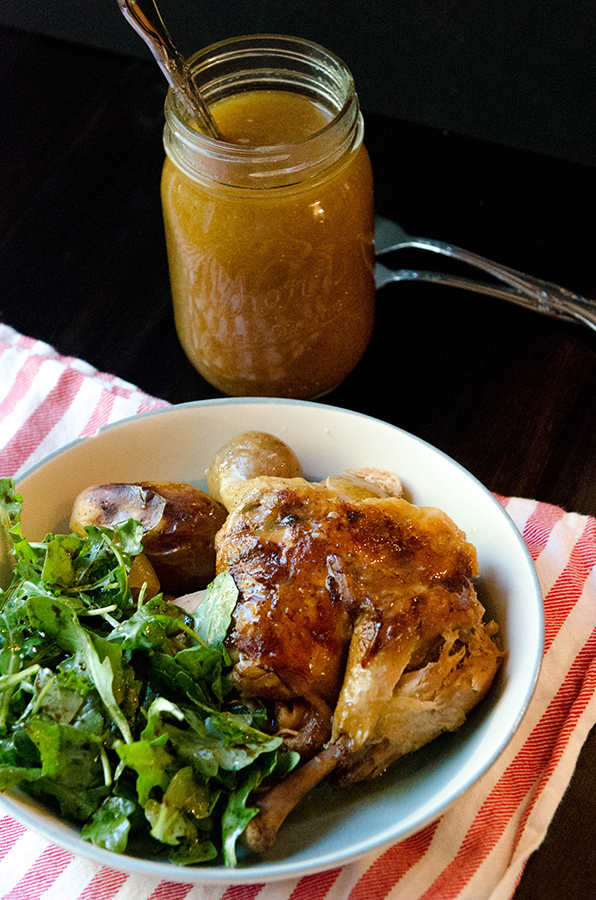 Creating this recipe I was a little bit scared that the chicken and hard apple cider wouldn't work out. Boy, was I wrong. This is probably one of my favorite meals that I've made in a long time. It's casual gravy with all the notes of formal gravy. It's daytime gravy. It's that gravy that you could wear to work, then effortlessly add earrings and a clutch to, in order to transition it to a nighttime gravy. No, okay… it's not that. I think I just wanted to see how many times I could type gravy. GRAVYGRAVYGRAAAAAAAAVY. You're welcome.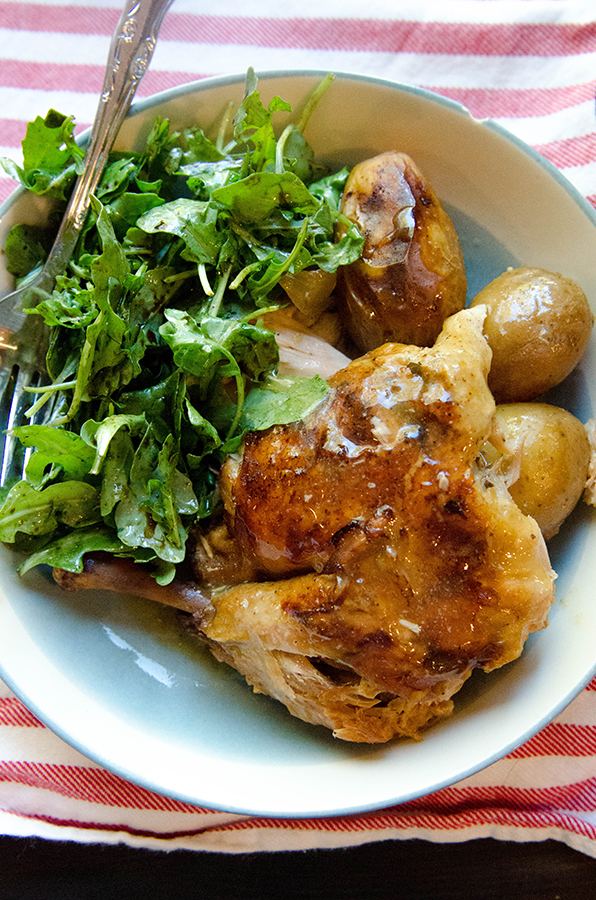 Are you skeptical about shoving a whole chicken in your slow cooker? Are you slightly sobbing at the thought of not having crispy chicken skin? Yeah, me too. That's why after the chicken is done, I shoved it in a pan with the potatoes and onions and allowed all the skin bits to crisp up under a broiler. Dry your sobs. We've got this situation under control. Crispiness is happening. Gravy is happening. Casually. Let's do it.  You don't even have to wear pants. That's how casual this is. Well, maybe just wear an apron when handling any hot and splattering chicken juices, but after that, you're on your own. No judgement here. Invite Wavy Gravy over for some gravy. Do what you want. This is your life. 😉
By the way, don't forget to save the bones of your chicken! You can totally make this Crock-Pot Chicken Broth from scratch! It's as easy as casual gravy.
Slow-Cooker Whole Chicken & Potatoes With Hard Cider Gravy
Ingredients
1 3-4

lb organic whole chicken

salt, pepper, granulated garlic

1

bottle of hard apple cider ( I used a bottle of Newtons Folly Authentic Draft Cider)

1

large onion, chopped

2

cloves of garlic

1

lb baby dutch potatoes, left whole

2

tbs arrowroot starch (for the gravy-- NOT to be added to crock-pot)
Instructions
Remove any giblets form the inside of your chicken's body cavity. They are usually wrapped up and can be easily removed. Wash and pat your chicken dry with paper towels. Season the chicken liberally with salt, pepper and granulated garlic on all sides. Add your seasoned chicken to the bottom of your crock-pot.
Pour an entire bottle of hard apple cider into your crock pot and inside of your chicken.
Place the chopped onions, garlic cloves, and baby dutch potatoes around your chicken and into the hard cider. Put the lid on your crock pot and cook on high for 6 hours or until your chicken is completely cooked through. Depending on the temp of your slow cooker this might take less or more time.
Once you're chicken is done, gently transfer the chicken to a baking dish along with the potatoes and onions. You might need to use a slotted spoon, as the chicken will fall off the bone. Place the chicken skin side up in this baking dish.
Set your oven to a high broil. Once it's heated, put the pan of chicken into the oven and allow the skin to get nice and crispy. This happens in 5-7 minutes or so. Once the skin on the chicken has crisped up, remove it from the oven and set aside while you make the gravy.
In the crock-pot there should still be the remains of the hard cider cooking liquid. Run this liquid through a mesh strainer and put the strained liquid into a pot.
Boil this liquid on medium to high heat. Whisk in a tablespoon of arrowroot starch at a time. Make sure to whisk it well so that there are no lumps in your gravy. Turn the heat down on your gravy and allow it to simmer. It should begin to thicken. Continue to whisk on and off for 10-15 minutes. If your gravy is not thickening up at all, add additional arrowroot starch a teaspoon at a time until you've reached your desired consistency. Make sure to whisk and allow it to rest in between adding more starch. Also, remember that the gravy will continue to thicken as it cools. Once your gravy reaches a good consistency, pour it into a serving dish or a gravy boat.
Serve up chicken and potatoes with a generous helping of gravy & enjoy!
Don't forget to save the bones. You can make this chicken broth from scratch!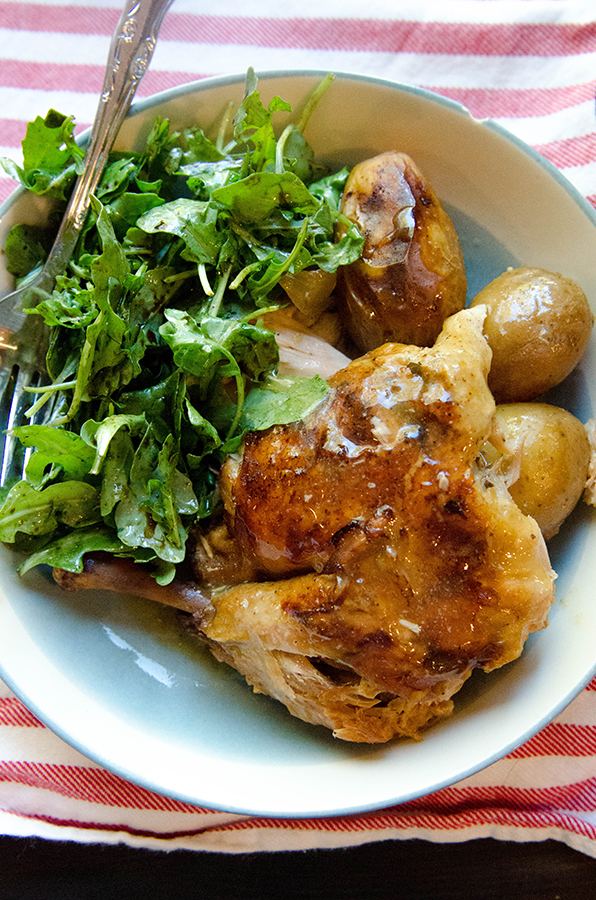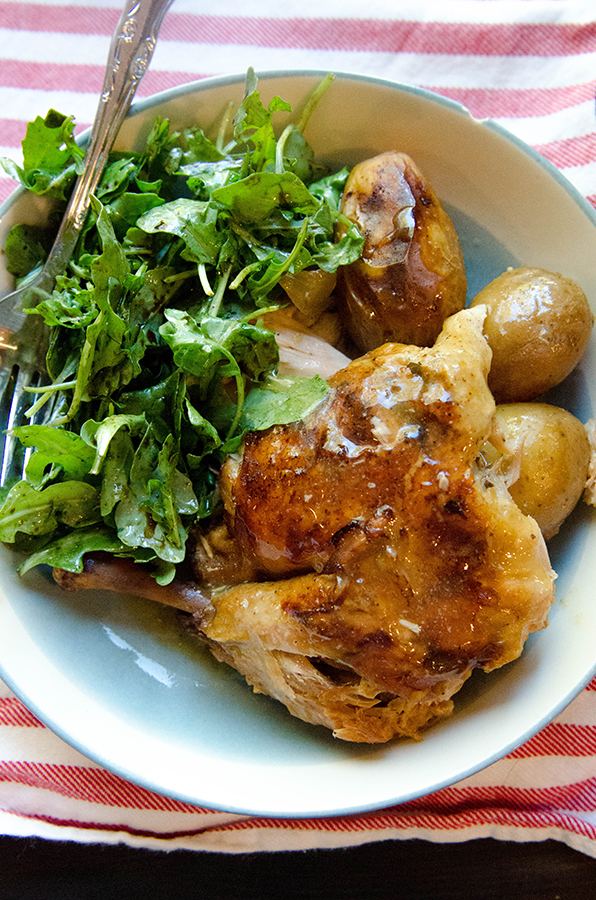 PAID ENDORSEMENT DISCLOSURE: In order for me to support my blogging activities, I may receive monetary compensation or other types of remuneration for my endorsement, recommendation, testimonial and/or link to any products or services from this blog.