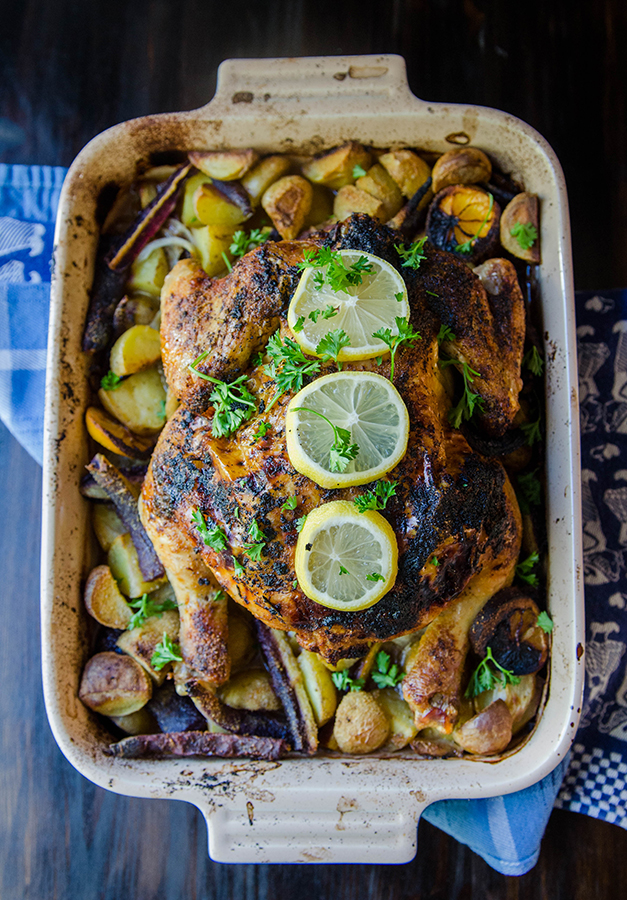 Comfort food.
It doesn't always have to be Mac & Cheese, Biscuits or Doughnuts (even though, #OMGYumGetInMyFace). To me, comfort food often means making Kalua Pork in my crock pot, or simmering Red Wine Braised Short Ribs on the stove. It's therapeutic food that cooks slowly and fills up your house with the most delightful aromas, in this case BUTTER. It's the kind of food your grandmother would make. The type of meal that you'd want to eat after coming home from work on a rainy day. You know, it's comfortable. Comfy. Like sweats, but edible. (I should have quit while I was ahead with the descriptions…Oh, well.)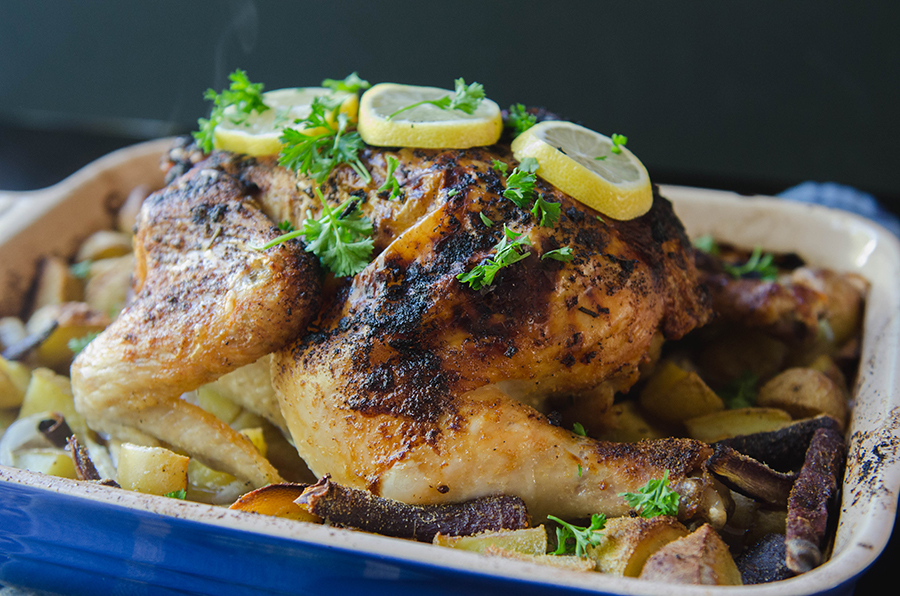 It's Monday. Work is happening. E-mails have piled up. I feel like it's as good a time as any to slather an entire chicken with butter, lemon juice and herbs and then roast it up with garlic and veggies. I'm just going to put this out there: Monday's aren't always great, but with a whole chicken's worth of crispy chicken skin… they're a whole lot better.
If you've been around here long you already know how I feel about crispy chicken skin. I believe I pretty much wrote an entire post about it when I shared the recipe for these Crispy Chicken Thighs With Orange, Cranberry & Coconut Greens.  I'll spare you from my diatribe about how you should be able to purchase entire bags of crisped up chicken skin like chips…but, just know that I have feelings about it. Strong ones.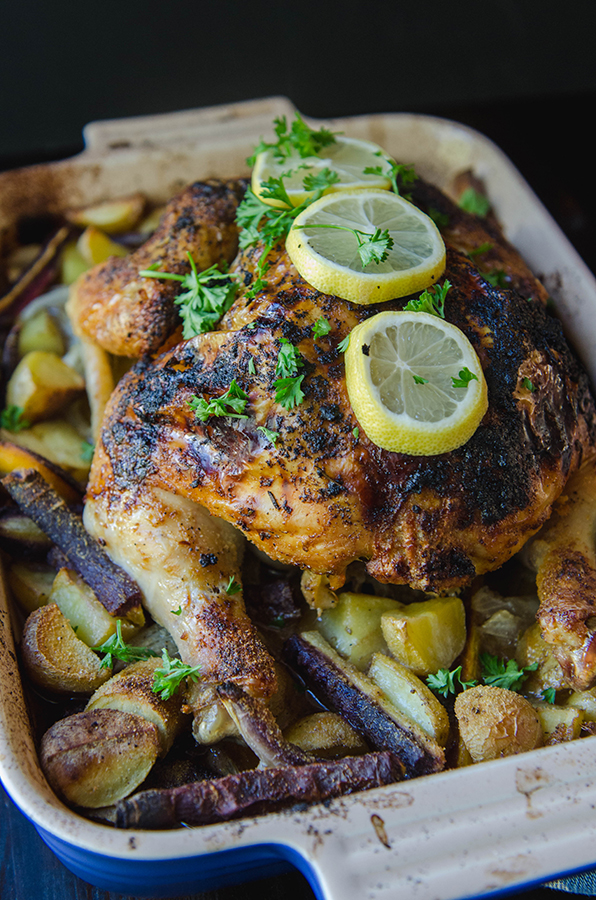 I would like to take a minute to give a shout out to the real unsung heros of whole roasted chicken and veggie dishes everywhere: THE VEGGIES. Those little veggies get to hang out in a bubbling hot tub of roasted chicken juices with dripping butter and the like. This makes them so flavorful, it's silly. It literally transforms potatoes and carrots into savory flavor bombs! Oh, and did I mention the whole cloves of roasted garlic? Yeah, that's happening.
Recently, during a romantic anniversary trip to Carmel I ordered a steak which came with a side of AN ENTIRE HEAD OF ROASTED GARLIC. To my husband's shock and dismay he watched as I ate the entire thing. I'm sure he wanted to spend our getaway sleeping next to someone who's pores were secreting garlic sauce. Oh, well. It was delicious. I ordered the same thing the next night and invited the husband to partake. He thought it was tasty too. Also, we staved off any sort of vampire attacks. Win/win. Anyway, long story long… roasted garlic is amazing. Put it everywhere.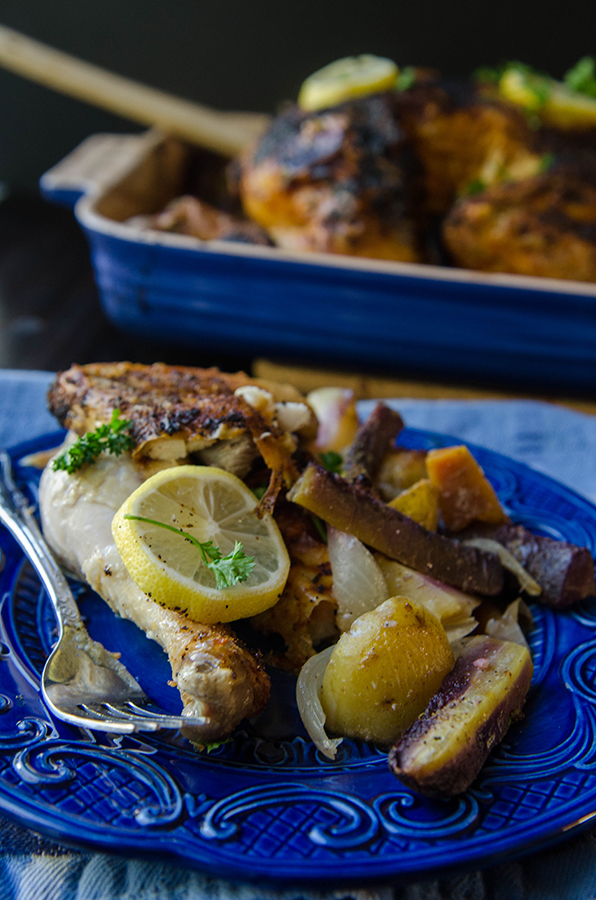 So, with these frazzled mentions of chicken skin, butter and copious amounts of roasted garlic I bid thee adieu. OH! Don't forget to save the bones. I'm going to teach you how to make amazingly flavorful chicken stock in your slow cooker later this week! 🙂
Whole Roasted Butter, Lemon & Rosemary Chicken With Garlic & Root Vegetables
Ingredients
Veggies
1

onion, chopped

5

carrots, chopped

10

small baby dutch potatoes, quartered

6

cloves of garlic

1

tbs olive oil

salt, pepper, granulated garlic
Chicken
1

whole chicken (between 3-5 lbs)

2

tbs of softened butter

1

clove or garlic, crushed

1

tbs rosemary, freshly chopped

Juice of 1 Meyer lemon (save the juiced lemon halves to stuff inside of the chicken)

salt, pepper, granulated garlic

1

Meyer lemon sliced (to place on top of the chicken while roasting)
Instructions
Preheat the oven to 425 degrees.
Chop up your veggies and toss them with the olive oil and a generous amount of salt, pepper and granulated garlic. Pour your veggies into the bottom of a large baking dish.
Rinse your chicken. Remember to look inside of your chicken and to remove any giblets. Usually these giblets are neatly packaged up and all you need to do is pull them out. Pat the chicken dry with paper towels and place it in your baking dish on top of the veggies.
In a small bowl combine the softened butter, garlic, rosemary and lemon juice. Whisk together well. Pour this mixture over your entire chicken. Use clean hands to massage it into the chicken (top and bottom). Make sure the entire chicken is coated.
Now, season your chicken with salt, pepper, and granulated garlic. I like to use these spices liberally. Don't neglect the bottom of your chicken. Make sure to spice it everywhere.
Place the leftover juiced lemon rinds inside the body cavity of the chicken.
Slice up another Meyer lemon and place these slices on top of the chicken.These slices might get rather crispy during the cook, but they impart flavor into the chicken. You can switch them out with fresh slices before serving, or forgo them entirely.
Roast your chicken for 1 1/2 hours or until the internal temperature is 160 degrees and the juices run clear. You need to take this temperature from the thickest part of the chicken thigh, and be careful not to hit the bone or that might skew the temperature reading. Once the chicken has reached the desired temperature, allow it to rest for fifteen to twenty minutes. Carve and serve!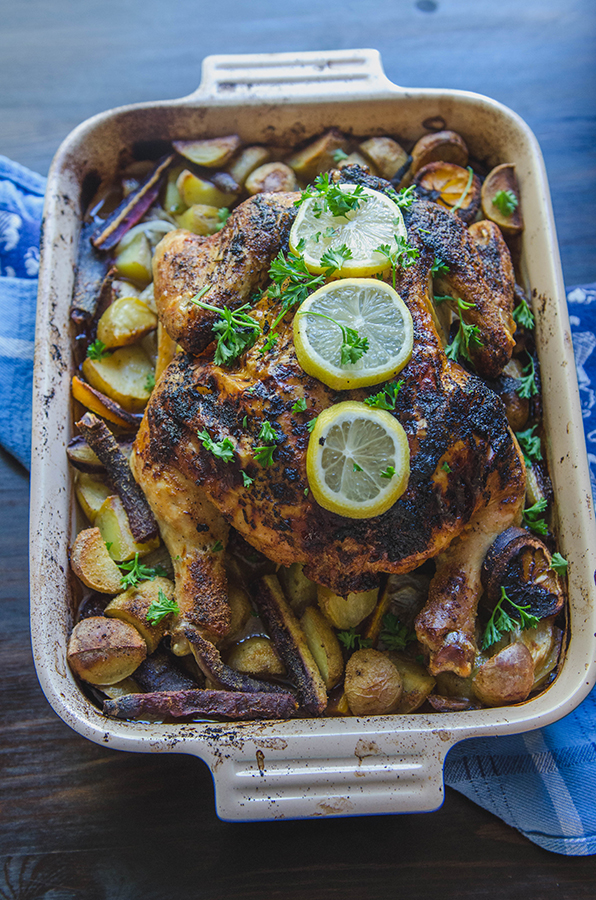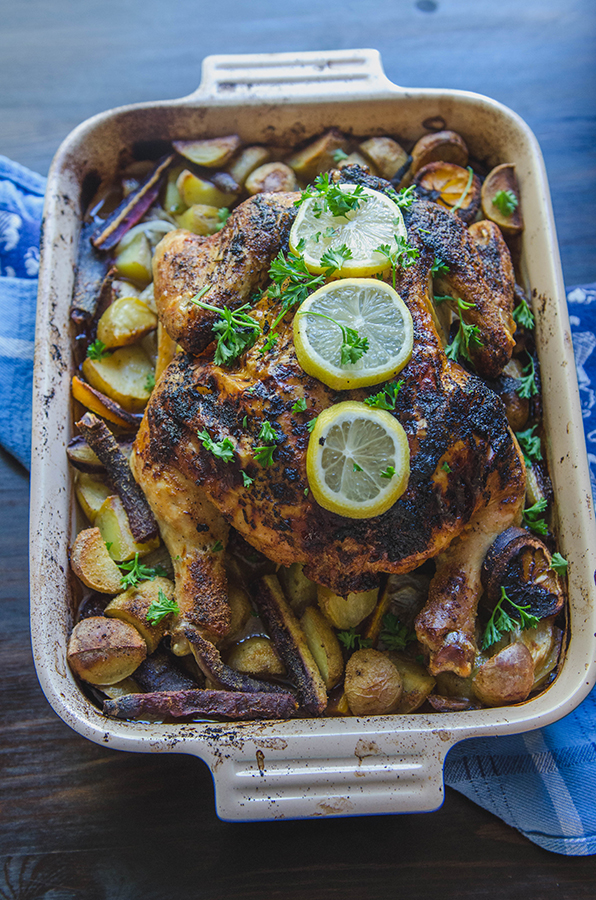 PAID ENDORSEMENT DISCLOSURE: In order for me to support my blogging activities, I may receive monetary compensation or other types of remuneration for my endorsement, recommendation, testimonial and/or link to any products or services from this blog.