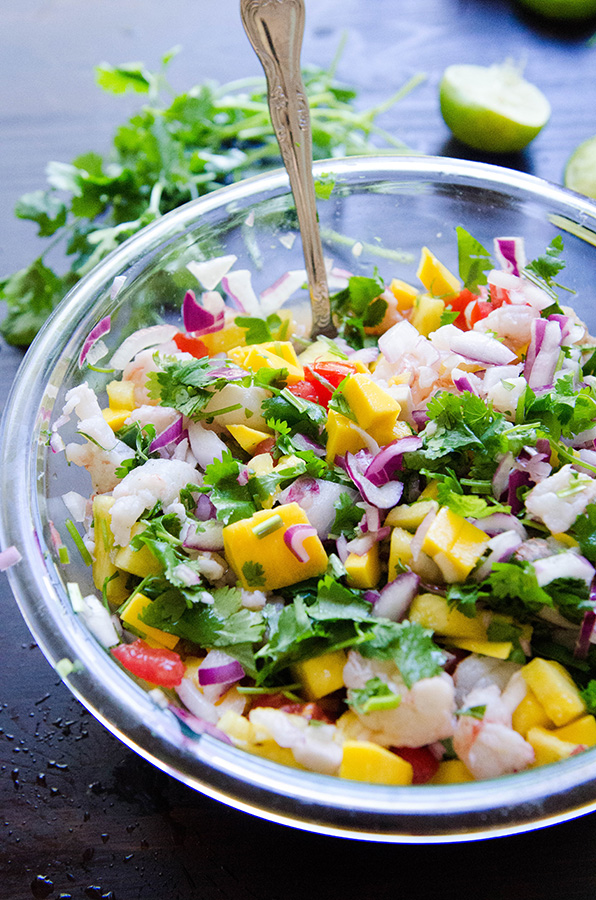 So, Summer. It's a thing that's happening. Also, sweating. Schvitzing. Glistening. Whatever word we're supposed to use to describe a sweaty mess with frizzy bangs. That's happening. I've also managed to adopt a summery attitude–meaning, don't make me turn on my oven when it's 90 degrees outside, K-thaaanks. Let's just eat cold stuff. Maybe only popsicles for the next three months? Sure, we'll get malnourished, but gosh darnit if we won't keep cool. Probably a bad idea. Back to the drawing board…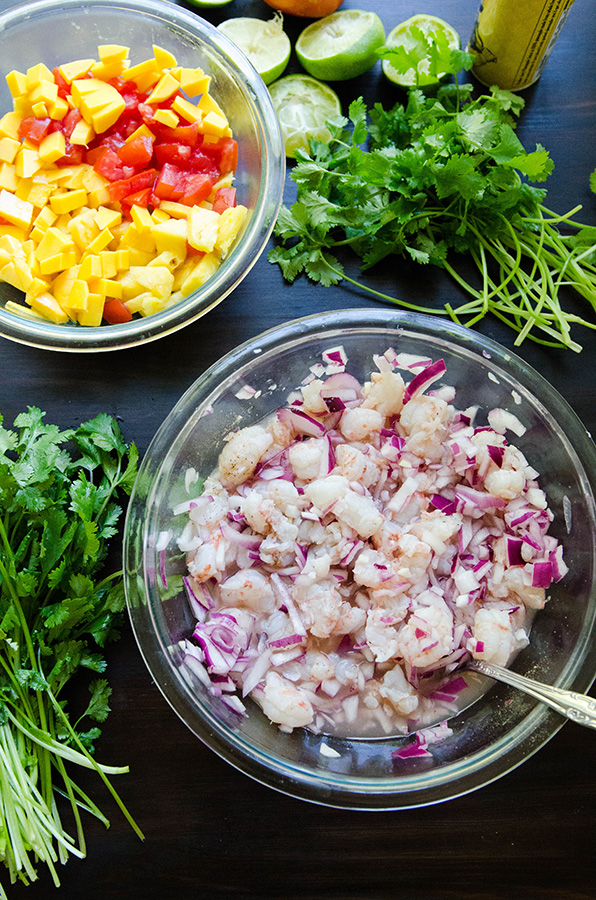 I propose that we take things easy, summer vacation style. Let's be like teenagers. Sleep in until 10 am. Lather our under-appreciated teenage figures up with some expired Hawaiian Tropic oil we found under our Mom's sink. Drive to the beach. Complain about boys. Complain about our home towns. Complain about complaining. Wait for someone's older sister to score us a bottle of Bacardi. Probably complain about that too. Or, we could just take things easy with the adult contemporary version of summer vacation. First, by recognizing that we, as adults, don't get summer vacations (boo). Secondly, making the executive decision that we'll be swapping out baby oil for sunscreen, and a bottle of Bacardi for ALL THE CEVICHE. There's still complaining in adult-summer, but it will most likely be about sweaty-under-boobs and not actually having a three month long summer vacation. Other valid complaints could include but aren't limited to: the current cut of jean shorts (if I wanted you to see my butt, I'd just show it to you), waking up hungover after ONE margarita, the fact that one's digestive system is not suited to eat an entire watermelon by one's self, waking up hungover after HALF a margarita, and the classic conundrum about weekends being the shortest ever. That's just a loose outline. Feel free to add to it.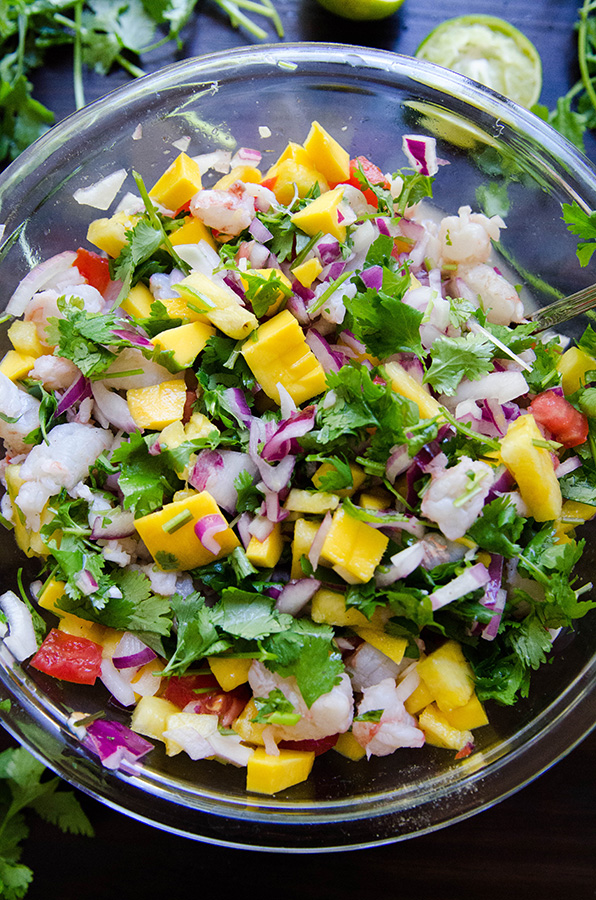 Since the adult contemporary version of summer includes food that will not make us languish in hot-hot kitchens, we're making ceviche like it's our job. We're cooking shrimp with the acid from lime and pineapple juice. Sounds like chemistry meets magic tricks. Which, is pretty much accurate. Any recipe where you have to cook something in your REFRIGERATOR is a summer win. We've got this whole summer vacation thing on lock down, people. Ready your shrimp eating engines.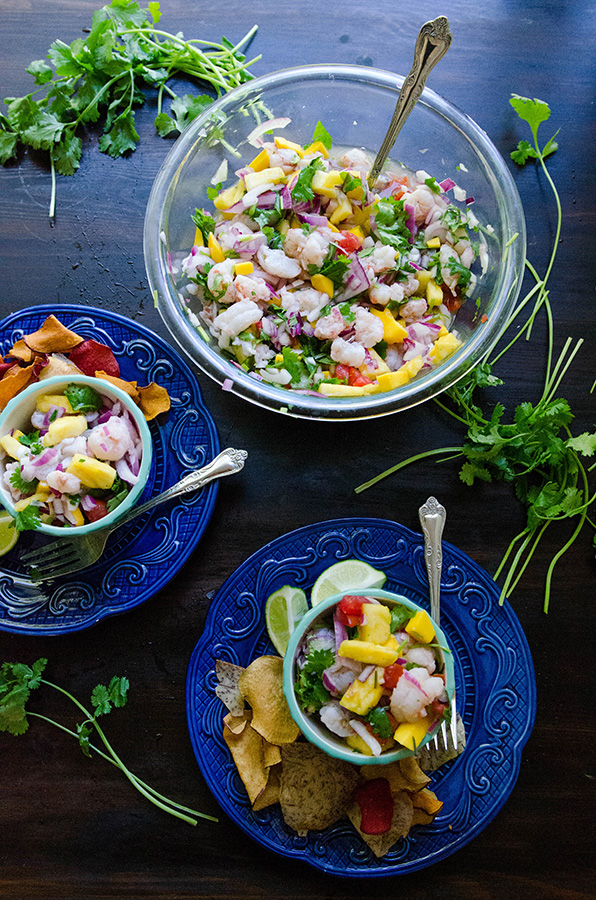 Serve it up generously with a handful of chips, on top of a salad or maybe just eat it straight from the bowl. There are no rules. This is summer. I don't think you even need to wear a shirt or shoes. It's informal. You can allow shrimp juice to drip onto your bare chest. You can even write sentences like that on your food blog and hope people don't think you're gross. See? No rules. Just allow the flavors of pineapple, mango, lime and shrimp transport you to the tropics. Oooooh. Ahhhhh. Aaaaand, scene.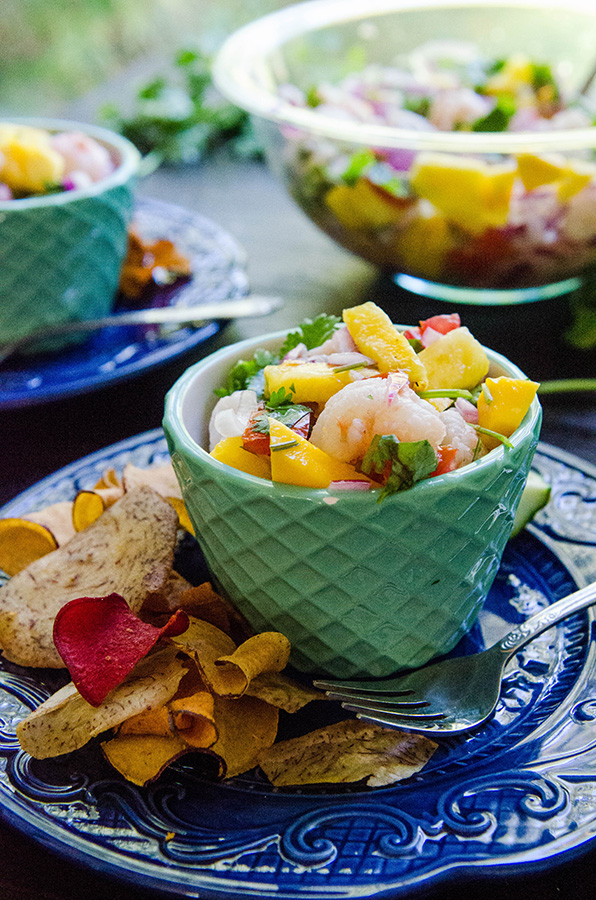 OH, WAIT! One more thing. If you're looking to NOT COOK THINGS all summer long, I highly recommend that you also check out my recipe for AHI POKE. Because, hot diggity delicious.
Tropical Rock Shrimp Ceviche With Pineapple, Mango & Lime
Ingredients
1

lb. peeled & deveined raw rock shrimp

1

medium red onion, peeled and chopped

1

large clove of garlic, minced

1 1/2

cup fresh squeezed lime juice

1/2

cup pineapple juice

2

cups chopped fresh pineapple

1

large tomato, seeded and chopped (can omit for autoimmune paleo)

1

mango, peeled and chopped

1/2

a bunch of cilantro, chopped

salt and pepper, to taste
Instructions
Chop up your peeled and deveined rock shrimp into bite sized pieces and set aside.
Combine your red onion, garlic and rock shrimp into a medium sized mixing bowl. Pour the lime and pineapple juice over the shrimp and stir together. Make sure that most to all of the shrimp is covered by the liquid, as this is how the shrimp is going to become "cooked".
Cover the bowl and put it in the refrigerator to "cook" for at least 40 minutes, or until the shrimp turn from translucent to opaque.
After your shrimp have become opaque, strain the shrimp and onion mixture and reserve 1.5 cups of the marinating liquid. Add in the chopped pineapple, mango, tomato and cilantro. Pour the reserved juice over the top of your ceviche and stir. Add salt and pepper to taste. Now, it's ready to serve! Eat it with chips, on a salad, or alone! There's lots of options. You can totally get creative. Enjoy!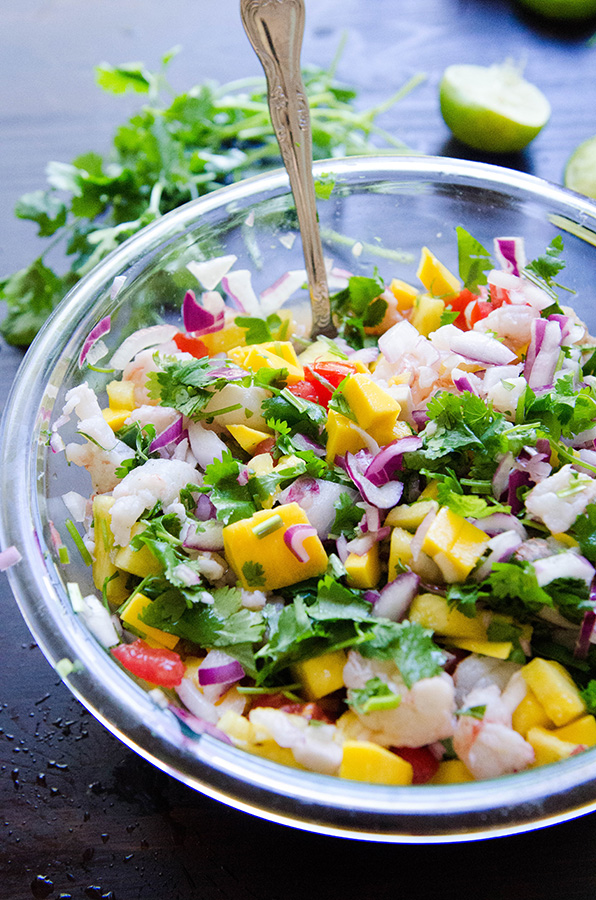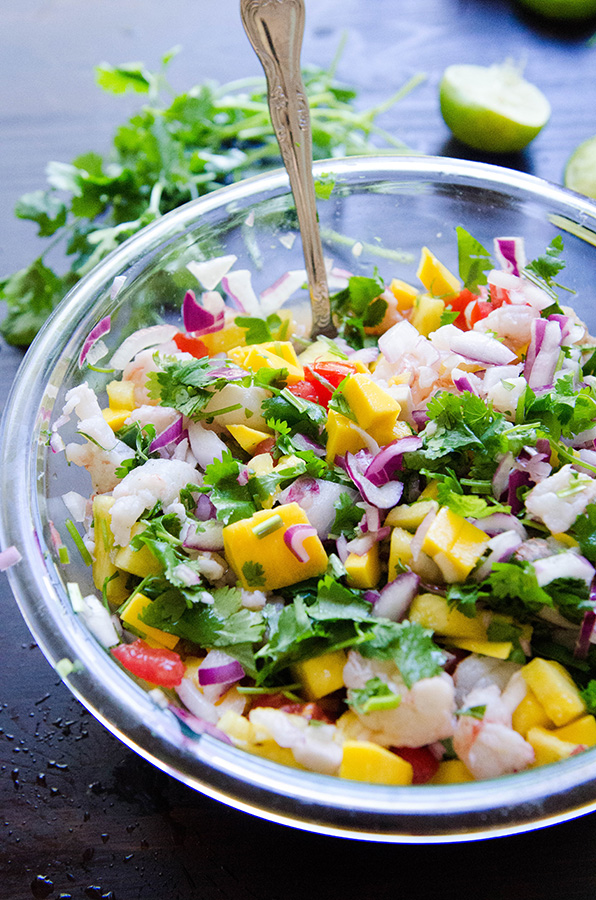 PAID ENDORSEMENT DISCLOSURE: In order for me to support my blogging activities, I may receive monetary compensation or other types of remuneration for my endorsement, recommendation, testimonial and/or link to any products or services from this blog.