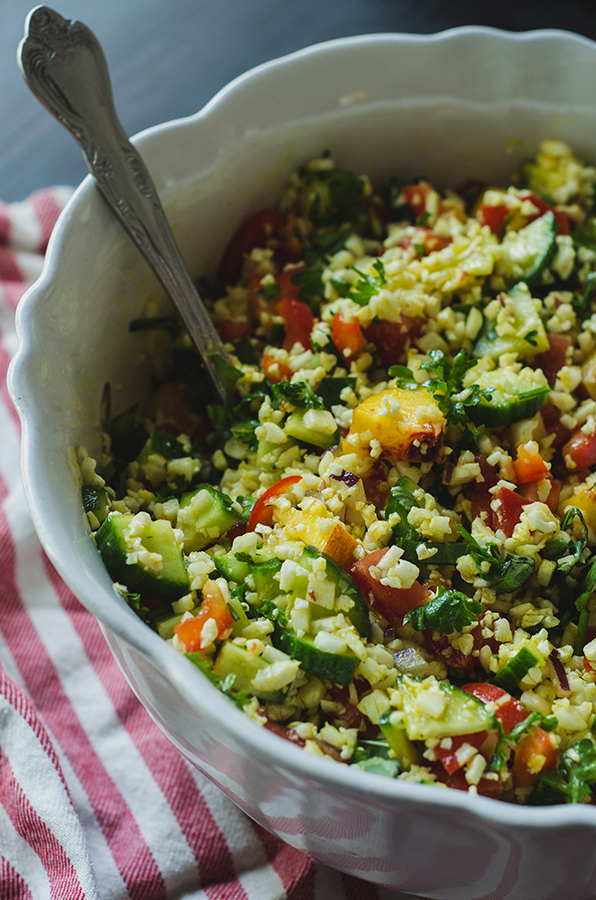 What do you say we sneak in one more late summer recipe to close out the season? You know, just a bookend before the PUMPKINPOCALYPSE explodes in full swing and our internet eyeballs feel the harsh sting of cinnamon and cloves on everything. I'm totally not mad at fall, you guys. In fact, I welcome the cooler weather and the shift in energy that comes with autumn. I like to watch the leaves turn. I get excited when the first rain hits and the dusty golden hills get their first drink of water. I like the feeling of baking my fist pie. I enjoy taking a fork to that pie while watching Netflix and asking my husband to light the first fire of the season. All of these things feel cozy. Give me a sweater and some thick socks and a thermos full of hot toddy. I'm in.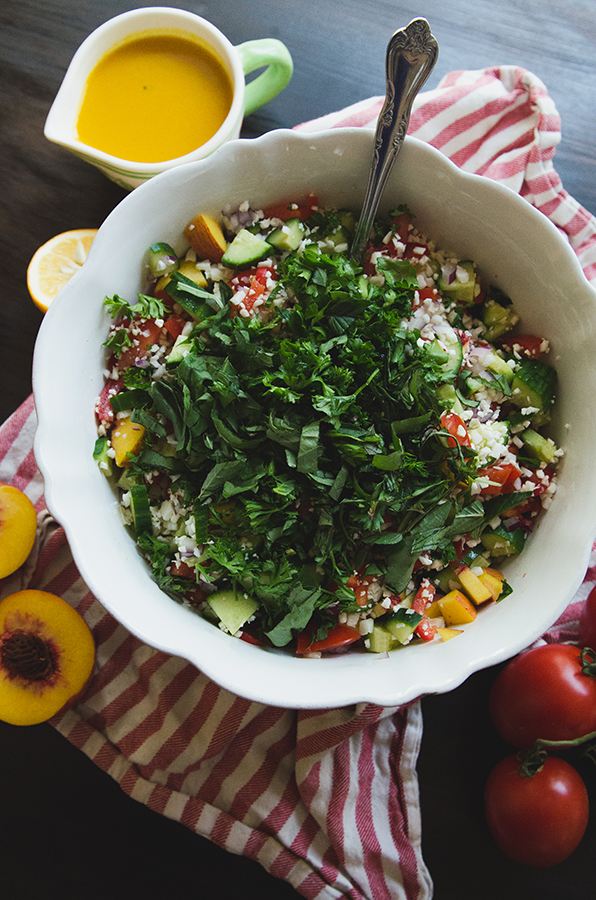 However, I live in California, and we like to do this thing called Indian Summer. This is where one's psyche is ready to transition into fall, but the temperatures are still reaching into the 90's, the tomato plant you've managed to keep semi-alive keeps spitting out tomatoes, and every pore in your body is expelling all the liquid. I'm pretty sure the backs of my knees and my upper lip have not been dry since June. I know, I know. Poor me. All these blue skies and an extended season of farmers market berries. I get it, I should shut my almost-seasonal pumpin pie hole. Yet, I'm slower to acknowledge the seasonal changes in cuisine that come with fall until the sweat has dried up under my bosom (too much?) and I can confidently put on a sweater without dying of heat stroke. So, here we are. Let's spit out at least one more slightly summery salad as we slog into fall. Vegetables are timeless, right? Salad is still chic after labor day. I think those are the rules.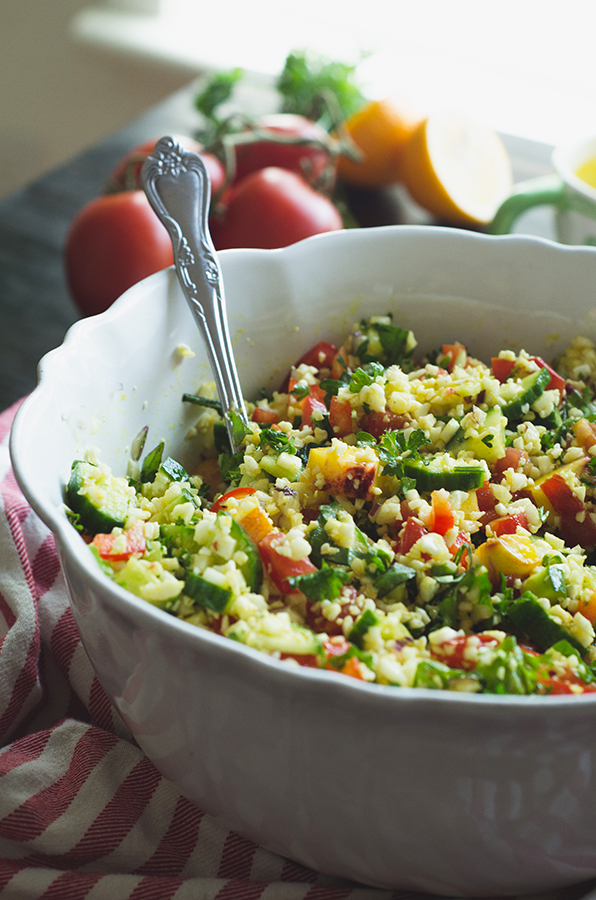 So, harvest the last of your tomatoes, and make a rush to the farmers market for those swing season peaches. We're making a tabbouleh salad with cauliflower in order to make it grain-free. You'll be surprised at how satisfying and delicious the crunch is. The whole thing is dressed up nicely with a sexy slick of turmeric dressing. It adds a lovely color, plus all the health benefits of this superfood spice. Turmeric is known for its crazy anti-inflammatory properties and it's ability to relieve pain naturally. It's basically like I've made you a salad with a less offensive and way more natural Advil dressing. Except, no. And, let's not speak of this again. Thank you.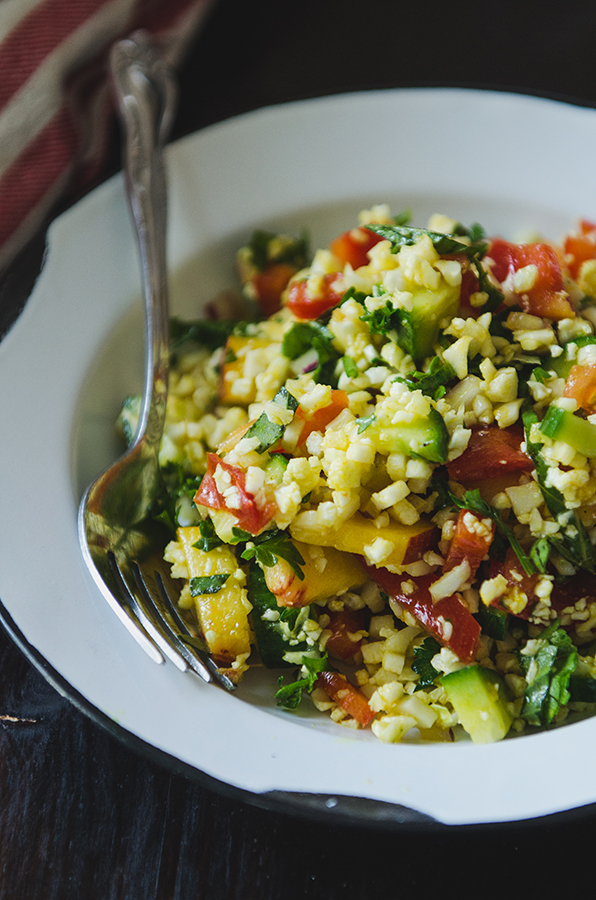 The whole salad is topped with several herbs to give it flavor and beautiful aromatics. I've been eating this salad all summer long on repeat since it requires no stove, oven or much effort to throw together. Serve it with your favorite protein, and you've got a beautifully easy meal. My favorite way to eat it is with some quickly pan seared shrimp! But, feel free to improvise. Freestyle. Do the running man. Maybe the Macarena if you're feeling 90's (I'm always feeling 90's). Enjoy these last days (months?! when will it end?!) of this late summer heat. I'll be back soon with something that screams fall, before one of you pelts me with a rogue Pumpkin Spice Latte or tries to strangle me with a chunky knit sweater. Until then, I love you and I bid thee adieu.
If you simply can't wait, may I point you in the direction of my ULTIMATE GLUTEN-FREE PUMPKIN ROUND UP? Yer welcome. Spice up yo' life.
Turmeric Cauliflower Tabbouleh Salad With Veggies, Herbs & Peaches
Ingredients
Salad
1

bag of riced cauliflower **see note

2

yellow peaches, pitted and chopped

1

red bell pepper, seeded and chopped

2

roma tomatoes, seeded and chopped

1

english cucumber, chopped

1/4

red onion, finely chopped

1/2

bunch of parsley, chopped

7

large mint leaves, chopped

7

large basil leave, chopped
Dressing
Instructions
Add the bag of cauliflower rice into a serving bowl along with the veggies and the peaches. Top the salad with your fresh chopped herbs.
Whisk together all of the ingredients in the dressing until it comes together and there is no separation.
Pour the dressing over the salad and toss it well. The white cauliflower will turn a golden color from the turmeric. Make sure to toss it so that the cauliflower is coated throughout. You don't want any dry patches.
Once the salad is dressed, serve it up and enjoy! Make it a meal by adding your favorite protein. I love serving this up with some pan seared shrimp!
Recipe Notes
I got a bag of riced caulifower at Trader Joes. If you don't have a Trader Joes near by, that's ok. It just takes a few extra steps. Start with a head of cauliflower. Remove the leaves and the stem. Cut the cauliflower into florets. Process the florets inside of a food processor until the grains are small and look like rice!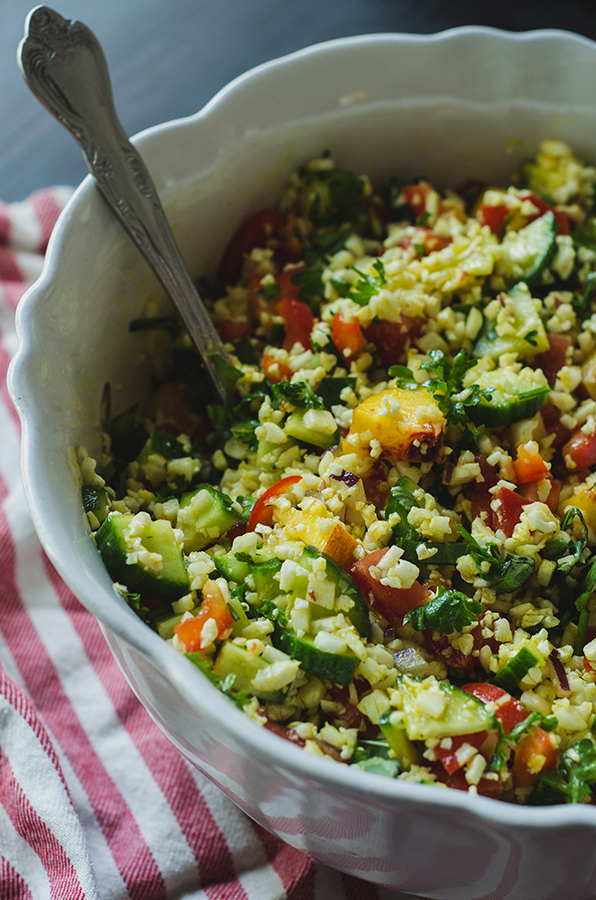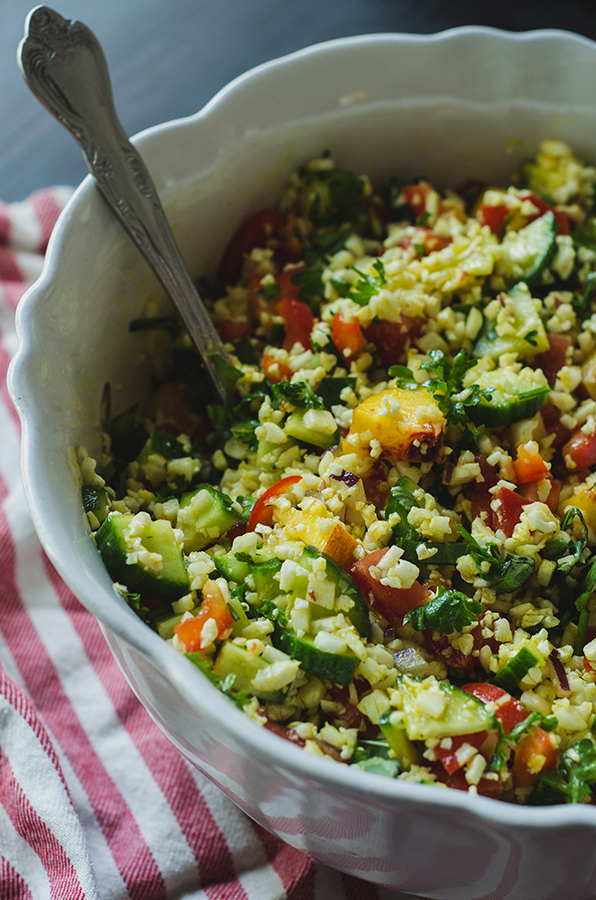 PAID ENDORSEMENT DISCLOSURE: In order for me to support my blogging activities, I may receive monetary compensation or other types of remuneration for my endorsement, recommendation, testimonial and/or link to any products or services from this blog.