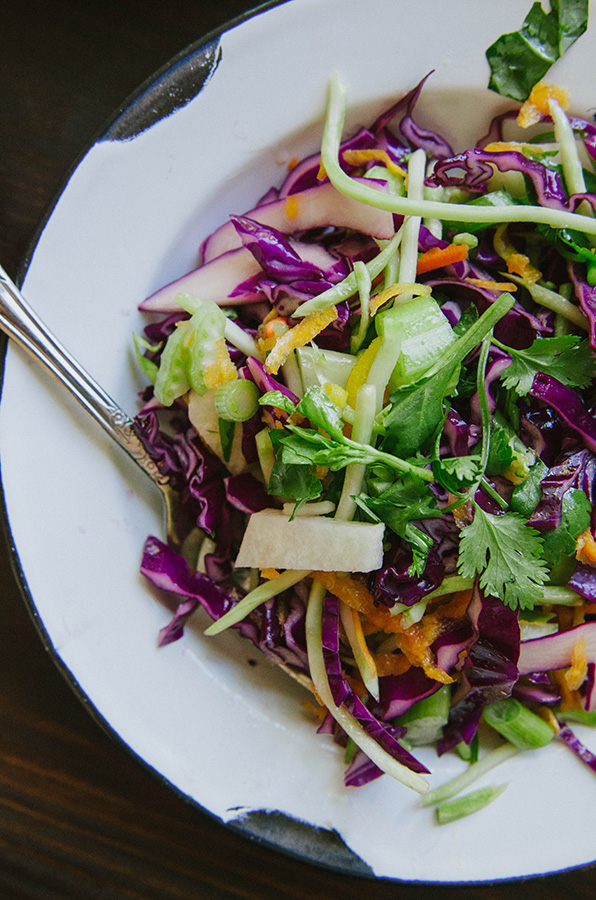 Growing up is weird, right?
The more grown I get, the more uncertain I am if the term "grown up" is even a real thing. I think, like most young people, I had this false hope that one morning in my late twenties I would awaken with a strong grip on how to do taxes, and the willingness to save money for a new sensible vacuum cleaner. I would be tidier. I'd have cosmically started a retirement account. I would feel a certain maturity. The depth of my wisdom would increase alongside the axis of how strong my prescription glasses needed to be. I would definitely not curse in front of my husband's boss. And, I probably wouldn't sign business e-mails with emojis. But, this doesn't happen. It's not concrete. I still have the crappy vacuum cleaner I purchased when I was nineteen. I'm wiser, but not above asking Web MD if I am dying when I have a headache. I'm aware that grown up mail is usually just a slew of bills, credit card offers, and an L.L Bean catalog from that time I purchased my husband a fleece. I'm aware that sometimes the child who is working the checkout of a Trader Joes will call me Ma'am and not card me when I purchase wine. And, I'm certainly aware that being a grown up means eating a lot of veggies.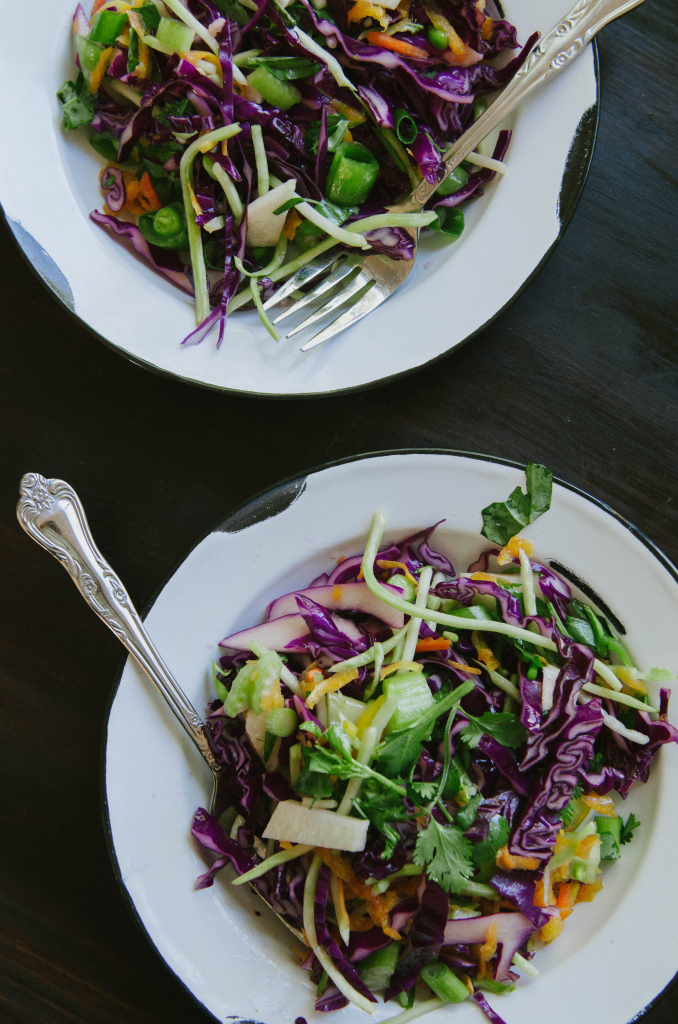 This weekend was full of glutinous celebration. First, there was my birthday. I turned thirty one years old, which when said out loud feels both bazaar and impossible. Like I said,I'm still waiting for this whole "adulting" phenomenon to prove to be something more than just a myth. I almost ironed my shirt the other day if that's a marker of maturity. Unfortunately for my shirt, it turns out the iron, under the weight of un-use, decided to give up on life and be broken. This is when you throw the shirt in the dryer and cross your fingers. See? Critical thinking. VERY grown up.
As luck would have it, I'm a Thanksgiving baby. This means that my birthday is always around, but falls exactly ON Thanksgiving every couple of years. It also means that my birthday dinner is consistently turkey slathered in gravy with copious amounts of stuffing and pie. There is also always a cake. Basically, if you were to measure my body composition right now it would show that I am 50% slow moving gravy and like 10% pumpkin pie. If I were to cut myself, I'm weirdly confident I'd bleed cranberry sauce. The holiday happened in a big way. I got confused and swapped my vegetable intake out for mashed sweet potatoes covered in toasted marshmallows. I'm pretty sure my thirty one year old body hates me right now. I think this is where you'd use like four old lady emojis with a couple turkey legs. Yes, that seems best. Maybe we add in a birthday cake emoji because those are festive? Great.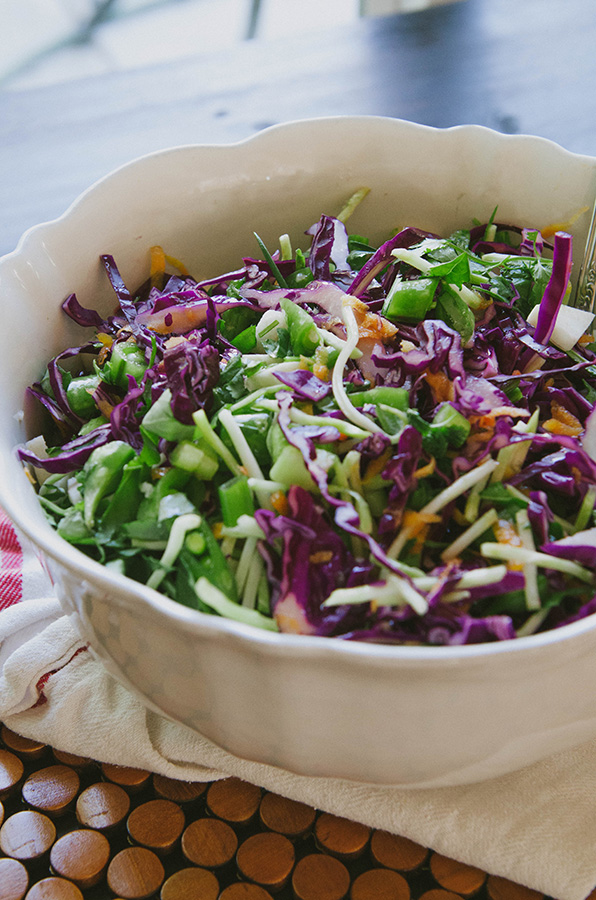 Now…enter in this salad. I know it's cold outside, and we should be firing up our slow cookers to make soup, or perhaps baking some cookies…but, I get the feeling that if I don't replace some of my rich gravy blood with vegetables very quickly, then I might actually die before I hit thirty one and five days of age. Dramatic? Maybe. Accurate? Totally. So, in an effort to save my life, I've taken all of the vegetables from the grocery store and made them into this super easy and mighty fine tasting Asian slaw. I think we're going to be okay now. Phew. Close call. I'm just going to rip out my gravy IV and order up 50 cc's of pure vegetable power (uh, I watch too much Grey's Anatomy–Sorry).
This salad is packed with herbs and crunch, with a sesame dressing to give it so much flavor, you won't even care that it's not holiday ham. Now, let's all put on our wrinkled grown-up pants (darn you, iron!) do some chopping, and veggie-up! Project Un-Gravy My Bod will now commence. Pass me a fork. Please and thank you.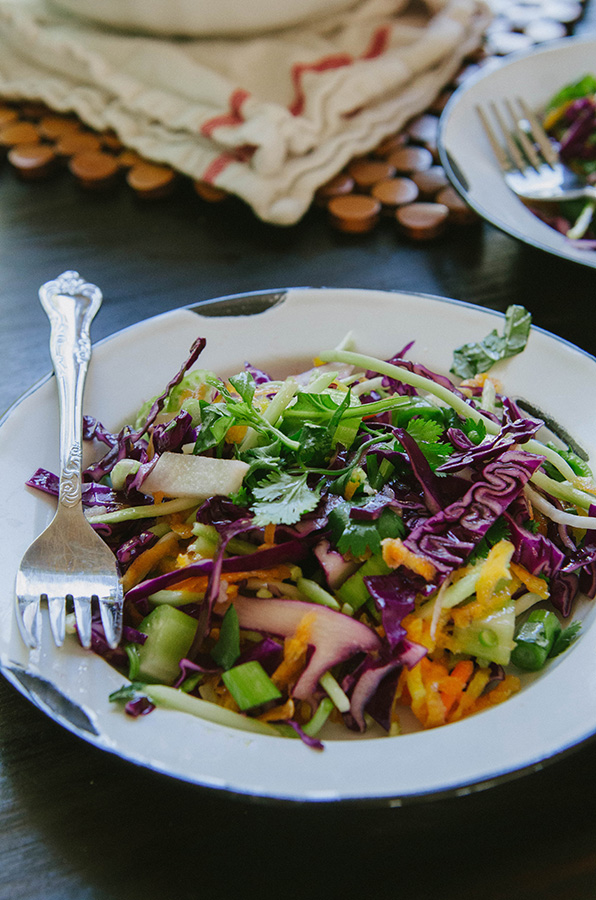 Veggie Lover's Easy Asian Slaw
Ingredients
Slaw
1

small head of red cabbage, shredded

2

large carrots, shredded

2

ribs of celery, halved and sliced

1

cup broccoli slaw (I purchased this from Trader Joes, if you can't find it replace with shredded green cabbage or another veggie of your choice.)

1

cup sugar snap peas, chopped

1/2

cup jicama, peeled and chopped

1/2

cup scallions

1/2

cup fresh herbs (I used cilantro and mint)
Dressing
Instructions
Chop and or shred all of the vegetables and place them in a large salad bowl. Garnish the top with scallions and herbs.
Combine all of the dressing ingredients together and whisk well until they are combined.
Pour the dressing over the veggies, and toss with salad tongs. Eat and enjoy! ?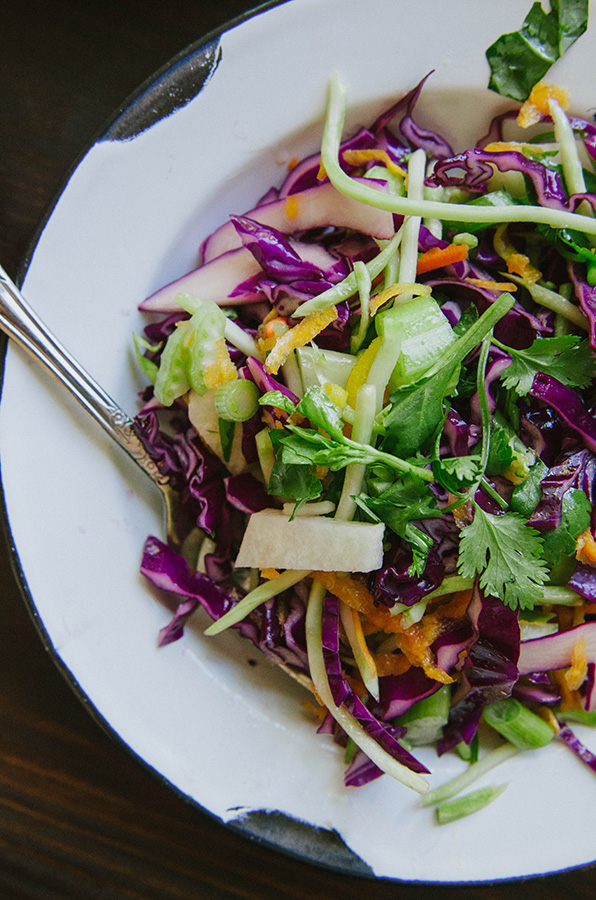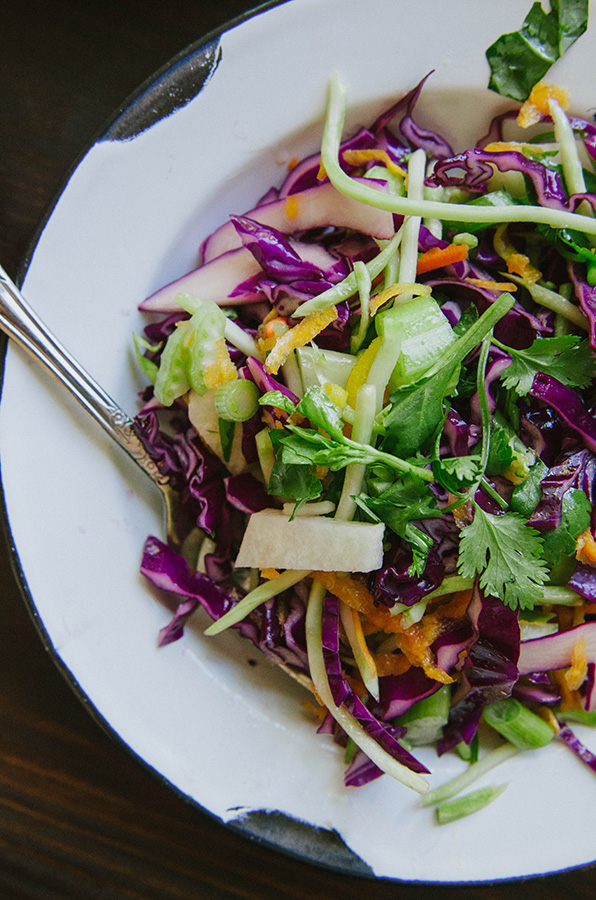 PAID ENDORSEMENT DISCLOSURE: In order for me to support my blogging activities, I may receive monetary compensation or other types of remuneration for my endorsement, recommendation, testimonial and/or link to any products or services from this blog.